The Sunflower State is known for a few different crops. Wheat, corn, etc. But it's symbol is the sunflower. Surprisingly, depending on the area of Kansas you're in, finding a sunflower field can be pretty difficult! First off, there's a difference between wild sunflowers and sunflower crops. Wild sunflowers can be found throughout a number of months in the summer and fall. Sunflower fields, however, have a much smaller window of opportunity. Crop sunflowers typically only bloom for a couple of weeks before the flowers become droopy, black and ugly. If you want to find sunflowers that are in full bloom with healthy, beautiful yellow flower pedals, it might take a little work. Typically sunflower fields start popping up in August and extend until late September depending on when they were planted. I've built this guide to keep track of where the sunflower fields are blooming around Kansas.
However, I'm only one person, so if you know of a sunflower field that's currently in bloom, I'd love to have a report! Same with any reports of the condition of a field. Just send me a message on my contact page and give me any information you have on it! A link to a Google map, a street address or the intersection of two streets that the field sits on would be helpful. In addition, the bloom-stage of the sunflowers would be helpful as well! Are they at peak? Starting to droop? Still a week away from bloom? Those are the kinds of status updates I'd love to give!
NOTE: While at sunflower fields recently, I've noticed lots of people that have been ripping off the heads of sunflowers to take them home. Grinter Farms has a donation box that lets you do this, but other sunflower fields that farmers own are private property and not necessarily open to the public! The least you can do if you are taking advantage of someone else's field is to respect their property. Please respect the property rights of these Kansas farmers. They're trying to make a living just like you are!
So with that out of the way, here are the known sunflower fields (so far):
Grinter Farms
24050 Levee 27, Lawrence, KS 66044 – Google Map
This one is the ultimate sunflower field in Kansas. I've heard it's the largest (that's not confirmed though). But it definitely brings in the most visitors! So much so that the place was shut down on Labor Day because of the amount of traffic blocking up the road and causing accidents! Grinter Farms has become a yearly tourist attraction around the Labor Day weekend for folks from Kansas City, Topeka, Lawrence and even from out of state. Thousands of people flock to Grinter Farms when sunflower season blooms. The best way to get updates on the condition of the sunflowers at Grinter Farms is to visit their Facebook page. I'm about to head up there to check the place out as I update this. Peak is right now, and sunflowers will probably begin to droop by early next week (Sept. 11). However, some of the sunflower fields were planted later and should start blooming soon! So a second peak will likely happen in a week or two!
Between Haysville and Derby
2500 East 79th Street South, Haysville, KS 67060 – Google Map
There's a sunflower field along 79th street between Haysville and Derby. If you're coming from Haysville, it's just east of Hydraulic (16th St). From Derby, it's just west of where 79th street curves south and turns into Hillside. This one was in full bloom as of Sept 7th! I'll definitely be checking it out again in the coming days!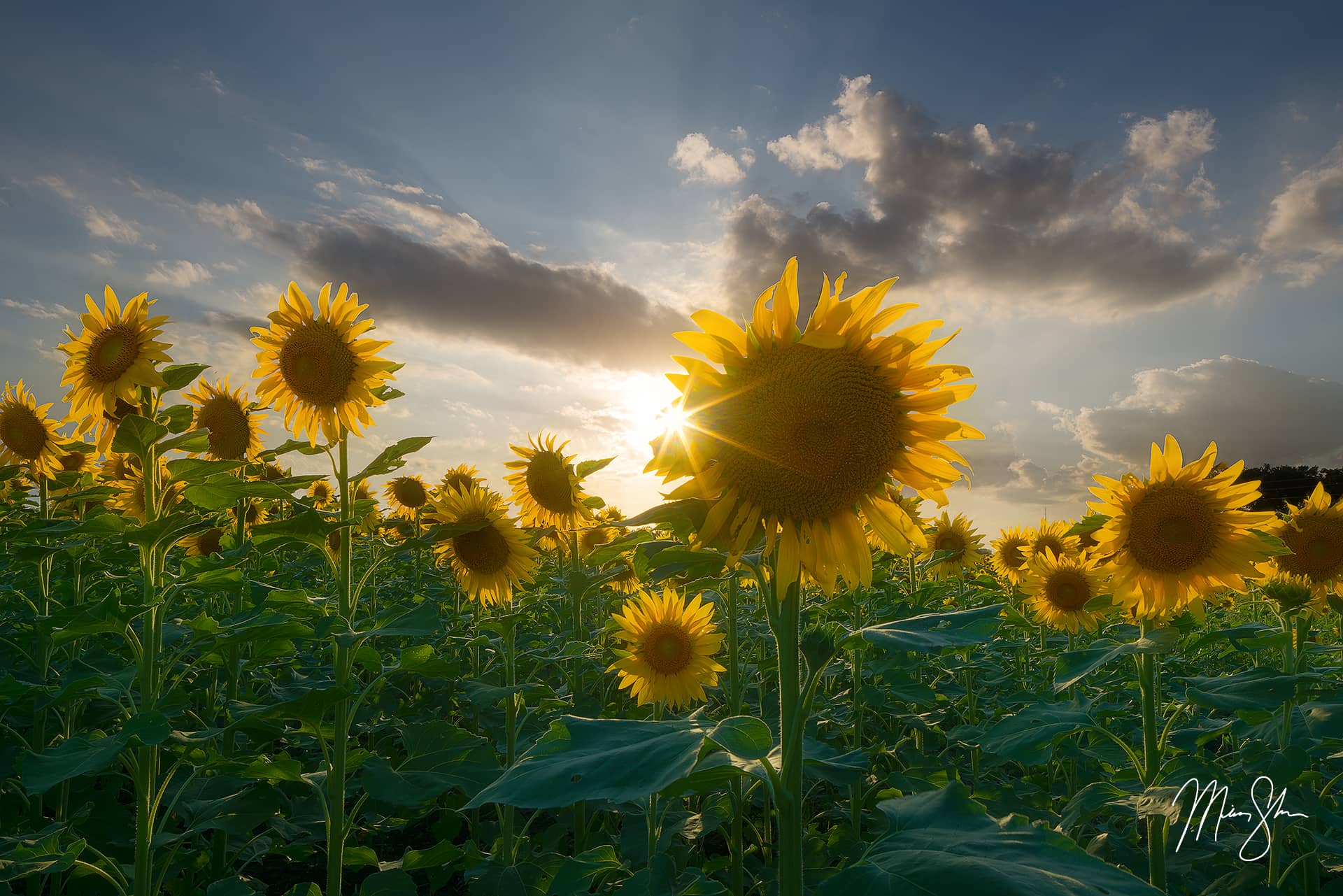 South of Pilsen
The intersection of Remington Road and 270th – Google Map
This one is located just south of Pilsen. I visited this one on August 25th and while there were some sunflowers already turning black, there were still a lot of happy colorful flowers as well.
Sept. 7th Update: This one is likely past peak at this point.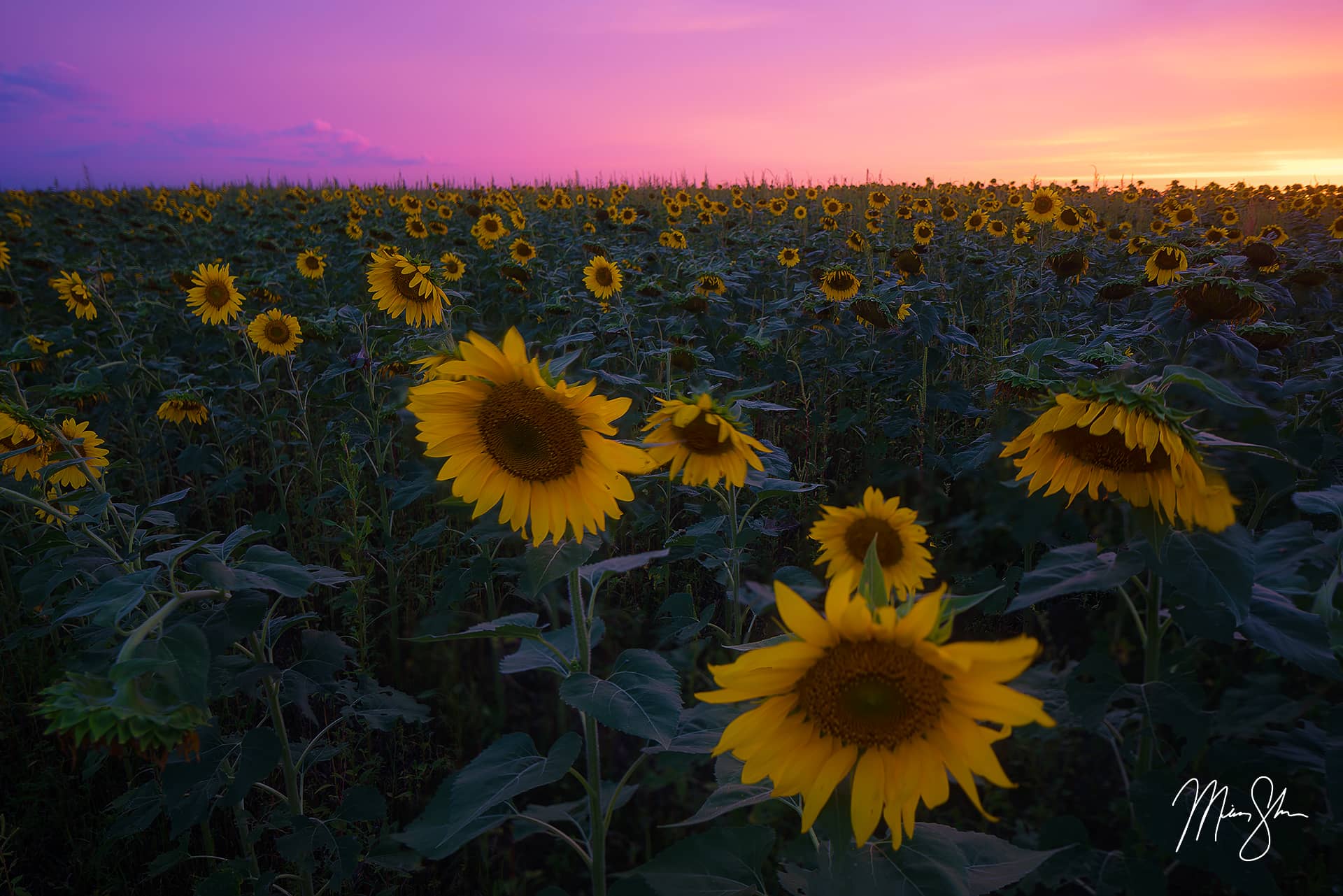 South of Marion
Just north of 150th and Sunflower Road – Google Map
A few miles south of Marion, along Sunflower Road (Old Hwy 77), this sunflower field was in full bloom just a week or so ago (August 20th or so). I drove by it on the evening of the 25th and it was starting to fade, but might still have some good flowers through the weekend!
Sept. 7th Update: This one is likely well past peak at this point.
North of Halstead
I found this one in 2015, but can't remember the exact intersection it was located. It was just a few miles north of Halstead along Halstead Road. I drove it on August 24th in 2016 but there were no blooming sunflower fields. It's possible I missed it and it had no bloomed yet, or it's possible the farm didn't plant sunflowers this year. I will take another drive in a week or two to check.
Sept. 7th Update: Haven't been up to look recently, but hopefully soon.
Peck
Somewhere along Meridian Ave, south of Haysville, on the way to Peck is a sunflower field. I was tipped off by Virginia Scott Norton for this one. I haven't driven down to check it out, but hope to soon!
Northwest of Lindsborg
1258 Wheatridge Road, Lindsborg, KS 67456 – Google Map
I found this one in 2015 after missing out on the one in Halstead. It was just past peak when I got there, but still pretty vibrant. I visited on September 12th, 2015 and it was maybe 3-4 days past peak. You can see what that sunflower field looked like in the image below. It's just to the south of Coronado Heights and northwest of Lindsborg.
Sept. 7th Update: I'm hoping to check this one out soon!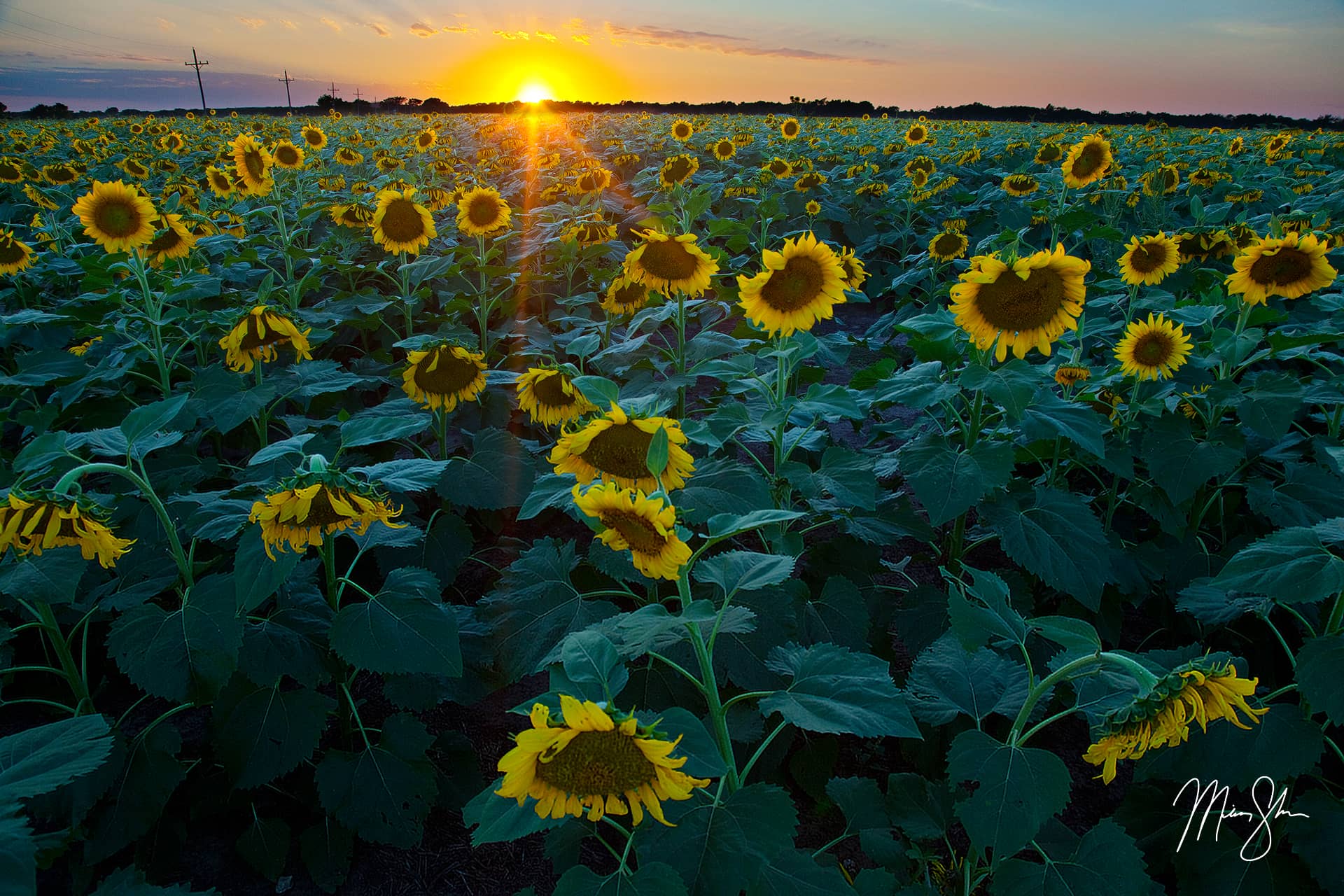 Northeast of Lindsborg
Intersection of I-35 and Highway 4. – Google Map
This one is located just off of I-35 at exit 78. I found it last year on my way to Colorado for fall colors. It was blooming much later than other sunflower fields I've found. This was on the 22nd of September. No word on whether sunflowers were planted there this year, or if the timeframe will still be the same, but it might be worth keeping an eye on!
Lyndon 4H Sunflower Field
17977 U.S. 75, Scranton, KS 66537 – Google Map
Located about 8 miles north of the town of Lyndon, this beautiful sunflower field is in bloom in mid/late August. For more information on bloom times, visit the Lyndon 4H Sunflower Field.
Sept. 7th Update: Looking at their Facebook page, this one might still be going strong, but I haven't been able to check it out.
Goodland
While I don't have any specific fields to report, Goodland is sometimes called the "Sunflower City" for the myriad of sunflower fields that dot the landscape. If you're heading west, it might be worth driving around the roads around Goodland!
Hutchinson
I've heard there are a number of fields to the south and west of Hutchinson, but haven't received exact locations. I'm hoping to drive out that way in the next week to see if there's anything good out there!
---