All About Mickey Shannon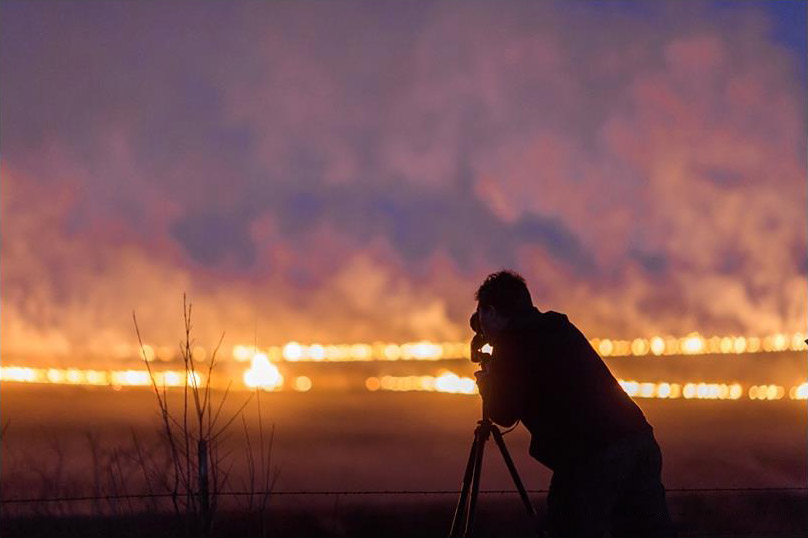 Mickey Shannon is a landscape, travel and night photographer based out of Wichita, Kansas. His passion for landscape photography developed out of a passion for nature and travel during many trips to the Colorado Rockies at a younger age. As he is entirely self-taught, Mickey's style is distinct.
From a fiery red sunset to deep turquoise waters in the lakes of Switzerland, color is an important aspect of his images. In the majority of his photographs, he attempts to see how nature's vibrance fits into the color wheel to create aesthetically pleasing images. He thrives for images that have a sense of the majestic and bold. Whether that be the vivid colors of nature's sunrise over the ocean, the busy life of a cityscape or the Milky Way rising above the mountains.
Some of the best light available to a photographer can be found after dark. The sense of awe at the Milky Way or a beautiful star-trail scene at a famous landmark or little known place on the Kansas prairie are primary focus points in his time-lapse and night-time work.
Mickey's photography has been collected by print customers throughout the world. His work has also been published worldwide a number of magazines, guides and other publications including KLM's Holland Herald, KANSAS! Magazine, Visit Wichita Official Visitor's Guide, Kansas Visitor's Guide and more. His images have also been licensed by a wide variety of clients. In addition, his images have won a number of awards in recent times. He was a finalist in the Smithsonian Channel's Arial America photo contest in 2011. More recently, he won the KLM airline's monthly contest in June 2016 for the theme "Night". He was also shortlisted in the USA Landscape Photographer of the Year award in the autumn of 2016.
Artist Statement
For me, photography is a way to convey what I see when I travel. It's much more than a set of images, but a visualization of what I saw in a particular moment in time. A large majority of my favorite images were captured while I was personally moved by my visual surroundings. These experiences range drastically. From the belittling experience of witnessing a Kansas thunderstorm in the solitude of the Kansas Flint Hills to gazing upon the Milky Way high in the mountains, far removed from the light pollution of cities, towns, highways and the busy-ness of life. These adventures, experiences and moments define the images I have captured here.
Another thing that defines my photography is a major love of travel. I have been blessed to see and experience some of the most beautiful places this world has to offer. I grew up traveling to the Colorado Rockies. These mountains filled my early years with a sense of awe. My desire of adventure more grew out of these Colorado trips, but it was my two-week adventure in the Swiss and French Alps that truly defined my love of travel. From the smells coming from the local bakeries in Zermatt, Switzerland to standing above the massive Mer De Glace glacier in Chamonix, France or walking the flower-strewn lakeside prominade path towards Chillon Castle in Montreux, Switzerland there's something amazing about seeing another culture and the beauty of this world. The world is filled with places to explore and cultures to experience.
Since then, I've been traveling as much as I can. Crazy 3,500+ mile road trips across American West, exploring the Canadian Rockies, experiencing the culture and beauty of Kauai in Hawaii, and so much more have defined the last 5 years of traveling in my life. When I travel, I try to photograph some of the best that a new place has to offer. From a world-renowned alpine lake to the inside of an elegant Swiss castle room to a locally-famous statue during a thunderstorm, each place I visit is unique and beautiful in it's own way.
However, traveling doesn't necessarily mean going halfway around the world, or even out of the state of Kansas. I get a lot of enjoyment going to find some new spot to shoot here in my home state of Kansas. I've found a nice niche for shooting the Keeper of the Plains and night scenes out on the Flint Hills. I see my work taking me both near and far.
One of the things that characterizes a lot of my work is the vivid natural colors found in the beauty of nature. From the vibrant colors of a sunrise or sunset to the turquoise blue of the ocean or an alpine mountain lake. I try to convey as much color in my photography as possible. While black and white is a wonderful medium of photography, you'll rarely see it in my portfolio. Not because I dislike it, but because I see the world in vivid color. From a meadow of wildflowers on the side of Mount Rainier to a classic Kansas sunset, my photography tends to gravitate towards the colorful and vivid-ness of nature.
Probably even more than photographing my travels themselves, I enjoy sharing my experiences with my friends, family and anyone else who will listen. This website is an extension of that desire to share my travels and experiences. Through the images on this website, I hope you can experience some of the joys of natures beauty and the cultures that I have experience in my travels. So sit back and take a look at the galleries, read about the images or even buy a print. And don't forget to drop me a line and tell me what you think about the website. Thank you for visiting my online home!
Awards and Accomplishments
Here's a selection of awards and accomplishments that I'm proud of:
Fotos4Freedom Donation Program
The modern abolitionist movement is a great passion of mine. Sadly, throughout much of the world, slavery is alive and well. From the poorest of third-world countries, to the superpowers of western civilization, human trafficking, many of which are children, is a terrible plague on humanity.
That's where Fotos4Freedom comes into play. What started as an art show has grown into an important part of my business. There are many wonderful charity organizations out there that fight trafficking, both locally and internationally. In 2012, I decided to do an art show called Fotos4Freedom. This was the kickoff for this program. I put all my photography up for sale, and gave some of the profit of the show to ICT S.O.S., a local charity working to fight trafficking in my hometown of Wichita, Kansas.
However, the idea for the program is much larger than a simple art show. For every photo I sell on this website, a donation is made to charities that fight human trafficking. Each photograph on this website has a charity attached to it. For the most part, the charity attached to that photograph either works in the region the photograph was taken or is based out of that area. For example, ICT S.O.S., based out of and working in Wichita Kansas is attached to all of the photography in the Wichita, Kansas gallery. The galleries from Europe have charities that are based in or work in Europe attached to them and so on. I hope to travel much more and support charities all around the world.
Where you can find my work
First, all of my photography can be purchased right here on my website. It's pretty simple. Just select the photo gallery you're interested in. Click the photo you're interested in, choose the size and options you're interested in. When you're done adding what you want to the cart, visit the cart page.
If you'd like to see physical examples of my work, I have it on display at a few locations. Those locations are listed below:
L'image
Towne East Square
7700 E Kellogg Dr
Wichita, KS 67207
(316) 618-4839
L'image, across from the Men's Warehouse on the northeast corner of Towne East Square currently has a few books of my work on display in their store-front. They can print any of my images with or without a number of framing or mounting options. They are also the ones that do the wood mounting I offer here on my website.
CityArts Gift Shop
334 N. Mead
Wichita, KS 67202
(316) 350-3245
I always try to keep a few images up in the gift shop at CityArts. Most of these images are usually that of Kansas and Wichita. My shots of the Keeper of the Plains and the rest of Kansas tend to be showcased year round here.
Carriage Factory Art Gallery
128 E 6th St
Newton, KS 67114
(316) 284-2749
On average, I usually keep about 6-8 of my images up at Carriage Factory Art Gallery in Newton, Kansas. On occasion I will rotate out some of the images to keep fresh. Currently, they house mostly shots of the Keeper of the Plains from Wichita, Kansas.
About Links