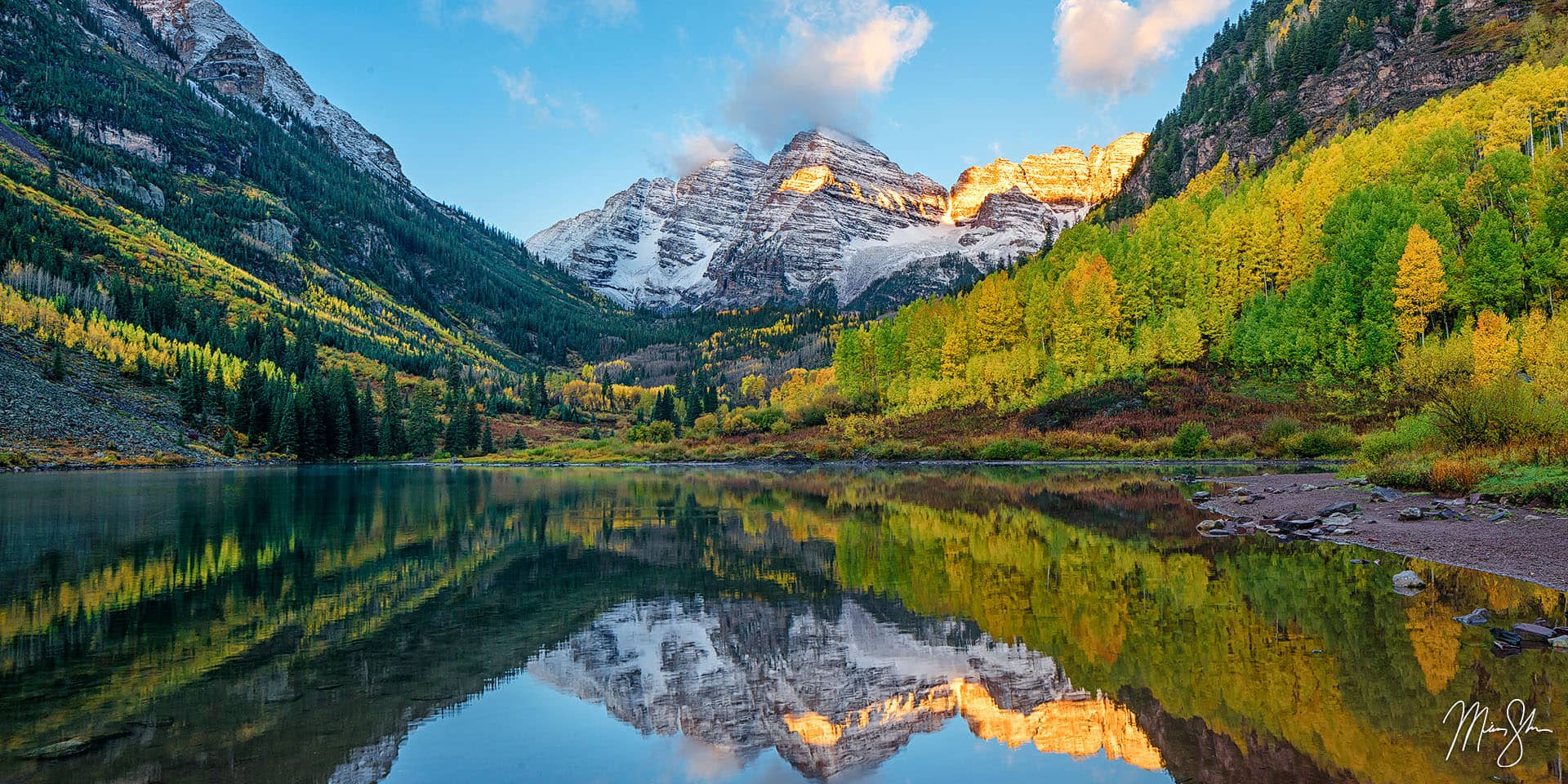 Maroon Bells Photography
Welcome to my fine art print gallery of the Maroon Bells of Colorado. The Maroon Bells have been one of my favorite places to photograph for almost two decades. You can find dozens of photos of the Maroon Bells and surrounding wilderness for sale as limited edition and open edition fine art prints in a variety of mediums below.
Maroon Bells Prints For Sale
I offer both my open and limited edition fine art prints of the Maroon Bells for sale in a number of format. Limited edition formats include TruLife Acrylic prints, Chromaluxe metal prints, gallery plaque mounts, archival canvas and various fine art paper prints. Open edition prints of the Maroon Bells also include metal, acrylic, plaque/wood mount, canvas and paper print options. Many of these formats also include the option of a ROMA or Larson Juhl frame to really add a touch of luxury to your Maroon Bells fine art print.
The Maroon Bells
Considered potentially the most iconic place in Colorado to photograph during fall colors, the Maroon Bells are prominent 14ers in the Elk Mountains. It has been said that the famous view of the Maroon Bells with the reflection in Maroon Lake below is the most photographed mountain scene in Colorado, if not all of North America. The entire Maroon Bells-Snowmass Wilderness is an outdoor enthusiast's playground, with hundreds of miles of hiking and world class climbing. The area is located in the White River National Forest.
Aspen, Colorado
Most people who visit the Maroon Bells do so from Aspen, Colorado. Aspen, aptly named after the beautiful tree that dominates the forests here, is one of the most prestigious and premiere alpine destinations in the world. What started off as a mining frontier town in the 1870s quickly turned into a skiing destination in the 1930s. It's popularity has only grown over the years, with Aspen being home to so many skiing, snowboard and other winter games events such as the X Games and the Alpine World Cup. Aspen attracts some of the most famous celebrities and ultra wealthy. The Maroon Bells are just one of many outdoor locations worth visiting in the Aspen area, including Independence Pass, Ashcroft Ghost Town, West Maroon Pass, Crater Lake and more.