Local photographer releases book of Kansas photos
Mickey Shannon | Updated on April 14, 2023
FOR IMMEDIATE RELEASE
April 11, 2023
Contact: Mickey Shannon
news@mickeyshannon.com
Award-winning international photographer Mickey Shannon from Mickey Shannon Photography releases coffee table, Kansas is Beautiful, filled with Kansas nature and scenes from around the state.
The Kansas is Beautiful book is dedicated to the state of Kansas and features Kansas landmarks such as the Flint Hills, The Keeper of the Plains, the skies at Teter Rock, backroads, wildflowers, waterfalls and much, much more in their majestic beauty.
"This book has been a vision I have always dreamed of doing," said Mickey Shannon, photographer. "My love of nature started when I went to Colorado as a young boy with my family. Being able to take my love of nature and capture these images on film to share with my fellow Kansans brings me great joy. Creating this book and sharing the magnificent beauty of Kansas nature with family and friends and their family and friends is something special and memory-making."
Shannon specializes in nature photography from around the world. His works include locations from the hustle and bustle of a city to exotic and remote locations in the woods to a beach on an island. His work is currently featured at Exploration Place in the Mickey Shannon's Kansas Landscapes exhibit in the WaterWay Hall. Shannon has also had his work featured in Visit Wichita and Kansas Magazine by Kansas Tourism, along with numerous art festivals across the country including Wichita's Autumn and Art. In addition, he is a recipient of the Kansas Finest Award by Kansas Tourism.
Shannon and his wife Valerie, also a photographer, reside in Goddard, Kan. For additional information on the Kansas is Beautiful book or to purchase a copy, visit mickeyshannon.com/ksbook.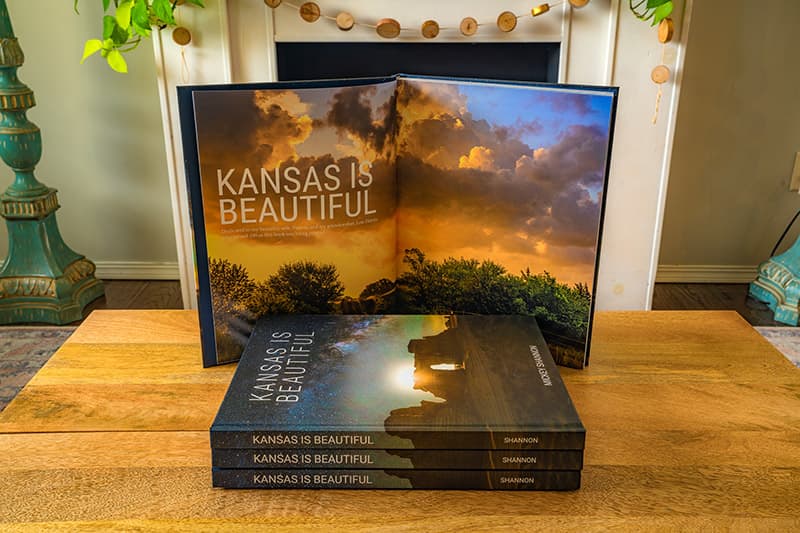 ---