Zermatt & The Matterhorn: Alpine Magic Part 1
Mickey Shannon | Updated on January 3, 2019
I have to admit, I should have written this travel journal of my 10 days in the Alps about 5 years ago and not waited so long to start a travel blog. This trip is what started my true love for traveling beyond the familiar to new places. Looking back through my life, the one place I have visited the most is Colorado. I still visit it at least once a year. These days it's usually for it's beautiful autumn aspens. It's practically been my home away from home. From skiing as a 3-year old to hiking a 14er after college, I never get tired of the mountains. And the smell of those pine trees on a cool summer evening or crisp autumn morning has stuck with me all of my life. For almost 29 years, with the exception of a trip to Yellowstone and twice to the Black Hills of South Dakota, the majority of my vacation experiences were from the Colorado Rockies. Going out of the country was something I had always imagined and dreamed about, but until my late 20's, I never took serious enough to realize that dream. By the time I was 26, I had become fairly overweight. I spent 3 months losing 60 pounds and getting into great shape. This new-found confidence in myself and an ever-growing interest in landscape photography had me again dreaming of visiting some of the world's most beautiful mountain ranges to photograph and trek. The mountain landscapes of New Zealand. Torres del Paine and Los Glaciares National Park of South America. The Canadian Rockies. Denali National Park in Alaska. The Himalayas. European's famous Alps. These are some of the most impressive and beautiful mountain ranges in the world. And I needed to finally take that step and visit one!
Like many people, I felt Europe was a great place to start my international travel experience. So I began researching a Europe trip. I started all over the place, from the Scottish Highlands to the islands of Greece. But I finally settled on the Swiss and French Alps. I spent months pouring over Switzerland travel books and Googling all the best places to visit. The iconic Matterhorn stuck out in my mind as a mountain I had to see in my lifetime. I read about Chamonix, just past the border of Switzerland, in the French Alps. I learned about a stunning cable car ride across the craggy peaks and giant glaciers of the Mont Blanc Massif lies Courmayeur in Italy. I saw pictures of all these places and got excited. And then I saw photos of the Lauterbrunnental Valley. This sold me. This beautiful green valley that is surrounded by cliff walls adorned with waterfalls from every angle. And yet higher still, the cliff walls are surrounded by some of the famous peaks of the Alps, including the mighty Eiger, Monch and Jungfrau! In the 1910's, J.R.R. Tolkien took a backpacking trip through this reason, and it's said that the beauty of the Lauterbrunnental Valley inspired the creation of Rivendell in the Lord of the Rings and Hobbit books. And so I decided upon a 10 day trip: Three nights in Zermatt-Matterhorn, Switzerland, two nights in Chamonix-Mont Blanc, France with a possible day-trip into Courmayeur in Italy, four nights in Lauterbrunnen and a final night in Zurich before flying home. The trip was set!
A little snag
With dreams of hiking near the Matterhorn, viewing Mont Blanc in Chamonix, and gazing on the beautiful Berner Oberland calling, I booked the plane tickets, hotel rooms and Swiss rail passes! The trip was originally supposed to be a group of four. Two friends who were moving back home after college, my brother and myself. Unfortunately our two friends couldn't make it, but my brother's girlfriend at the time was interested in seeing Europe. So the three of us put in our passport applications and waited. A few weeks later, two of us received passports. A few more weeks passed, but my brother's passport never came. Less than a week remained before our flights to Zurich. This turned into quite the ordeal. Two days before our trip, my brother was forced into taking a flight to Houston to speak with the passport office in person. He was told that was the only way he would have a chance at getting his passport in time. Once he arrived and waiting in line for an hour, he was told he had wasted his time and there was nothing that could be done. Thankfully a phone call to a congressman's office changed all that. Within an hour of that phone call, my brother was back at the passport office, with passport in hand.
Day 1: Friday, May 22nd, 2009 – My first day in Europe
After months of planning and a diverted fiasco, the day was finally here! We had two legs: Wichita to Atlanta and Atlanta to Zurich, Switzerland! By the time we boarded our flights from Wichita, we were already exhausted. My brother had already done a spur of the moment trip to Houston over the previous two days and I was so excited for the trip I barely slept in the days leading up to the trip. The time spent in the Atlanta airport was a blur. And the flight to Zurich was an over-nighter that at least brought a few hours of sleep. However, because of the direction we were going, we were losing about 8 hours, which drastically reduced the night time sleep on the plane. By the time we arrived in Zurich, it was 8AM but felt like 2AM! (because it practically was midnight in the States) The excitement of where we were was the only thing keeping us going! As tired as we were, we had a train ride from one end of the country to the other. Zurich is situated closer to the Germany border in the north, whereas Zermatt, our first destination, is maybe five miles from the Italian border in the south. What people from the United States don't realize is that many countries in Europe are no bigger than most states in the US. So the world class rail system (more on that in a minute) is only 3-4 hours. So we got off the plane, and did some money exchanging while waiting for the next train ride out of Zurich. As the Swiss rail system is, as they say, like clockwork, our train was right on time. The train ride itself was beautiful, but I literally dozed off multiple times on the train, nearly missing our connection in Visp to Zermatt. However, in my zombie-like state, I still remember seeing amazing scenery! I've never seen so much color in my life! The train passed through many Swiss towns, including Bern, which is one of Switzerland's famous and beautiful cities. The trees, plants and grass were just so green! Everything from Zurich to Zermatt was absolutely gorgeous! And even though I was dying from exhaustion, the thought of finally glimpsing one of the most famous mountains in the world, the Matterhorn, kept me awake on the final train ride up from Visp to Zermatt. I still remember bending around a mountain and finally glimpsing that majestic peak for the first time!
We arrived in Zermatt right on schedule, thanks again to that ever effecient Swiss timing. As it turns out, the apartment we stayed at, Casa Vanessa, in Zermatt was a little over half a mile from the rail station. Exhausted though we were, walking through a town as gorgeous as Zermatt for the first time is pretty amazing. Seeing the little tourist shops, the bakeries (a lot more on these later), the various stores selling cheese and chocolate, both of which Switzerland is famous for, was a great introduction to our first Swiss town! However, as enticing as these stores were, we needed a nap in a bad way and trudged on to the south end of Zermatt.
It took us a moment to find our apartment. One of the things I remember most about staying at the Casa Vanessa apartment was entering from the street level into what seemed like a cave. Once in the "cave", we took an elevator and ended up in a really nice apartment complex. The rooms were great, with spacious area, nice beds, a great kitchen. While I knew I would spend far less time in any hotel or apartment than I would out seeing everything on this trip, it was still nice to stay in a great place!
After a much needed nap, we awoke in late afternoon to stroll around Zermatt, just taking in the sights. We walked across the town to the northeast side of town, on a hill, where I was able to shoot a post-sunset twilight image of Zermatt and the Matterhorn during the "blue hour" of the evening. After grabbing a few shots, we eventually made our way back towards the center of town where we stopped and ate at a restaraunt near the train station, splitting two delicious pizzas between the three of us before heading back to the apartment to call it a night.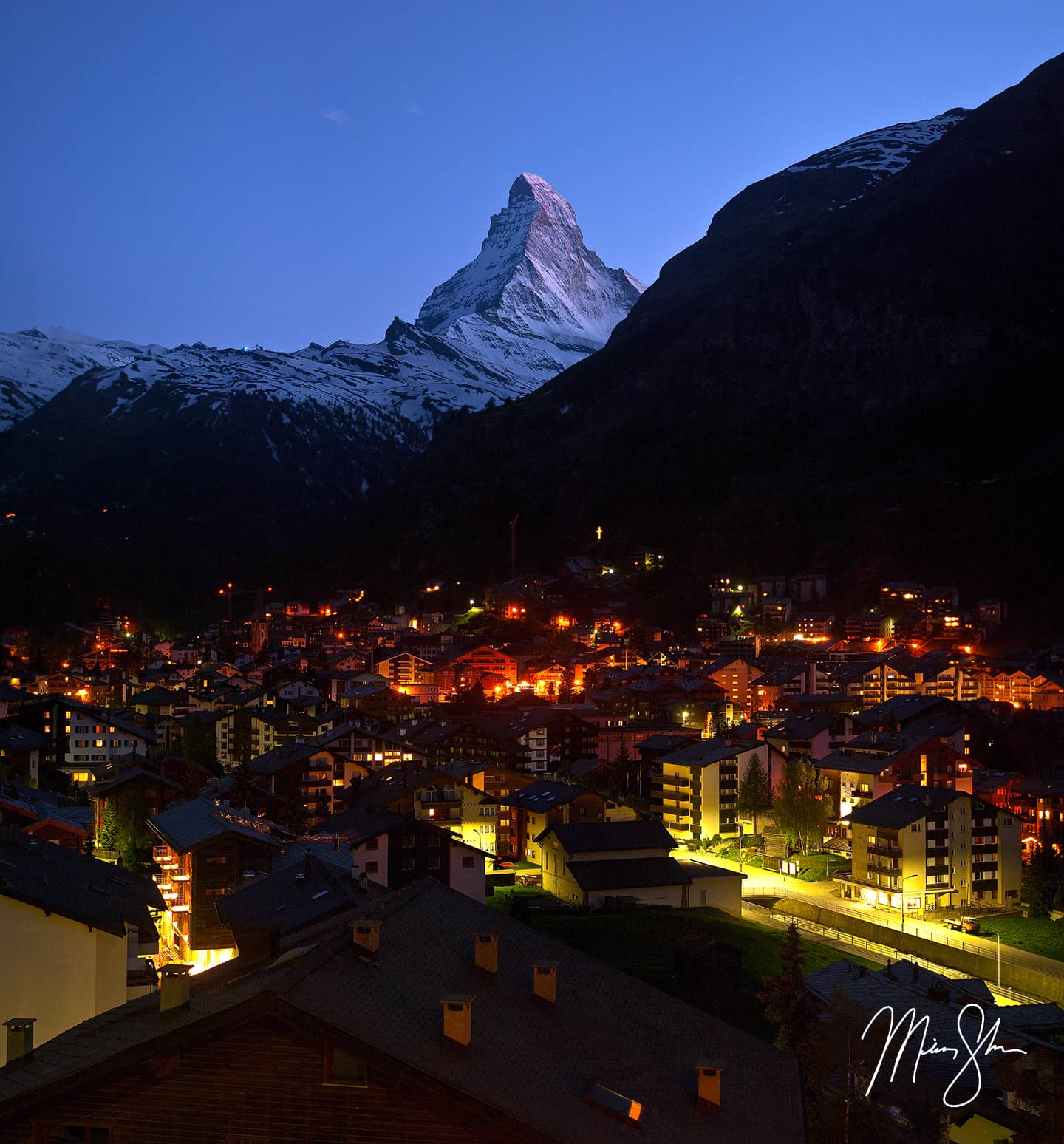 Swiss Rail System
I should really take a pause from my adventure here to mention the extremely efficient Swiss rail system. It's world class! It's a beautiful way to travel in this amazing country. I'm not sure how the rail system is throughout the rest of Europe, as I've heard some places can be pretty bad – worker strikes, really late arrivals and departures, etc. – but in Switzerland, the train system is as punctual as their famous Swiss watches! It's a cheaper alternative in most cases to renting a car or any other method of transportation within the country. Plus, there are some places in the Alps that are car free (Zermatt, Wengen, Murren and Gimmelwald all come to mind) that are accessible by rail, cable car or foot only. It's a great way for someone from the States to really see the country! We had purchased a multiple-day Swiss rail pass that basically allowed us to ride the Swiss rail system as much as you like in the alloted time. There were a few specific or special train rides that were seperate of the cost of this, but for the most part, the pass could get you all over the country. One of the best features of the rail system is that it comes with free admission into many museums, castles, attractions and other discounts! It also gave both discounts and free admission on many of the cable cars that we took. In addition, even if a special train ride wasn't part of the Swiss Pass, it usually gave quite a bit of discount to those with a pass. We took advantage of this multiple times on the trip, including the Jungfraujoch and Gornergrat! We also took advantage of it to visit other attractions such as the Chateau de Chillon and castle in Spiez to get in for free or much less than normal cost. All things considered, if you ever take a trip to Switzerland, a Swiss rail pass is the way to go.
Day 2: Saturday, May 23nd, 2009 – Exploring the Alps
Before my trip, I had many people tell me that the first few days would be tiring from the jetlag, but I actually awoke full of energy and ready to tackle a good hike! I chalked it up to a weird schedule which let us take a nap after arriving in Switzerland, which compensated for the time difference. Either way, I never felt this supposed jetlag the entire time I was there. It was like my body adjusted to the schedule immediately. Our plan for the morning was to take the underground funicular cable car to the Sunnegga Paradise area. We stopped at a local bakery called Fuchs to get some breakfast. This was our first experience in a Swiss bakery. And it wouldn't be our last. I can't explain how amazing the bakeries in Switzerland are! And Fuchs was one of the best. We grabbed some pastries and ate them on the way to the Sunnegga funicular station.
The funicular ride up to Sunnegga was interesting. It could probably be best described as a cross between a train and a ski lift built into a tunnel inside the mountain that stretched from Zermatt to a beautiful viewing platform and area called Sunnegga. My hope was to hike the famous 5-Seenweg (Five Lakes Walk), but we only really made it to two. The first, Leisee, was right near the Sunnegga paradise area, and only about a 10 minute walk down from there. We then hiked to Grindjisee, which is a beautiful lake with a clear view of the Matterhorn.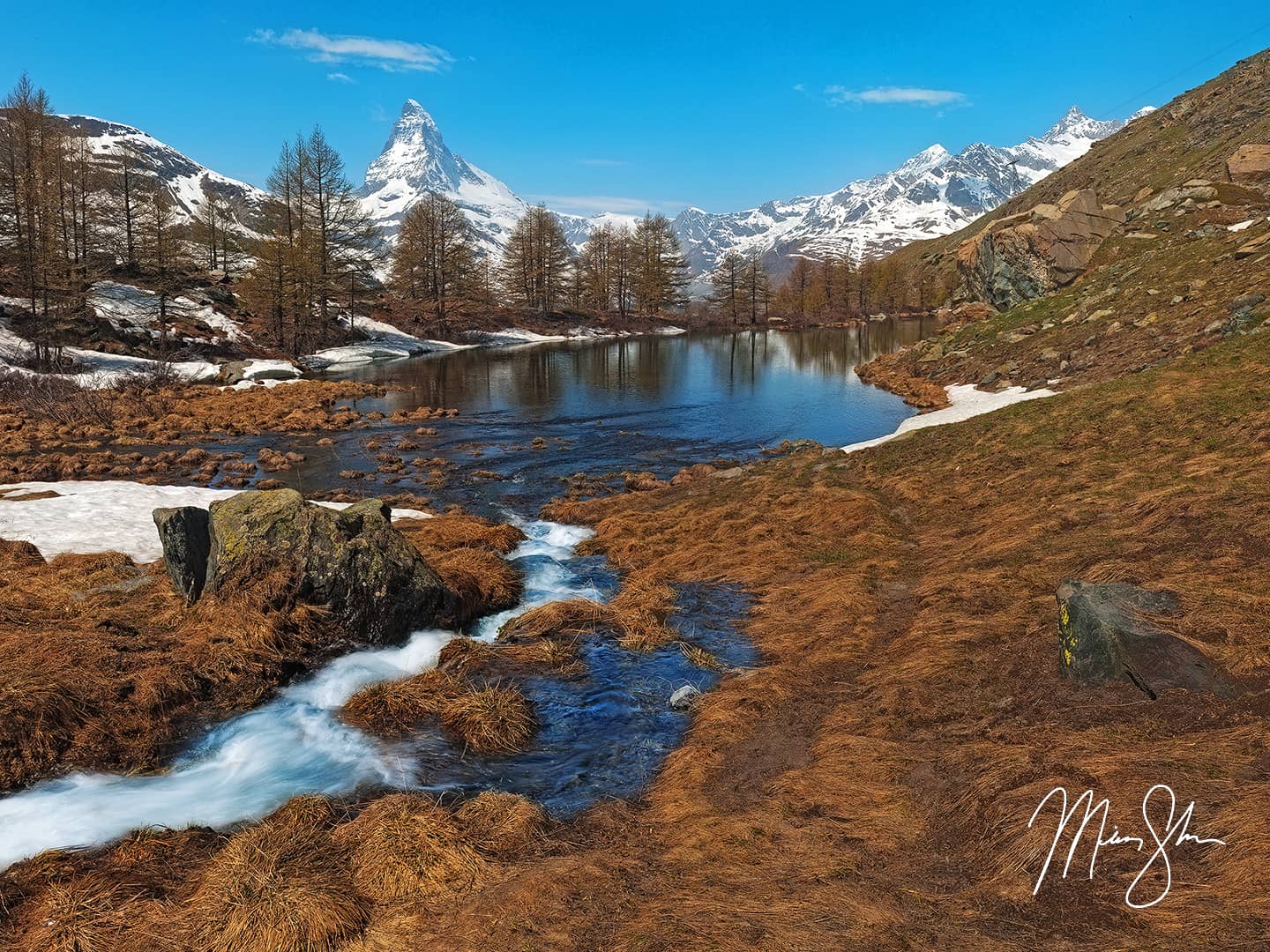 As a photographer, my hope was to capture a nice reflection shot of the Matterhorn in one of these lakes, but the day was extremely hazy, making it difficult to get any sort of good shot. In addition, being there in the off-season of late May had it's trade offs. While it was more peaceful with less tourists, many of the cable cars and lifts were either on shortened hours or not running until June. It was after 10AM before we even arrived at Sunnegga and unfortuantely, the day we were up here it was extremely hazy. Other than the one above, I never really captured that reflection shot I hoped for. However, thankfully I did have a great time hiking around the mountainside on my first full day in Switzerland!
Aftter hiking in the high country, we were pretty tired and hungry. We got back to Zermatt a little later than lunch time, and found that most restaurants close for a few hours in the afternoon. So we grabbed some food at the COOP, which is Switzerland's largest retail and wholesale company. It's a pretty sweet grocery store, selling lots of organic foods and leading the charge as a very eco-friendly and sustainable retailer. Back in 2011, they were awarded the title of "World's Most Sustainable Retailer" by German-based Oekom Research agency.
Once we got back to the apartment, we had a nice lunch that probably consisted of way too much cheese (not that I'm complaining – it was amazing!), some great bread and Fanta soda. The rest of the afternoon was spent napping. After a few hours of rest, I set off to explore the south side of Zermatt. My hope was to shoot a nice sunset of the Matterhorn, but clouds muted any color I could hope for. Even without a vivid sunset, it was still a beautiful place to be, and as we were there in the off-season, it was very peaceful to just explore and relax.
Day 3: Sunday, May 24th, 2009 – Glimpsing a Glacier
We awoke to a beautiful clear morning and so I was up early to attempt a sunrise. I really was hoping for that iconic alpineglow view of the Matterhorn. After 2 days, I was still so mesmerized by this famous mountain that I had only seen in books or on the Internet. After getting a few shots, we decided to splurge for a train ride up to the Gornergrat (Gorner Ridge) and the giant Gorner glacier that resided up there. So we trekked back through town and stopped at another Fuchs bakery for more delicious breakfast treats near the entrance for the Gornergrat train.
The train ride up the Gornergrat was spectacular! The Gornergrat Bahn (or train) was the first fully electrified cog railway, built in the late 1800's! Nowadays, like many things in Switzerland, it's very green and eco-friendly. On the ride up to the Gornergrat station, we glimpsed some amazing views of the Matterhorn along the way, also crossing some beautiful bridges that had dizzying views. Once at the top, we found that not much was open. Like many things in late May, we were there in the off-season, so while everything was far less touristy (and cheaper), many things were either not open, or had limited hours. Some had hotels, like the Gornergrat, but unfortunately, were not open when we were there. Had I been there during these times, I'm sure I would have taken advantage to shoot some sunrises and sunsets from higher in the Alps! But we really weren't at the Gornergrat to shop or eat, so we set foot above the observatory to take in the stunning panorama before us!
This was my first time seeing a glacier in person. I will never forget it. Nothing can fully explain what it's like to see a giant glacier sprawled out before you. A huge river of ice with the power to crush the rock below it. The Gorner glacial system is actually the second largest glacial system in the Alps, only smaller than the massive Aletsch glacial system to the north of it. From the Gornergrat we could not only see this massive glacier, but also many of the famous peaks of the Alps. Obviously the Matterhorn was in view, with it's famous pyramidal peak, but also Monte Rosa, Switzerland's tallest mountain, topping out at 15,203 feet stood before us!

The above photo is a stitched panorama that can be printed at ridiculous sizes (at least 20×5 feet). One of my obsessions on this trip was to stitch photos together to be printed at extremely larger sizes. Once I got home and had to do all the editing of these, I thought twice about doing this on future trips. It takes a lot of time. However, you can read more about these large format images on my prints page. Many of the photos I took on this trip can be printed at giant sizes.
In addition to the amazing views, some of the local wildlife also greeted us. A family of ibex (a mountain goat that live in the Alps) were happily content to hover around the salt lick that's installed at the Gornergrat. Walking back to the train station, we stopped to admire the "Bernhard von Aosta" chapel. After about 50 years of Sunday mass being held in the Gornergrat hotel dining room, the bishop expressed a wish for this chapel to be built. In 1950, construction began and when finished, it was dedicated to Saint Bernard. And it was soon after seeing the chapel dedicated to Saint Bernard that we met our first St. Bernard dog! We had just left the chapel, and wandered in to where the shops were. A post card shop owner was telling his dog to come into the store. This was pretty cool, as we were probably 15 miles from Great St. Bernard Pass where the St. Bernard is said to have originated from. After checking out some shops and buying a few postcards to send to family, we decided to head back to town.
That evening was a relaxing one, again spent wandering around the south side of Zermatt and into the countryside. I often find these times to be the best of a trip. It was a beautiful night with no wind and great temperatures. I took my camera and just walked and explored. Sometimes shooting a scene, and sometimes just marveling at the beauty around me. We stopped at the cross in the picture above numerous times, as it was just south of our apartment. This night wasn't so much about photography, but just walking at the base of possibly the most famous mountain on the planet. I can also still remember the farms outside of town, with lots of sheep running around, the cross situated on the trail to Zmutt and the signs to hike to one of the Ricola herbal farms. On the way back, I shot what I could get of a subdued and cloudy sunset and we went back to the apartment complex to get ready for our next location: Chamonix, France.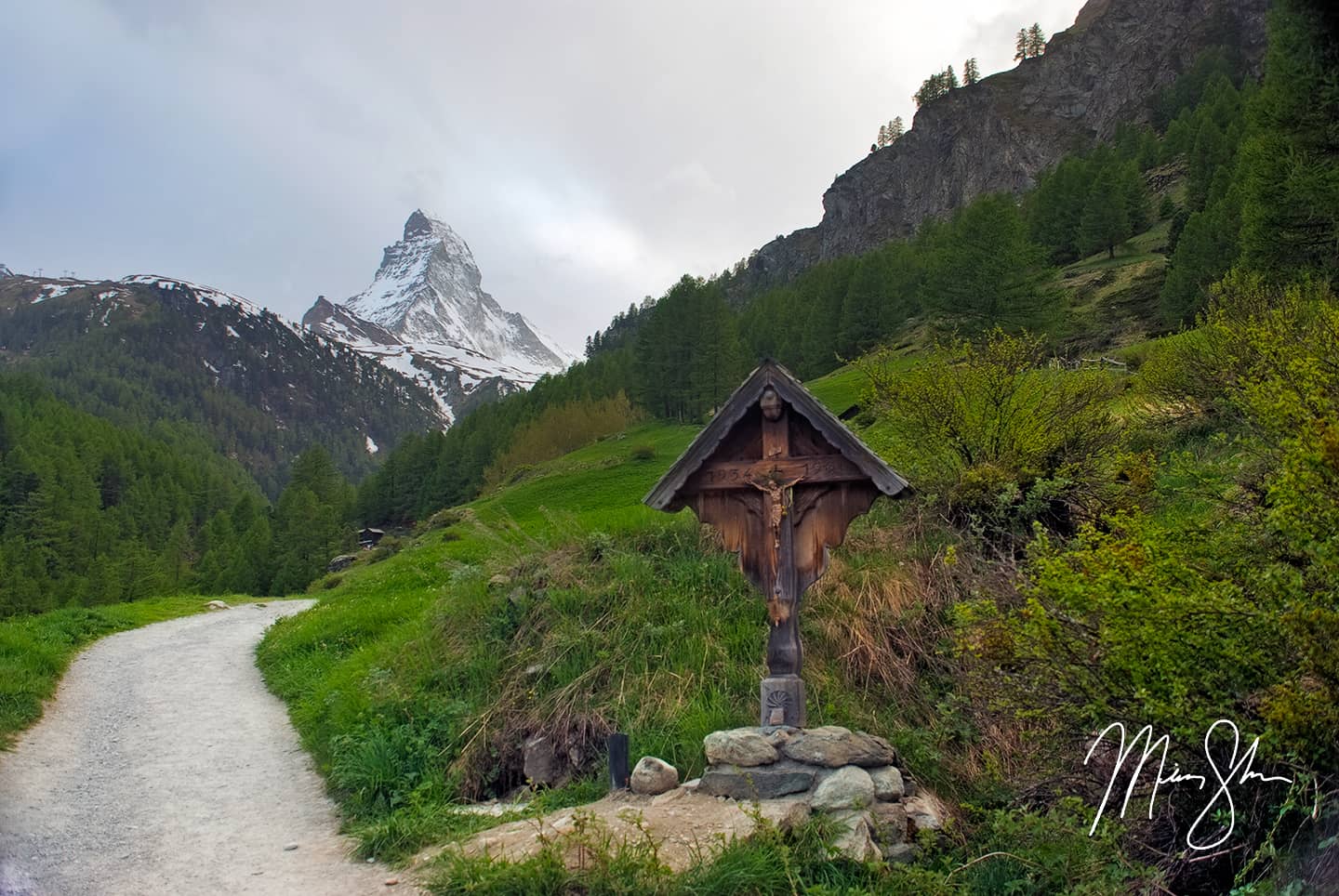 Check back in a few days for part 2 of Alpine Magic where we travel just across the border to Chamonix, France.
---