Colorado Fall Colors: Awesome Photography Locations
Mickey Shannon | Updated on May 24, 2021
Sept. 1, 2020 Update: It's beginning to look like this year will be a reverse from last year! There are already a few reports of some leaves changing color. In drought years, fall colors tend to come earlier and this year is shaping up to do just that. I've even seen some reports that have the San Juans turning quicker than areas to the north because of how extreme the drought is getting in southwest Colorado. So when looking at the dates below, it's possible colors could arrive as much as a week or two early to many of these locations. We'll just have to wait and see on some of them. My own fall colors trip isn't until the end of the month, so I'm hoping there will still be some good color by then! I may try to go for a quick three day weekend a little earlier in the month if all works out.
Colorado Fall Colors
Colorado in the fall is one of my favorite times of the year! Every year around August when a cooler day hits, I think about how those beautiful aspen trees will be turning yellow, orange and even red in September and late October. Some years are better than others. And the timing can vary greatly from year to year. What I wanted to do with this guide is to give a list of my favorite photography spots for fall colors in Colorado. In general, Colorado fall foliage tends to start north and move south. Areas such as Rocky Mountain National Park usually turn before, say, Dallas Divide in the San Juan mountain range. Below, I've tried to give a bit of an idea for peak fall colors, but it can vary greatly from year to year based on weather and how the season has gone. Rain, wind, sunshine and snow all play into when leaves turn and drop, so take this is a very rough guide based on my limited time of photographing the fall colors for the past 15 years or so. Also know that every photographer views peak differently. One photographer may be interested in grand vistas which require most of the trees to still have color, while another photographer may be interested in more intimate scenes and likes to shoot when leaves have blanketed the ground. It's all about perspective! So take the peak colors with a grain of salt. Hopefully the locations here help you explore new areas yourself! I hope to update this regularly around the fall to give updates on new locations and maybe even fall color trip reports if I am able to.
The Maroon Bells
The Maroon Bells are often considered the most photographed mountains in all of North America. I've been coming here year after year for over a decade, and the crowds just continue to grow. It's not uncommon to find a couple hundred photographers with tripods lining Maroon Lake at sunrise to get that famous shot of the Maroon Bells reflected in the lake with fall colors and a dusting of snow on the mountains. However, last year some changes were implemented. There are now ropes keeping people from the edge of the lake. Out of respect of Nature First principles, I have to say it's not a bad idea considering the amount of foot traffic Maroon Lake gets. There are still plenty of spots to get those iconic peaks draped in their fall colors. If the lake-side spots are all taken, try walking around the lake. Sometimes I enjoy leaving the crowd behind to get a shot from a more unique angle with Maroon Creek in the foreground.
View my Maroon Bells photography gallery for more images from the Maroon Bells and the entire Aspen area.
Average Fall Foliage Peak: September 22-28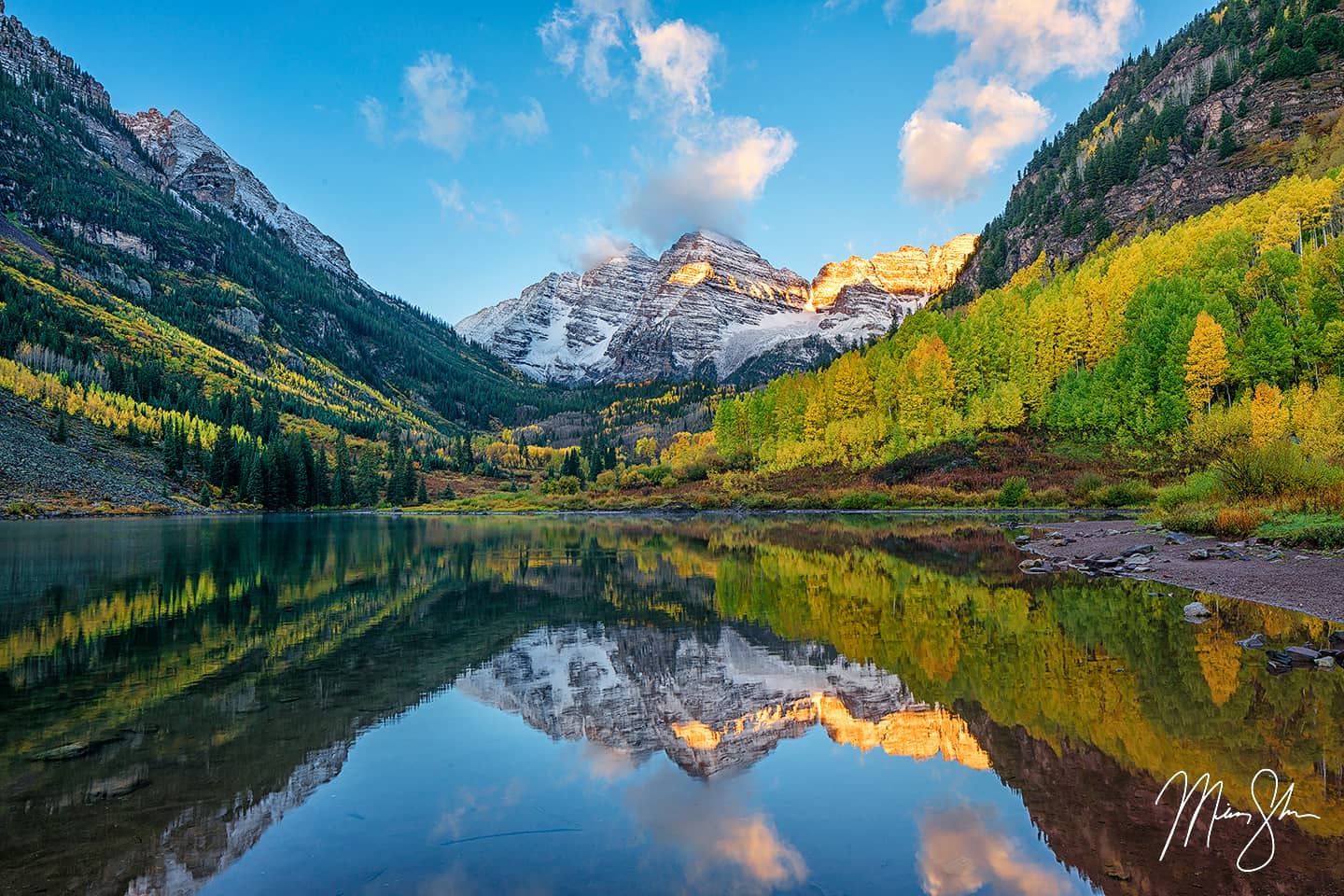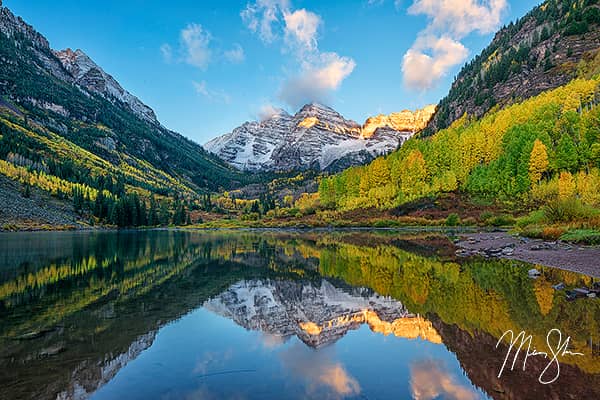 Dallas Divide & Last Dollar Road
Ridgway, to the east of Dallas Divide is one of my favorite places in all of Colorado. The county roads near here are full of amazing views of Mt. Sneffels wilderness. County Road 5 and Country Road 7 are particularly amazing. CR7 has one of the best vistas in all of Colorado, looking out at Mount Sneffels not far from the Blue Lakes trailhead. The camping spots here are some of my favorite camping spots in the entire country. Taking the highway further up to Dallas Divide itself lends to some pretty awesome stands of aspens turning gold, yellow and orange. Dallas Divide usually turns a bit later than the likes of the Maroon Bells or Kebler Pass, as it's further south.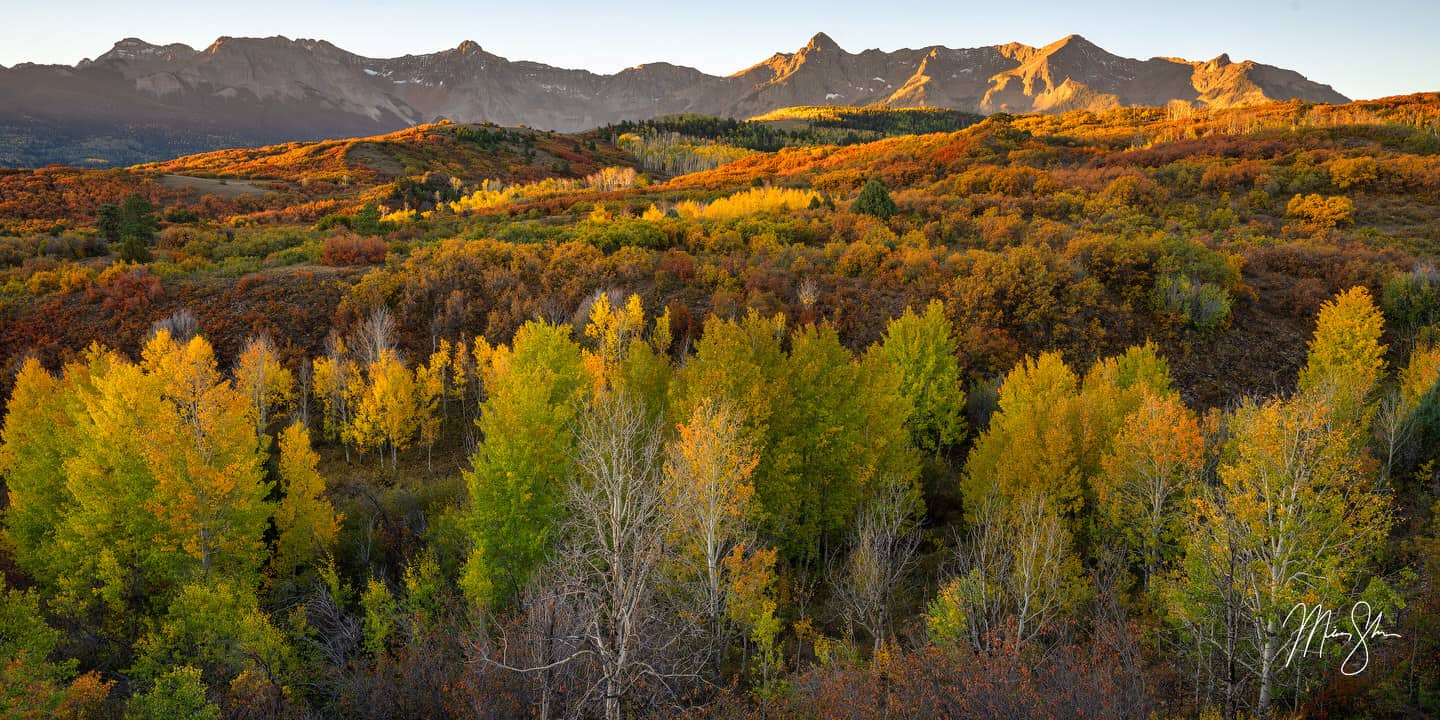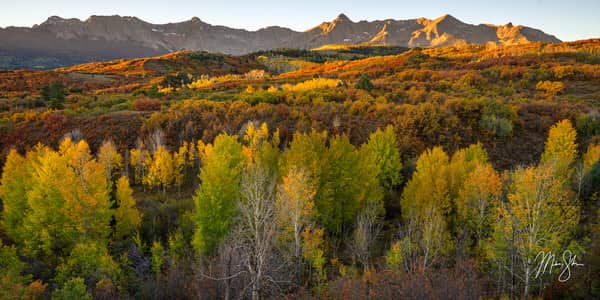 Past Dallas Divide lies Last Dollar Road, which is one of the best non-paved roads in the country! Full of amazing scenery, this area is a gold mine of, well, golden leaves come fall every year! It begins near Dallas Divide and climbs around the peaks to the west of Mt. Sneffels until it arrives just west of Telluride. Last Dollar Road includes some beautiful ranch-land, thick groves of aspen trees and amazing views of Mt. Sneffels, Wilson Peak and Mount Wilson. The road can vary from passible with high clearance in dry conditions to not so nice in rainy and snowy conditions. So make sure you're well prepared. Much of the road is in great shape though, and even id you don't drive the entire road, even doing part of it is well worth the time!
Average Fall Foliage Peak: September 27 – October 6.
See More: San Juan Mountain Photography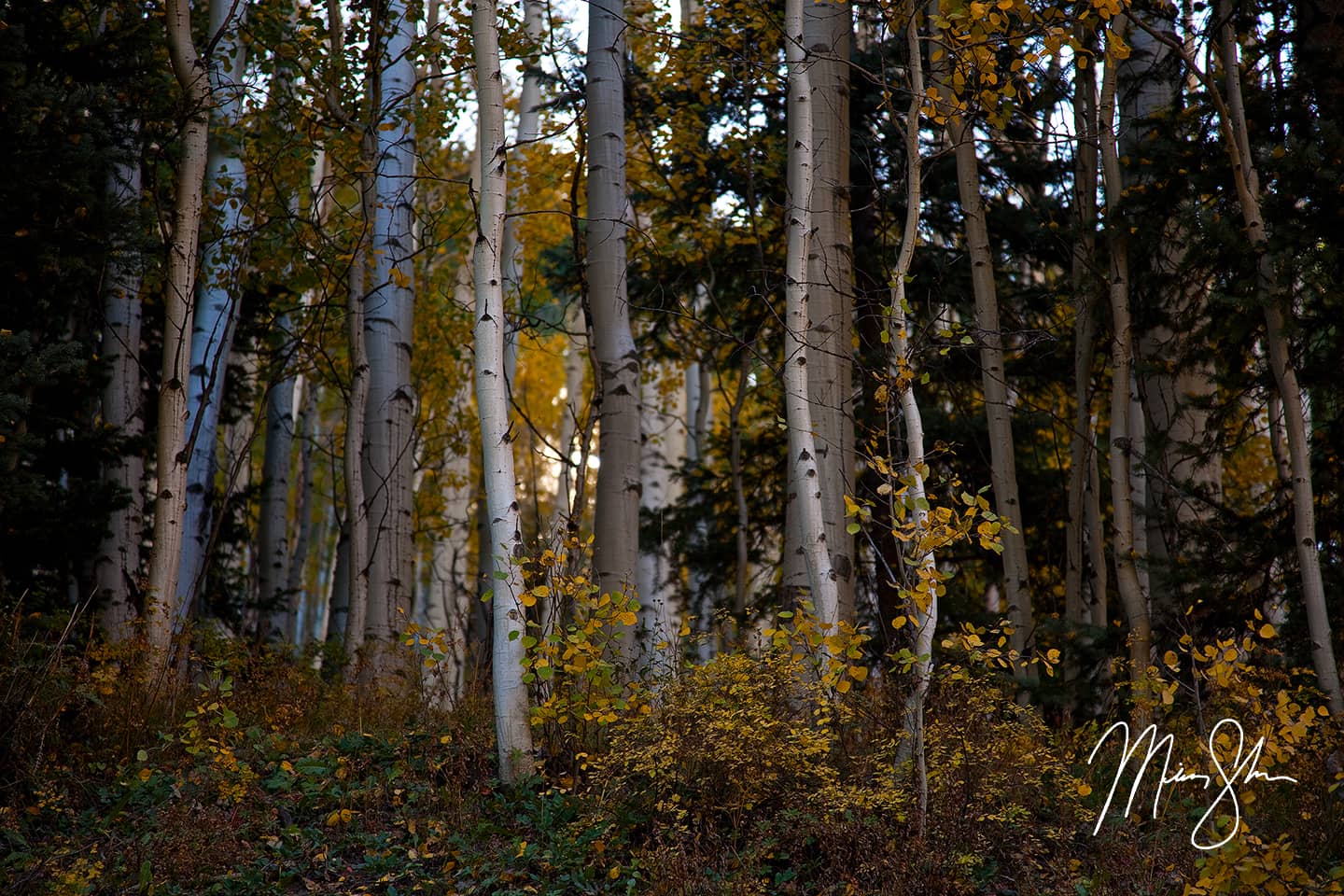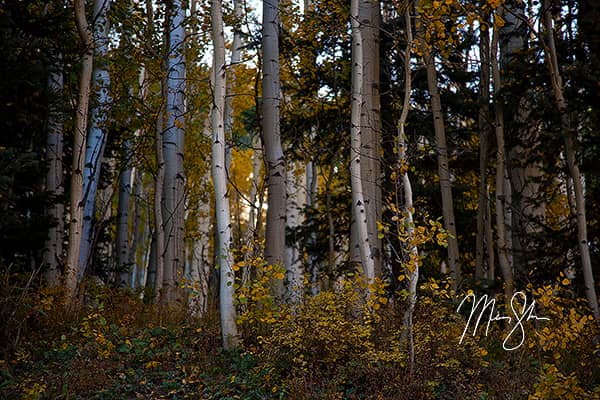 Kebler Pass
Kebler Pass is another favorite spot for fall colors. From one side to the other you can get both grand vistas of colors and intimate landscapes within the trees. It's one of the best places to narrow in on specific smaller scenes of aspen trees that have turned. But on the west side of the pass are some grand vistas! In both 2017 and 2018 I was treated to two of the best sunsets I've ever seen in my life.
Average Fall Foliage Peak: September 24 – October 1.
Rocky Mountain National Park
Rocky Mountain National Park is more than just a single location. I could probably fill a top 10 list of spots just in the national park for fall foliage. That said, there are some amazing spots to find that Colorado fall color. The popular hiking trails in Glacier Gorge and the Bear Lake area are a great place to start! The path up to Dream Lake is a favorite hike regardless of the season, but there are a few vistas between Nymph Lake and Dream Lake that offer awesome views of Longs Peak with a scattering of aspens all turning yellow and orange. Bear Lake itself has some nice color most seasons, and hiking along the trail to Alberta Falls usually produces some nice color. Going back towards Estes Park, there are some amazing stands of aspens around Moraine Park. Estes Park itself can have aspens with golden leaves well into October. And if you're looking for something unique, the drive up Trail Ridge Road provides tons of tundra that starts showing off autumn colors as early as late August. In fact, one of the best things about the region is that you can probably find fall colors somewhere in the area from late August to mid-October because of the ease of access to various elevations. In addition to the fall colors, Rocky Mountain National Park is one of the best places to witness the elk rut. It's hard to drive around Estes Park, Colorado and NOT see an elk on many days in September and October.
Average Fall Foliage Peak: Varies – Tundra starts in late August. Bear Lake and surrounding areas September 18-26. Lower elevations: September 30 – October 6.
See More: Rocky Mountain National Park Photography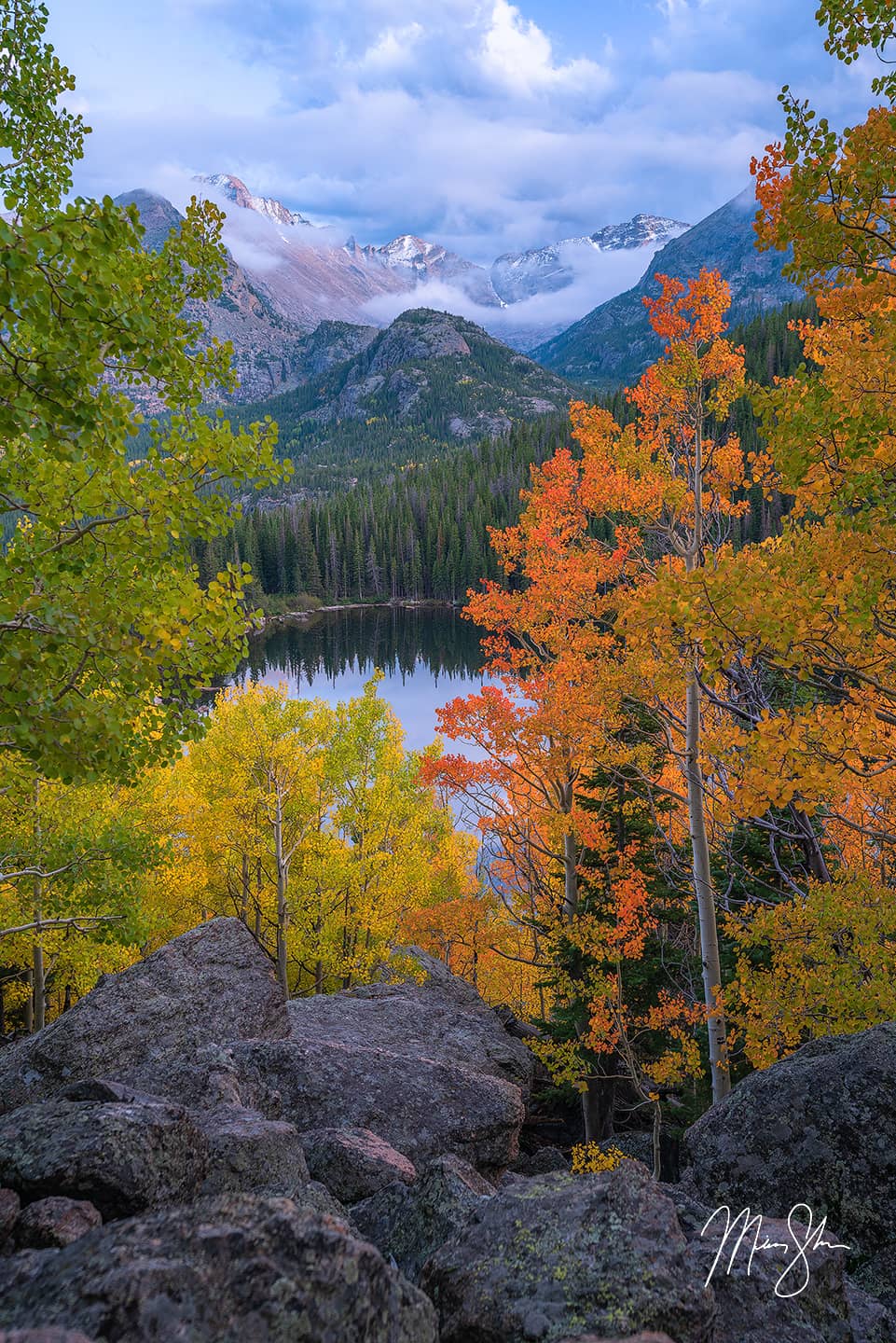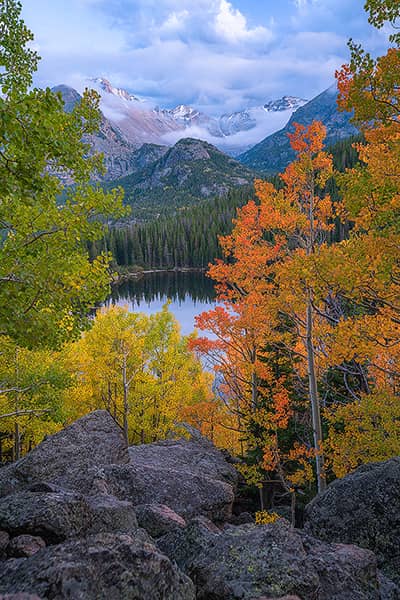 McClure Pass, Marble & the Crystal Mill
McClure Pass is an awesome place to shoot those straight up into the aspen leaves in blue skies type shots. With tall beautiful aspens at the top of the pass you can wander right into the forest and have a blast taking pictures of these aspens.
The Crystal Mill is about 4-5 miles up the 4×4 road from Marble to Crystal. It's a beautifully scenic, if rough, drive up. Or hike if you're up for a pretty dusty time. The Crystal Mill in autumn colors is impossibly beautiful! It's hard to describe just how beautiful until you see it for yourself.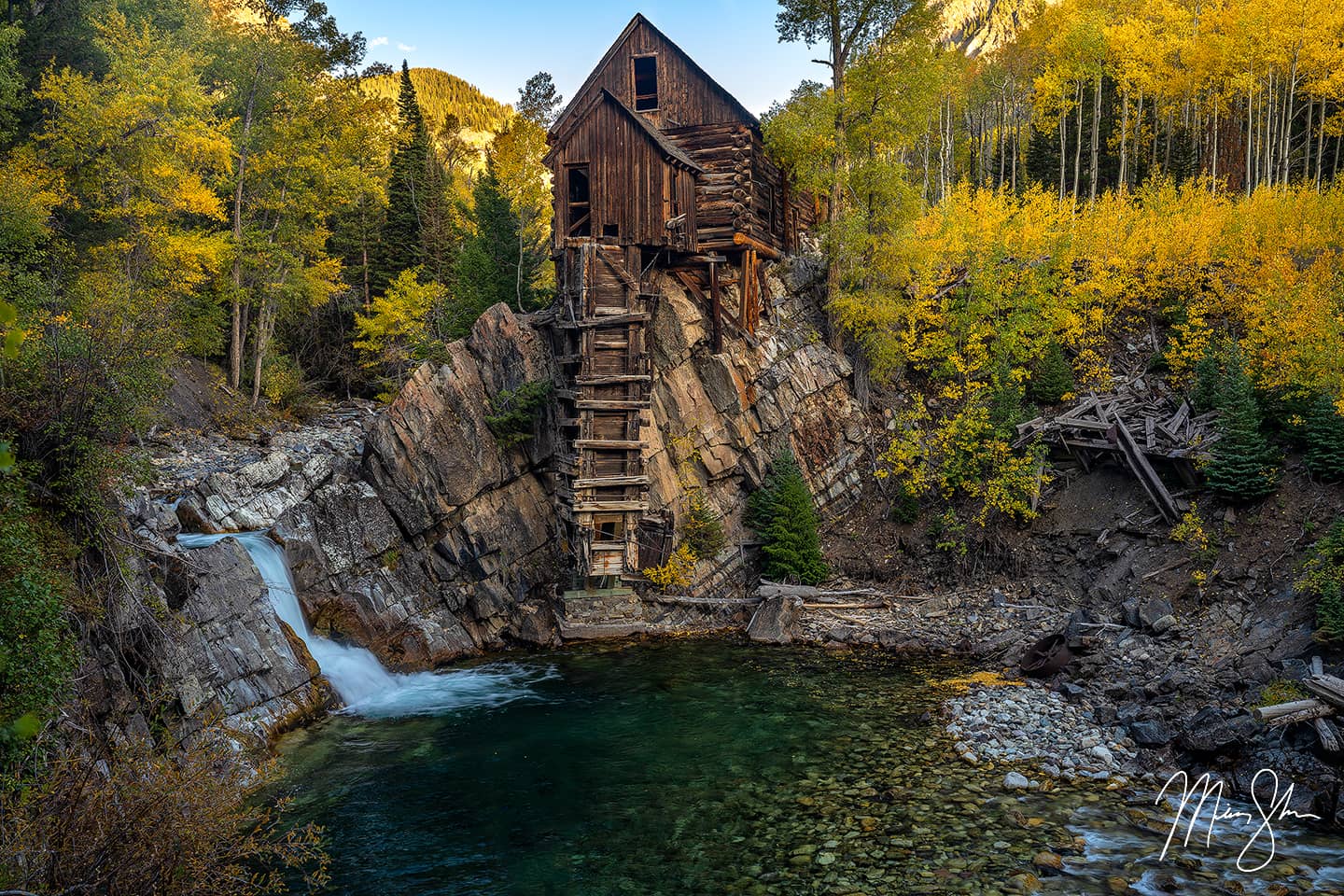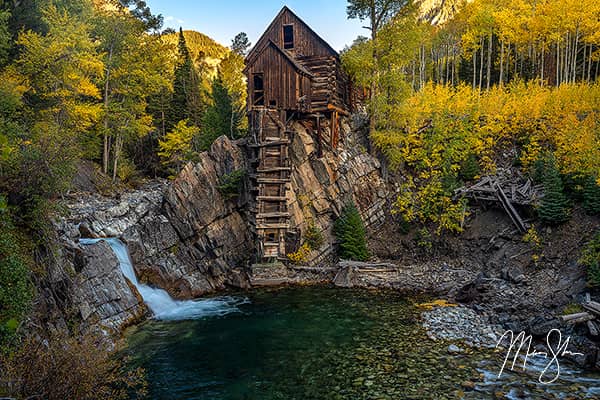 See More: Crystal Mill Colorado Photography Gallery
Average Fall Foliage Peak: September 25-October 2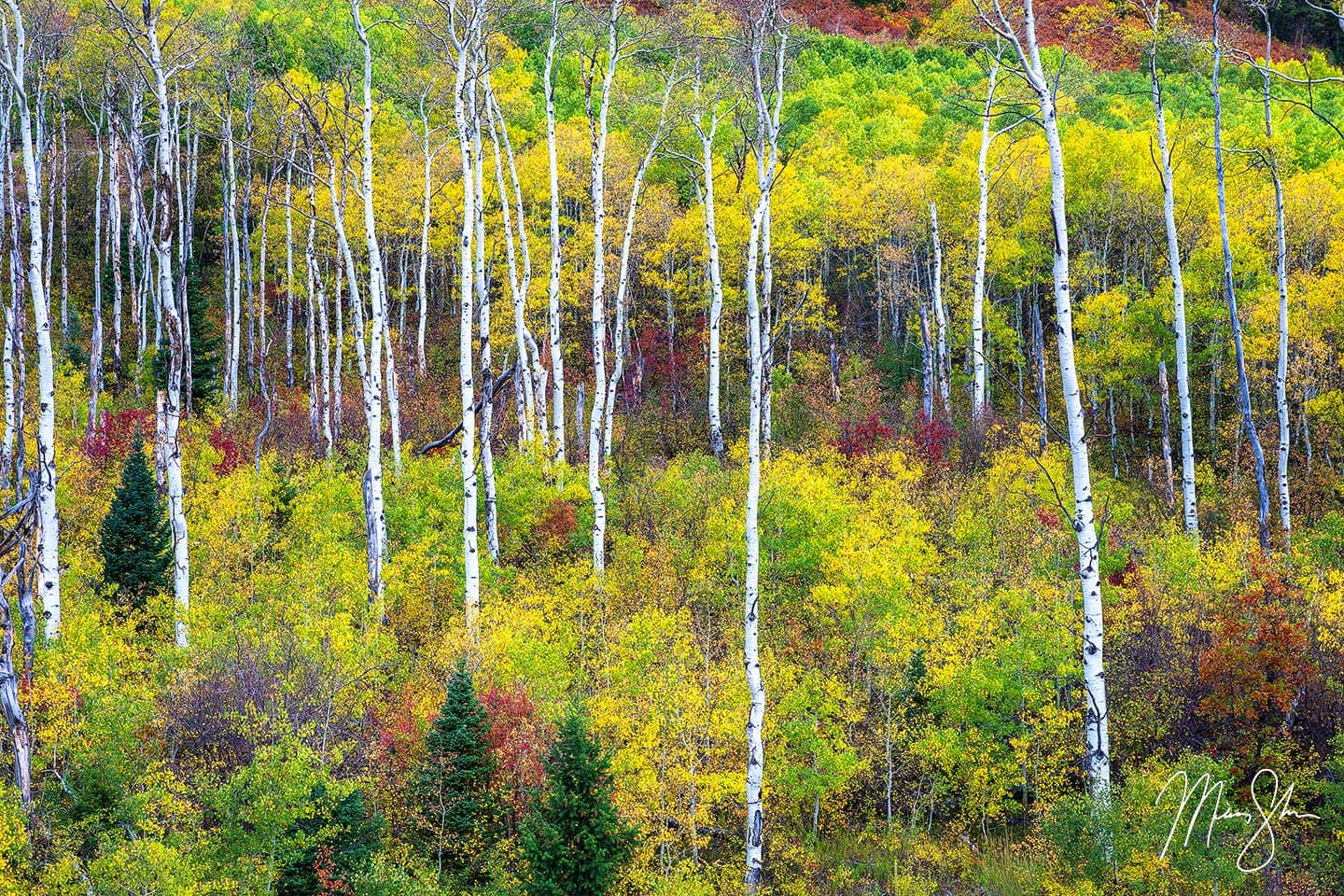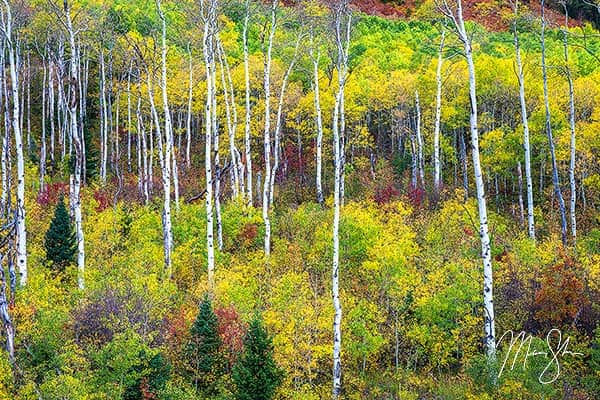 Capitol Peak
About halfway between Carbondale and Aspen lies an amazing viewpoint of 14er Capitol Peak. The valley between the vista and the peak is full of aspens that turn all shades of yellows and oranges each year, making for a great spot to shoot the grand vista or get in close for some more intimate aspen colors.
Average Fall Foliage Peak: September 24-30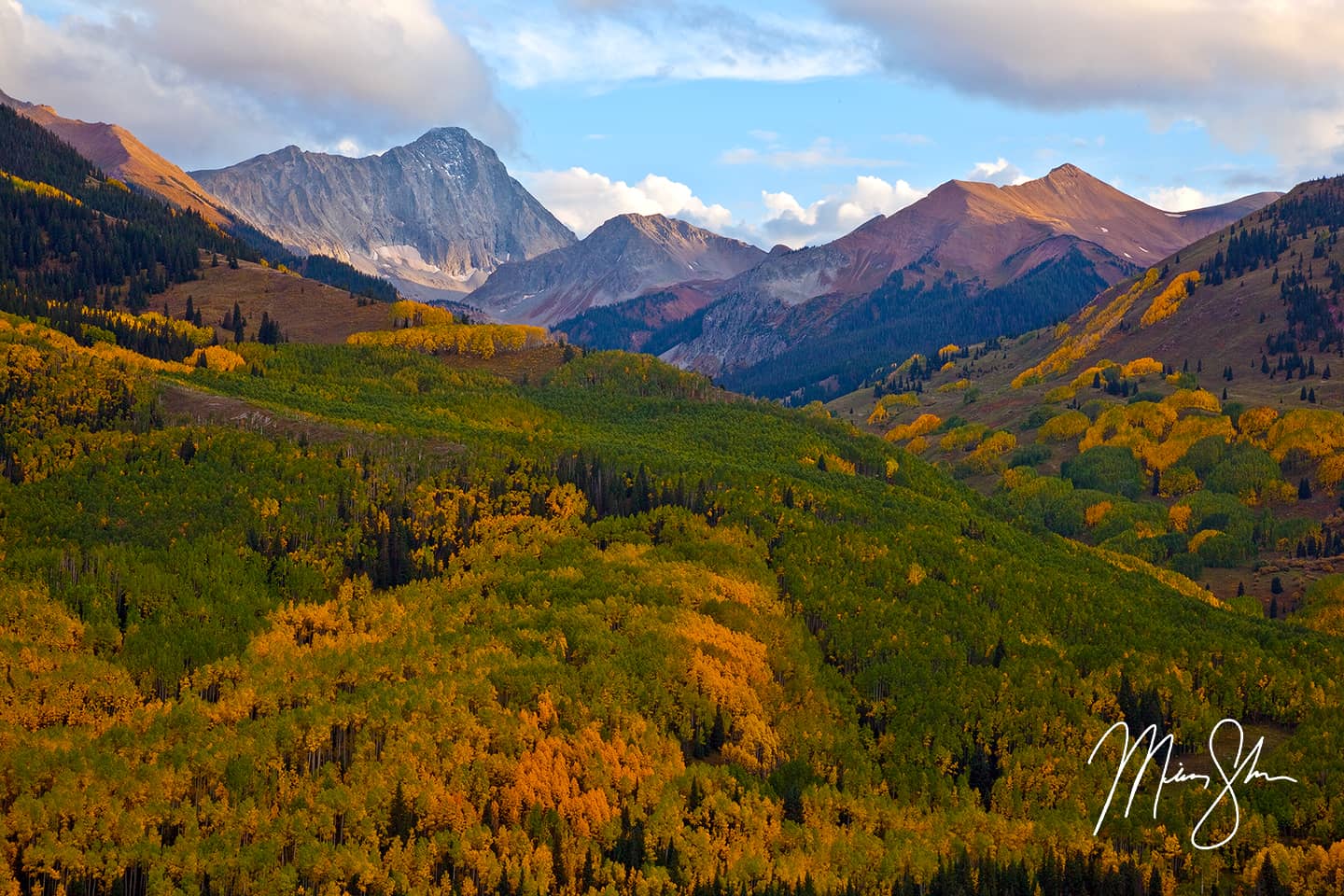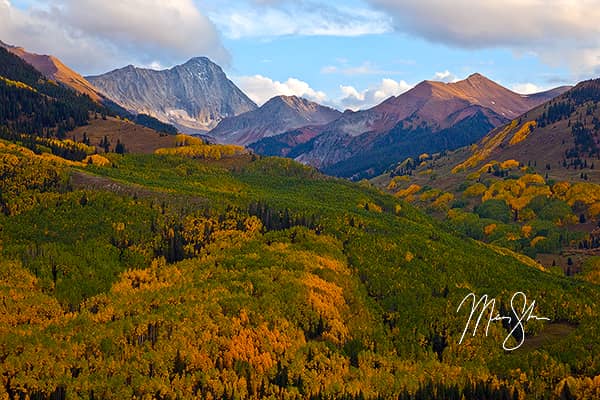 Hanging Lake
Hanging Lake is another Colorado gem. Like Maroon Bells though, it has seen changes in recent years due to the amount of visitors it receives. Over-use and even vandalism were becoming a problem at Hanging Lake, so a new permit system is now in place. You can get more information about that on the Visit Glenwood Springs Hanging Lake page. Fall colors here are complimented by the crystal clear turquoise colored lake and the silky smooth waterfalls that fall into the lake from above.
Average Fall Foliage Peak: Late September – Mid-October
See More: Hanging Lake Photography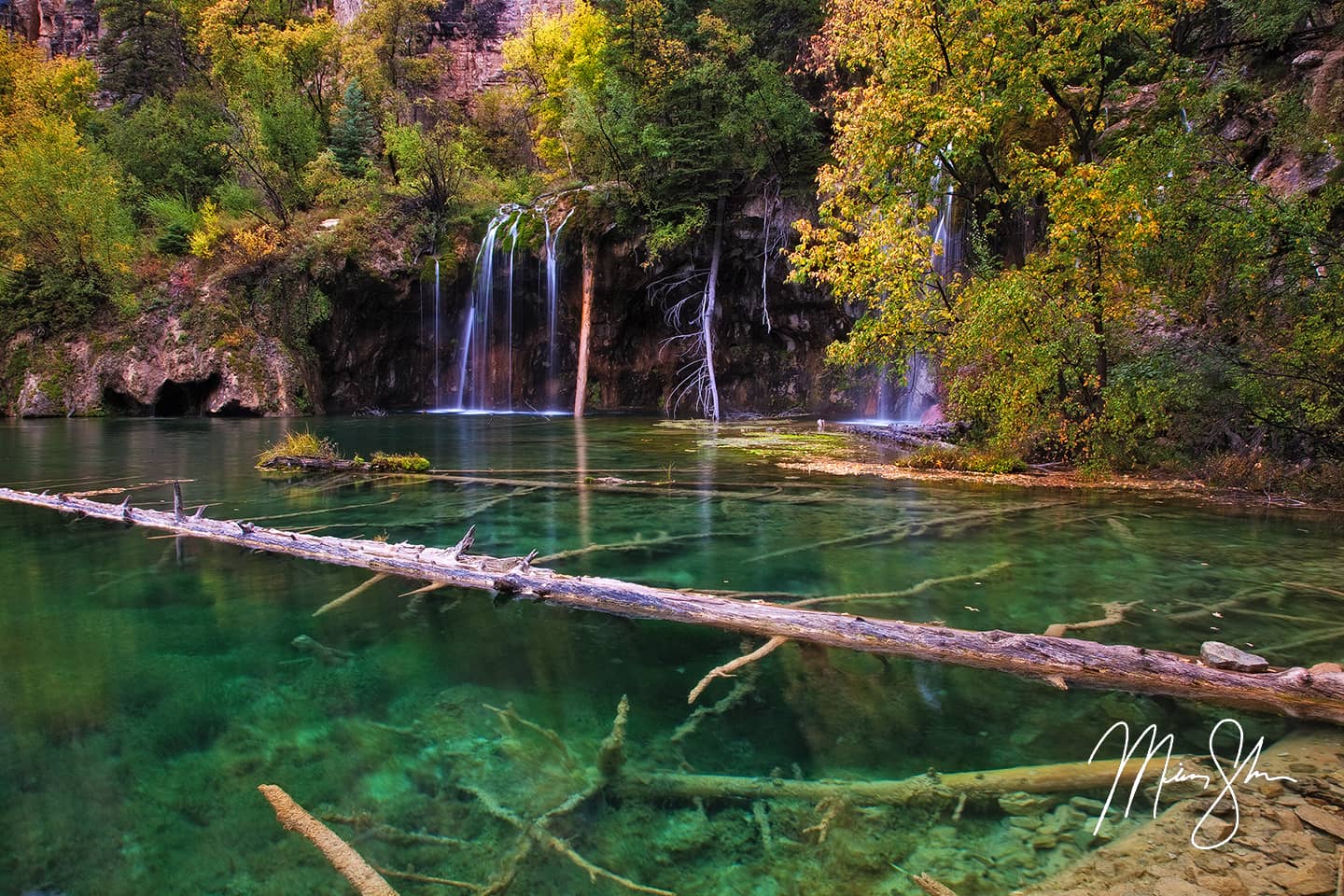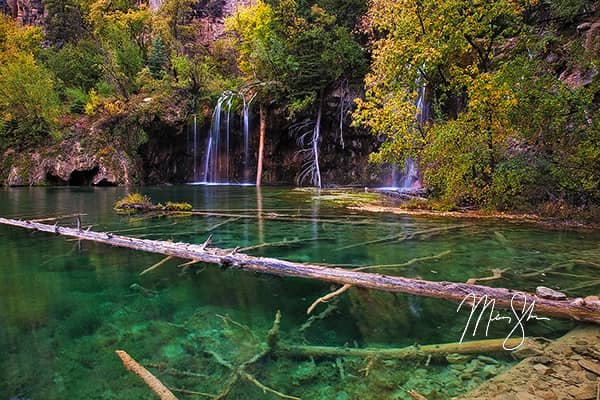 Telluride area
Another favorite of mine, there are so many little roads to explore through this area. Lizard Head Pass in particular has some amazing views of the golden covered landscapes. Getting off the highway and exploring will find all sorts of waterfalls, interesting aspen trees and other things to photograph along the way.
Average Fall Foliage Peak: September 26 – October 3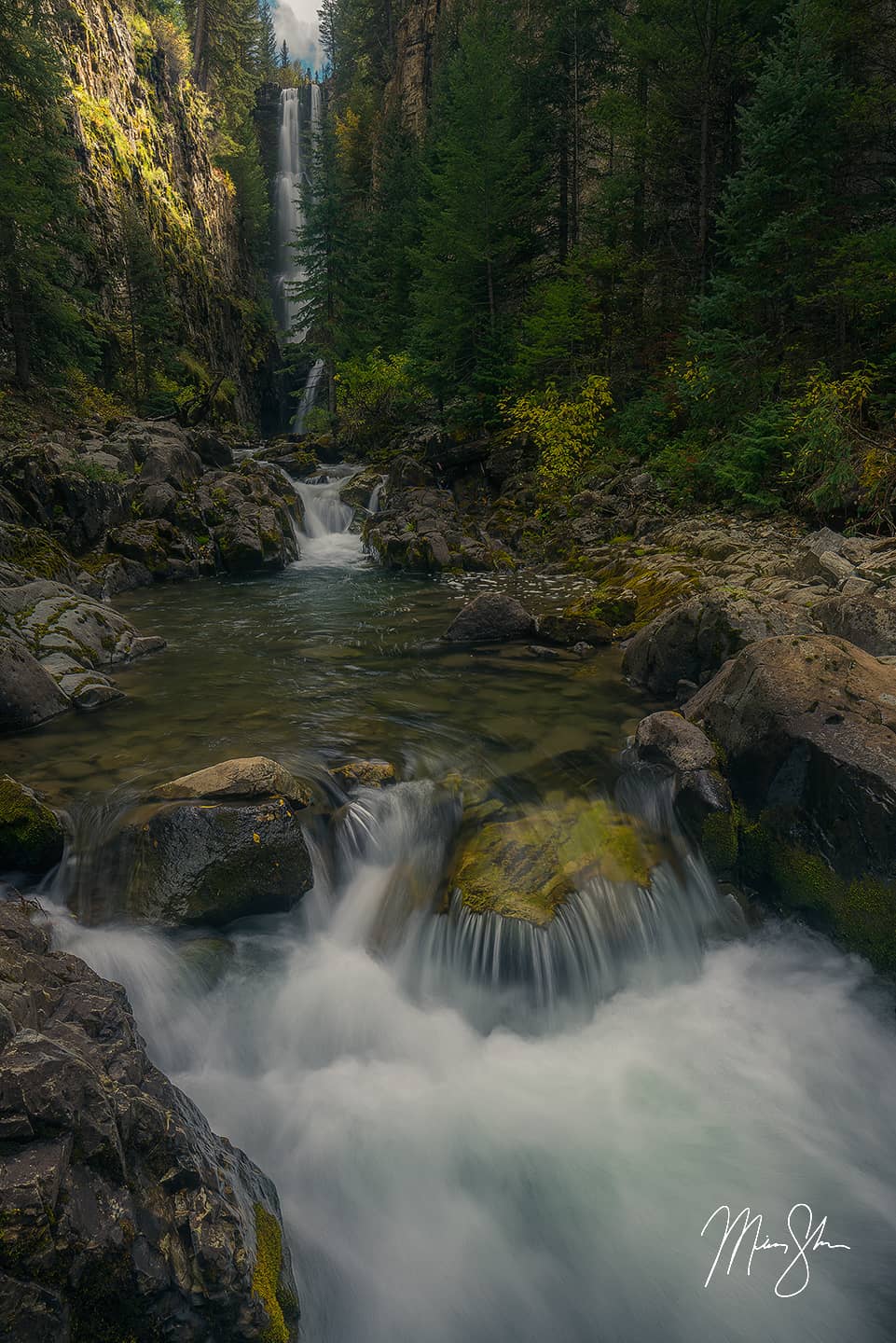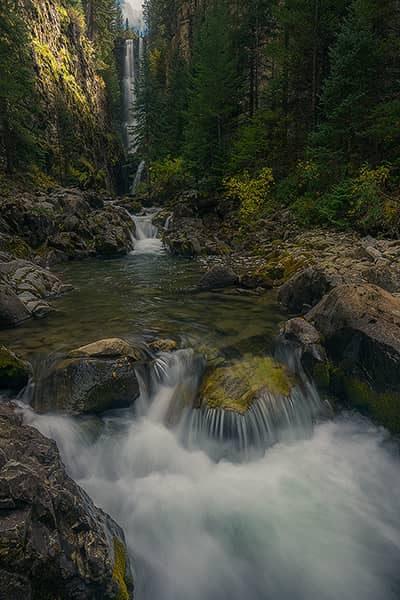 Silverton
Between Red Mountain Pass and Molas Pass in the heart of the San Juans lies Silverton. The area through here is full of beautiful fall colors. I particularly like country road 585 along South Fork Mineral Creek as it has a number of aspens, but also a lot of marsh lands that make interesting foregrounds. Off road there are some pretty amazing waterfalls to be found as well!
Average Fall Foliage Peak: September 24 – October 2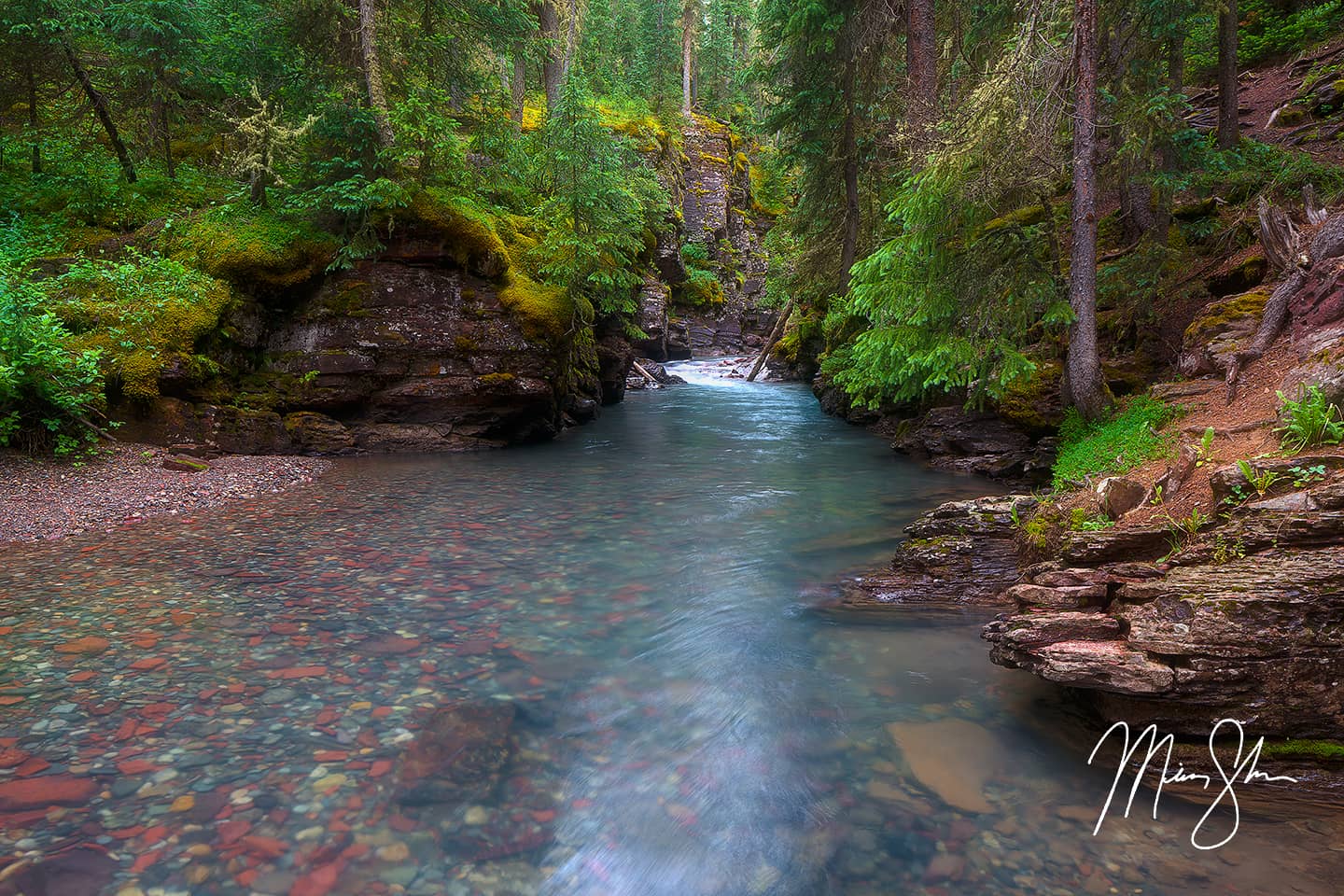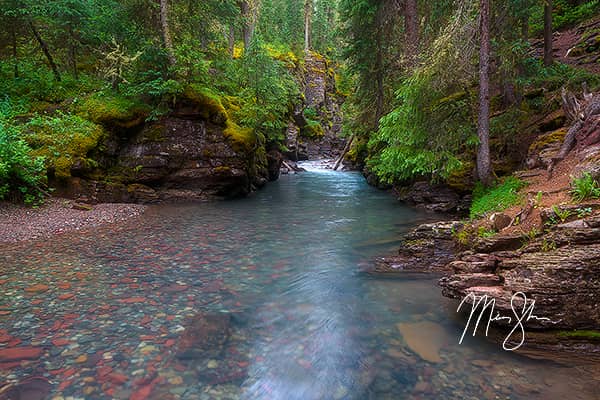 Other fall color locations
The above locations are some of my favorite spots in all of Colorado! However, there are a lot more places that are just as good as those. The ones above are just the locations I have good photography from. Here are some other spots worth checking out:
Steamboat Springs – particularly Buffalo Pass
Ohio Pass
Red Mountain Pass & the Million Dollar Highway
Guanella Pass
Boreas Pass
Silver Jack Reservoir and Owl Creek Pass
Independence Pass.
Monarch Pass
Grand Mesa
La Veta Pass
Peak-to-Peak Highway
Piney Lake
Aspen – particularly Castle Creek Road and Ashcroft
Colorado Fall Colors Map of Scenic Drives
Need a map to help you plan a road trip? This should get you started with a route that I tend to follow year after year. I deviate from it many years, but it's a basic starting point for some of the best spots along the way. It starts in the north at Rocky Mountain National Park and finishes up down in the San Juans, generally following the fall colors as they peak through the state.
Fall Colors Colorado Photography
As you've obviously seen, I'm a photographer. All of my work is available in either open edition or limited edition fine art prints. Many of the images are also available for image licensing to businesses. Visit my Colorado photography galleries to see more fall foliage photos from Colorado!
Other Colorado Fall Foliage Reports and Resources
Here are a few other resources:
Colorado Fall Colors Reports Facebook group
14ers Photography Forum
Colorado Photography Facebook group
---