Flint Hills Proposal
Mickey Shannon | Updated on August 4, 2019
Last Friday I proposed to my girlfriend! While this blog has mostly been used to update you with new photography or trip reports, I thought it would be nice to show a bit of the personal side and give you the story of our proposal and engagement! It's also worth posting the photograph of our engagement, as I had to do a little creative planning to get the photograph I wanted of our proposal moment. Teter Rock has been one of my favorite places to photograph here in Kansas, as I have been shooting there for over a year now. I really wanted a beautiful nighttime proposal scene under a sky full of stars. I shot the proposal with a remote trigger, and combined three exposures. One for the actual proposal/foreground elements, one for the candle-lit ground, and one for the sky. The photo below is the final product: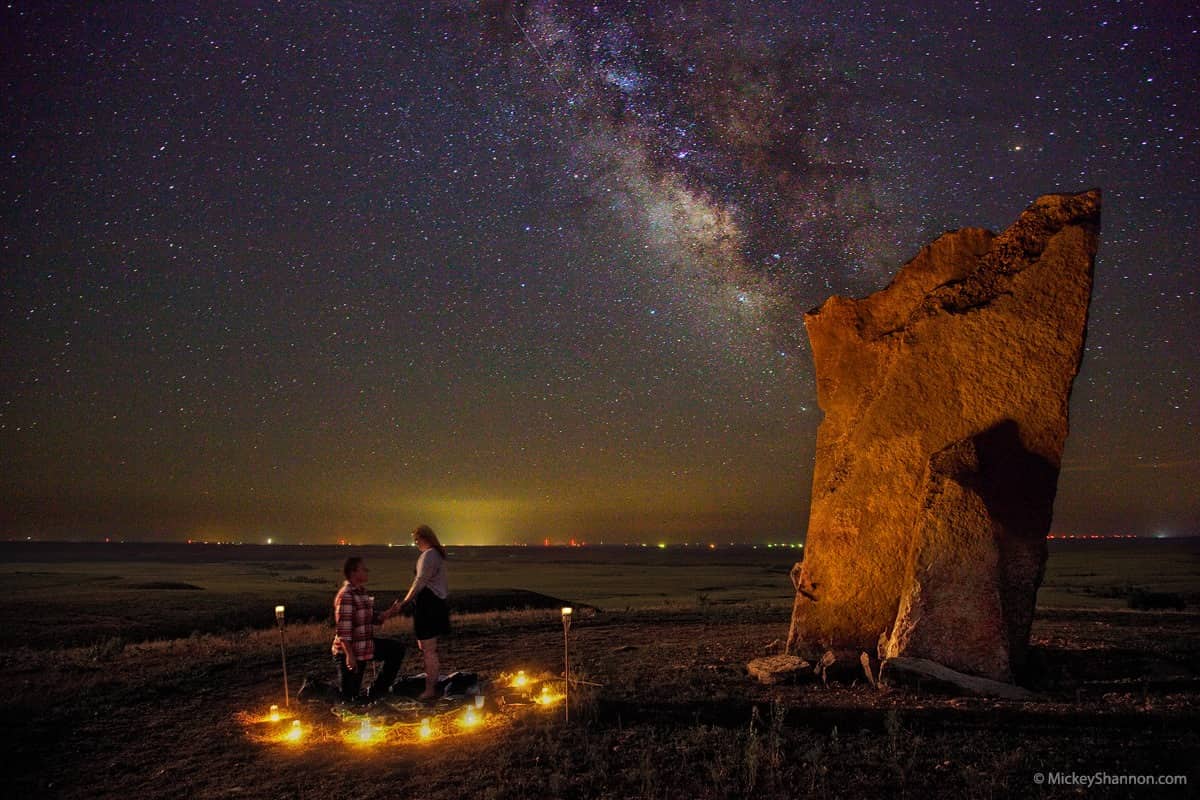 Now, what would a proposal picture be without a story to follow? This is the story of our engagement as I posted on Facebook last night:
"On Friday I proposed to my girlfriend and she said yes! 🙂 We wanted to share the story of the proposal, as many have asked us about it as we have been telling people about our engagement. As most of you know, I'm a photographer, and I had to make sure to get a good photo of our proposal, so I had my remote trigger ready for this event! I proposed at Teter Rock out on the Flint Hills near Cassoday, Kansas. This spot was memorable for us. It was only the second time hanging out when we first visited Teter Rock, and we spent at least 6 hours shooting photos, talking and becoming friends! She very quickly became my best friend, and on the night of July 26th, 2013 we became officially engaged!
Over the years, I had decided that when I found the right one, I wanted to propose in Italy at a place called Via dell'Amore in Cinque Terre on the Mediterranean Sea. Having only dated for a shorter period of time (because when you know, you just know!), a Europe trip would be difficult on such short notice. So as I was thinking of something special to come up with for a proposal idea, I remembered the story of the Via dell'Amore. Cinque Terre is a rugged area on the Mediterranean Sea that consists of five beautiful villages. Between two villages is the Via del'Amore (the Pathway of Love) where in the past, the guys and girls of these two villages would get together to propose or marry. Up until this trail was made, contact outside the villages was rare because of their remoteness and ruggedness of the region. One of the traditions of the Via dell'Amore is the "Love locks". A couple will take a padlock and lock it together, then throw the key off the cliff into the ocean, meant to symbolize the locking of their love together. So I bought a vintage looking padlock and had it engraved with our initials. One day soon, we will take it to Italy and lock at Cinque Terre, as traveling is something we both want to do a lot of!
So last Friday, the weather was showing clear skies and wonderful temperatures for the middle of summer. For those not used to Kansas in the country, we have some of the most beautiful sunsets and starry night skies around! The idea of proposing under the stars has always been romantic to me. So I picked her up and we grabbed some dinner, along with candles, blankets and such for what she thought was a date night under the stars to watch a meteor shower. When we got to Teter Rock, the last light of the sunset had just faded and the stars were bright and shining! I knew the moon was supposed to come up around 11, which would illuminate the scene, but also kill the stars. So I set the camera up to shoot a scene with the Milky Way in the background that I would layer onto the proposal scene to create the photo this story is attached to. I snapped a few exposures, all the while she's asking me to come eat with her instead of messing with my camera. She didn't quite realize I was getting it ready to photograph her proposal. 🙂 So after getting the camera ready, I came to sit and eat with her. She was a little cold so we got her wrapped up in the blanket and finished off our food. At this point, a few coyotes decided to howl in the distance (if I'm honest, they were probably closer than I've ever heard them out there). While I know the coyotes out there are more afraid of us than we are of them, that didn't help her desire to hightail it to the car and camp out to watch the stars in the comfort of safety. I wasn't sure what to do at this point. I knew I needed to propose, but I didn't want to do it while she was freaking out. I considered waiting for another time, but realized it might be a while before I got her out here again. After sitting in the car warming up a bit (and honking the horn and blaring the radio to scare off the coyotes) I talked her into taking the photo. She had calmed down and seemed fine at this point, so I went back out to get the camera settings changed for the new moonlit sky. I had her come out to model the settings, with her totally expecting to get a nice photo of us together. The settings were right. She was happy and not freaking out about coyotes. It was time! The moment had arrived! I walked over to our little romantic candlelit picnic area, and we took a photo together. After taking the photo, I told her "Oh, I want to get one more photo". She looked at me, and at this point, I dropped to one knee and asked her to be my wife. I've never seen so much happiness before, as she was literally shaking and grinning from ear to ear. She said YES!
After we enjoyed the moment for a few minutes, I gave her the lock and explained the story. She already knew of Cinque Terre and the Via dell'Amore as I had told her I wanted to visit it someday. We left our special place in the Flint Hills with the promise to "love lock" the lock in Italy someday and throw the key off the cliffs into the sea below."
That's the story of our proposal and engagement! It was great to do it under a sky full of stars out at Teter Rock. It's one of the most beautiful places in Kansas!
---