Seattle and Snoqualmie Falls: Pacific Northwest Spring Adventure Part 1
Mickey Shannon | Updated on January 3, 2019
Earlier this year, my job gave me the opportunity to go to a one-day web design conference called An Event Apart in Seattle, WA at the beginning of April. The conference was great, and as I have always loved the Pacific Northwest, there was no way I wasn't going to add some vacation days to the trip and visit a place I've always wanted to see: Vancouver Island! The conference was scheduled for April 1, so my wife and I booked plane tickets for March 31st through April 6th to Seattle. I spent two months pouring over places on Vancouver Island and area's near Vancouver. I had driven through Vancouver once before back in the summer of 2012. But that was at the end of a VERY long day, of which I wrote about recently in my Canadian Rockies travel blog article.
After researching for many hours, our trip was settled. The first two nights were in Seattle, as I had the conference on Wednesday, April 1st. We would arrive around 10AM on Tuesday and explore Olympic National Park on a long day trip to the Olympic peninsula and then head back to crash. My wife would explore Seattle while I was at my conference. On Thursday, we would leave Seattle for Vancouver Island. We found a great BC Ferries Vacations package that included round trip ferry transportation from Vancouver to Vancouver Island and two nights at Water's Edge in Ucluelet. Afterwards, we would make our way back to the mainland, spend a night in Squamish to explore the Sea to Sky Highway a little bit, then stay in Vancouver the final night before driving back to Seattle on Monday morning to fly home that evening.
The night before our flights, I received an Email from United Airlines asking to call for a special offer. I had a feeling of what it was, so I gave them a call. We were offered $250 each (minus the cost of a required upgrade to Economy Plus) to alter our flight plans. Instead of flying out at 6:30, we would leave Wichita around 7:30 and have a stop-over in Chicago rather than Denver. We would arrive in Seattle 4 hours later than we originally planned, effectively ending the Olympic National Park daytrip (which was honestly pretty ambitious to do in a day). The only catch was that economy from Chicago to Seattle was full, so we'd have to take a economy plus seat and pay for it out of the $500. All in all, we received about $380 in flights to use later in the year to show up four hours later in Seattle.
We took it. The next morning, we were off for the Pacific Northwest and my wife's first trip out of the country! The flights were uneventful, and we arrived at Seattle on time. We jumped in our rental car and decided to hit up Snoqualmie Falls. After grabbing some Jack-In-Box for a late lunch, we arrived at Snoqualmie Falls, excited to see these beautiful waterfalls! After admiring their power and beauty, I pulled the camera out to attach to my tripod and realized something dreadful. I had left my tripod to camera connector at home. I had taken it off to have the camera cleaned a few days before and never put it back on.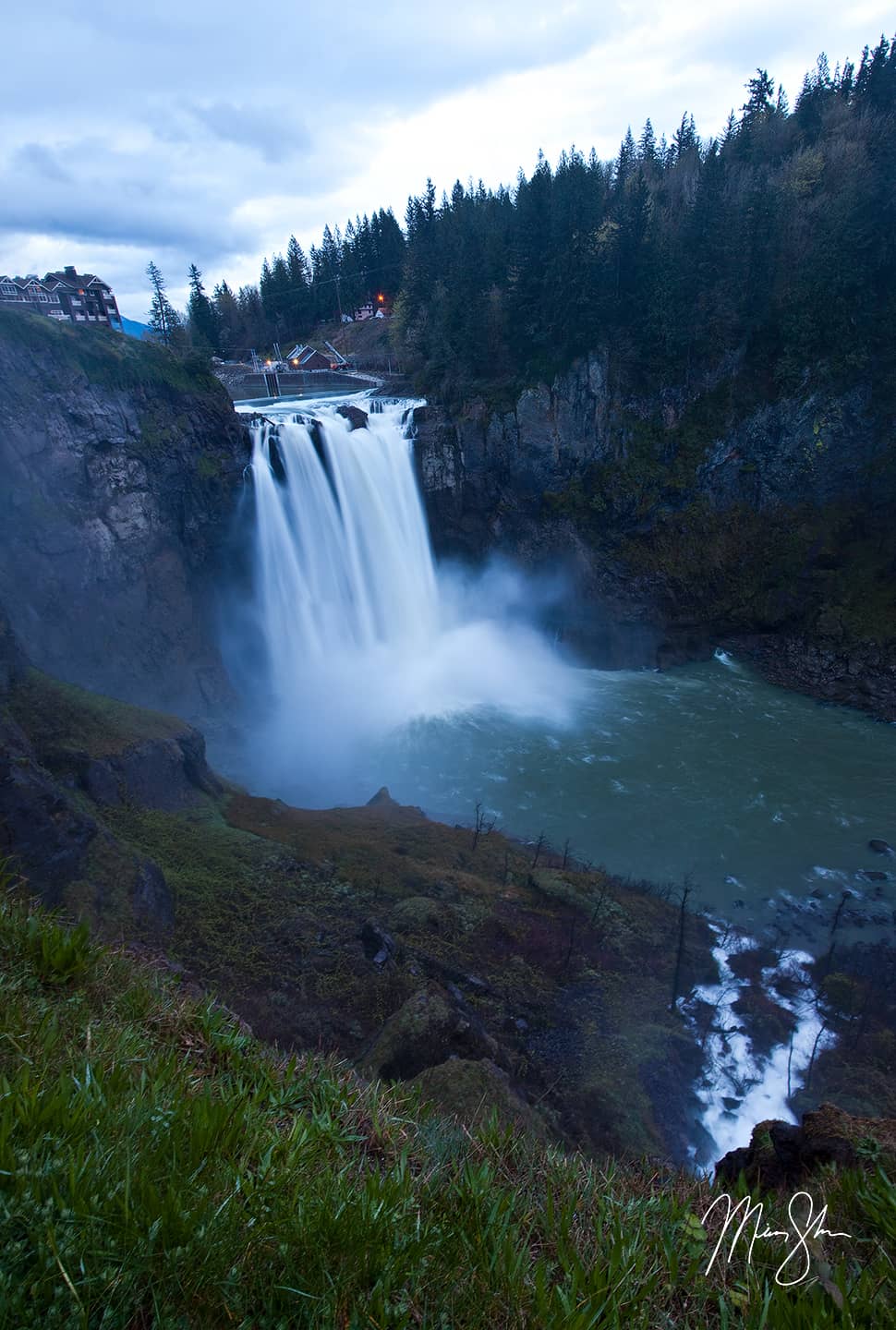 The plan was to head back to the hotel and call some camera stores and see who carried it. I tried Glazer's Camera and Tall's Camera, among a few others. They were all helpful, but all of them said my tripod model required a specific connector mount that I would probably have to order online. I was dejected. We were about to check out some of the most amazing scenery in the world, and I had no tripod to work with. I tried one more camera store called Omega Photo & Camera store and got dumb lucky. They carried it! They were closing in a few minutes, so the plan was to go get it after my conference the next day, and then continue on so I could photograph Snoqualmie Falls, as the camera store was halfway back out to the falls. My wife had a headache and had been resting in bed at the hotel, so I drove to find the conference center for the next morning, and picked up a White Album pizza at Zeek's Pizza which was one of the best decisions I could have made. I love white sauce pizzas, and the mozzarella, parmesan, fresh oregano on alfredo sauce was a delicious combination! I was starving and that was some good pizza. My wife woke up to eat some and then we crashed for the night.
The next day, the conference was great. It was held in the Bell Harbor International Conference Center, which was right on the harbor in a beautiful location. This post isn't really about the conference, even though it was great. But I will say it was refreshing to sit outside at lunch and admire the scenery out over the harbor during one of the few times that it wasn't cloudy and rainy. After the conference, I picked my wife up, who had been shopping in downtown Seattle. We drove to get the tripod connector for my camera, picked up dinner and different places to take to Snoqualmie Falls. It was mostly cloudy and drizzling at times when we got there. But the drizzle was overpowered by the spray of the falls as I shot. You can see that water was pouring over the falls pretty good in the shots above and below.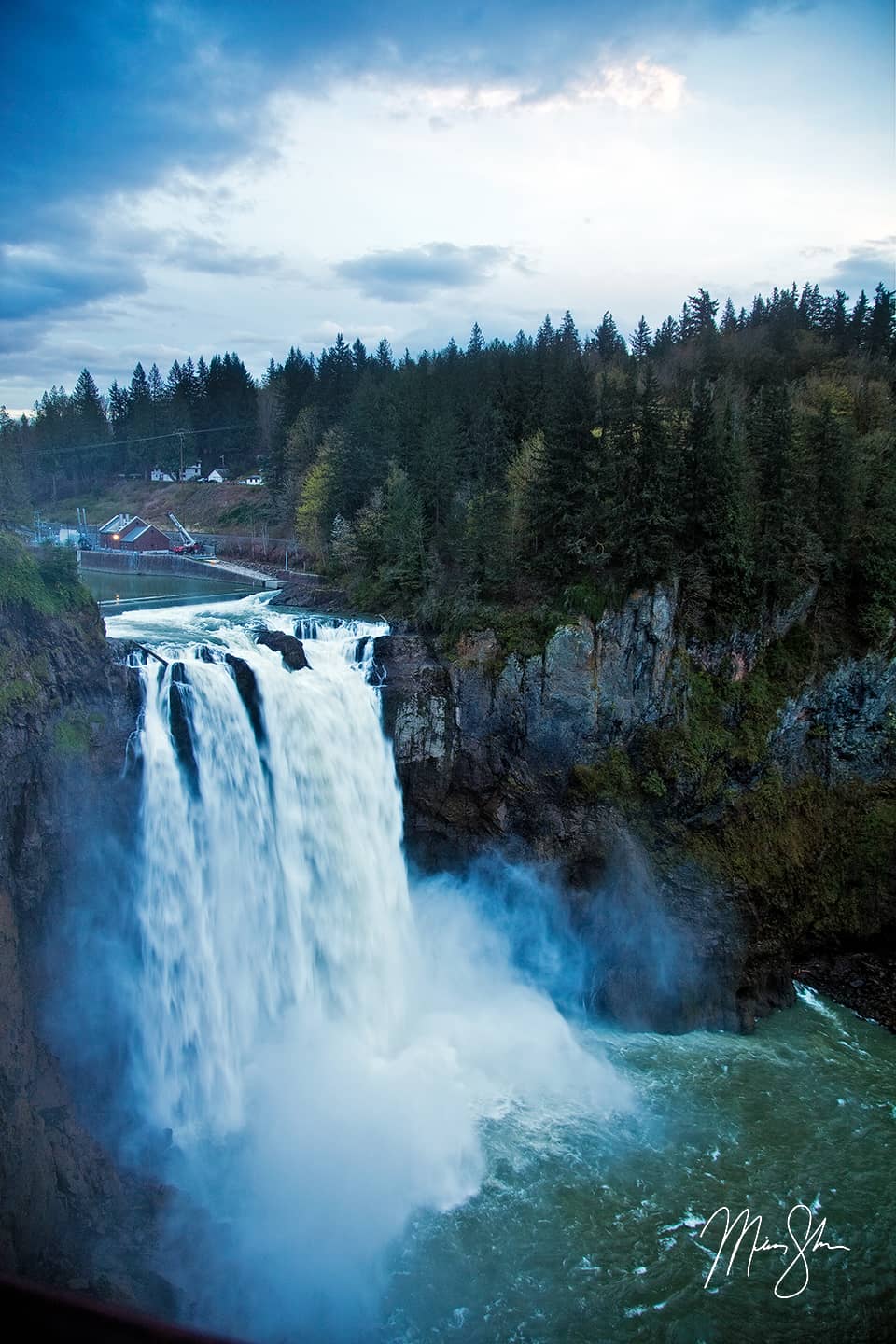 After we had our fill at Snoqualmie Falls, I took my wife to where my conference had been earlier in the day, so we could walk around the area down near the harbor for a little bit. The view from the top of the Bell Harbor International Conference Center is one many others have captured before. I love night shots and so I captured the image from the top of the conference center, and also from a walkway above Alaska Way with car lights below.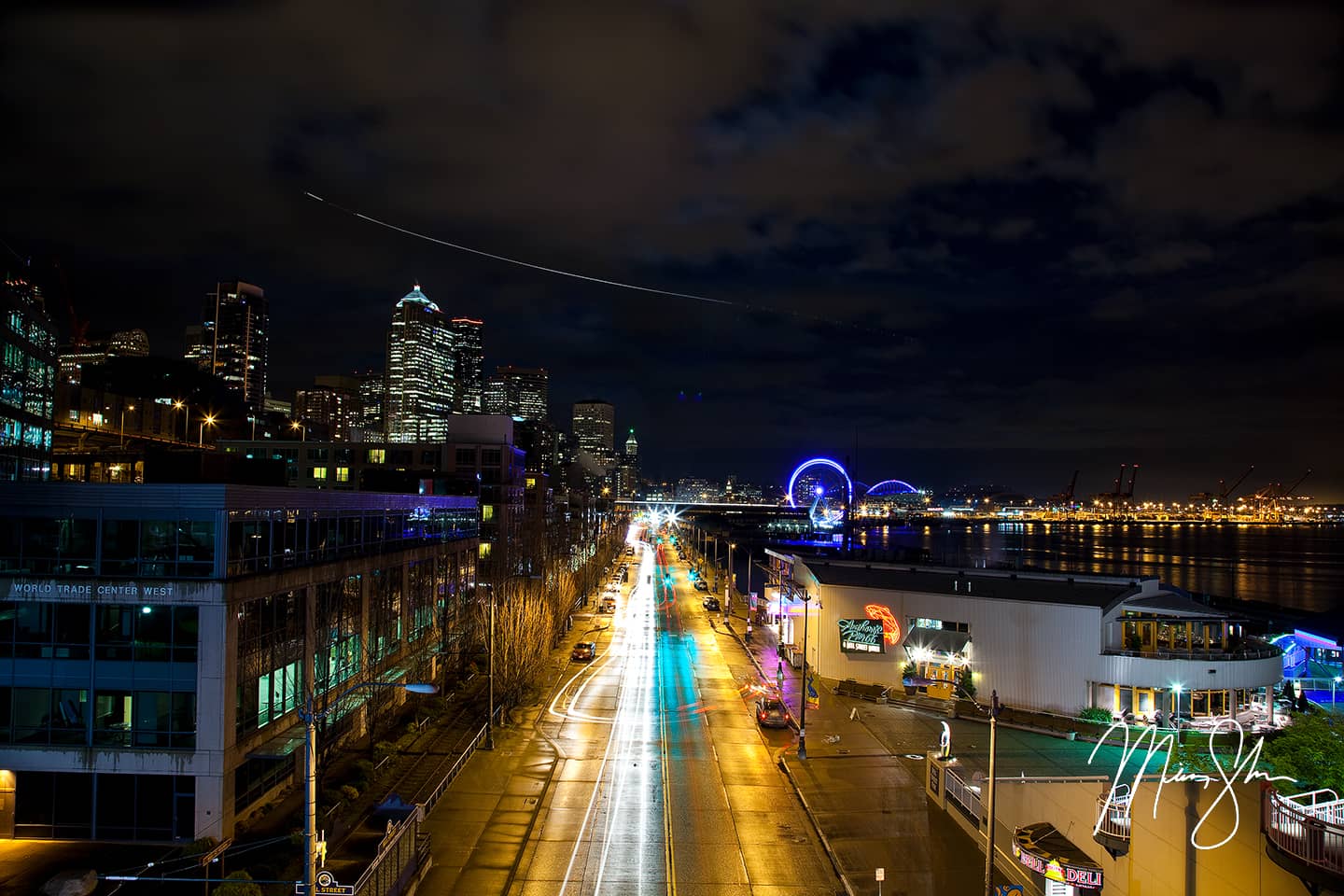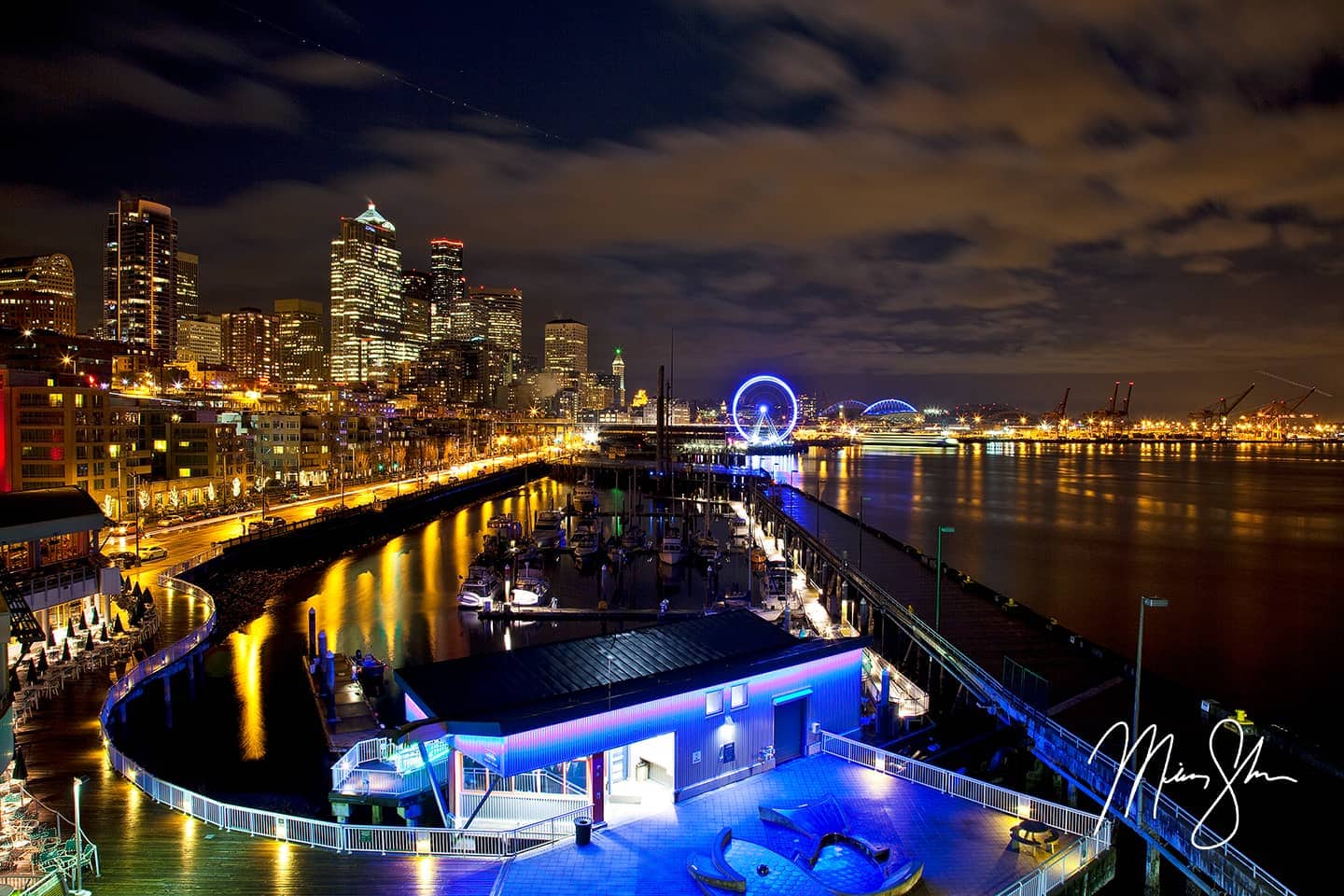 We crashed at the hotel again. At this point, I regretted trying to go the cheap route and staying 20 minutes away from the Bell Harbor Conference Center at a Best Western that wasn't really the best hotel. The hotel next to the Conference Center that most people stayed out would be have been a great location to base from to see some of the cool Seattle sights. It would have also been helpful for my wife to walk everywhere when I had been at the conference.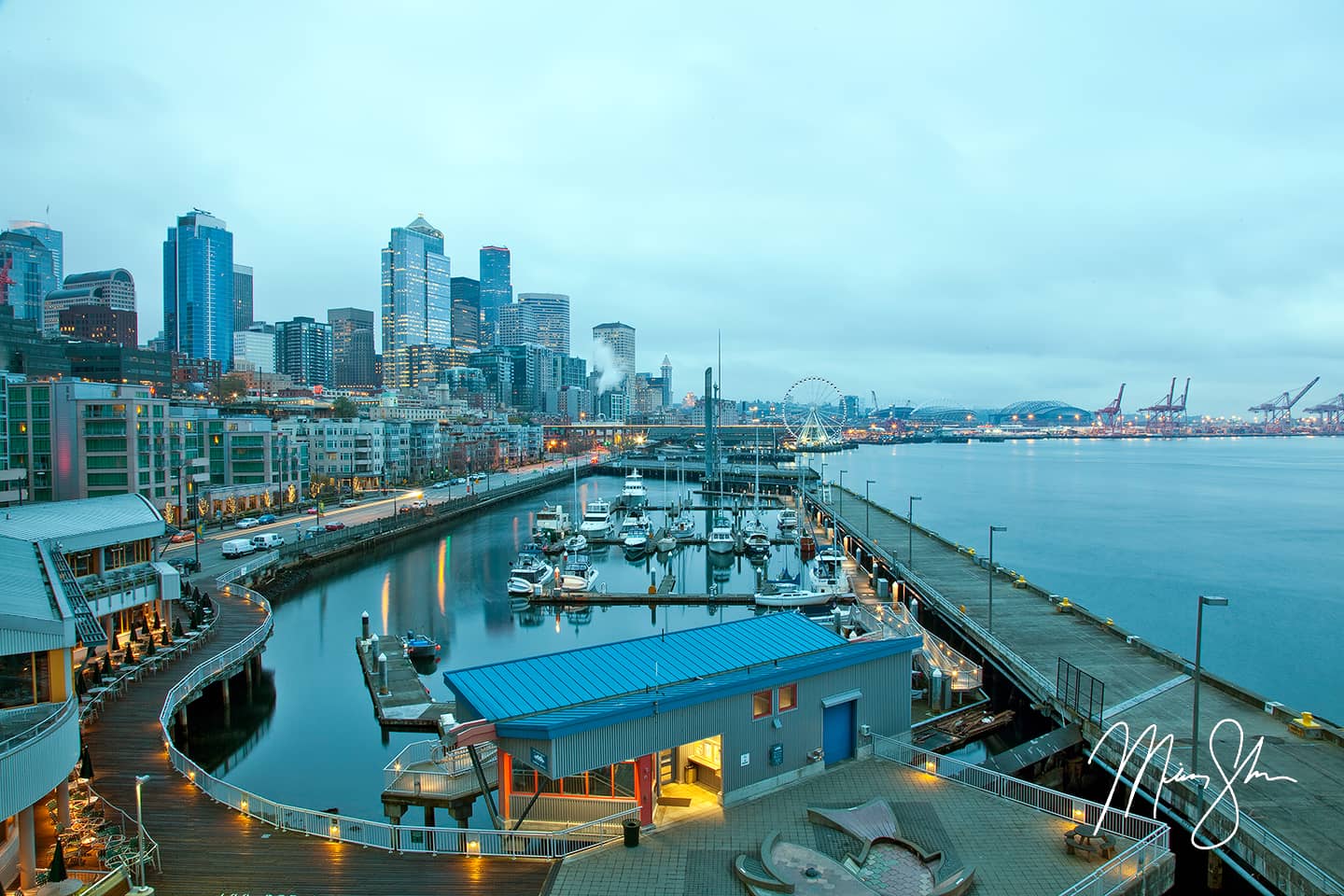 I awoke the next morning and drove back to the Conference Center area to shoot a sunrise in Seattle that can be found above. After eating out continental breakfast, we were off. Our real adventure was about to start! Off to rugged west coast of Vancouver Island and the Pacific Rim National Park! Read about that in the Vancouver Island blog post!
---