Top 14 Photos of 2014
Mickey Shannon | Updated on January 10, 2019
It has been a great year for Mickey Shannon Photography, with opportunities to shoot in a multitude of locations from my home in Kansas, to the Garden Island of Kauai, Hawaii! This collection comes from images I have posted on here on my website, along with my Facebook, Instragram and other social media pages. Thanks for taking the time to view and read, and I appreciate all your support over the past year!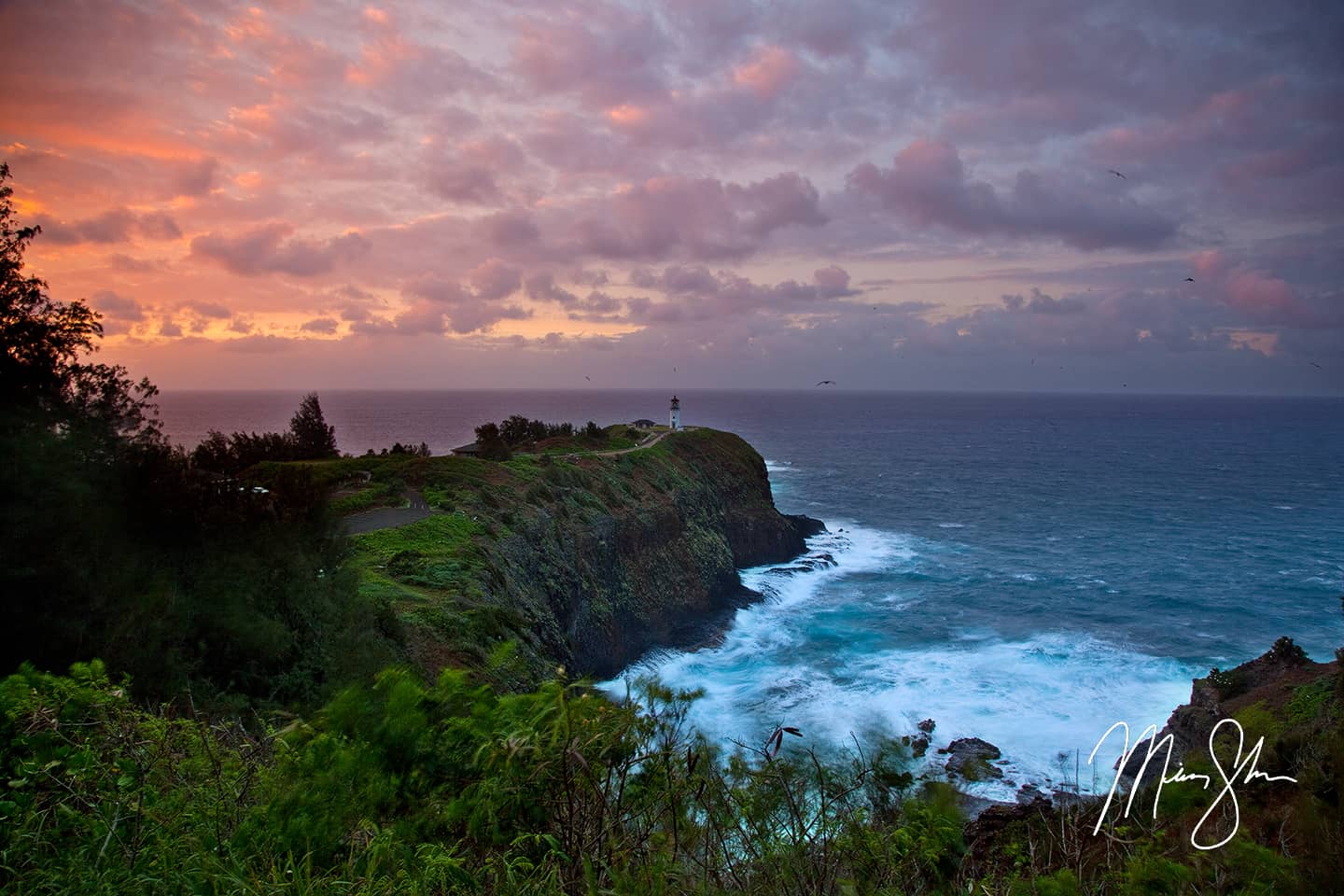 1. Kilauea Lighthouse Sunset
My absolute #1 best photo in 2014, like many of the other photos from this top 14 in 2014 feature comes from the Garden Island of Kauai! I shot this at the overlook of Kilauea Lighthouse on the north side of Kauai, and captured one of the best sunsets of the trip! The sky lit up in amazing shades of purple, blue and red. The turbulent Pacific Ocean was a deep shade of blue, and they don't call Kauai the Garden Island for nothing, as the plants in the area were a deep shade of green. There may not have been a rainbow in this photo, but almost all the vivid colors of a rainbow were presented in this amazing sunset overlooking the most famous lighthouse on Kauai!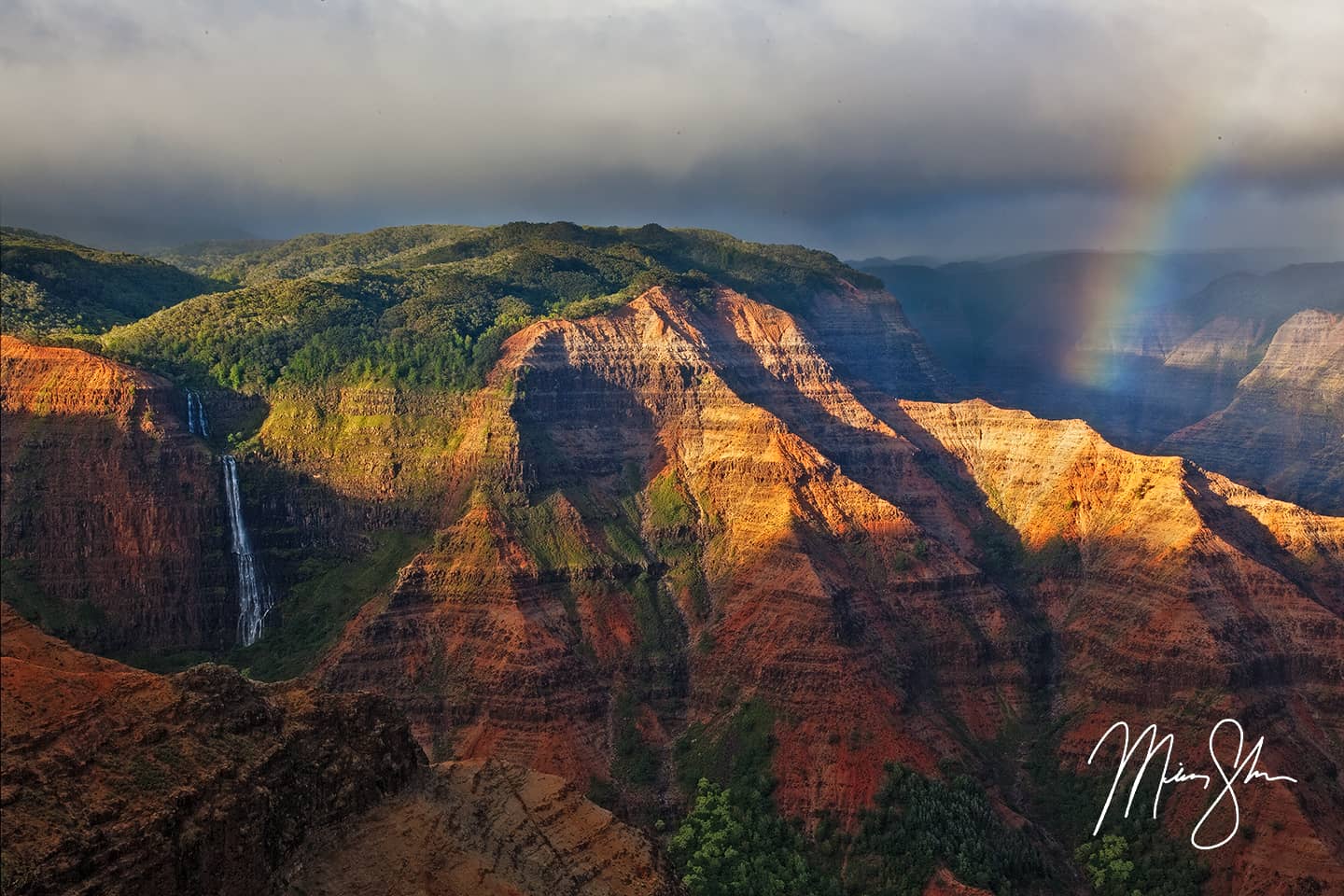 2. Waimea Canyon Rainbow
#2 in my top 14 photos of 2014 is one of the best shots I've ever captured! This was completely by chance too. A rainstorm (which is quite typical on Kauai) rolled through the beautiful Waimea Canyon on the afternoon I shot this. We were driving by one of the small pulloffs on the road up to Kokee State Park and this vivid rainbow was in full view near Waipoo Falls. So I composed the shot with both the falls and the rainbow and came away with this shot!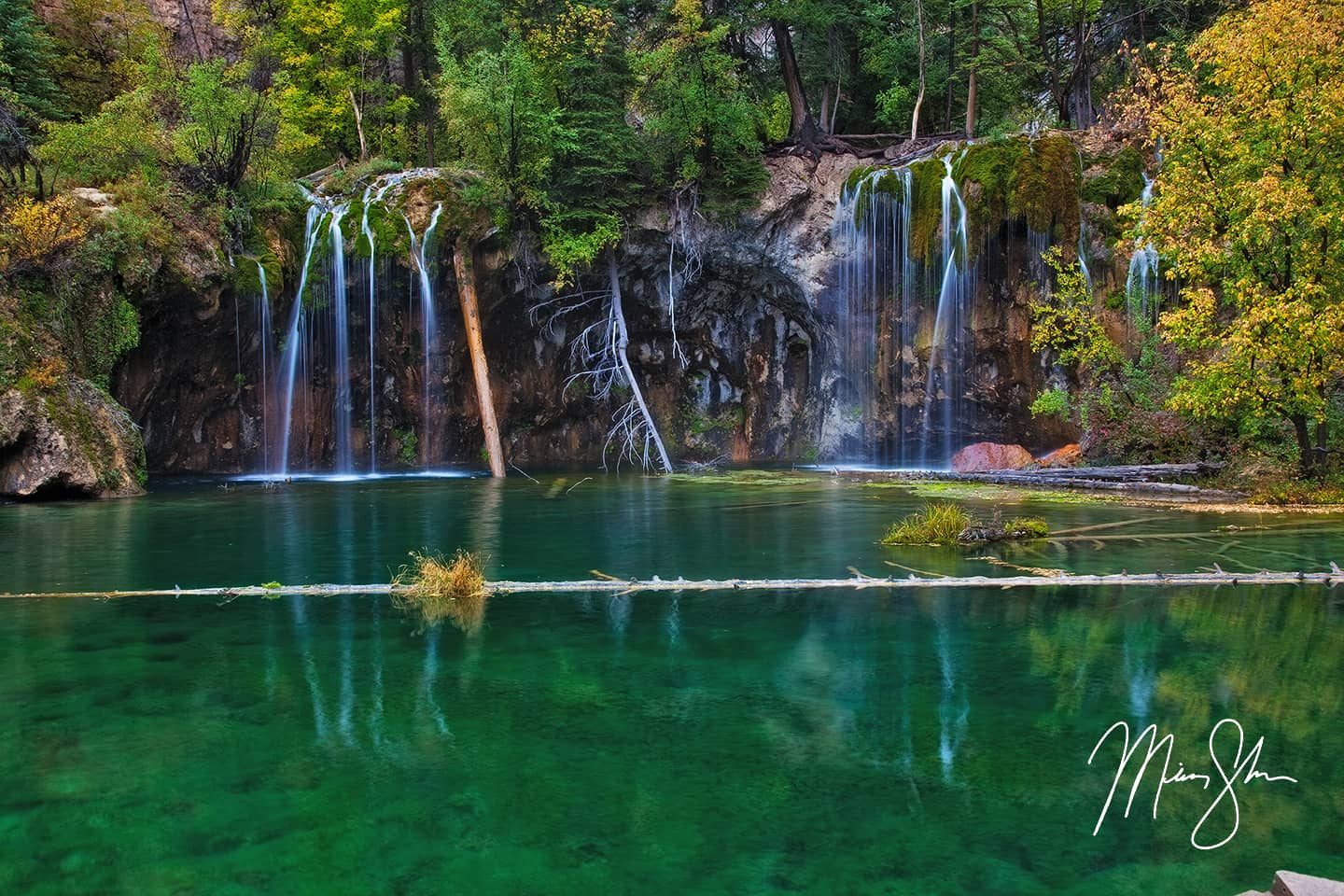 3. Colorful Hanging Lake
Coming at #3 in my top 14 photos of 2014 is my favorite shot of Hanging Lake in Visit Glenwood Springs Colorado! I shot this back in October and it's definitely one of my favorite shots of the year! The color of that lake is absolutely stunning and a must-do hike to see it for anyone traveling in the state of Colorado!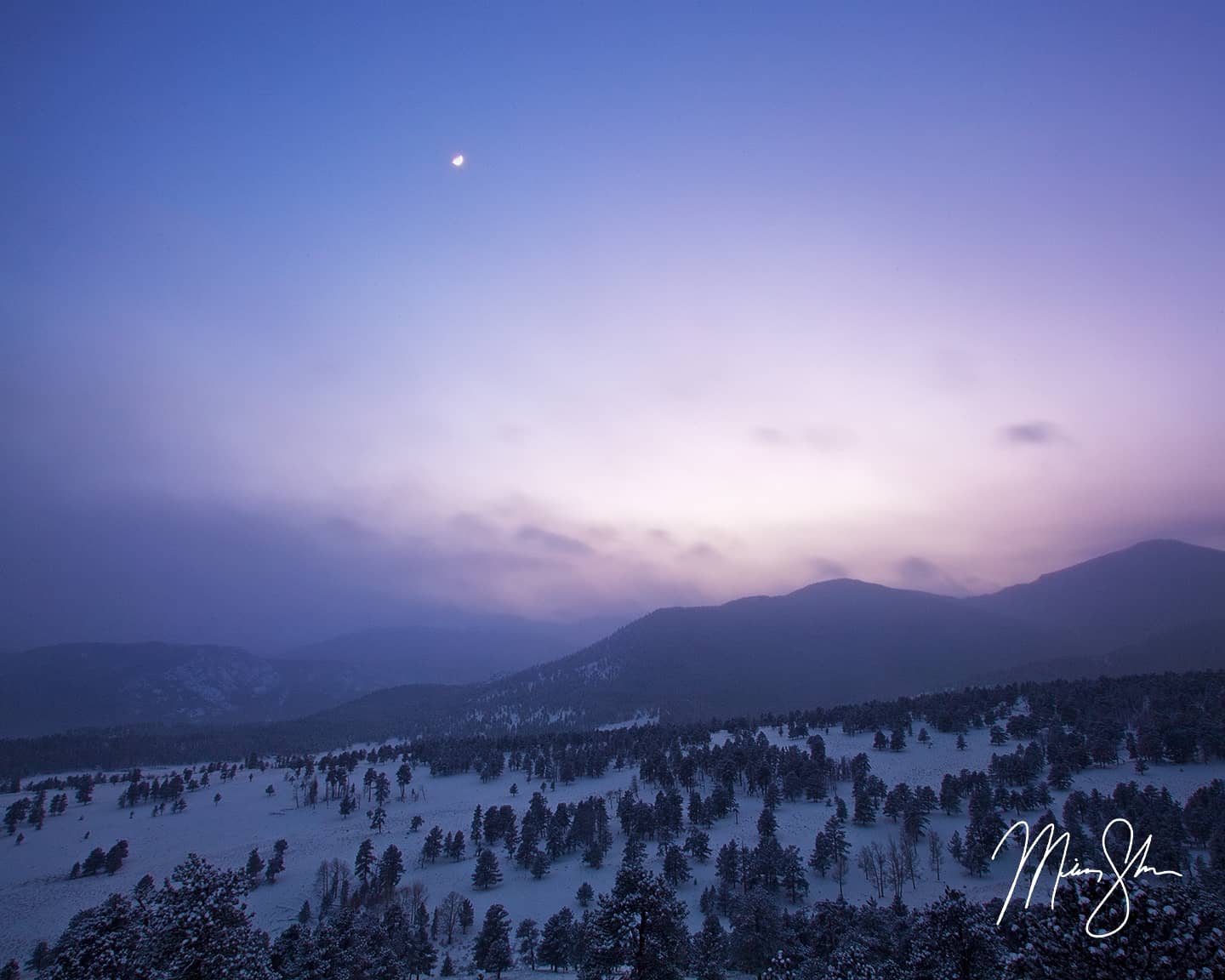 4. Winter Twilight in Rocky Mountain National Park
Coming at #4 in my top 14 photos of 2014 is a unique winter shot of Rocky Mountain National Park from early January! The atmosphere in this shot is what makes it special to me. I normally don't shoot as many winter scenes as summer or autumn, but I feel this one is one of my better ones!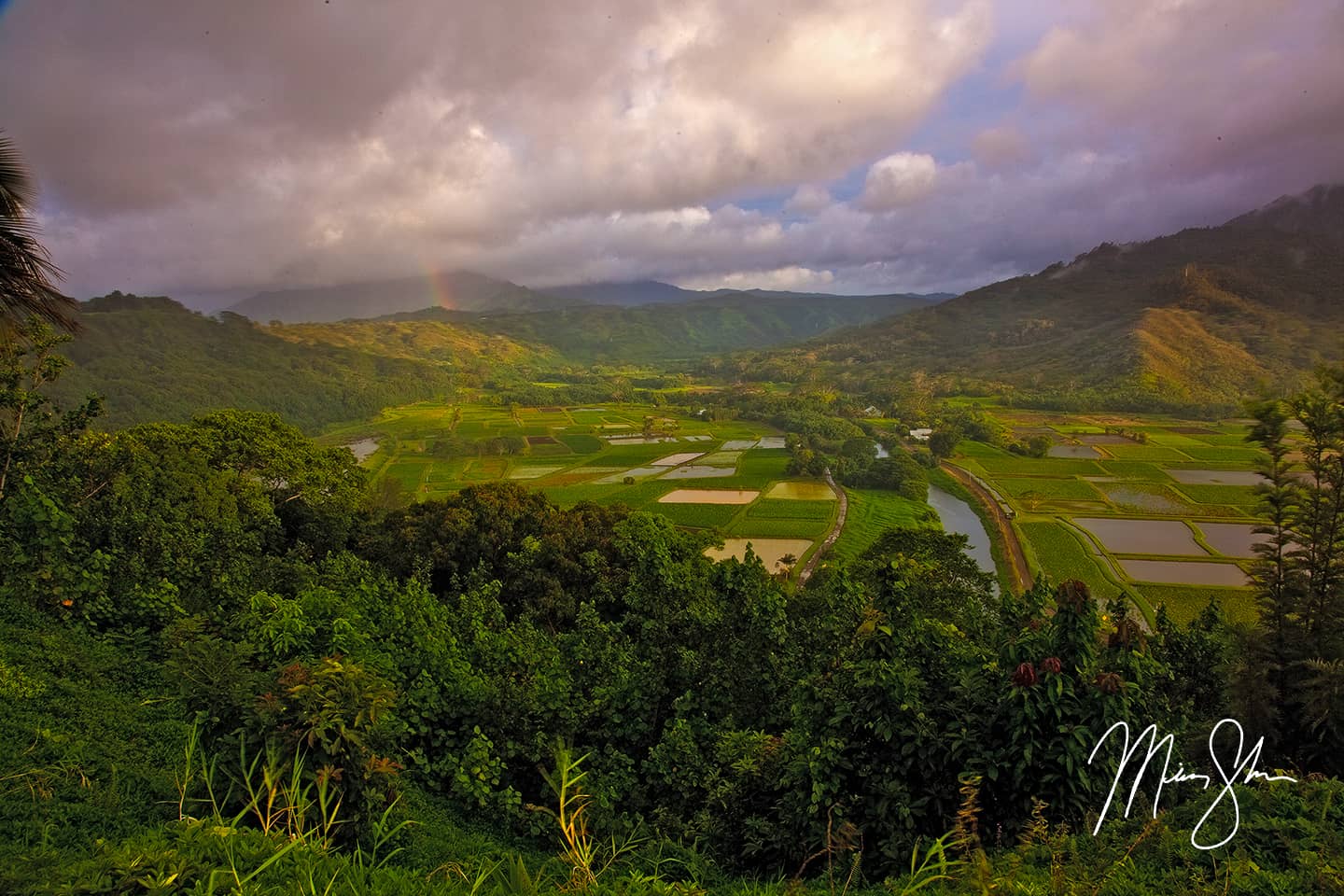 5. Magical Hanalei Valley
Coming in at #5 is another shot from the beautiful Hanalei Valley. This was shot in the afternoon at the tail end of an amazing rainbow that faded away fast as this shot was being taken. You can see it off in the left of the photo.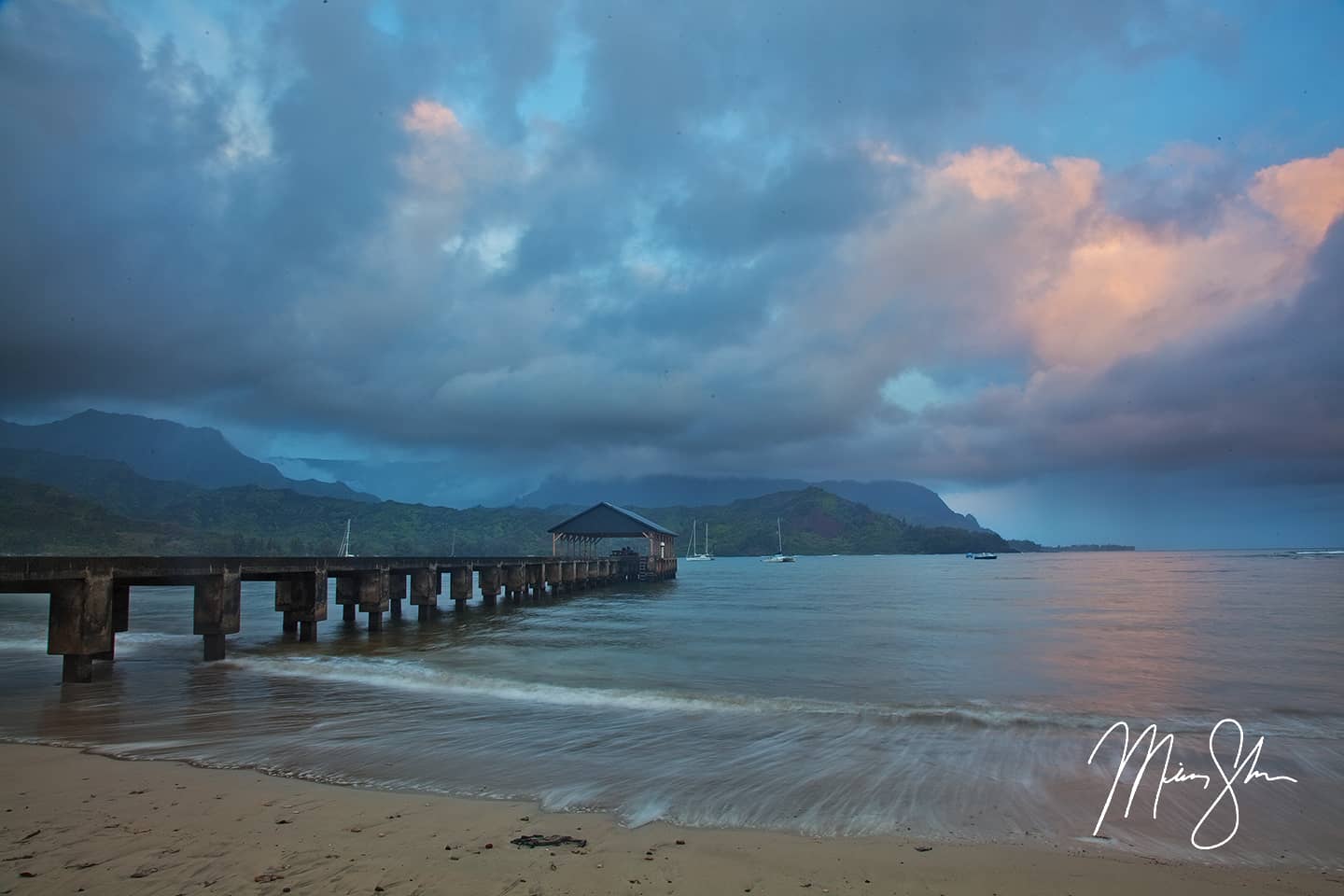 6. Early Morning at the Hanalei Bay Pier
#6 in the list top 14 in 2014 feature also comes from the Hanalei area. This is the Hanalei Bay Pier, which was built in the late 1800s and remodeled on a few occasions over the years. The area is popular with local surfers as I was shooting this sunrise with at least a dozen local surfers getting ready to head into what I thought were some pretty rough waves out there. Hanalei Bay is also a popular boating and fishing area, as you can see many sailboats out there in the waters.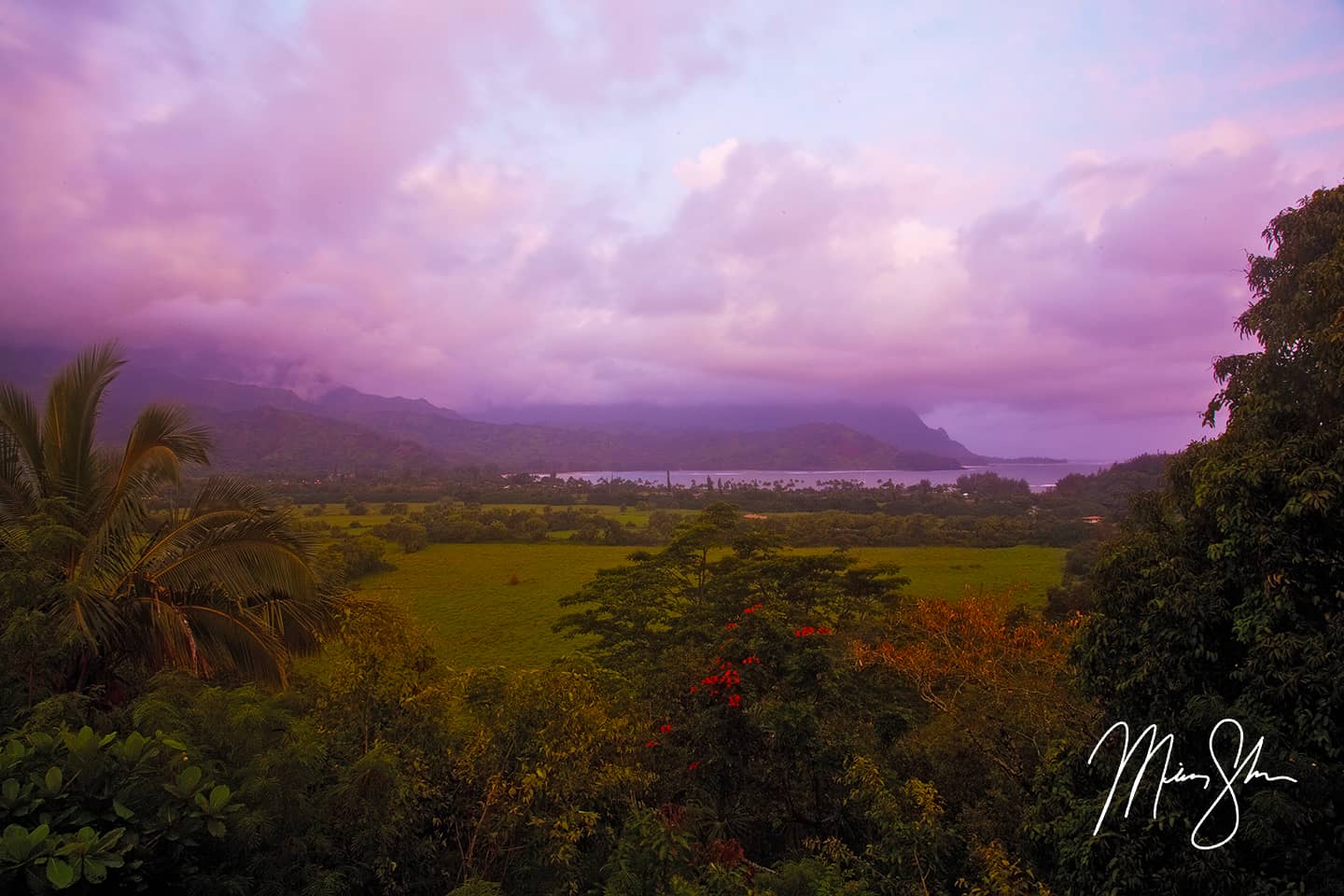 7. Purple Hanalei Bay
#7 on the list of top 14 photos from 2014 is called "Purple Hanalei". I shot this at the overlook of Hanalei Bay as sunset was beginning to light up the entire scene with a vivid purple hue.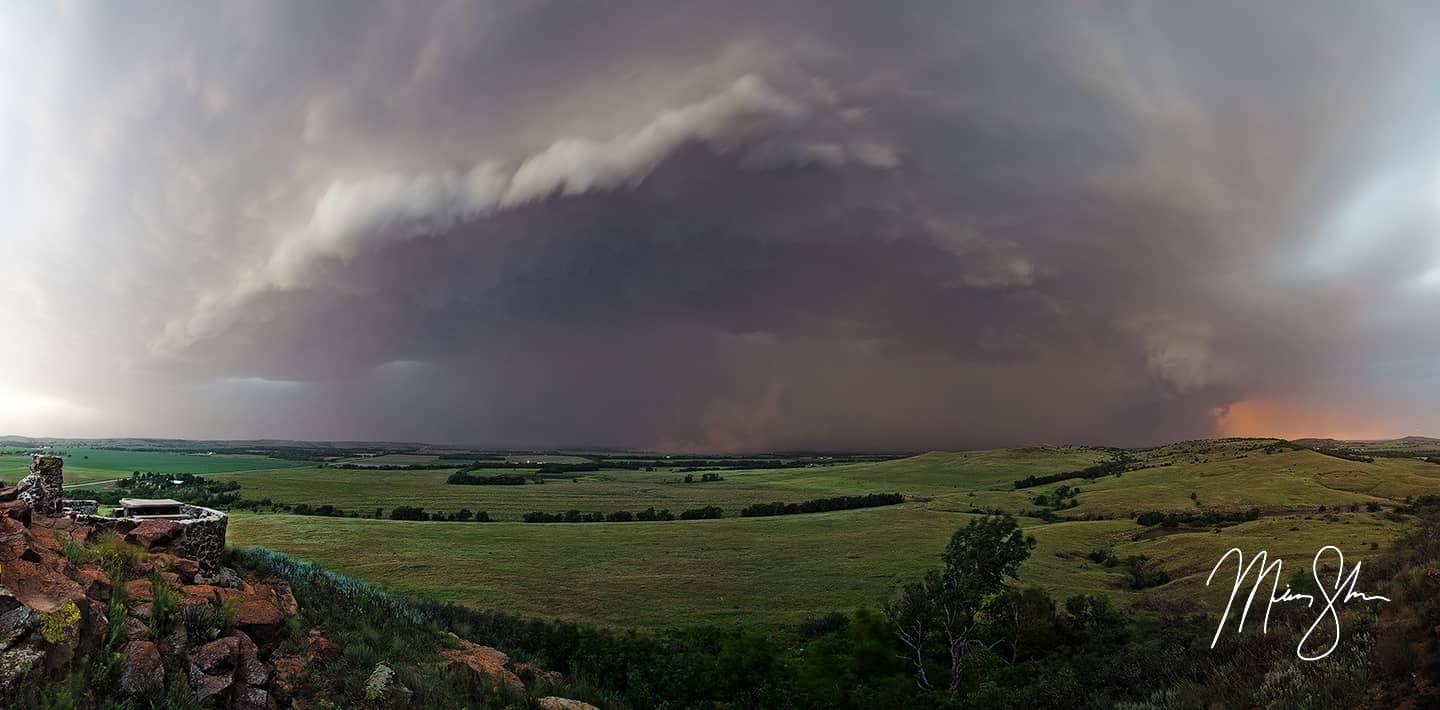 8. Stormy Coronado Heights Panorama
#8 in my top 14 photos of 2014 brings another Kansas shot. This one was a hair-raiser. We were traveling south from Minneapolis, Kansas, and had visited Rock City. Some late season storms (it was the day before Labor Day) were forming and looking pretty ominous!
As we got to Coronado Heights, I started setting up my camera and realized these storms were moving in fast! I started shooting this image, and within 30 seconds, a wall of wind slammed the area. Considering tornadoes were accompanying some of these storms, we high-tailed it out of there after finishing this image. But it was one of those raw awe-inspiring moments for the quick time I was watching this storm close down on the the hill that houses Coronado Heights!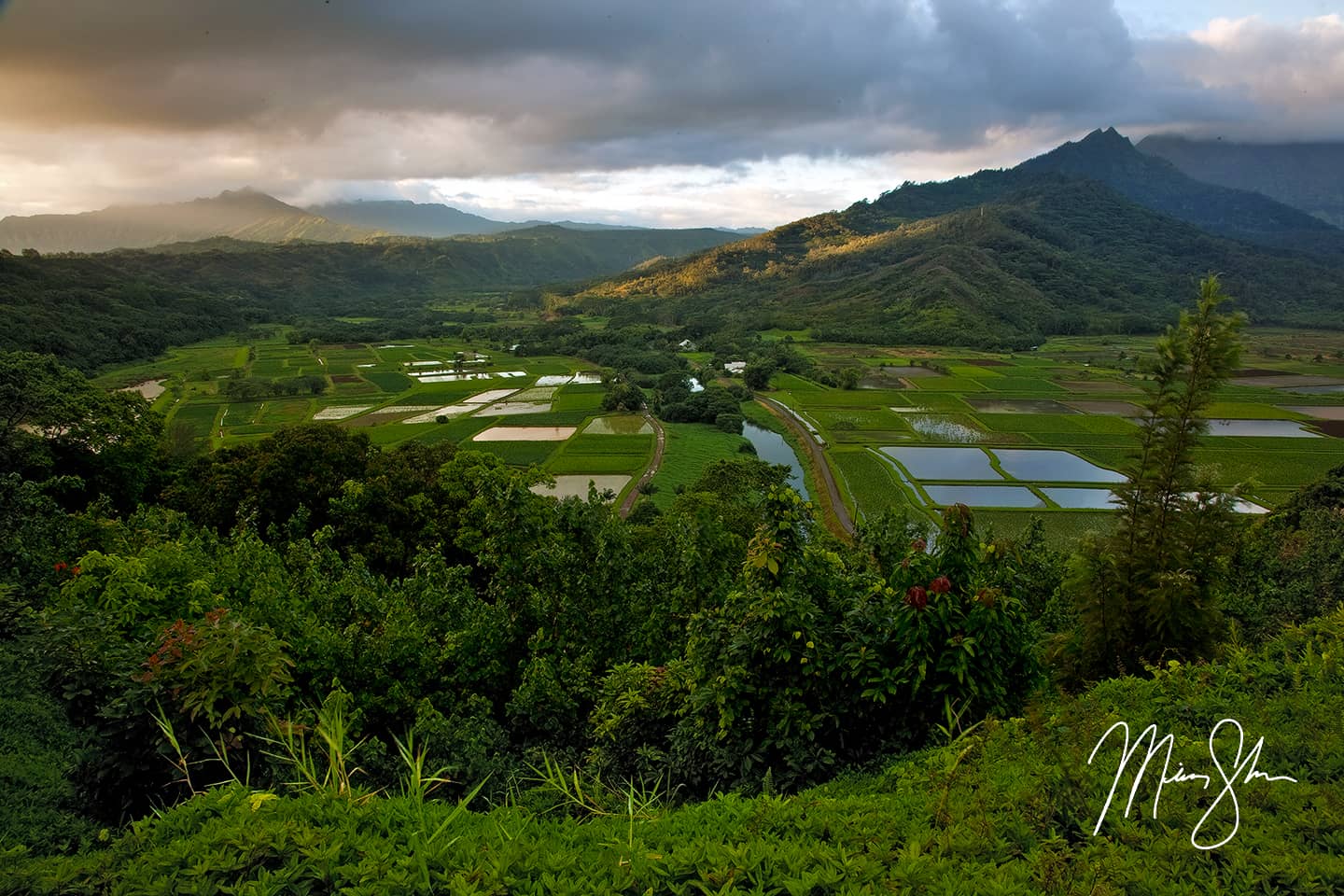 9. Hanalei Valley Sunrise
Coming in at #9 in my top 14 photos of 2014 is Hanalei Valley Sunrise. This valley is one of the most beautiful places I've ever been to in my life! The tropical mountains and taro fields mix with warm light coming in from the sunrise to the left to create a beautiful scene below! The amount of deep green in the photo is indicative to Kauai's title of the Garden Island of Hawaii. There's color everywhere. And everywhere you turn is a waterfall or tropical plant.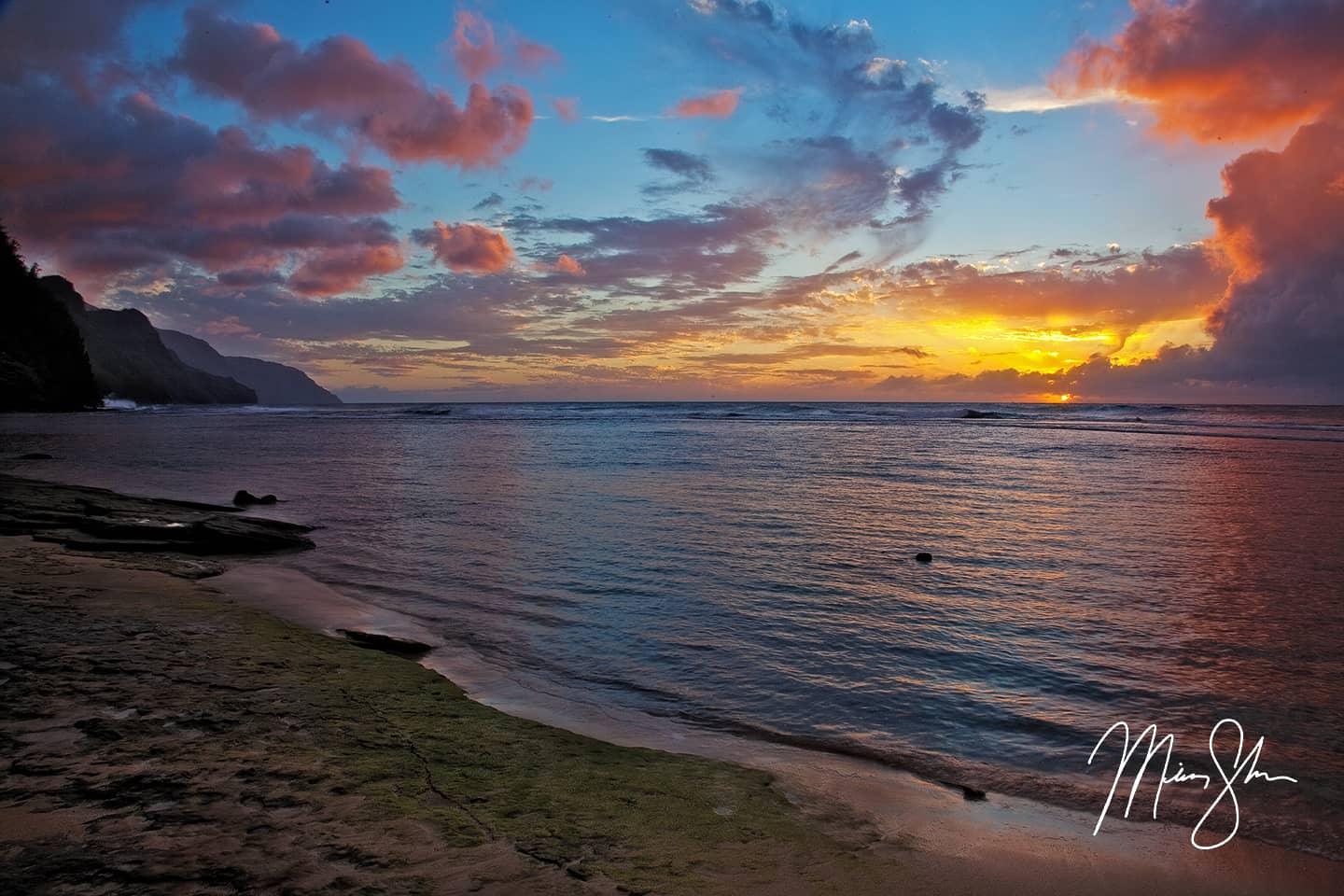 10. Ke'e Beach Sunset
This sunset was one of the best we had in our time in Hawaii! It clocks in at #10 for the top 14 photos in 2014 feature! Ke'e Beach, where this was taken, is the starting point for the famous Kalalau Trail. You can see the rugged mountains jutting out of the ocean in the left of the picture. The Kalalau Trail follows those mountains around the northwest side of Kauai before landing in the beautiful Kalalau valley!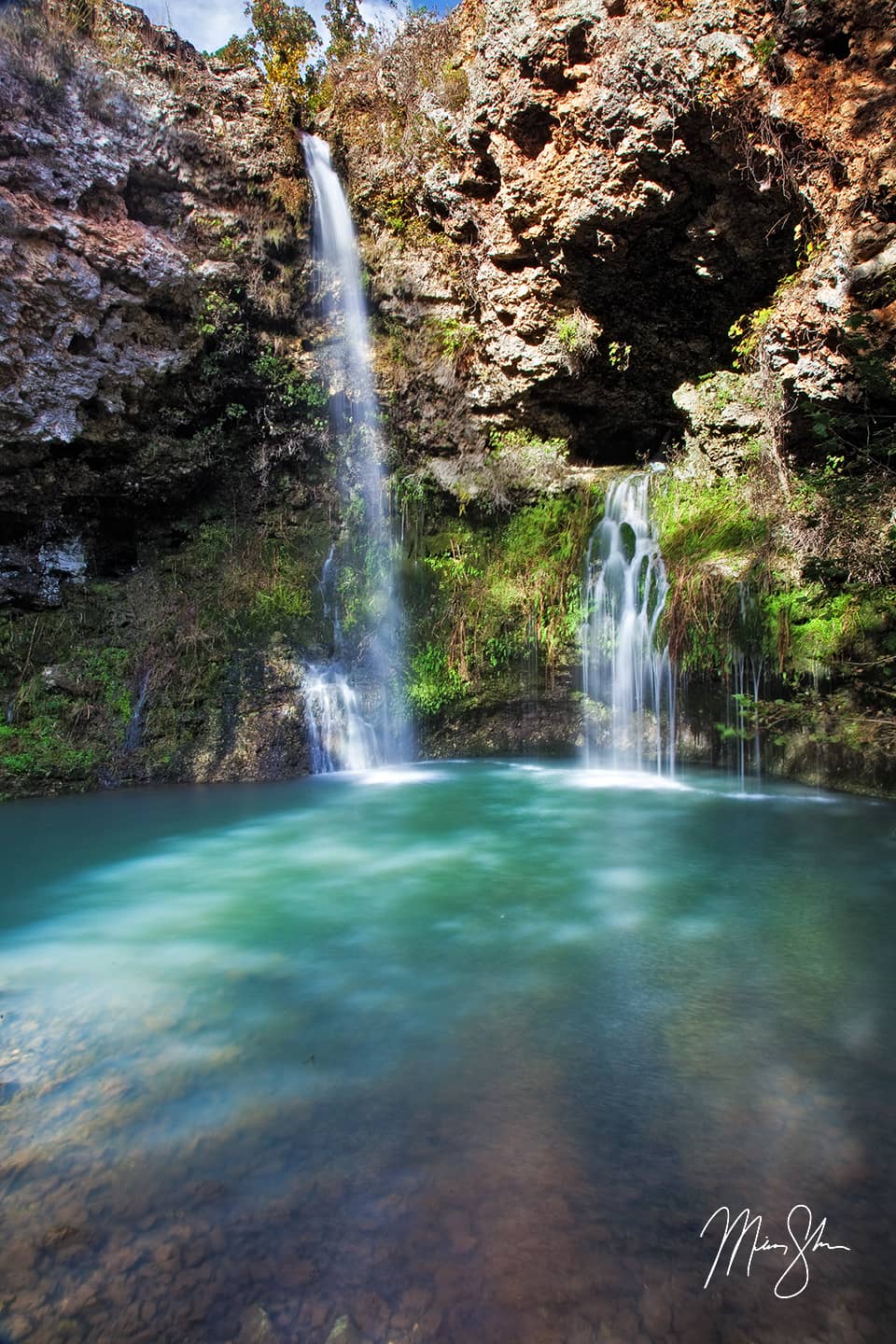 11. The Colors of Natural Falls
Coming in at #11 of the "Top 14 in 2014" feature is from a waterfall in eastern Oklahoma on the edge of the Ozarks. While on a trip to Tulsa, OK for a soccer tournament, the wife and I took a side adventure to a place called Natural Falls State Park, which features this dual waterfall. The tallest of the falls tops out at 77 feet!
One interesting note about this photo: About a month ago, Alaska Airlines used it to promote their new Oklahoma City runs! You can view that on the Alaska Airlines Instagram Account Page for this photo.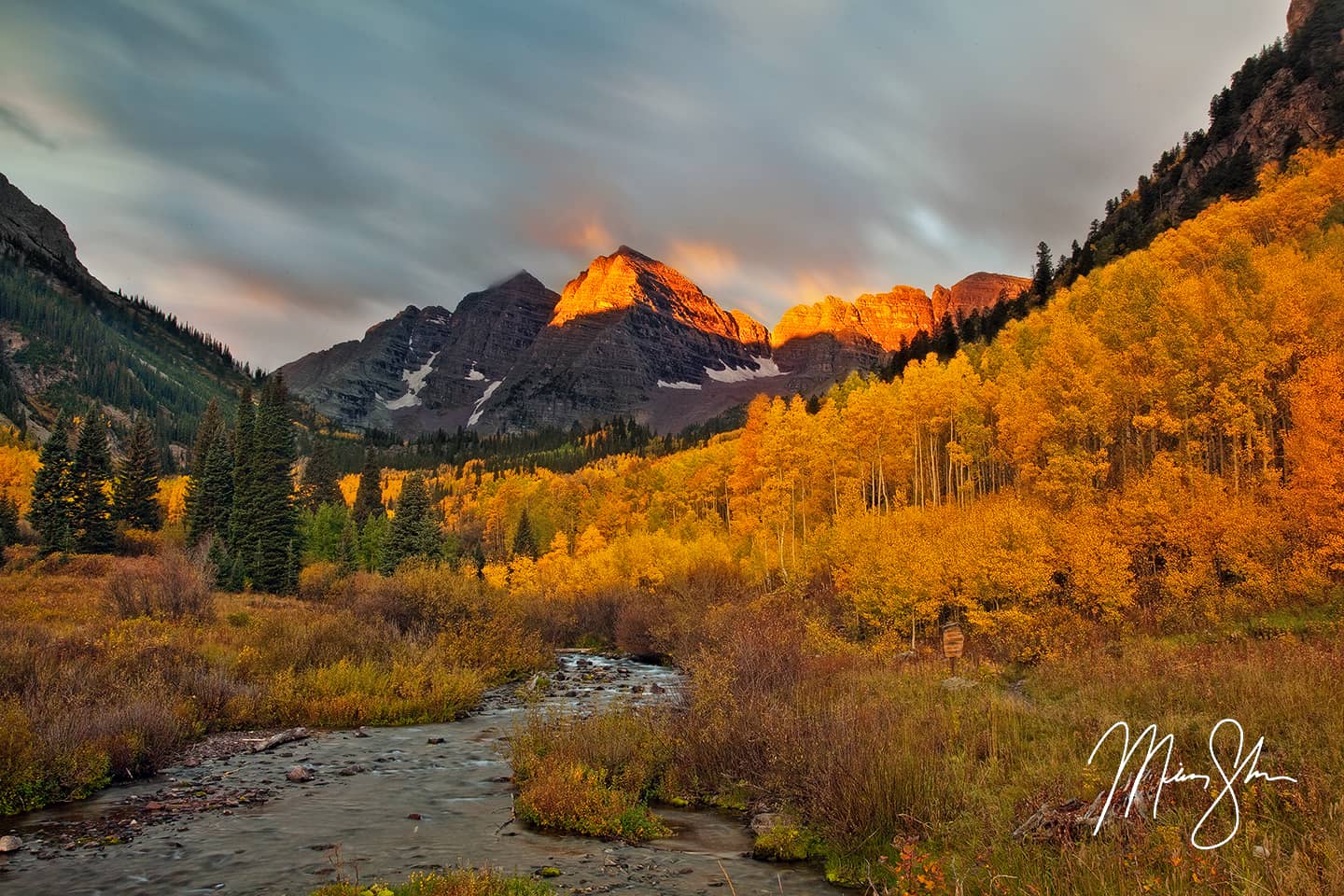 12. Fiery Sunrise at the Maroon Bells
#12 of my top 14 photos in 2014 brings the autumn colors of the Maroon Bells to life! I shot this from the edge of Maroon Creek, which empties into the famous Maroon Lake where hundreds of photographers will line the edge waiting for sunrise in autumn over the Maroon Bells! I've been on multiple occasions, and almost always try to find a different angle of the autumn color-coated Bells. This was 2014's result!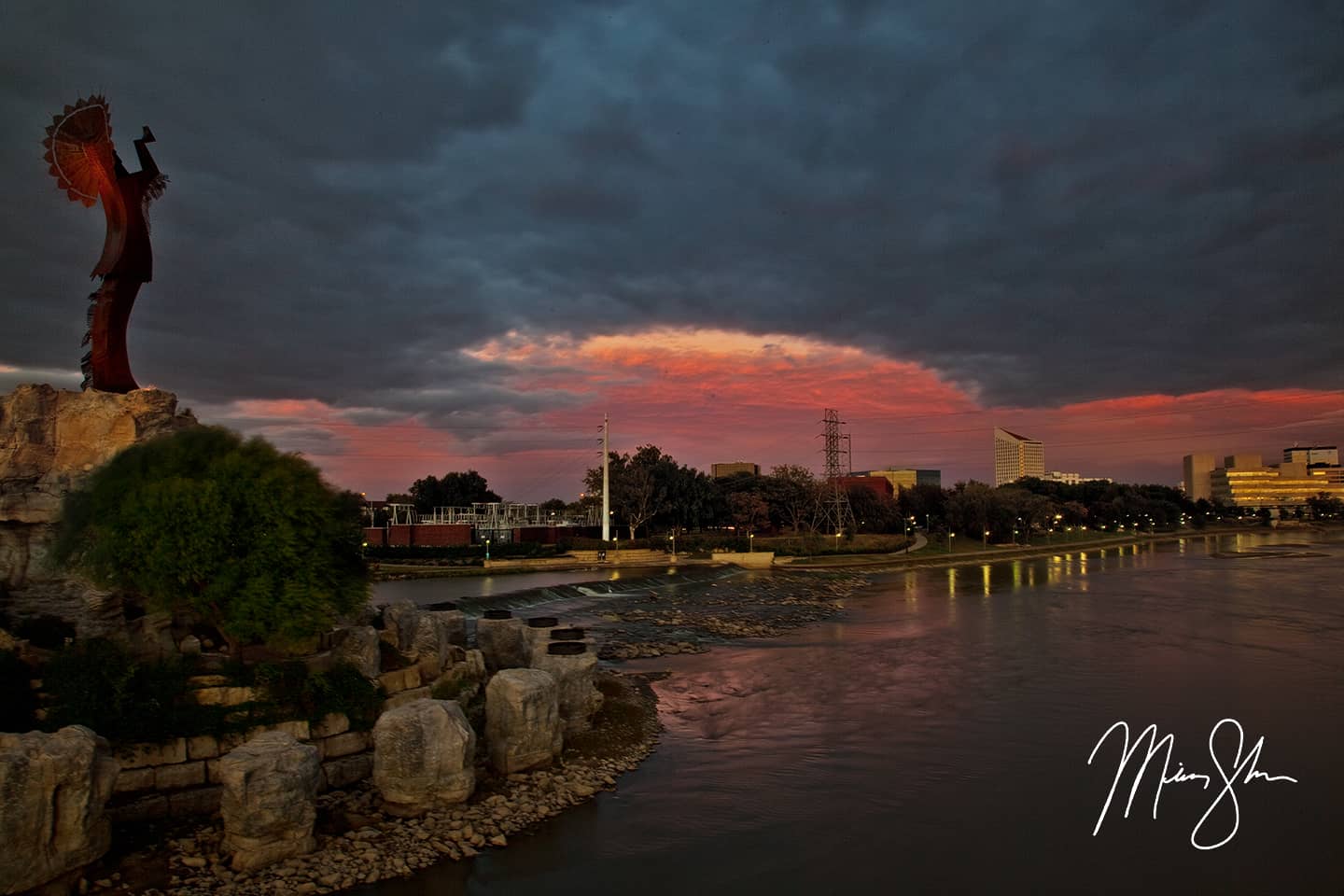 13. Stormy Sunset at the Keeper of the Plains
Coming in at #13 in the top 14 photos of 2014 feature is the only shot I actually put in my portfolio from the Keeper of the Plains this year. Usually I have a slew of Keeper shots each year, but I took a bit of a break to shoot other things. This year, I will be attempting to shoot at least one shot of the Keeper every week of the year (excluding when I'm out of town).
This particular shot was taken as clouds were rolling by. The upper clouds in the distance had intense orange and red in them, while the lower darker clouds were never hit by the sun. The contrast was really interesting and made for a unique shot.
This photo was featured in a 27 Things People From Wichita Have To Explain To Out-Of-Towners. I featured at #4!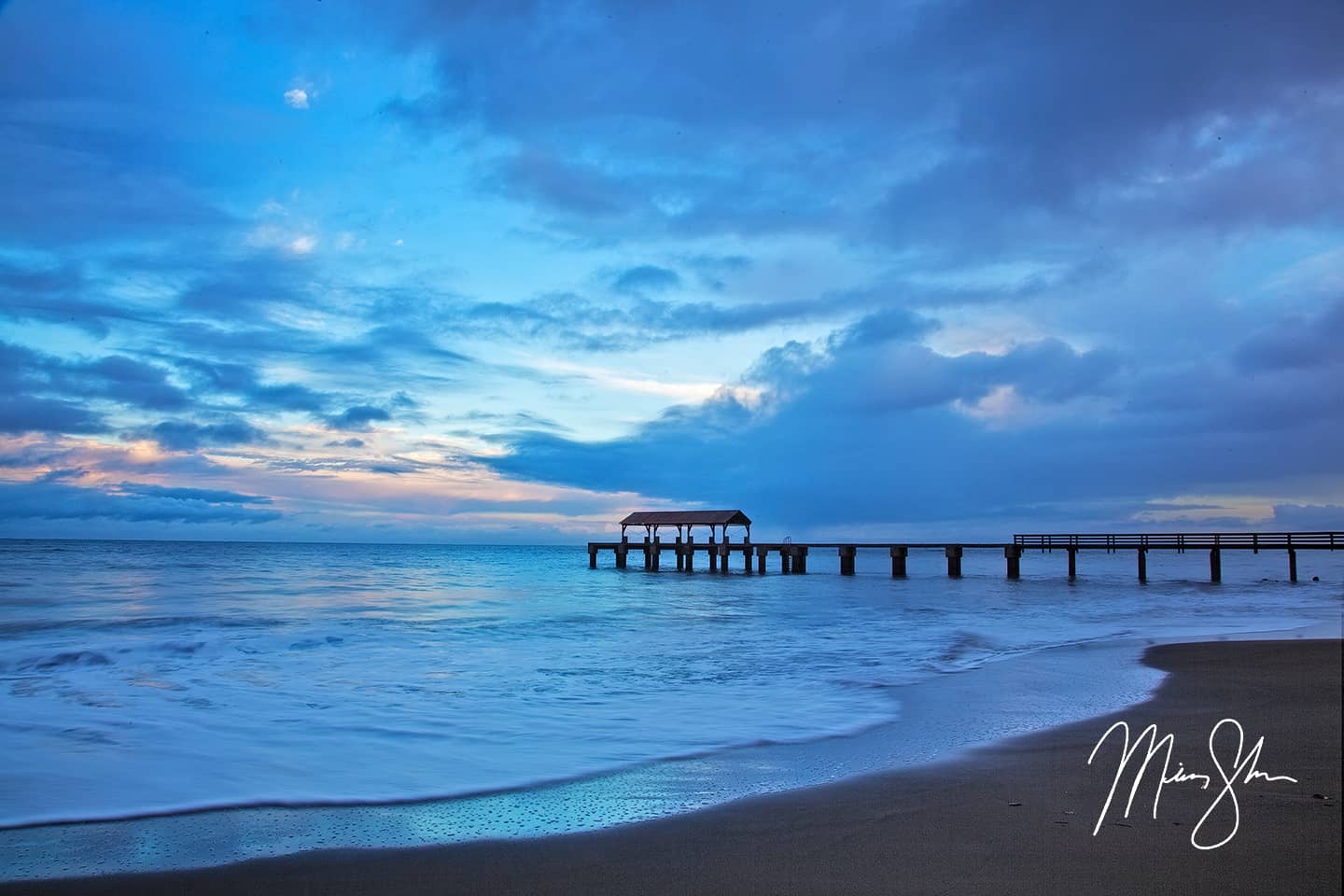 14. Blue Hour at Waimea Bay Pier
Coming in at #14 is a shot I took on my very first morning in Kauai! It was a beautiful morning. While the sunrise never really took on a lot of color, the sky was still beautiful and it was amazing just listening to the crashing waves at the pier in Waimea. I was almost completely alone on this gorgeous beach with only a lone Hawaiian fishermen sharing the beach with me that morning.
---