Tuscany Photography Guide | 5 Top Photo Spots
Mickey Shannon | Updated on August 24, 2023
During my recent road trip through Europe, I spent a bit of time driving the roads of Tuscany, looking for both iconic beauties and hidden gems. As a region, Tuscany is massive and full of beauty. It includes the well known cities of Florence and Pisa, along with other iconic Tuscan destinations like Siena and Pienza. I will admit up-front, that due to the size of Tuscany, I have not traveled all of it. Not even close. I plan to continue adding to this guide over time, but for now, wanted to give five of my favorite photo spots from my travels through the beautiful Tuscany region and are in no particular order. Many of these are in the region of Val d'Orcia, which might be the most stunning part of an already gorgeous region.

Crete Senesi and Agriturismo Baccoleno
One of the most famous spots in Tuscany is the famous S-road at Agriturismo Baccoleno in Crete Senesi. This spot makes for some fantastic photography and can change depending on the season. It's always a stunner at sunset, as you face the setting sun in late spring through early fall. In spring, wheat and wildflowers make great foregrounds, while in fall, the autumn colors give a warmth to the landscape. I photographed these in spring as a beautiful field of poppies dotted the hillside.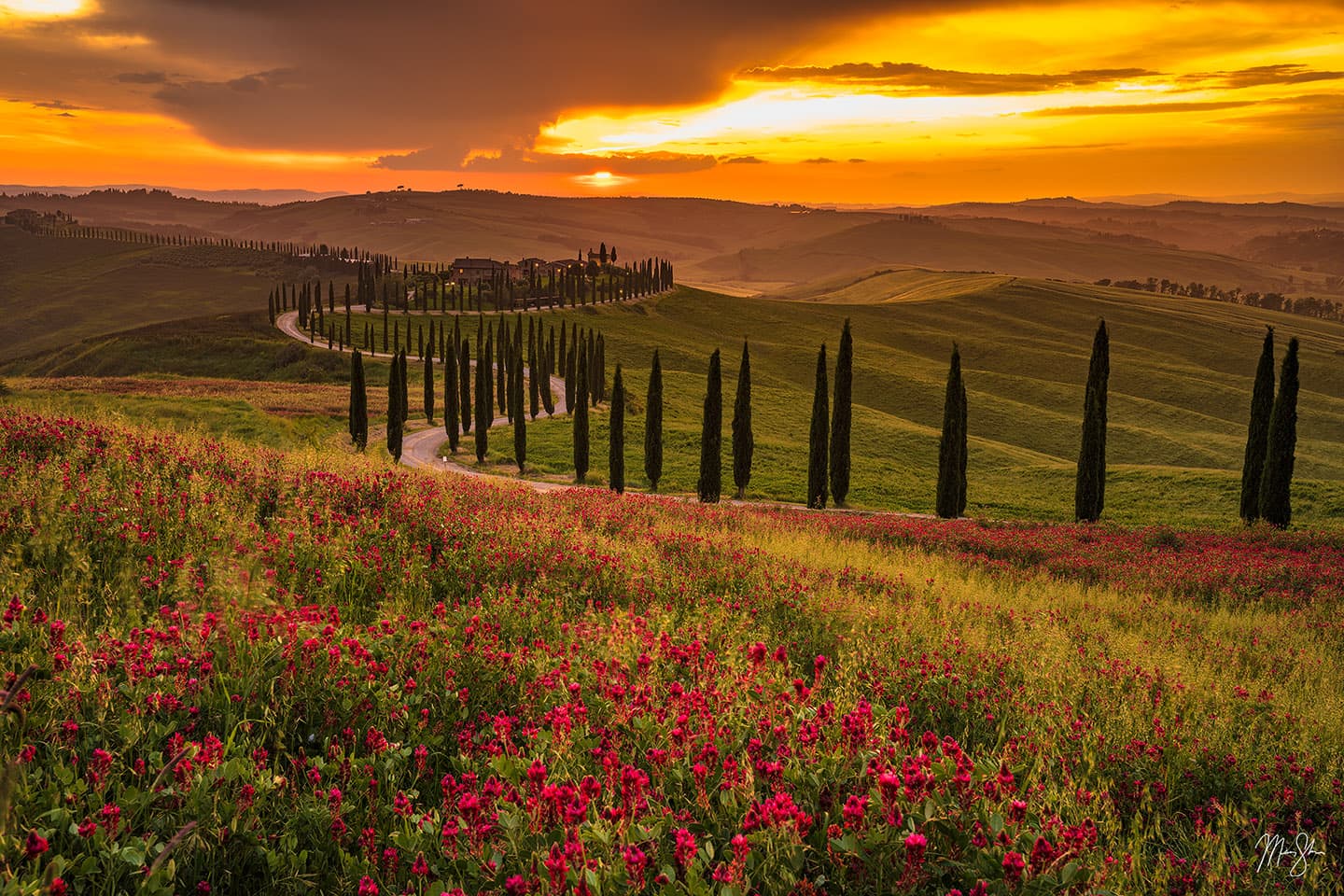 Cappella della Madonna di Vitaleta
Cappella della Madonna di Vitaleta, or Chapel Vitaleta, is a very famous chapel with a row of cypress trees on either side. It's an awesome photography subject, especially because it can be photographed from so many angles. You can photograph it up close. You can get far away and use a telephoto. And the different times of day, the different seasons and the different kinds of weather can add to the beauty. I had an amazing morning photographing it under awesome fog conditions. Evening thunderstorms the night before created the right conditions for some fantastic fog on the morning I photographed the Chapel Vitaleta. I used multiple focal lengths from the cypress road on SP146 that leads to Agriturismo Poderino. The fog drifted in and out, giving completely different looks one minute to the next. This is an awesome spot to get an iconic photograph of an iconic location in Val d'Orcia.

Podere Belvedere
The view of Podere Belvedere is the iconic spot that drew me to Tuscany in the first place. It's a classic view from the road towards Podere Belvedere. I stopped by multiple times during my travels around Val d'Orcia, but my favorite was at sunrise with intense fog drifting in and out of the area. The fog was lit up with warmth from the rising sun. This area can be completely different under different weather conditions or seasons. You can photograph it with the field of wheat in the foreground, or you can use a telephoto to get in close to the subject and isolate the hill.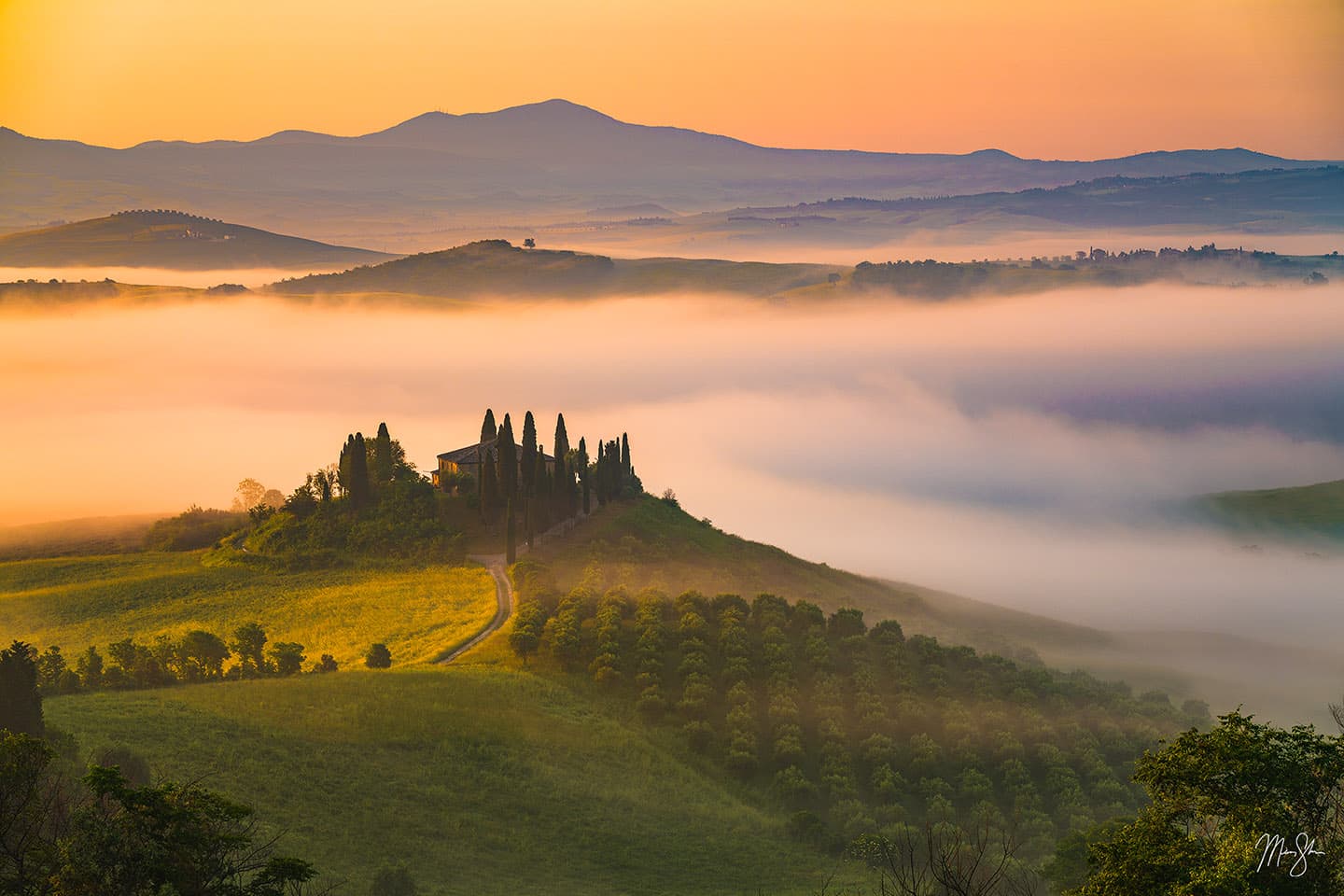 Maremma Tuff Towns of Pitigliano, Sorano and Sovana
These are lesser known to the people who travel the vineyards and cities in northern Tuscany. Situated much further south, Pitigliano, Sovana and Sorano are giant walled towns built upon tuff cliffs. Pitigliano is the most well known and sometimes referred to as Small Jerusalem due to it's Jewish quarter. All three date back to at least medieval times, with Sorano having been mentioned as early as the 3rd century BC. I have not made it to Sovana yet, but both Pitigliano and Sorano are two of the most impressive towns I have ever laid eyes on. Driving around the bend near sunset to see Pitigliano lit up in warm light from across the valley to the south was a moment I will never forget. In fact, no other "moment" in my travels of Europe have stopped me dead in my tracks so well as the one below. It's hard to capture in a photo just how impressive these towns are.

Pogio Covili and the Cypress Tree Lined Road
In the Val d'Orcia, south of San Quirico d'Orcia, is an awesome cypress tree lined road worth photographing from a distance and up close. There are three good vantage points that I like to photograph from. The first is easy: straight down the driveway. The second is from the side as the sun comes up, as seen in the photo below. The third is from a spot on a hill to the west/southwest. You can pull off from the road along SP323 as it gains altitude and photograph the tree lined road from above. This can be an awesome spot in really good fog conditions.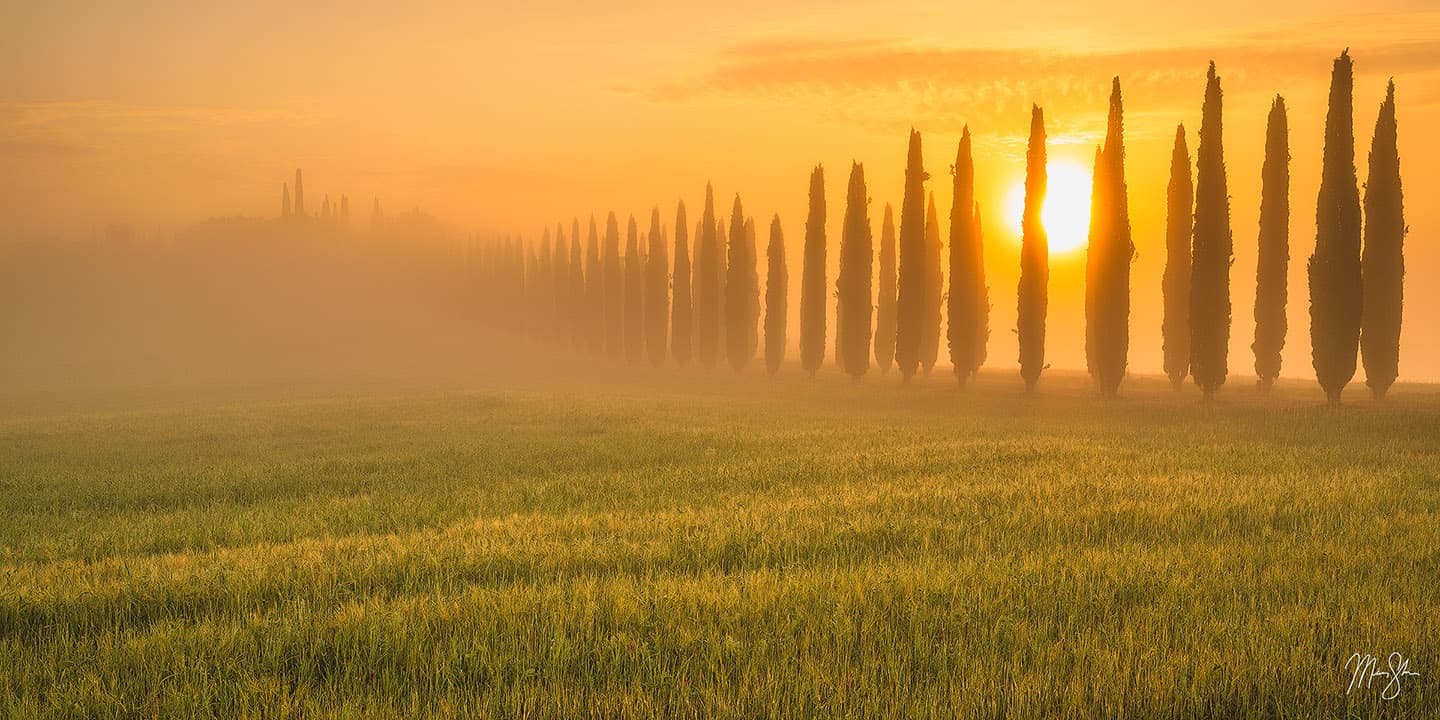 The Tuscan Backroads
Seriously, nothing is better than just cruising the backroads of Tuscany. Maybe it's the fact that I'm from Kansas, where driving the gravel backroads is customary as a photography, but heading down a gravel backroad in Tuscany just seeing where it might take you is an adventure worthwhile! You might find some amazing compositions and unique things that very few others have photographed. With so many iconic locations in Tuscany, it's worth exploring the less traveled to see if you can find a unique photo. The place is full of beauty everywhere. It's hard not to take a good photo in Tuscany!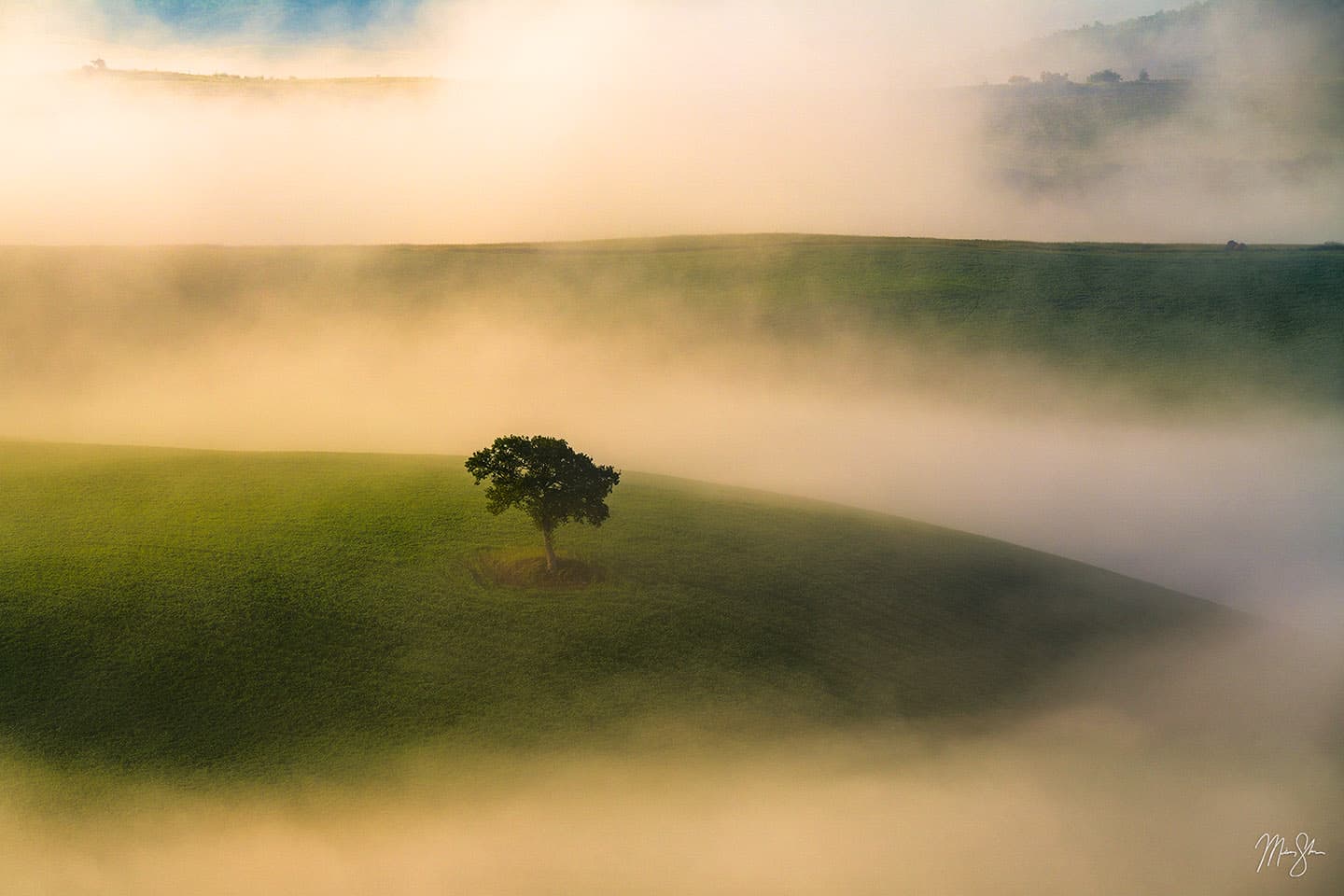 Val d'Orcia: A Photographer's Dream Spot
While I've given you some of my favorite spots above, I wanted to highlight Val d'Orcia in particular. It's known amongst photographers as a hotspot for some of the most iconic photography locations. Many of the above locations are from this region. If you plan to visit, staying in Pienza might be a good idea. It's central to some of the best spots in the area, including Podere Belvedere and Chapel Vitaleta. All of the spots in my list above are less than an hour and a half from Pienza and all but the towns of Pitigliano, Sorano and Sovana are less than an hour. Crete Senesi and Seina are only about an hour north. Even Florence is doable as a long day-trip to see a few highlights of Italy's Renaissance city in north Tuscany. Many films, such as Gladiator, were filmed here. And for good reason. The landscapes are phenomenal. The towns are beautiful. And the food is excellent!
Hopefully this guide helped give you a starting point on your journey to seeing Tuscany through the eyes (or lens) of a photographer! All of the photographs in this article are available as fine art prints in my Italy photography collection.
One final note: Many locations in Tuscany are on private land, so also be mindful of that and be respectful of private property. Also know that some of them are off of busy roads, so be careful when trying to take photos of these locations.
---