Pacific Rim and Vancouver Island: Pacific Northwest Spring Adventure Part 2
Mickey Shannon | Updated on January 3, 2019
This is part 2 of my Pacific Northwest spring adventure from earlier this year. Part 1 can be read in the travel blog post about Seattle and Snoqualmie Falls.
After leaving Seattle, we drove north to the border. I had hand drawn a map from the border to our ferry sailing at Horseshoe Bay up on in West Vancouver as we would be turning off our phones to avoid international charges. We were hoping to catch the noon sailing, as the next sailing wasn't until 3PM. We were hopelessly unsuccessful. My map got us lost. I had planned to take highway 15 up to highway 1 and follow it to the exit near Horseshoe Bay, but turned too early onto a different highway, and ended up driving through what seemed like endless downtown area's around the entire Vancouver area. After a ridiculous amount of time, we arrived at Horseshoe Bay a little before 2. We had used a BC Ferries package deal to get a ferry ride over to Vancouver Island, 2 nights in a hotel in Ucluelet on the west side of Vancouver Island then a ferry ride back to Vancouver. It was a great deal, and I highly recommend checking those packages out for anyone planning a trip that uses the great ferry system around British Columbia! I fully plan to take advantage of these BC Ferries package to do one of my dream trips someday! More on that at the bottom of this travel adventure.
We handed our BC Ferries package receipt to one of the entrance booth workers and asked him if we would make the 3PM ferry. He said it was likely, but not certain. We drove on and got in line, waiting with excitement! I had been on a ferry in Washington back in 2012. It was just a short ferry ride to Port Townsend on my drive down from Bellingham to Olympic National Park. This was over an hour and a half across the Salish Sea to Nanaimo. And my wife had never been on a ferry at all! So we were excited to say the least. When the lane next to us was called first, a car battery had died on someone. Everyone passed him, and then our line was called. When we got to ferry, we were told to stop. We were worried we had been the last car that wasn't going to make it on the 3PM sailing! It was another two hours to wait if so. The worker told us they were waiting to see if the stalled car could make it first. Turns out, ended up having room for two more cars. The stalled car came putting along and they let us on too! We managed to be the last car on the ferry! Score!
The ferry ride was a blast. We ordered some food, as we hadn't even stopped to eat lunch in our rush to Horseshoe Bay, so I downed a chicken sandwich and fries, while my wife had some soup. We then wandered around the ferry, walking around the deck, visiting the gift shop, and just having a blast enjoying the experience. After an hour and a half or so, we were alerted to head back to our vehicles. We were the last on the ferry, which meant we were going to be the last off the ferry. We had been parked on a ramp on the side of the ferry, and a car two cars up in line had died! Two in one ferry ride! They got a jump, and eventually managed to get going. We drove on, finally arriving on Vancouver Island!
We had a good 2+ hour drive from Nanaimo to Ucluelet across the island, so we stopped to get some snacks (donuts) at Tim Horton's. This was our first visit to Tim's and wasn't going to be our last! For fellow American's, think Panera Bread at the price of McDonalds! Bagels, donuts, muffins, coffee's, sandwiches and more for really good prices! Especially when the US dollar was converting so well into Canadian dollars when we were there.
After stocking up on some goods for the road, we started our drive across the island, passing Port Alberni on our drive across the Pacific Rim Highway. As we wanted to arrive by dark, we didn't stop much. However, the evening was cloudy with drizzle at times and had a magical feel to it. It was like driving to the end of the world (others have described visiting Pacific Rim the same way). It was a great experience. I only stopped to get one shot, planning to stop on the way back at all the locations. There was a great little lake called Larry Lake halfway across the island that was beautiful and calm.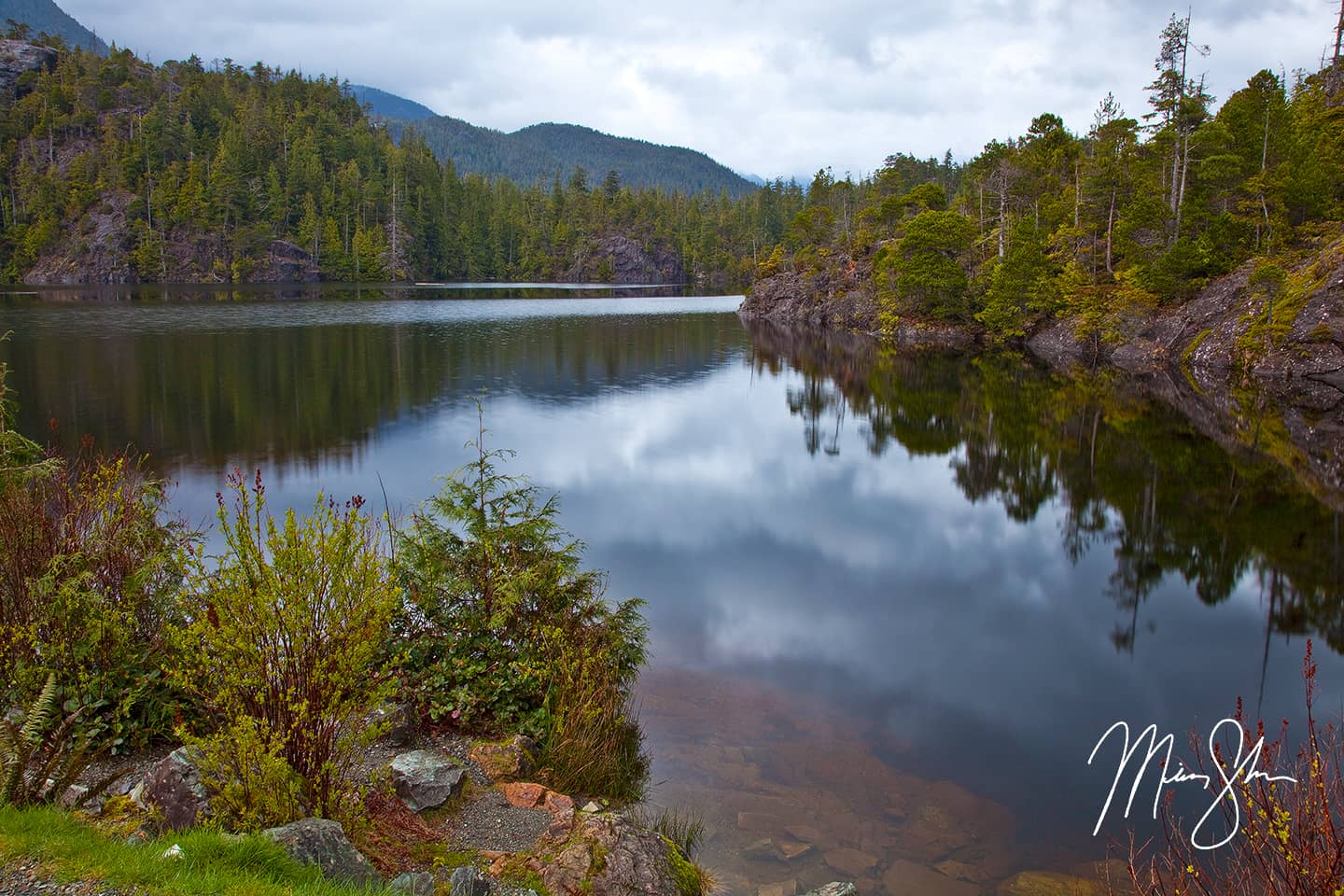 We arrived at Ucluelet after dark and immediately checked into our hotel, the Water's Edge. This was the hotel we booked through BC Ferries Vacations for two nights. I can't recommend it enough! The staff was extremely helpful, the rooms were great, the jetted tub on the balcony was as cozy as could be on an early spring evening in Ucluelet. The atmosphere was just amazing! Before we hit the jetted tub though, we needed food. As Ucluelet is a smaller town, very few places were still open. We chose pizza (what's new!) and hit a place called Roman's Pizza and Grill. We ordered a prawn pizza and took it back to the Water's Edge to eat while filling up our jetted tub outside. After devouring a few delicious pieces we jumped in the jetted tub to enjoy the sounds and smells of the harbor that was right in our backyard. It was relaxing after a long day of driving. We were excited to explore the Pacific Rim tomorrow, so after a half hour of soaking in the tub, we jumped out, downed another piece of pizza and crashed.
The Pacific Rim
The next morning, I woke up much later than I had planned. It was raining, which is typical for this area, so instead of shooting a sunrise, I caught up on some much needed sleep. We got a mid-morning start, eating some oatmeal and drove off towards Tofino. Our plan was to drive to Tofino and spend most of the day making our way back to Ucluelet, taking in as much as we possibly could. We first stopped to get a Canada Parks pass at the visitors station, then made our way over to Radar Hill. I will admit, the view from Radar Hill wasn't as impressive as I expected it would be. However, this was probably the only disappointment in the Pacific Rim. After shooting a photo or two, we decided to stop over in Tofino to grab some lunch for the road. The moment we got to the small grocery store, it began to pour. Like, downpour. We got what we needed and jumped in the car.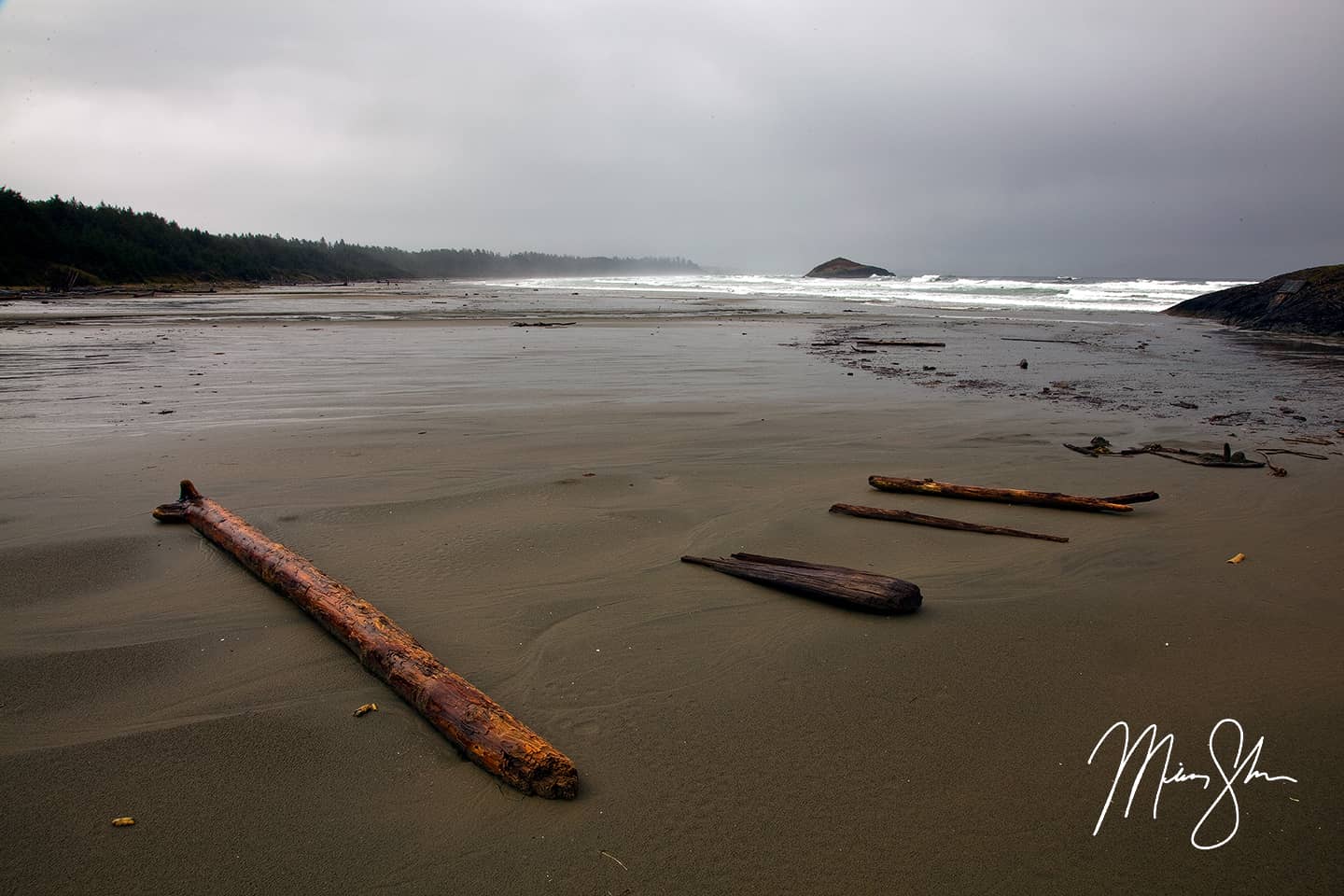 Our next stop was Long Beach in Pacific Rim where the rain had let up a little. We explored the beach a little in the drizzle, admiring the mood of the Pacific Ocean. This was quintessential Pacific Rim National Park scenery. Crashing waves below storm clouds with an awesome atmosphere. I'm used to shooting color. But there was amazing beauty in the grey of the clouds. Below is one of my favorite scenes, as a lone figure was framed well on the rocks above the swirling ocean waters. Rain came in quick and heavy shortly after shooting this.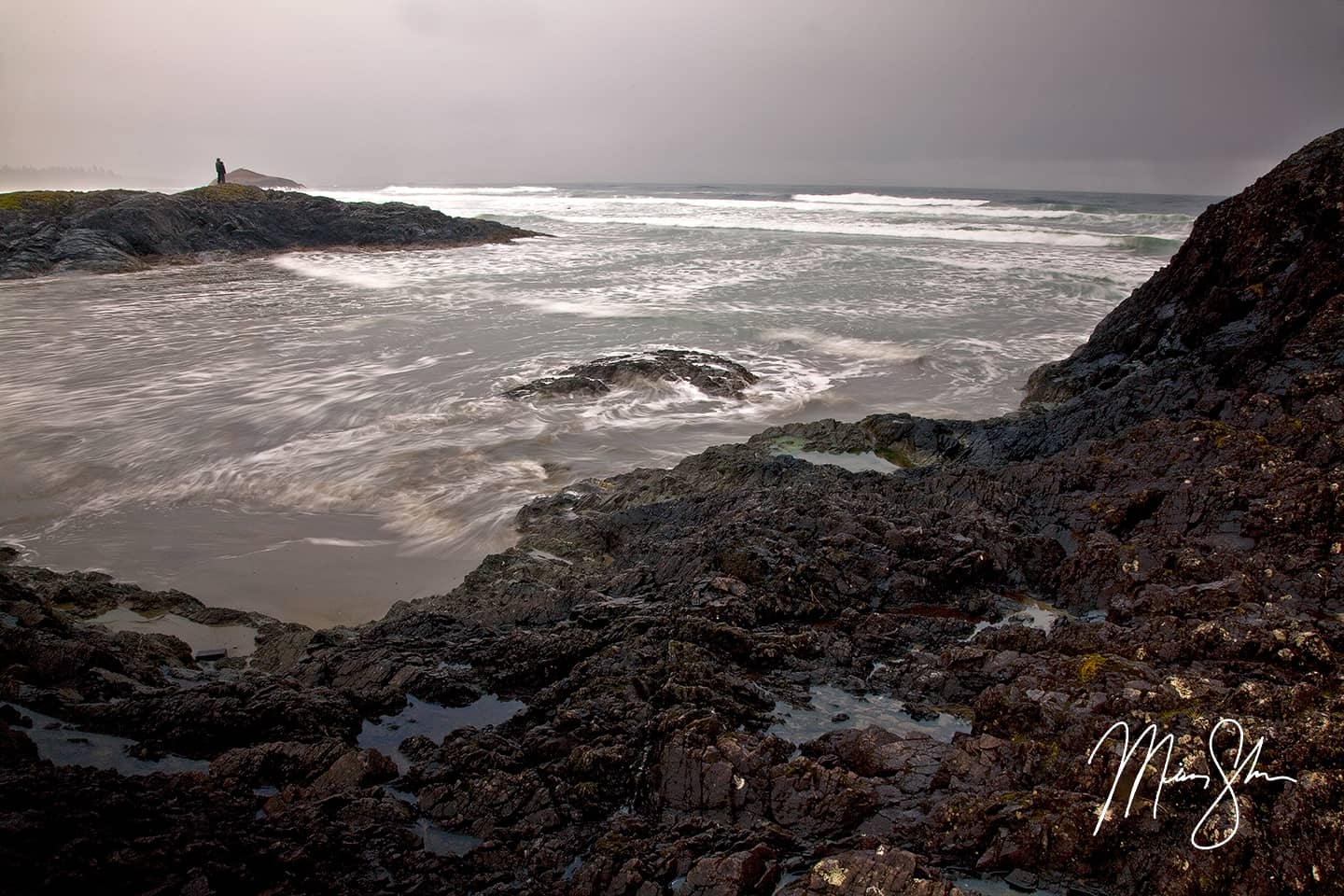 As it was raining, we thought the perfect place to visit next was the rainforest trail! We drove off to the south until we reached the parking lot. We could go on the north loop or the south loop. We chose the south. Walking through a rain forest is an amazing experience! I've walked through the Redwoods in California. I've also visited the rainforests of Olympic National Park. And I've walked the boardwalks of the Giant Cedar's in Revelstoke National Park further east in British Columbia. The rainforest in Pacific Rim National Park rivals all of these! The smells of the moss-covered trees, mixed with whiffs of the nearby Pacific Ocean combine to add to the amazing experience! Anyone who has never visited a rainforest like this owes it to themselves to walk amongst trees like these. Some of these trees are well over 800 years old!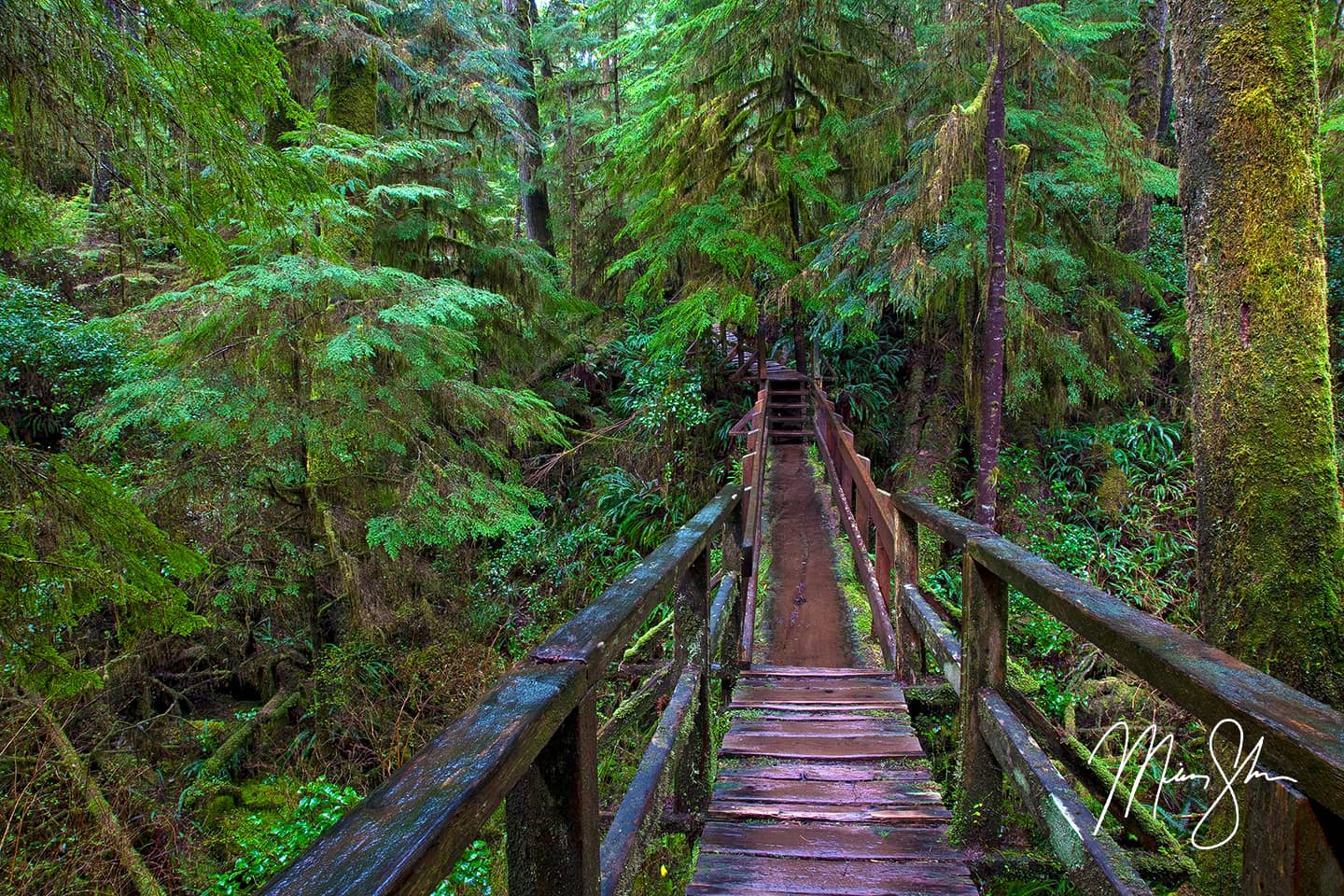 After leaving the rainforest, the clouds started to break in places, and hints of blue sky were giving promise to the sun breaking out. We started driving towards Wickininnish Beach, but decided to stop to check out the Bog Trail. The unique bog is ecosystem to itself in Pacific Rim National Park. Very few plants can survive in the acidic soil here, allowing shore pines to grow in gnarled fashion. After walking the 20-minute boardwalk trail, we hit up Wickininnish Beach. With it being mid-day and the sun starting to break out, I didn't manage any good photographs. However, the views were great, and it was interesting to watch all the surfers testing themselves against the cold waves of the Pacific Ocean as it crashed in to the shores.
We decided we wanted to devote some time to the trails around Ucluelet for the later afternoon, so we drove back to Ucluelet. I had read about all the trails being built in this area, and so we decided to jump on the main Wild Pacific Trail via the Ancient Cedars Trail.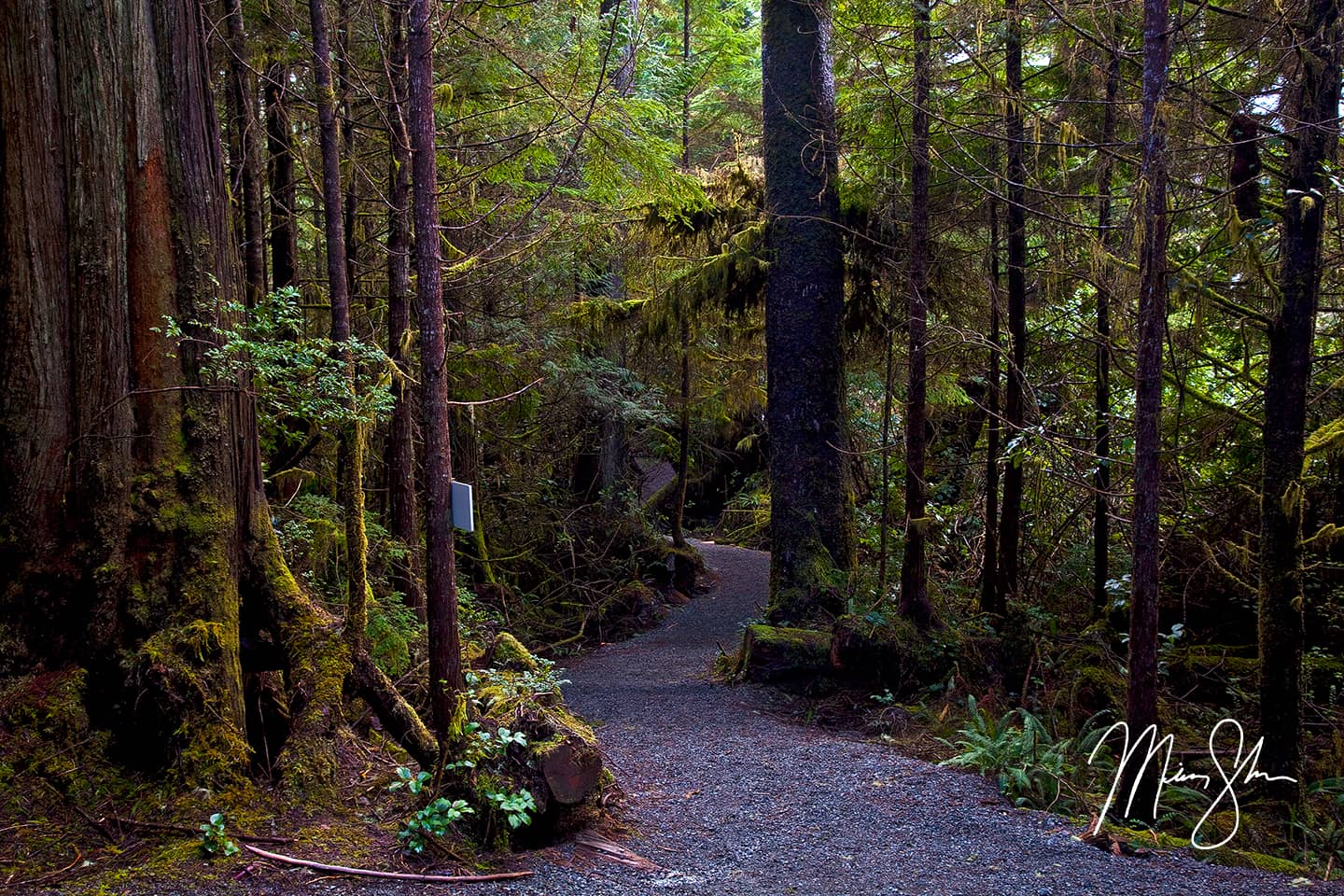 This short section of rainforest takes 5-10 minutes to get from the parking spots on the highway to the Pacific Ocean views! It crosses some of the most ancient forests in the area. These giant trees have managed to survive the heavy winds coming off the ocean, lightning strikes and even a tsunami or two in the centuries-old life of this beautiful forest. We hiked to the southeast towards the Artists Point and were blown away by the stunning vistas in this windswept rocky coastline. The views were phenominal.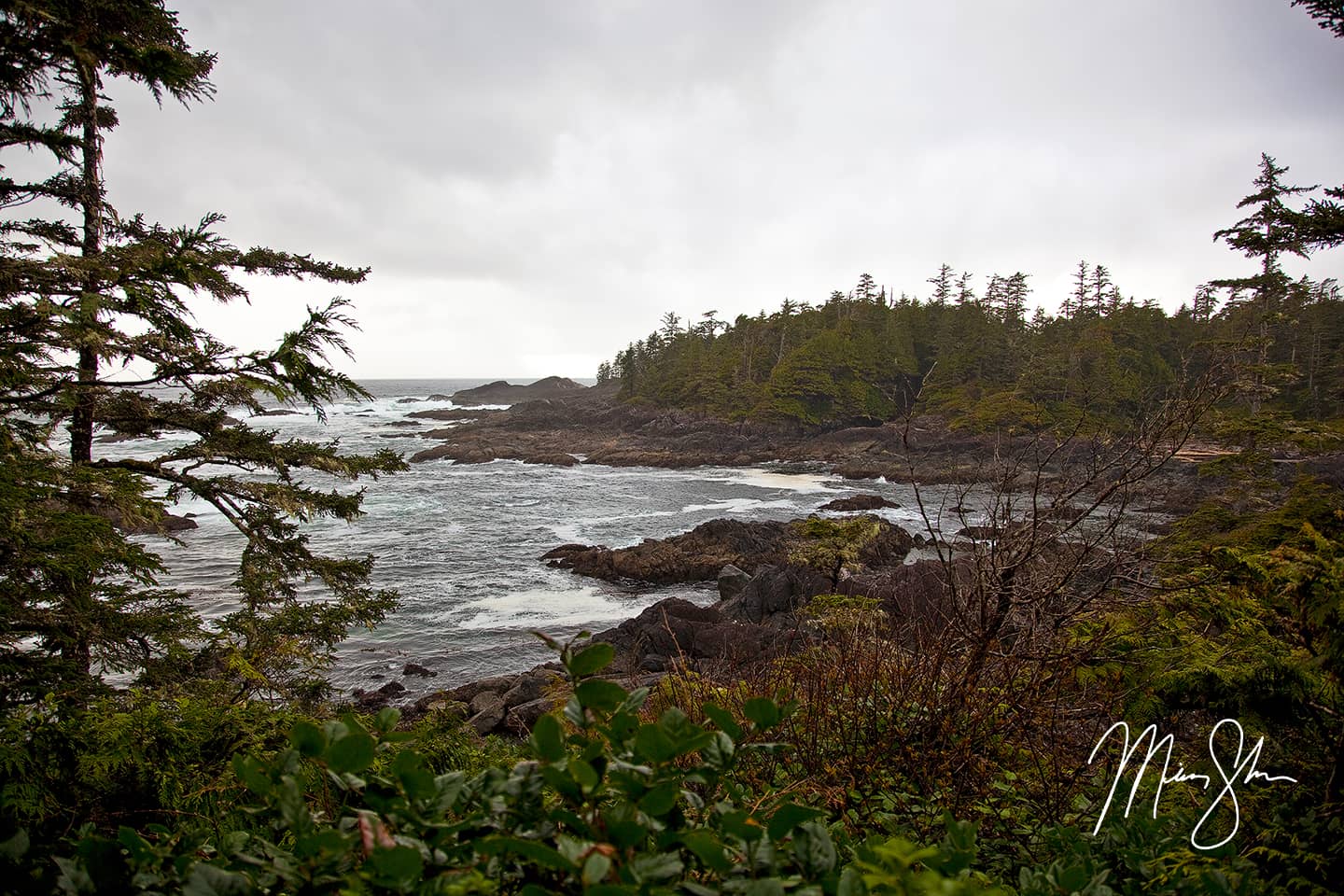 The Wild Pacific Trail offers some stunning coastline hiking right next to Ucluelet. In my opinion, these trails offer some of the easiest access to views of one of the best looking coastlines in the world! The trail is still being built further on to the west of Ucluelet. I can't wait to get back here to hike the area's I didn't finish on this trip.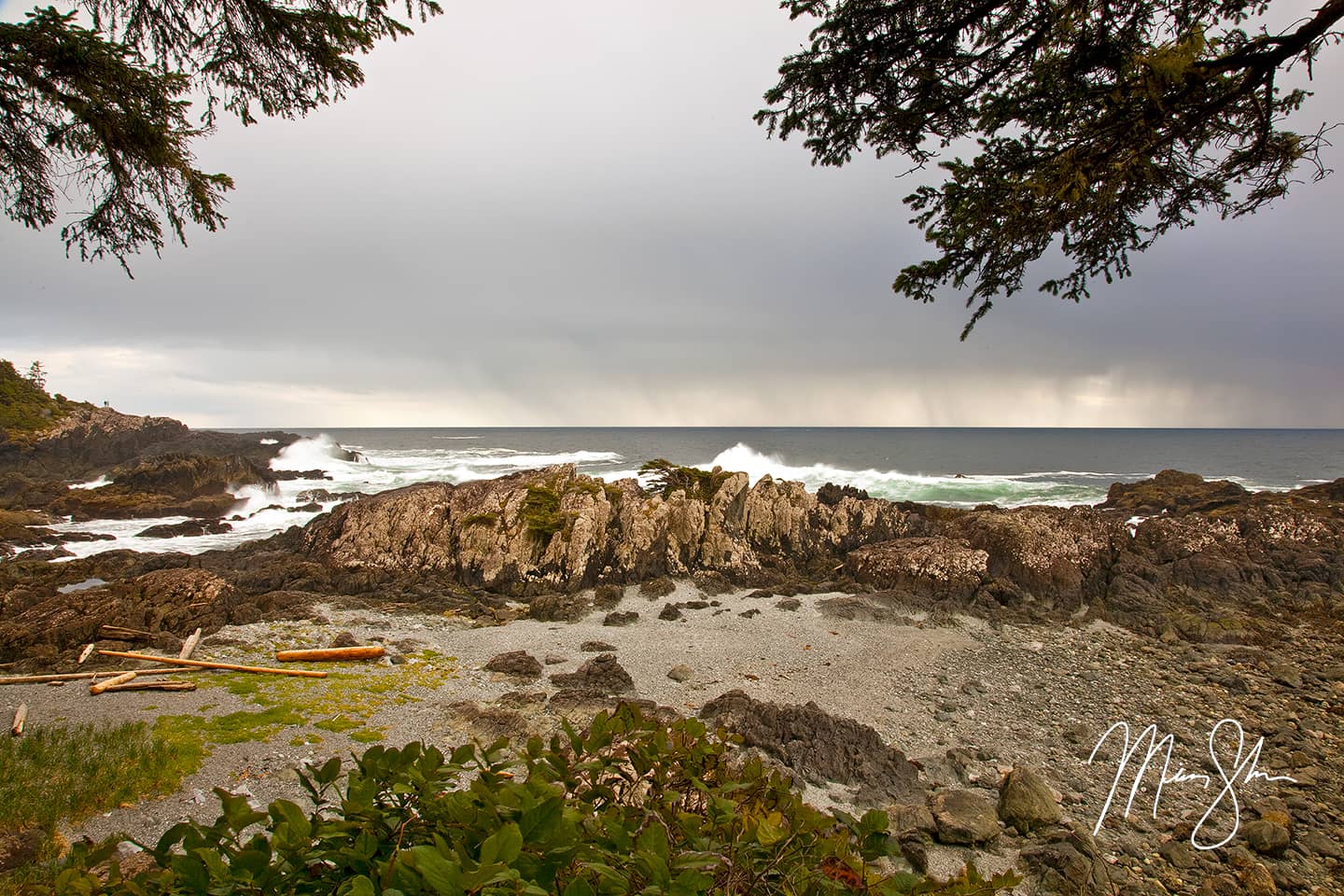 As we could see rain quickly advancing on us from our over the Pacific Ocean, we high-tailed it back to the car. We made it just before the downpour came. At this point, we were starving! The night before, the front desk at our hotel had recommended the Matterson House for some good clam chowder which sounded amazing! The Matterson House is a house that's been converted into a restaurant. This restaurant serves all sorts of seafood and more! We had our eyes on clam chowder, so we each ordered up a bowl. It was a great meal. By the time we finished, the cycle of rain to sun to rain was continuing, as the rain had died and the sun was coming back out.
We had originally planned to hike the entire 2.6km lighthouse loop, but with only a little over an hour until sunset, we decided we would just explore around the lighthouse itself. On the way down, we saw a few deer. Surprisingly, this was the only real wildlife we saw the entire trip! Before arriving, I had read about how the area housed the highest concentration of cougars in the world, along with a healthy bear and wolf population. My last trip to Canada took me to Banff and Jasper, where I saw three bears. This trip, a few deer were the highlight of wildlife. Somewhat disappointing, but you can't always have everything!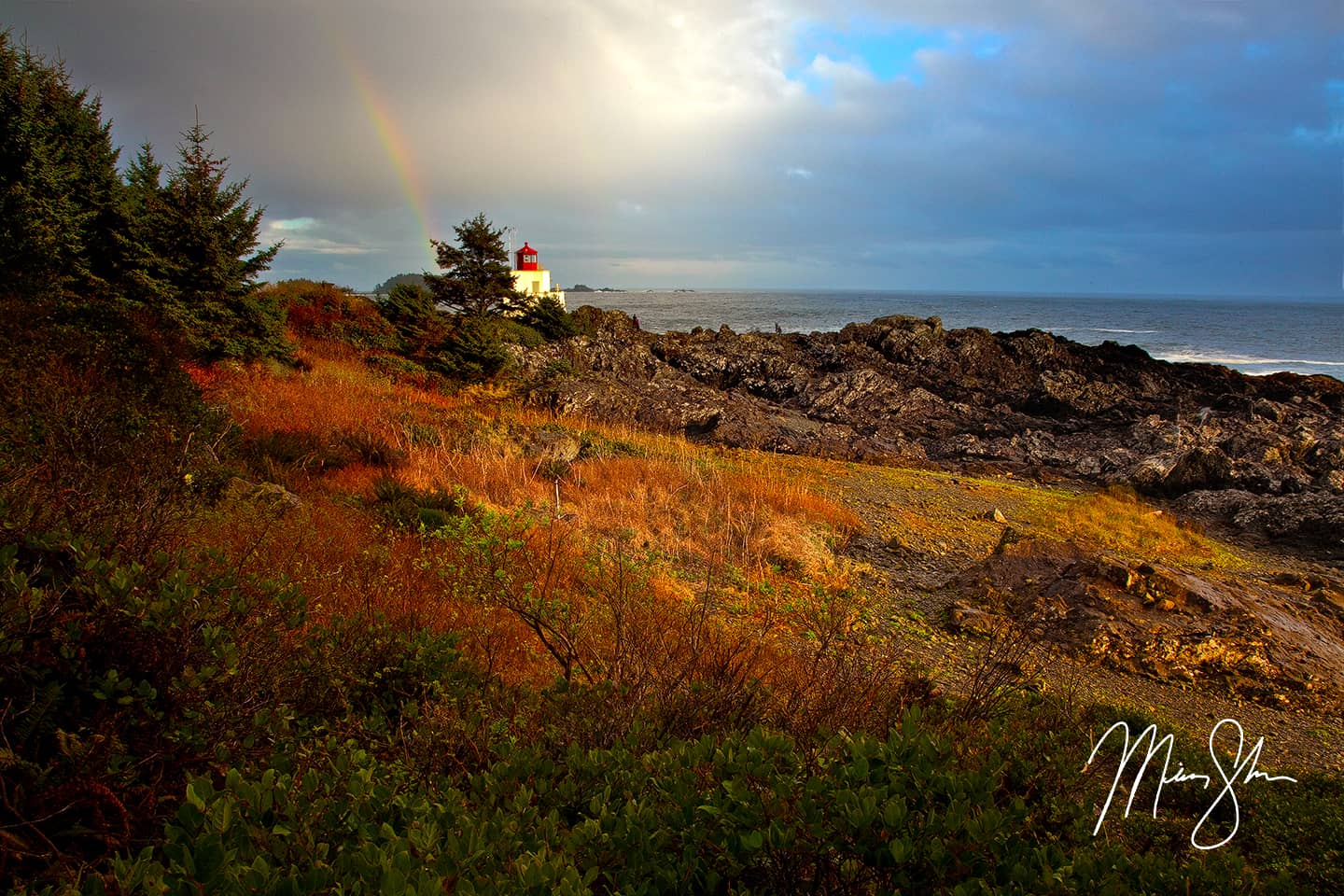 The Wild Pacific Trail near the Amphitrite Lighthouse offered vista after vista. It was one of those places I couldn't put my camera down for more than a minute before seeing something else I wanted to photograph! We didn't walk the entire thing, but walked both east and west of the lighthouse, shooting lots of photos, including a beautiful rainbow that popped up over the lighthouse that can be seen above!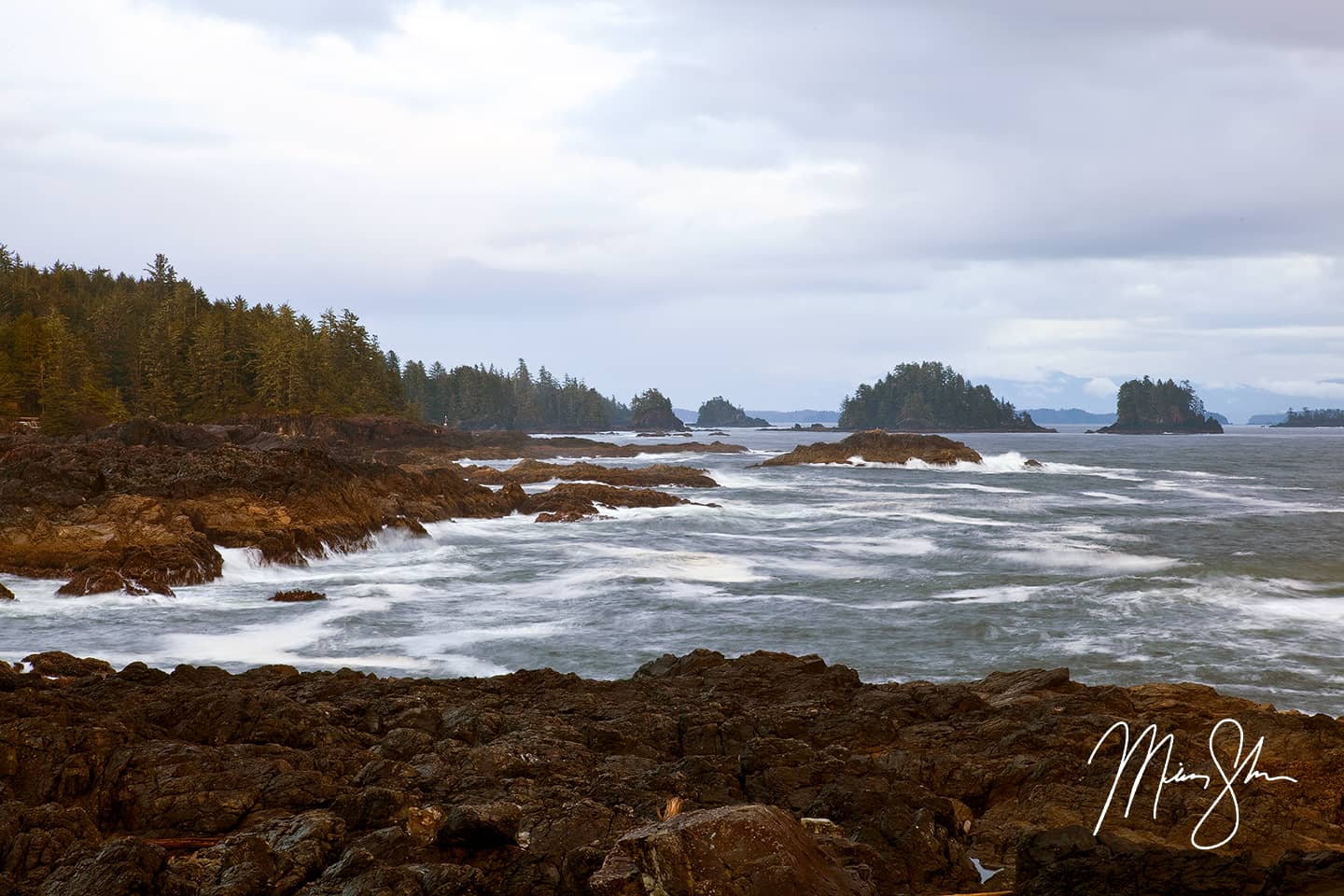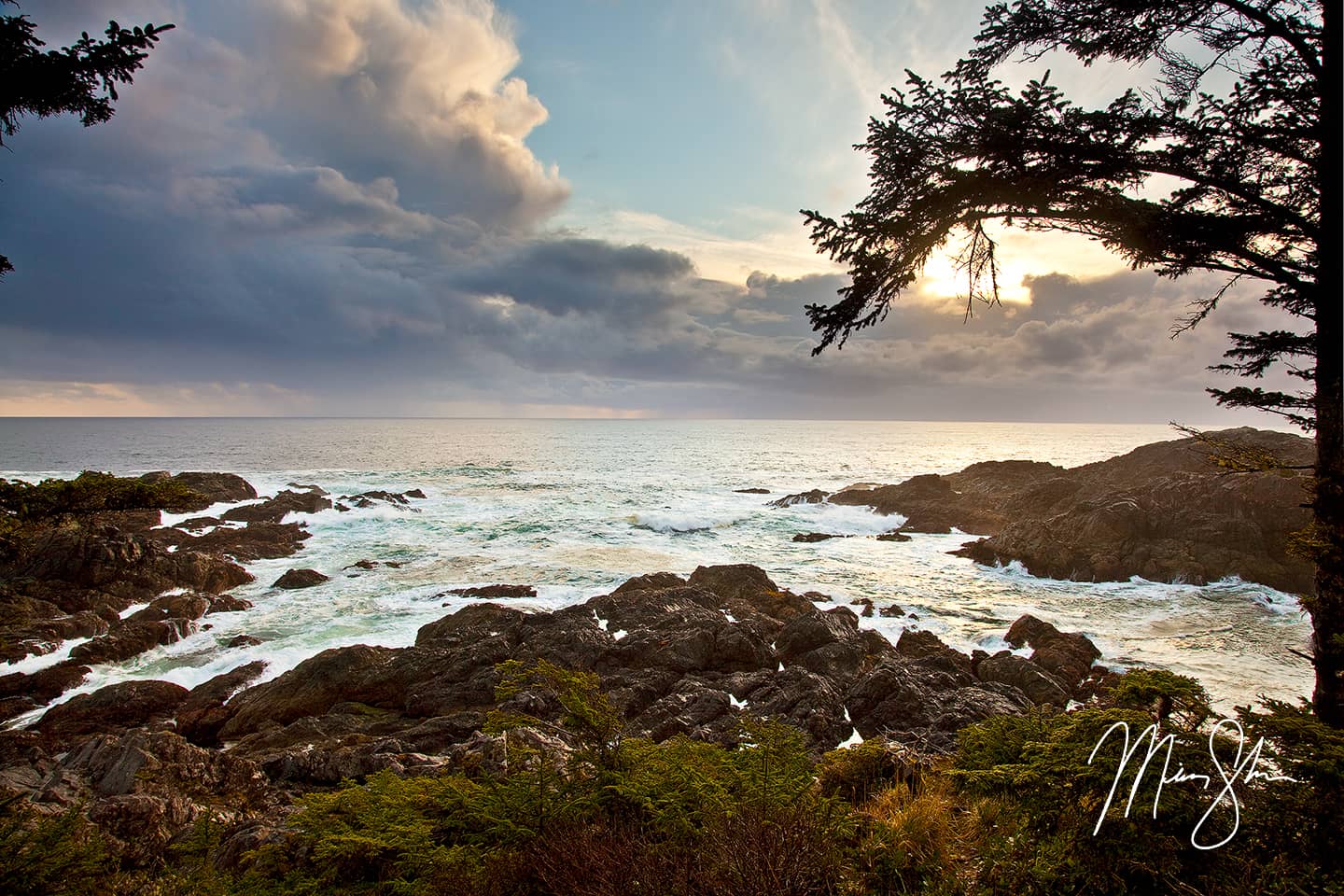 My goal was to get a beautiful sunset shot along the trail, and while it wasn't as colorful as many sunsets I've shot, it fit the scenery of the Pacific Rim perfectly with storms rolling in and waves crashing below! We went back to the hotel exhausted from a full day of amazing adventures in Pacific Rim National Park. After a quick dip in the jetted tub on our balcony, we crashed.
I awoke hoping to capture a sunrise. It was cloudy. Very cloudy. As the sunrise was still half an hour away, I hoped things would clear out over the ocean at the lighthouse. But before driving through a sleepy early morning Ucluelet to the end of the road, I stopped to shoot two photos of the harbor near my hotel at the Water's Edge.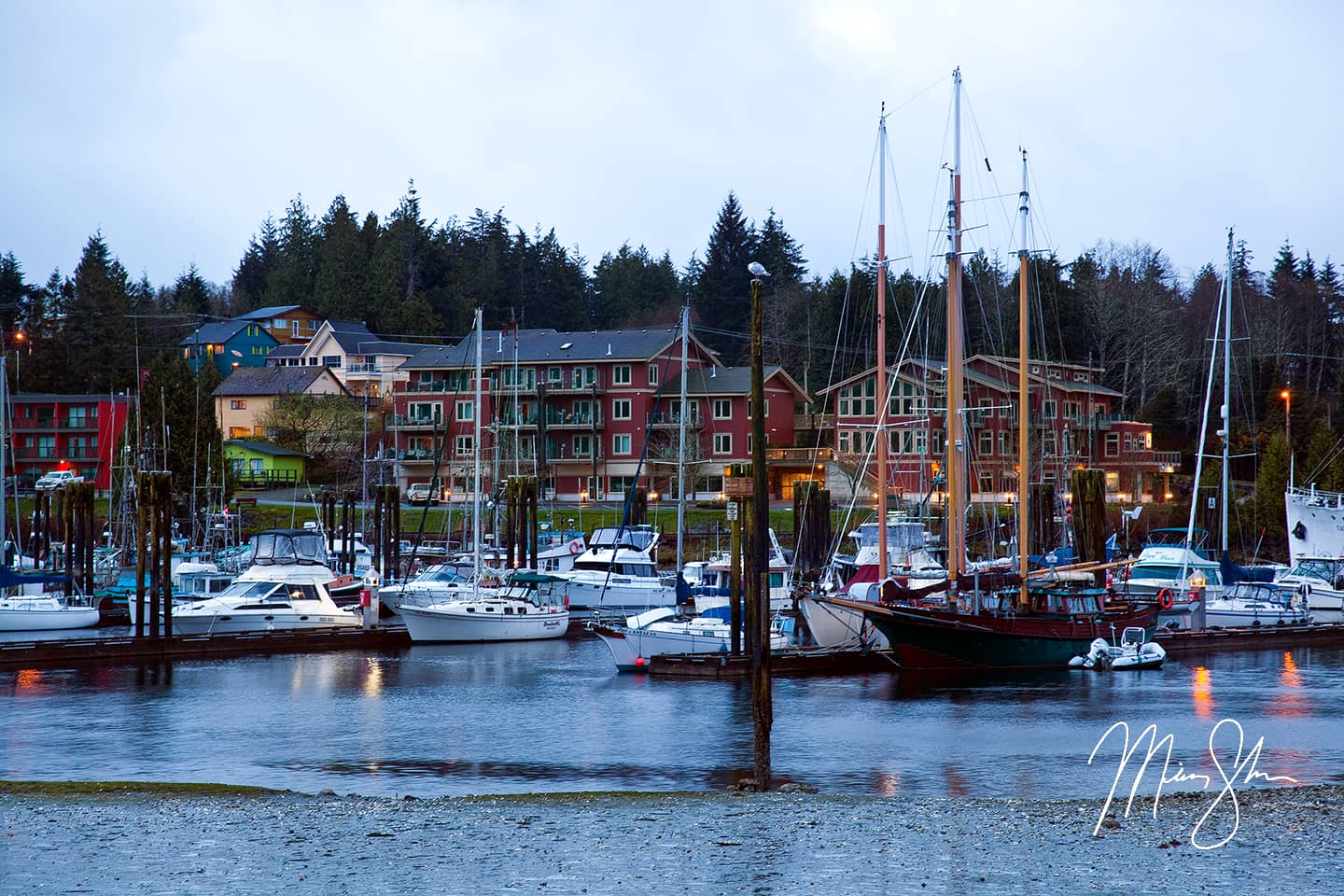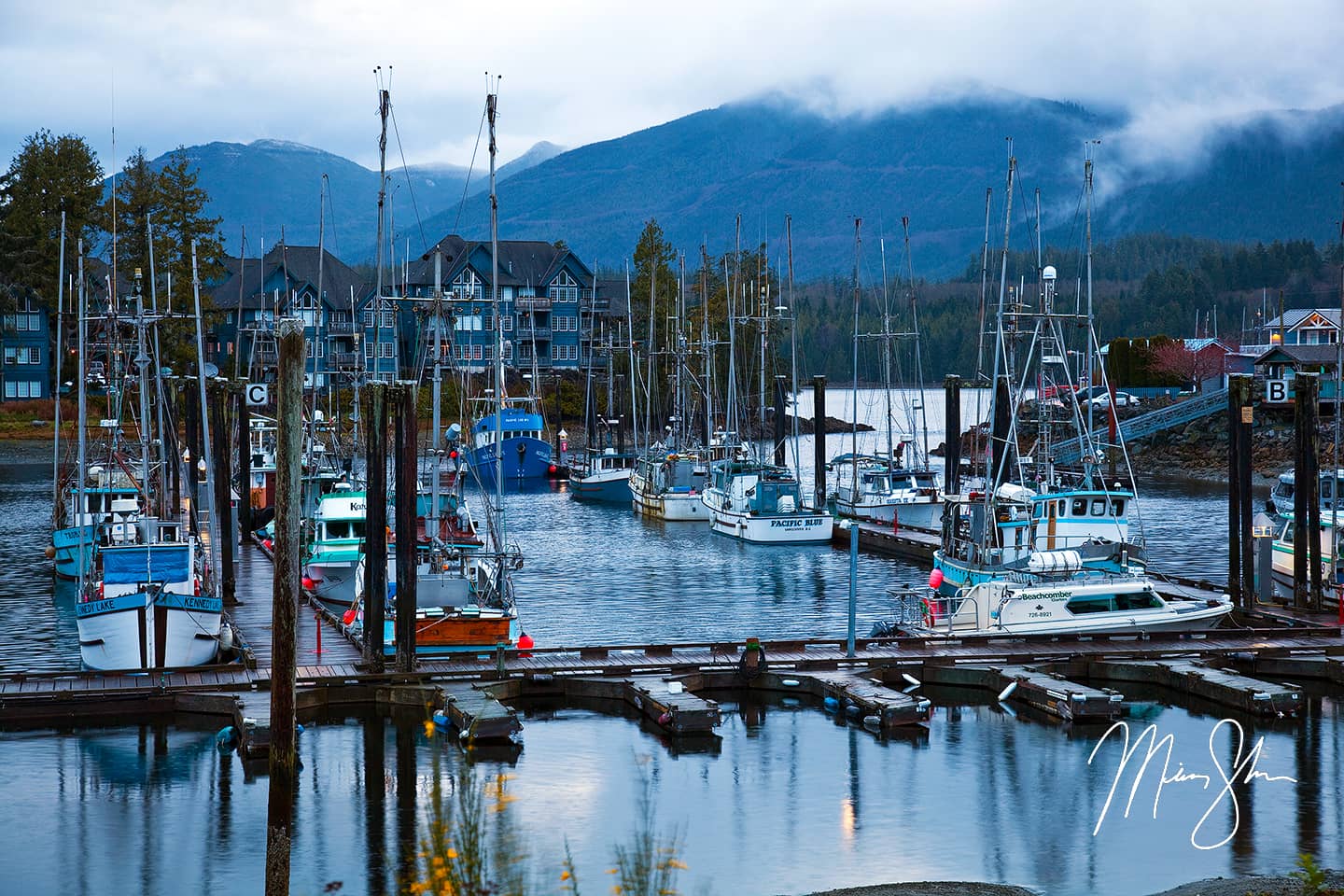 I attempted a few shots at the lighthouse around sunrise, but rain began to fall. I kept hoping for a break, but it just got heavier. I gave up and went back to wave my wife to get ready for our journey back across the island to our ferry ride.
Our hope was to get packed up then stop and hike a little more of the Wild Pacific Trail before heading on, but the rain just kept coming. We realized it wasn't happening, and vowed to come back to the Pacific Rim National Park for some more exploring of this amazing place!
Heading back across Vancouver Island
I knew there were some great spots to stop on our way back to the ferry in Nanaimo such as Cathedral Grove and Little Qualicum Falls, so we hopped back in the car to head back across Vancouver Island. The first stop on the way back across Vancouver Island was Kennedy Lake. Kennedy Lake almost looks like the ocean comes inland a bit, as it's huge and the waves can crash in pretty good when the wind picks up. The rain had stopped for a short bit to give me a chance to shoot the image below.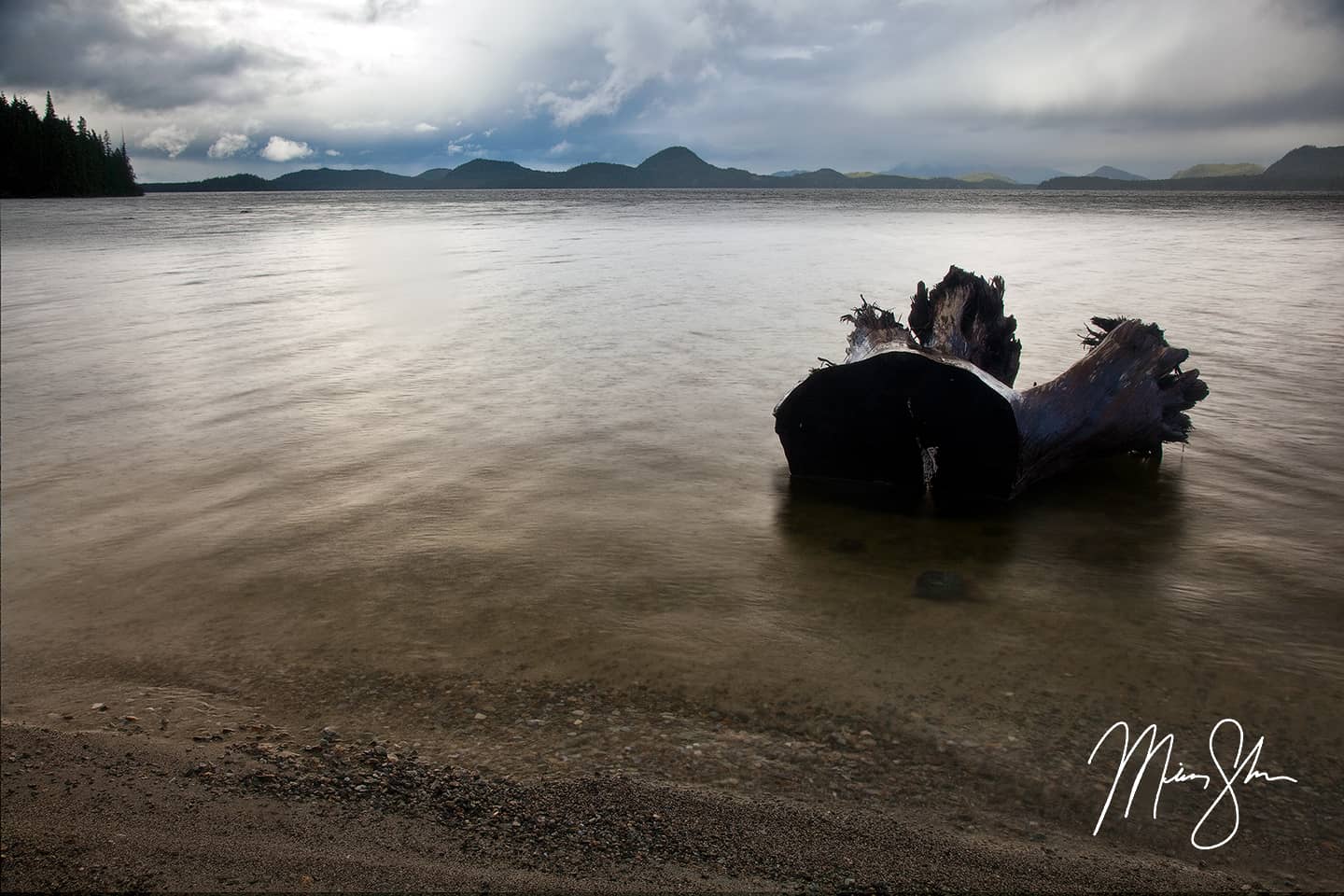 A ways down the road, I saw this view along the Kennedy River that I really wanted to stop and photograph.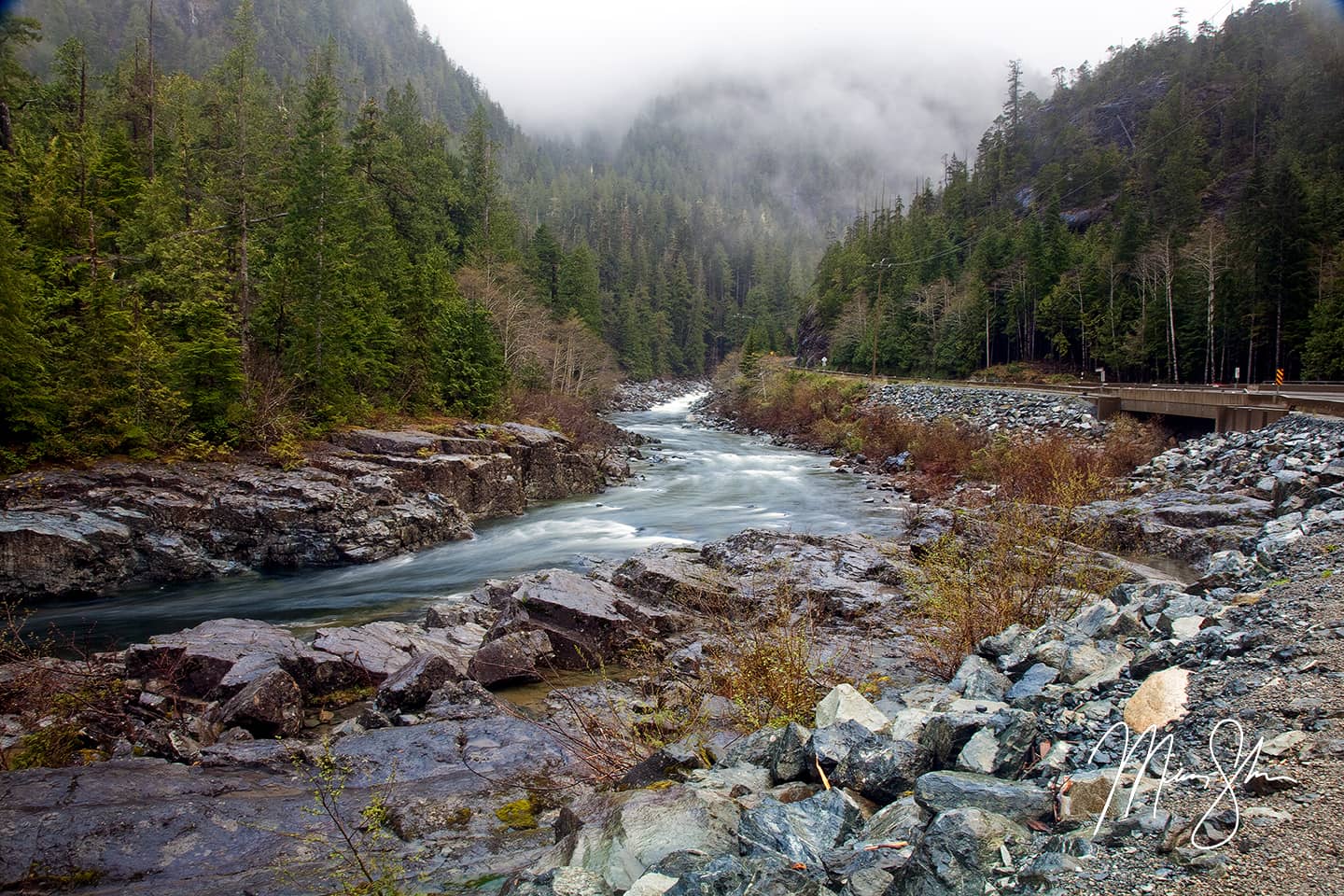 After finishing our drive back to Port Alberni, we grabbed some lunch for the road. Our next stop was Cathedral Grove. Another rainforest stop. It had been raining pretty heavy, but by the time we stopped at the parking lot, the place was packed. It was Easter weekend, and so the crowds were thick. But it was so beautiful that we had to walk amongst the forest! Like the rainforest in Pacific Rim, Cathedral Grove has numerous trees over 800 years old! A walk amongst these ancient trees is a solemn and amazing experience.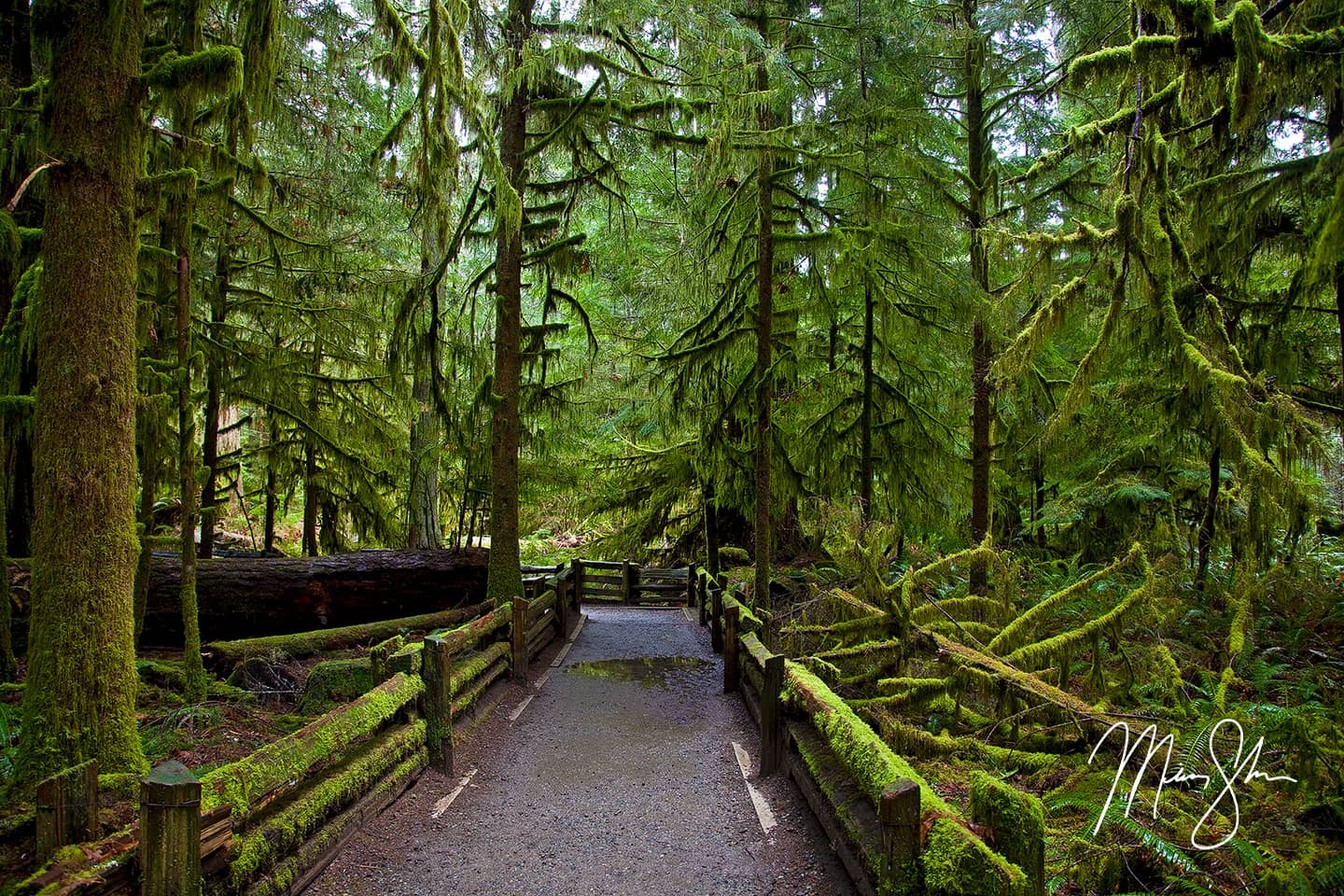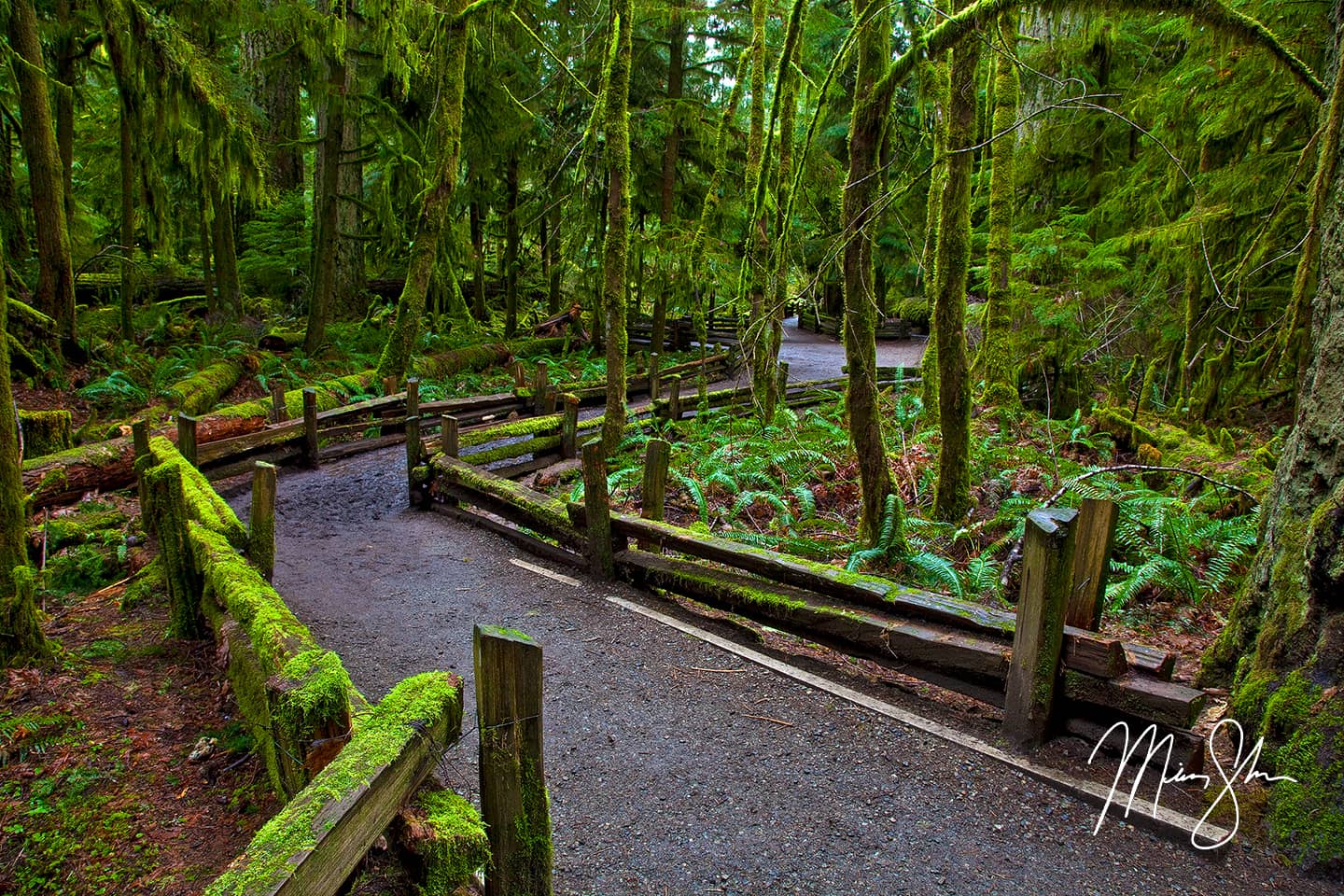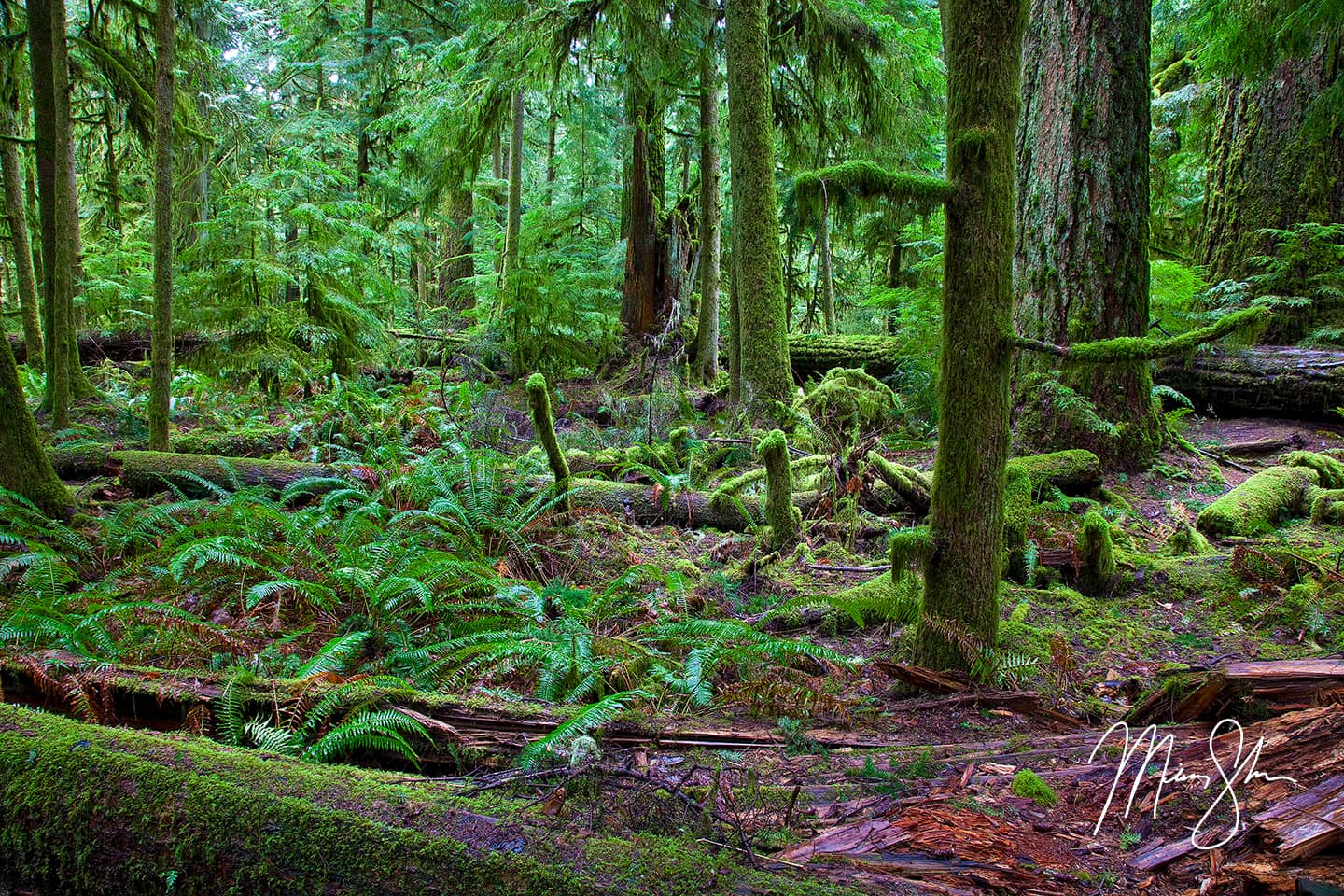 After walking the muddy paths through Cathedral Grove, we drove a few miles down the road to our next stop: Little Qualicum Falls Provincial Park.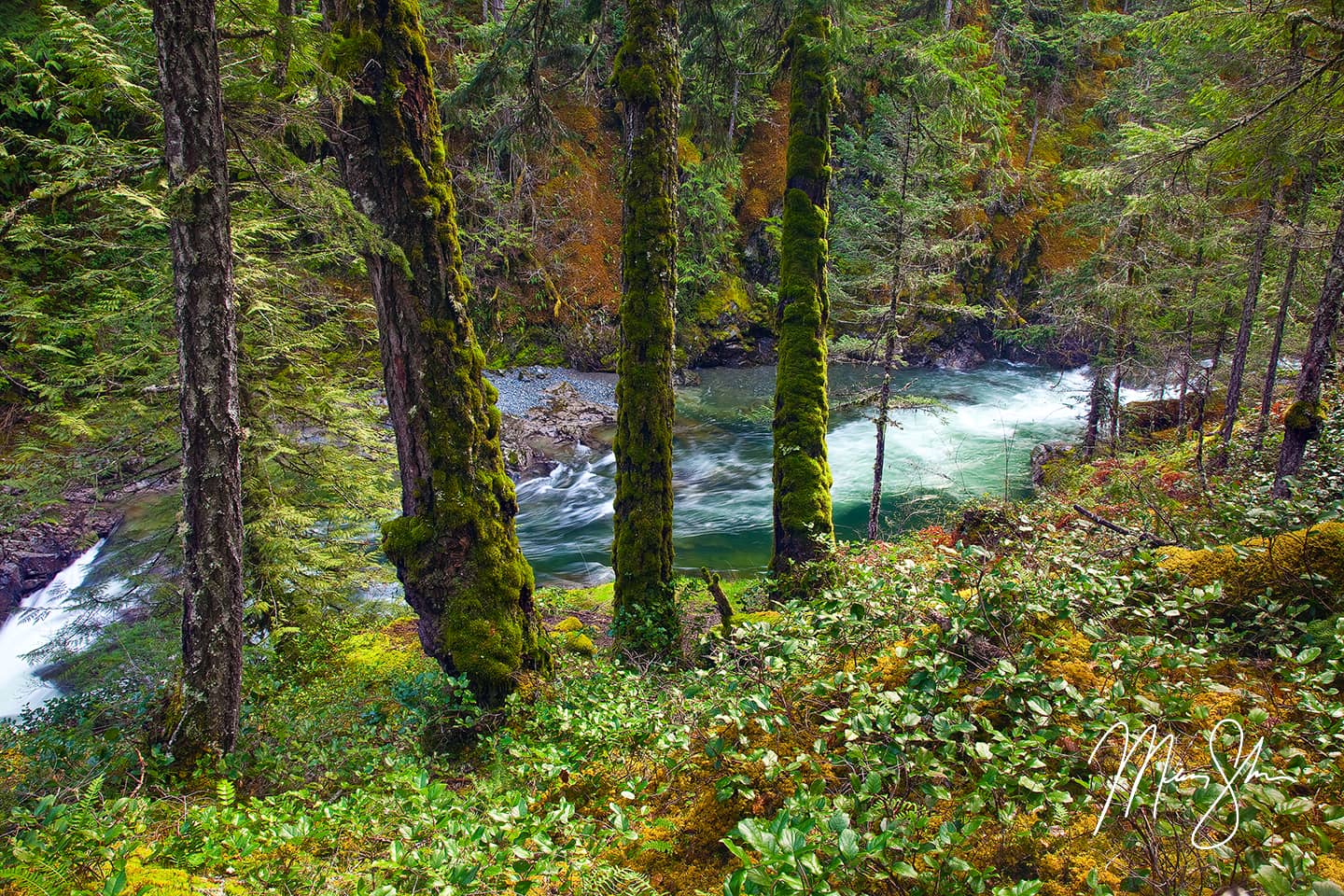 Little Qualicum Falls proved to be a bit longer of a hike than I thought it was. Not that it was very long to walk the loop around the lower and upper falls, but with such great scenery along the way, all the stops made the hike longer than expected! Not only were there two spectacular waterfalls, but a beautiful gorge between them framed the Little Qualicum River very well. And the water color in the Little Qualicum River is a beautiful shade of aqua that enhances the scenery well!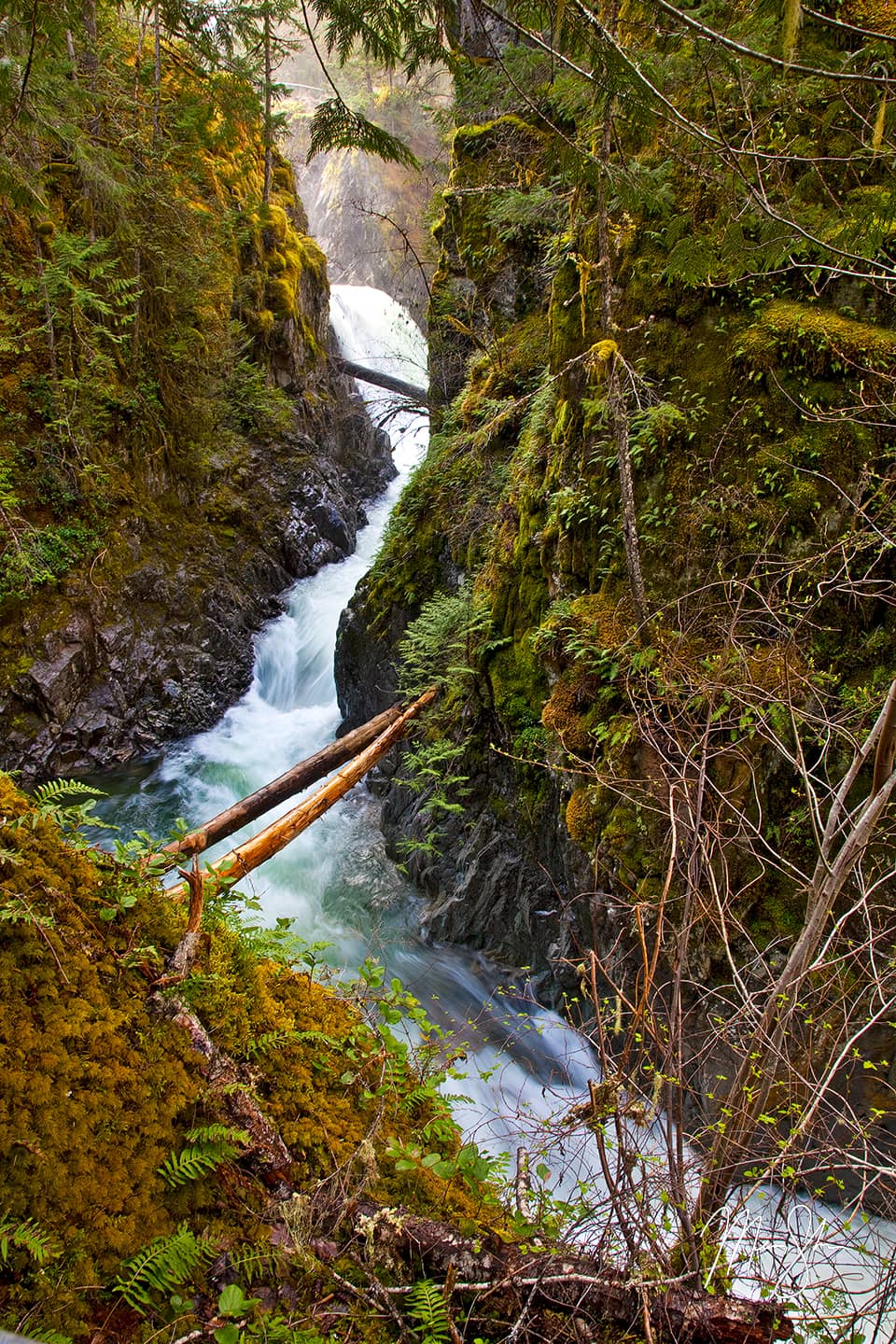 When we finished the hike, we realized we didn't have time to stop at Englishman River Falls and make it to the ferry in time for our reservation. So we high-tailed it back to Nanaimo and stopped at Tim Horton's to take some snacks onto the ferry. We arrived before our 5PM sailing time, with a reservation this time, so we knew we would make this ferry. We boarded, and found a good spot to sit at the front of the ferry. After eating our snacks, we wandered around the ferry. Looking back across the Salish Sea as we approached Horseshoe Bay showed a beautiful scene!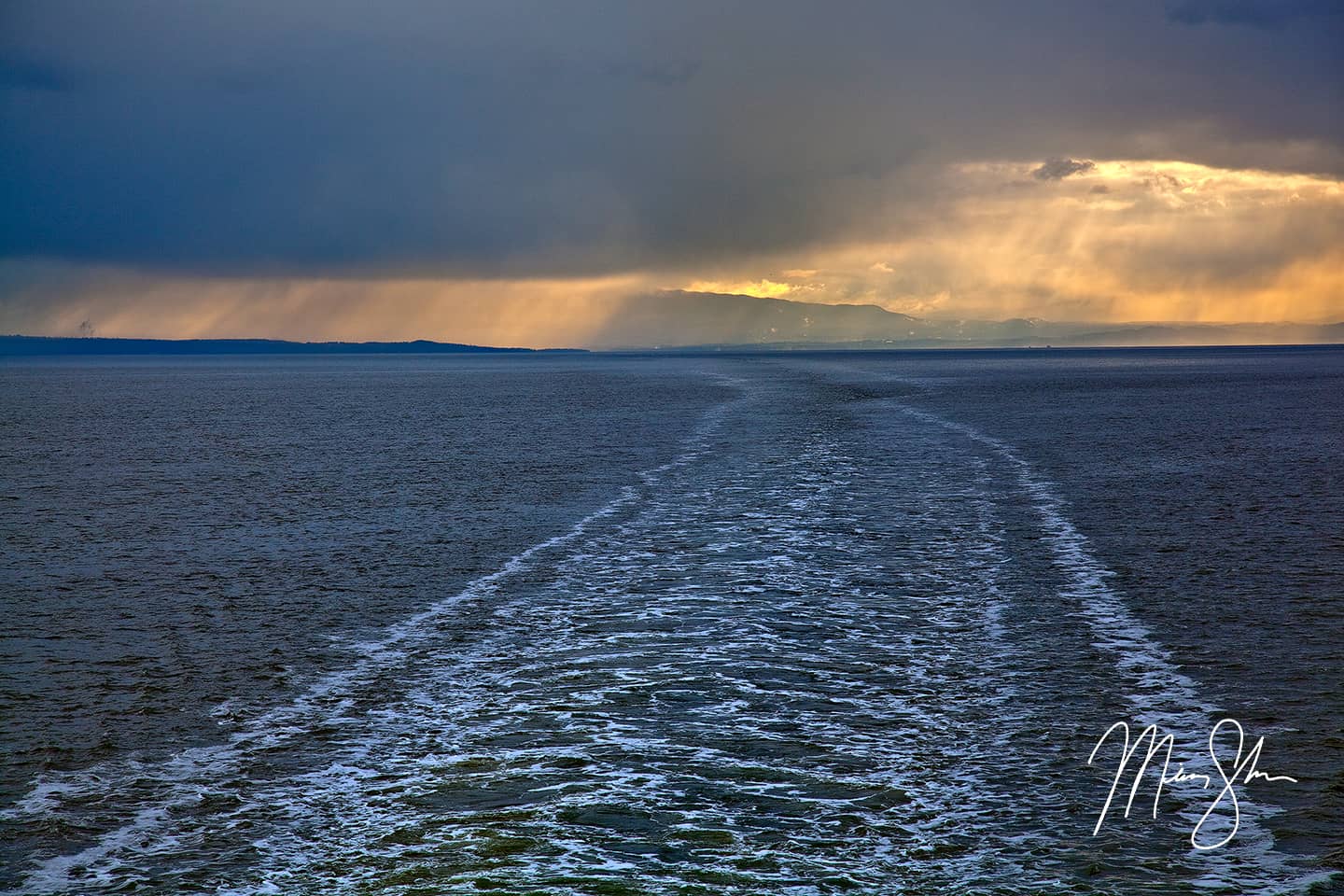 We arrived in Vancouver just in time to head up the Sea to Sky Highway for a sunset. However, you'll have to wait for part 3 of this adventure to hear more about that!
My British Columbia Dream Trip
I mentioned in the beginning of this post about a dream trip that would involve the BC Ferry system. Ever since my Canadian Rockies adventure back in 2012, I've dreamed of making it up to Stewart, BC and Hyder, Alaska to see the mighty Salmon Glacier. It's become something like an obsession really. I've dreamed of parking my rental car up there overnight and shooting a sunset, night scene, sunrise, Northern Lights or anything I can get. And to just experience it. I've plotted this trip many times over the past three years and still haven't made it.
The journey to the Salmon Glacier is half the adventure. I've plotted out the best way to do this trip would be to take a BC Ferries trip from Vancouver to Vancouver Island, stopping to see some of the amazing places I didn't make it to in this trip. From Port Hardy, I would ferry to Prince Rupert, hopefully with time for a stop-over in Bella Coola for a day. At Port Hardy, a side trip to one of the world's best kept secrets, Haida Gwaii, would be a must! After seeing this magical place, a drive to Hyder while stopping at the amazing British Columbia scenery along the way. Terrace, Nisga'a, Kitsumkalum Lake and the scenery near Bear Glacier on the road from Meziadin Lake to Stewart just a few of the highlights along the way. And then the Salmon Glacier itself! The trip back to Vancouver would involve stopping near Smithers to take in sights around there, along with a few days drive down through the Canadian Rockies before finally making my way back to Vancouver.
One of these days, I will manage to do some or all of this trip, perhaps with an extended leg taking the Alaska marine highway and all of the Stewart-Cassair Highway!
But that's for another time. Check back soon for the final installment of this Seattle, Vancouver and Vancouver Island travel adventure!
---