Seattle to Alaska Part 1: The Canadian Rockies
Mickey Shannon | Updated on January 24, 2019
Back in June, I took a trip that I had dreamed about for six years. I first visited Canada in late summer 2012 with a plan to drive up the Canadian Rockies, then cross over to a place called Hyder, Alaska, then make my way back to the Seattle area. Because of a canceled flight and rental car issues, that trip was sadly cut short. I had to nix the drive up to Hyder, Alaska and stick with just the Canadian Rockies. I posted that in a previous trip report.
Ever since missing out on the Hyder, Alaska leg of this trip, I have dreamed about the drive up there. Every year, I have spend many hours researching rental vehicle deals and other ways to save money to do this trip. But every year, something would thwart my plans to go! Fast forward to 2018. My photography business was in a unique place. Business was up, and in addition, I actually had vacation time I had to burn by the end of June or I would lose it. And so I began planning one of my dream road trips! To follow along the adventure, you can check out the Google Map below which is a rough outline of the route I went: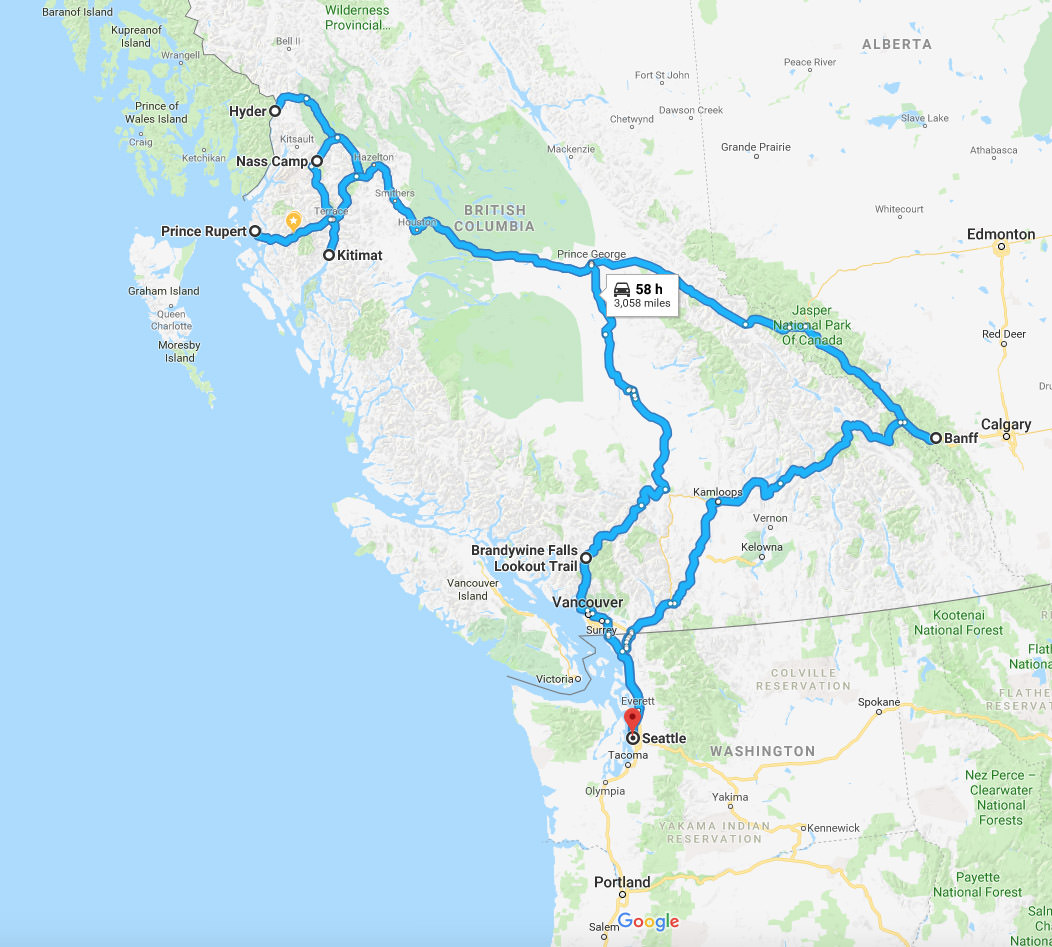 Route of my adventure from Seattle to Hyder, Alaska and back
If you want to skip ahead to the other two parts of the adventure, you can read about the Salmon Glacier and Hyder, Alaska in part 2 and Nisga'a, Terrace, Prince Rupert and the British Columbia coastal mountains in part 3. Many of the photos in these blog posts are cell phone images unless otherwise noted as a fine art print.
On the morning of Sunday, June 24th, I hopped on a United flight from my home in Wichita, Kansas to Seattle, Washington with a short layover in Denver. Now that Alaska Airlines flies non-stop between Wichita and Seattle, I like to go that route when possible, but the United flight was cheap and got me in much earlier than the Alaska Airlines flight. So off I went! I arrived in Seattle late in the morning and picked up my off-site rental car from Enterprise. I rented off-site, because in the summer, rental cars at the Seatac Airport are sky high! You can easily save hundreds by renting off-site in the busy summer months. I made sure Sirius XM was installed (the World Cup was going on after all and I needed to be able to listen!) and took off for a grocery store and some lunch. After picking up some lunch and groceries to last a few days, I was off towards the border crossing at Sumas, Washington. When you have to stop a few times, things just always take longer than you expect, and by the time I was across the border, I knew it was going to be a late night! All this after such an early flight. But the next morning I would be at Moraine Lake for sunrise, so that made it worthwhile! Anyways, I crossed the border and the first thing you notice by the time you reach the Trans-Canada Highway is just how massive the coastal range of mountains are. To think that this range extends from Vancouver on up into the panhandle of Alaska, much of which is completely inaccessible by any roads or other means of transportation is pretty impressive. Much of the land in British Columbia's coastal range is known as the Great Bear Rainforest and is home to many animals such as both black and grizzly bears, wolves, bald eagles, mountain lions and more. In fact, the ever elusive Spirit Bear also lives in the deep forests.
Anyways, I set out to head towards Banff via Kamloops. To the east of Kamloops are a number of beautiful lakes. This area in itself would make a great vacation! I had earmarked a few waterfalls not far off of the highway that I planned to stop at if it wasn't too late. Unfortunately, it was late. But I had to get out and see one or two, so I stopped at the Crazy Creek waterfall and was very impressed by the sheer power of these falls. Oregon and Washington get a lot of credit for their beautiful Pacific Northwest waterfalls, but I bet British Columbia could easily be added to the mix and hold it's own! Just a few miles down the road was another, much less traveled, waterfall called Kay Falls. It had gotten really dark by this point and the spray off these falls made it nearly impossible to keep the lens dry, so I didn't manage a good shot of these falls. However, they were very impressive and I would love to visit again!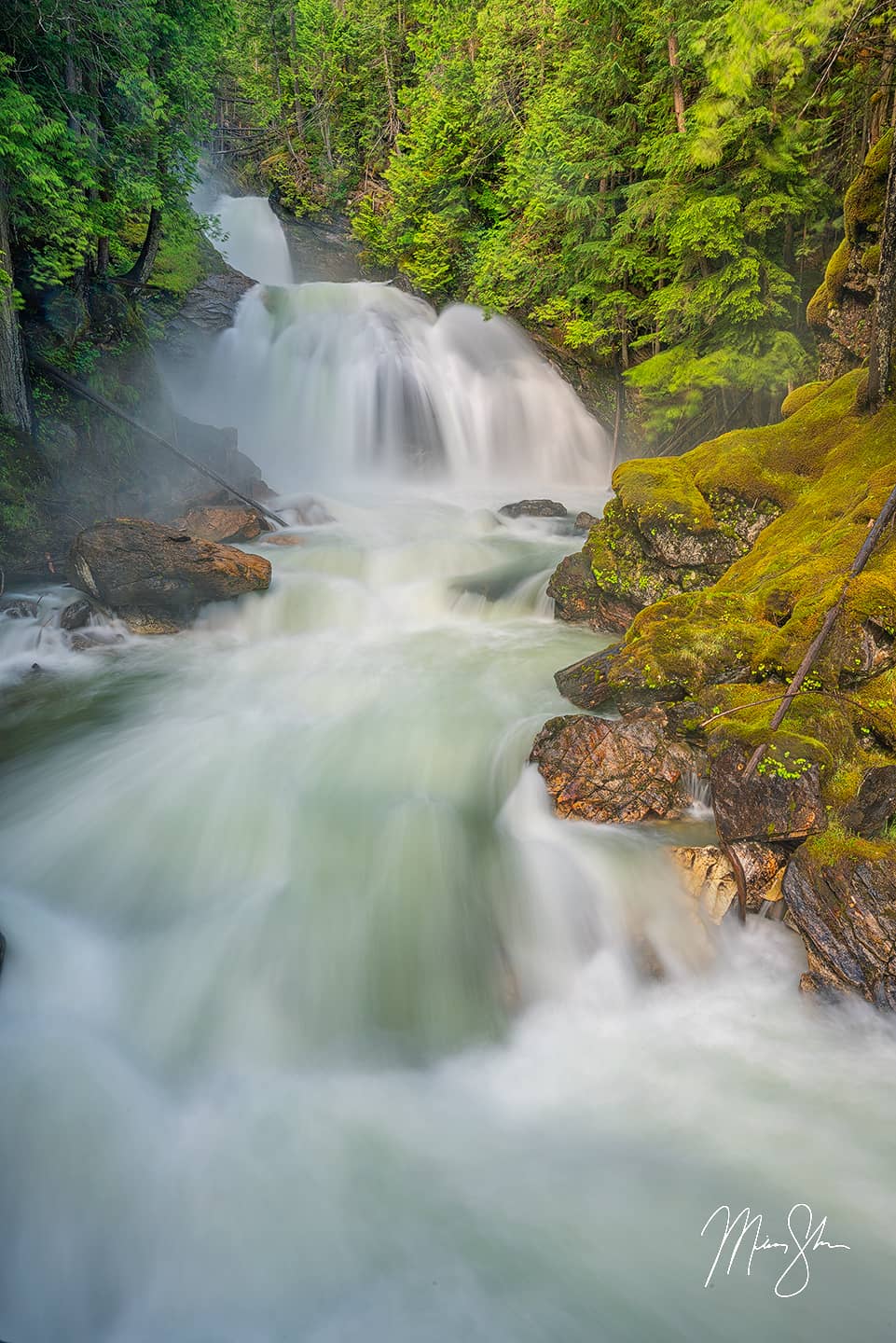 I got into Revelstoke after sunset and picked up some Tim Hortons for dinner, which is a staple for me when I visit Canada! (I love me some Tim Horton's donuts!) I pressed on, driving through Revelstoke National Park and Glacier National Park in the dark, before arriving in Golden, British Columbia. It was already nearly midnight at this point (and even later for my central time zone sleep-deprived brain). But my hotel awaited in the town of Banff, so I pressed on, crossing through Yoho National Park into Banff National Park. Eventually I arrived in time to get my measly two hours of sleep before needing to be up to make it to Moraine Lake for sunrise!
Moraine Lake Sunrise Brilliance: The First of Many New Limited Edition Fine Art Prints
I struggled to get out of bed in time when that alarm went off at 3 a.m., but due to the length of days this far north in June, sunrise comes really early and sunset finishes up quite late! Despite my tiredness, I drove the 40 minutes of so to Moraine Lake, spurred on by the color that was quickly filling the sky. When I raced up to the top of the famous rock pile view, all thoughts of my lack of sleep were gone as one of the most beautiful sunrises I could have hoped for filled the sky above Moraine Lake and the Valley of Ten Peaks! I hit the jackpot on the sunrise this morning and came away with my best image of the trip, and one of the best images I've ever shot! I launched new luxury limited edition fine art prints in 2018 and this was my first ever release!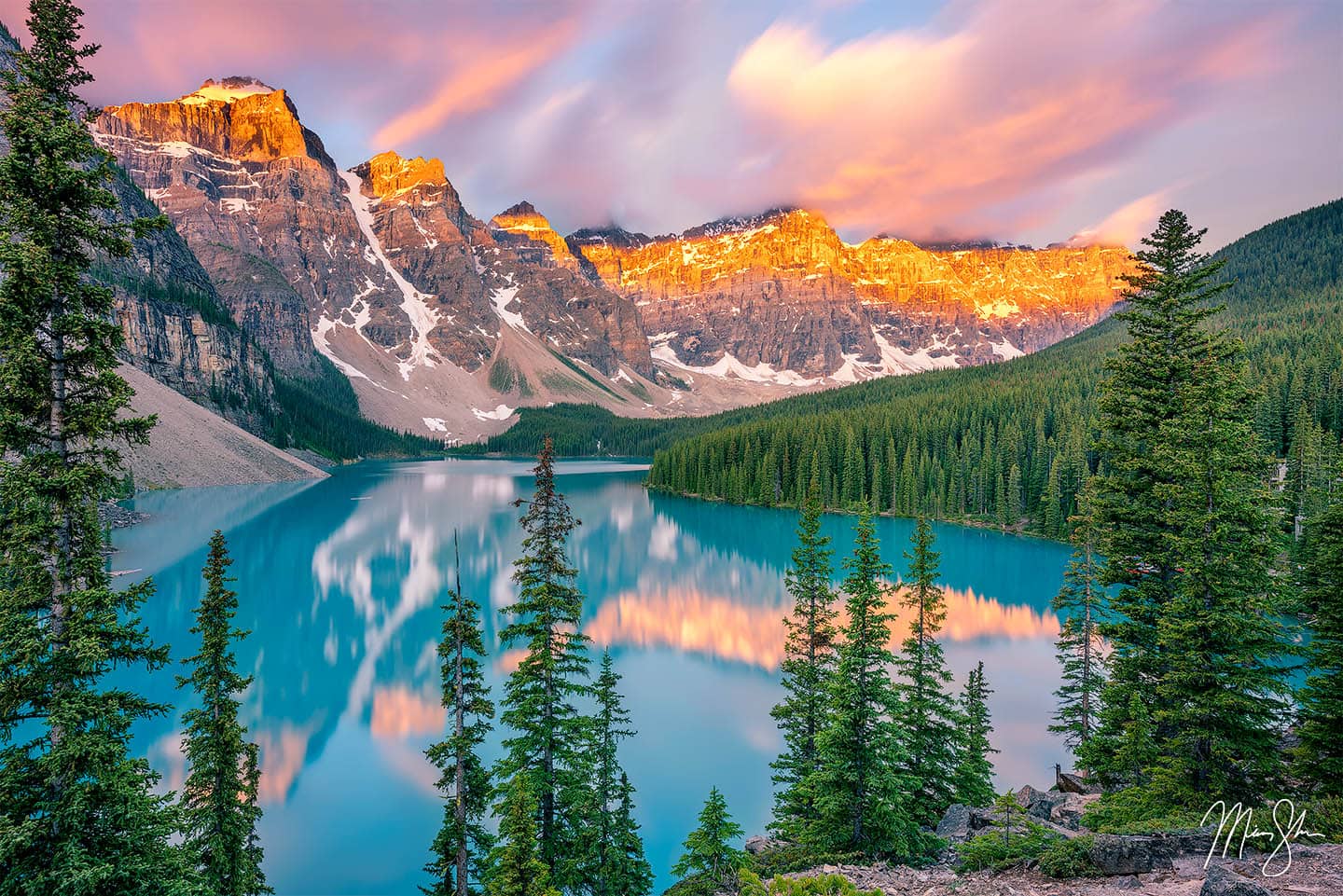 Besides the rock pile there are other locations around Moraine Lake worth checking out. I always like the view from down where the canoe-dock lies.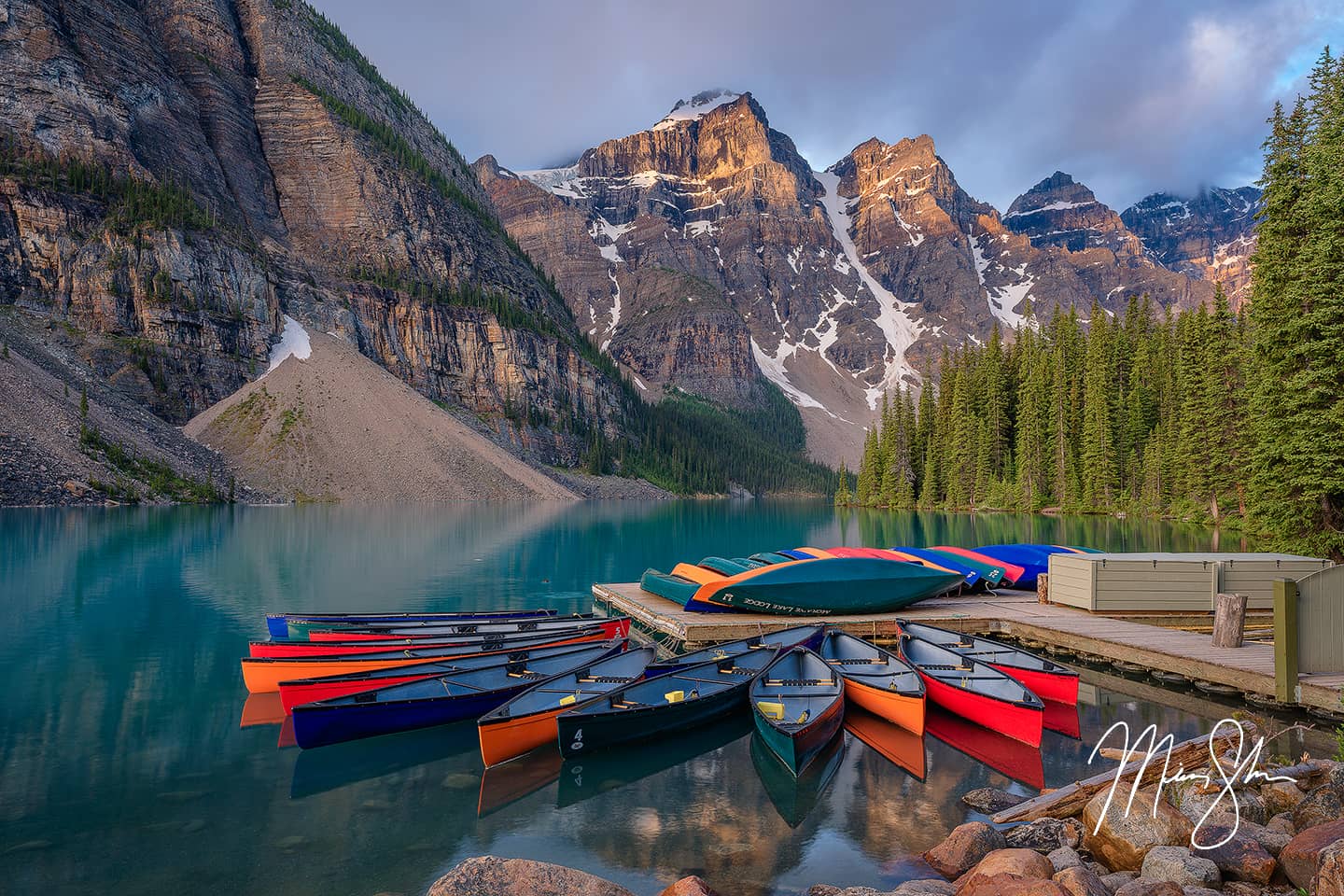 After Moraine Lake, I stopped by Lake Louise to walk around a bit. I always struggle to find a composition I like at Lake Louise, which is just weird, considering how beautiful it is. Unfortunately nothing really came out worthy of posting, but it was still good time spent at an iconic location in the Canadian Rockies. After Lake Louise, I was pretty tired. I started heading back, but then realized there was some rain going to move in that morning and thought it might be a good time to check out Johnston Canyon. Johnston Canyon is known for beautiful waterfalls. It's also one of the most popular tourist attractions in Banff. I arrived early enough in the morning that it was still very pleasant to take a hike up. I stopped in at the first waterfall, which was beautiful in it's own right. I also hiked up to the second waterfall. But almost more impressive than the main waterfalls was this spot I found out later was called the "Secret Cave", which is really just a rock carving from the creek as it swiftly creates a U shape overhanging and curves the other direction. I've been told recently that in much of the summer and into autumn, the area is off limits as endangered black fledglings live in Johnston Canyon and this is one of the spots they like to nest. While I'm glad I was able to see the location and photograph it, I don't expect to visit it again in the summer if it's a place vital to their population. From what I understand, they closed the area off a month or so after I visited. It is, however, very popular in the winter for ice climbing. I would imagine the entire canyon is.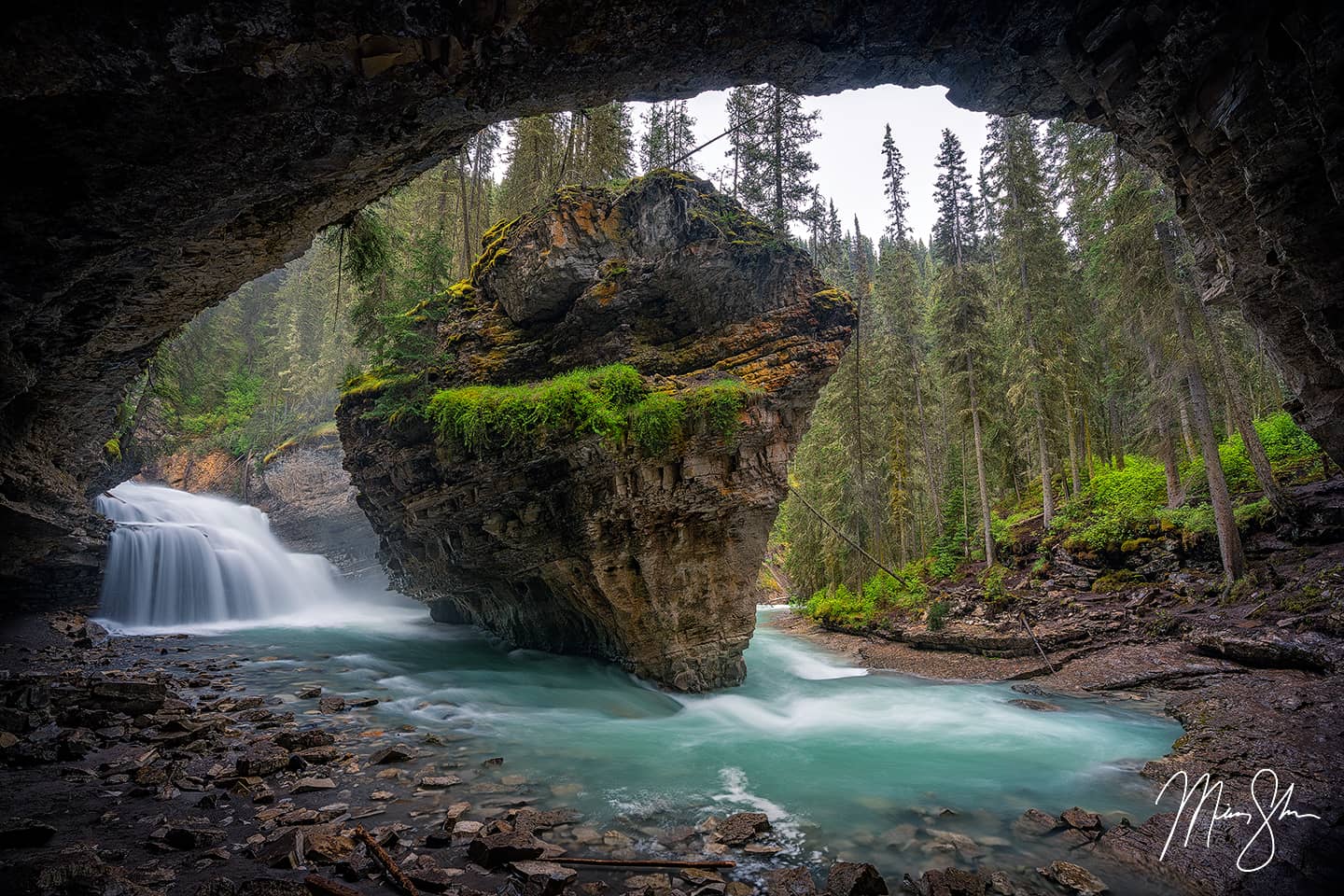 After hiking Johnston Canyon, and being soaked by rain, I went back to my hotel to get some much needed sleep. After getting an all-too-short nap in, I explored the Banff township a bit, grabbing some groceries and a sandwich from a local deli. I visited Bow Falls afterwards to have a nice picnic and eat my sandwich. The light wasn't good for photography, but it was a nice place to relax and eat my lunch. Afterwards, I explored a few other areas I hadn't had time to visit back in 2012, such as Vermillion Lakes and Lake Minnewanka. Again, light wasn't so great yet, so I went on to drive a ways up the Icefields Parkway. My hope was to catch a sunset at Peyto Lake or Bow Lake. The sunset wasn't really panning out. Rain and even a little snow was falling, and the sky was really dark. By the time I arrived at Peyto Lake, I knew I only had time for a shot here before it would be too dark. I walked the short trail up to the lookout point and realized that there was a nice purple-ish hue being cast across the landscape by the very subdued sunset. Sometimes this light can really make for an awesome shot. I shot the lake both as a pano and as a single shot. Peyto Lake is very iconic for looking like a wolf from the famous viewpoint.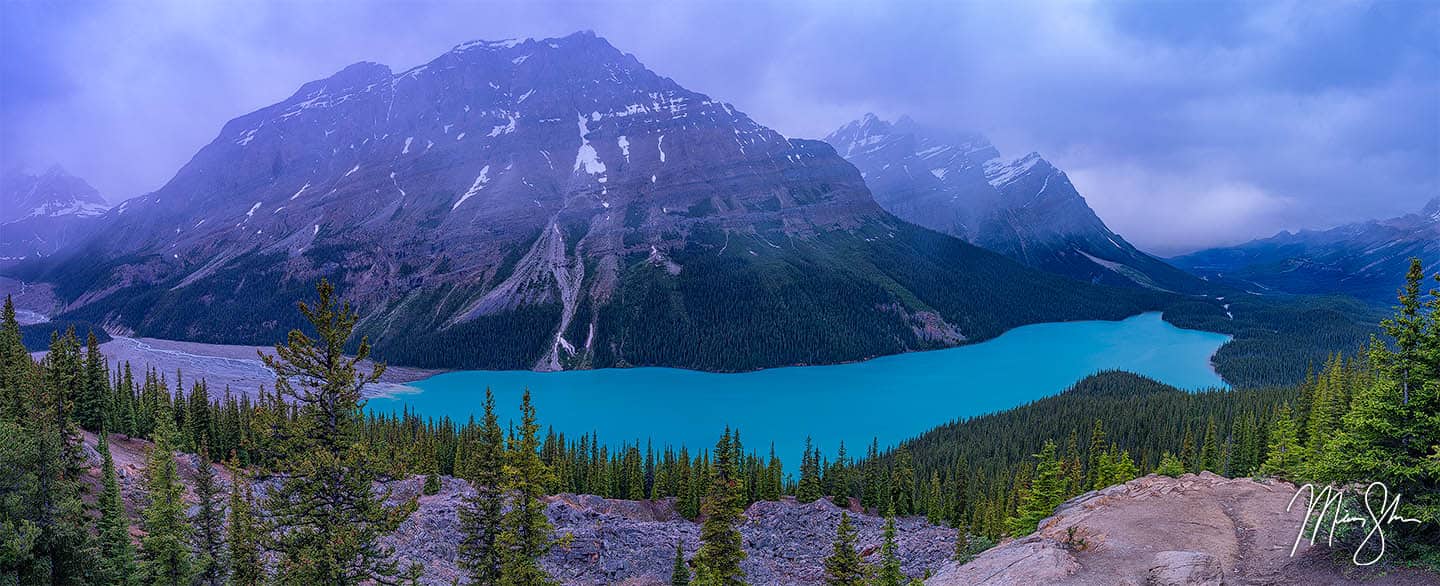 I drove back to my hotel to go to bed, realizing that it would be another night of little sleep. The days are very long up here this time of year! I woke up around 3 a.m. and went to Moraine Lake again. What a difference 24 hours makes! The day before, I shot one of the best images of my entire portfolio. The sunrise was gorgeous. It was chilly but pleasant the first morning if you could overlook the droves of mosquitoes that were biting like mad. However, on this day, the sky was moody with very little color and it was COLD. Cold enough that flurries were coming down. I would gather it was a 20-30 degree difference in temperature from the morning before. The only positive was the lack of mosquitoes. I walked around a bit, shooting what I could and then bid Moraine Lake farewell until next time! I needed to get up to Jasper, and with the moody weather, I figured I would get a headstart in hopes of getting up the Icefields Parkway in time for some exploring. I stopped by Lake Minnewanka again, and even though the sun had peaked through a bit, the light was harsh there. I went back to check out of my hotel and head north.
The Icefields Parkway and Jasper National Park
I drove the Icefields Parkway in complete awe. I had driven up the Icefields Parkway back in 2012 and was in awe of it then as well. It is quite simply one of the world's most beautiful drives. 3 hours of magical mountain scenery at every turn. What awaits you on the Icefields Parkways are glaciers, vivid blue and turquoise lakes, waterfalls, forests and if you're lucky, wildlife such as bears and bighorn sheep! Once I arrived in Jasper, I got into my hotel to drop stuff off then headed over to Maligne Canyon. In my first visit to the Canadian Rockies, I missed this one, but I decided to walk it this time. Maligne Canyon is a very unique water system. Further upstream, water from Medicine Lake flows into an underground complex of waterways until it reaches Maligne Canyon, carving it's way through the rocks. There are places in the canyon over 150 feet down and as narrow as maybe a dozen feet across. Some places you can't even see the water below, even though you can hear it!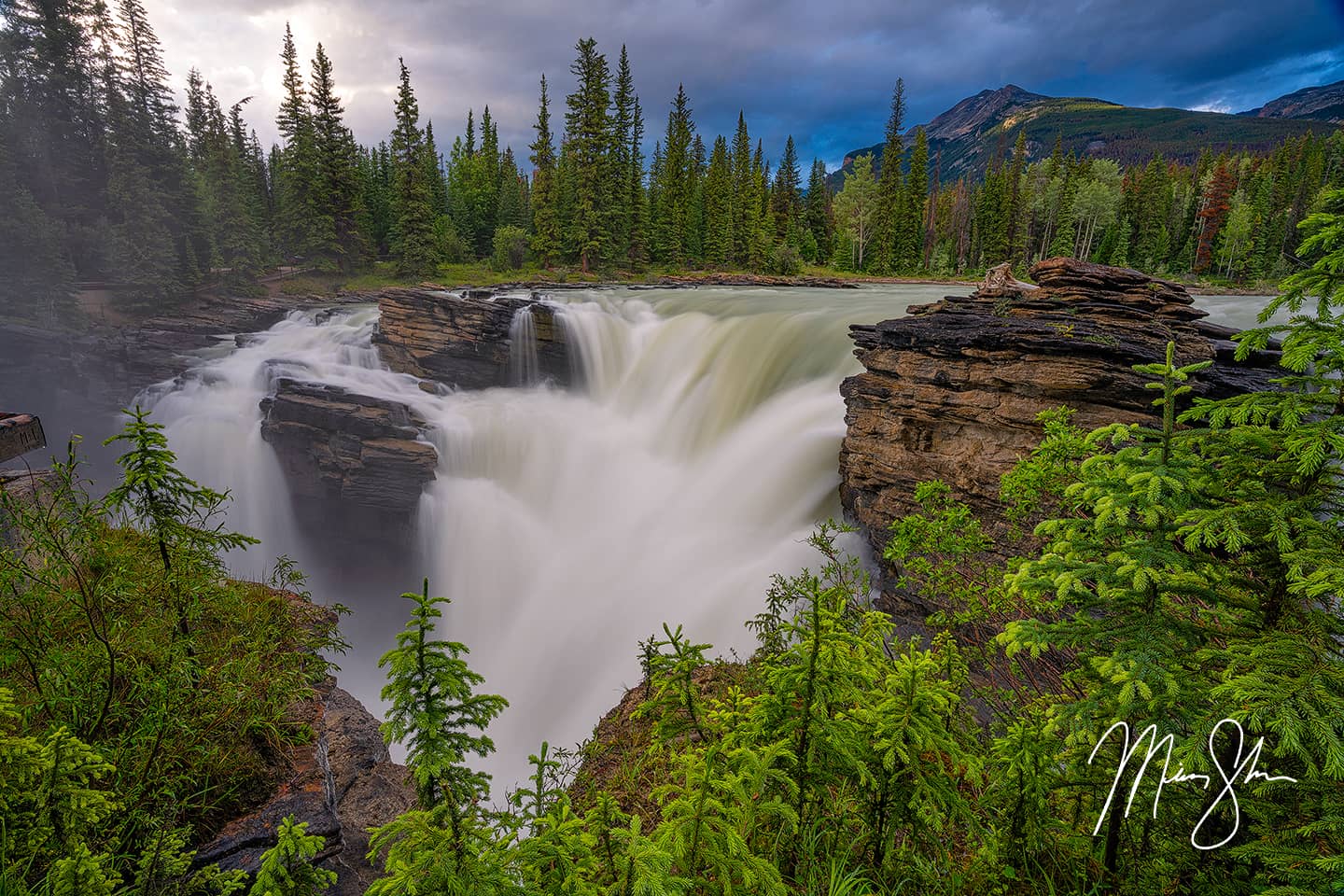 After Maligne Canyon, I took off to catch Athabasca Falls and Sunwapta Falls. The atmosphere was pretty cloudy and only when I was at Sunwapta did the sky produce some good color. Both of these waterfalls are really impressive and very powerful. Sunwapta produced a really beautiful image. I had the place all to myself to shoot as sunset was definitely underway.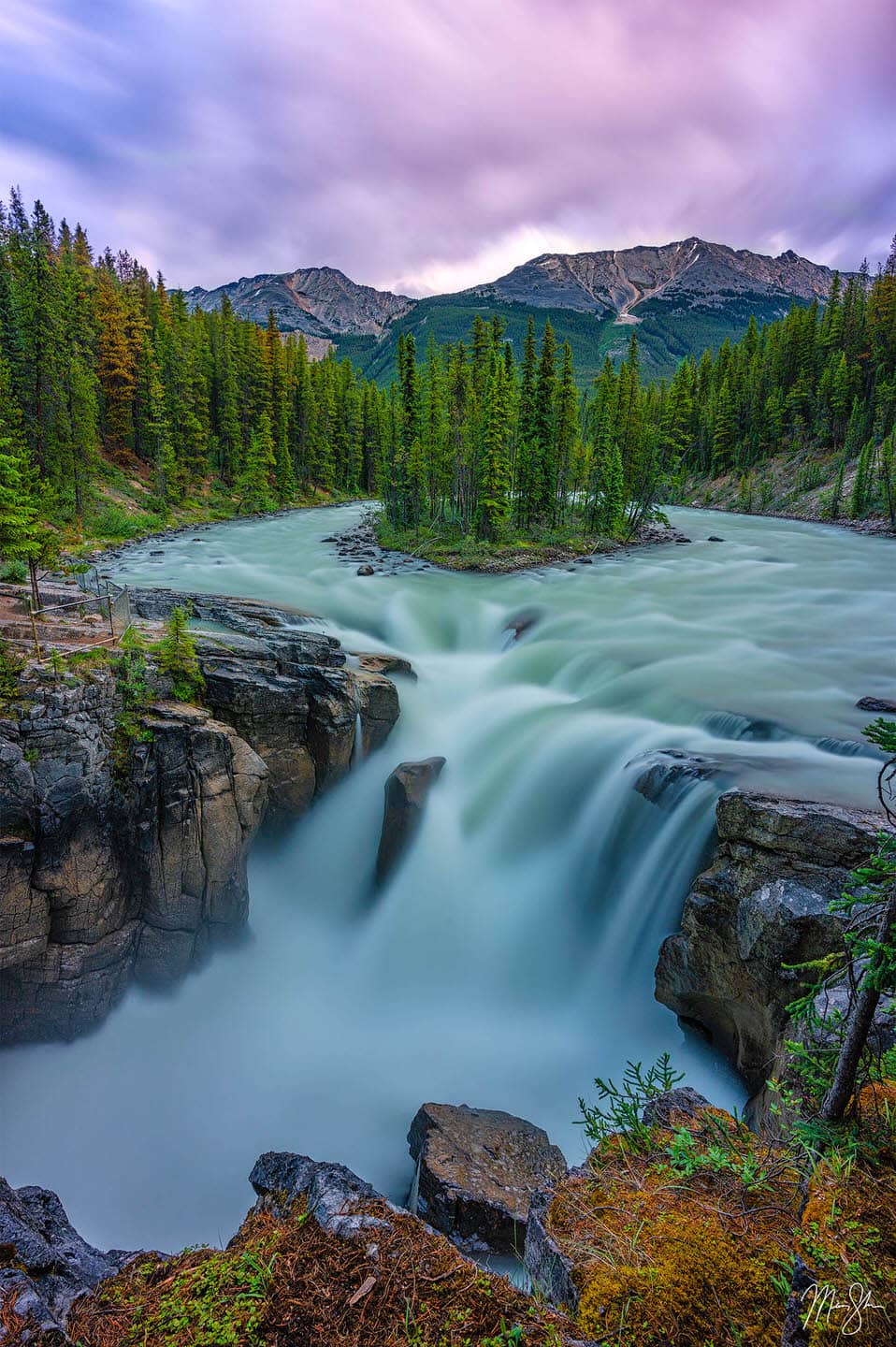 I also tried to stop and catch a sunset along the Athabasca River but was stopped by another car saying a grizzly was across the road somewhere. I never saw it, but not wanting to disturb it, I called it a night and headed back to Jasper to get some sleep. Tomorrow I would be crossing all of British Columbia and entering Alaska for the first time!
Continue on to part 2 where I detail my drive across British Columbia to take the only road into Alaska without a border crossing and see the mighty Salmon Glacier!
---