The Natural Beauty of California and it's Best Landscape Photography Locations
Mickey Shannon | Updated on May 28, 2021
Very few places in the world offer so many diverse places for use landscape and nature photographers are California does! From towering mountains to desolate deserts and beautiful coastal scenery and beaches to the mystical redwood forests. There is so much to explore and photograph in this beautiful state. I've had the pleasure of visiting California on many occasions and always come back with some great new images on every trip out there! Hopefully from reading on, you will find I want to share some of my fine art nature photography and a few ideas to consider if you're thinking about purchasing a California fine art print or plan to visit California and want to do some exploring yourself!
Regions of California
There are a lot of different ways to divide up California. To keep it pretty simple, I'll highlight what I would consider four major sections of California: Southern California, Central California, Northern California and the Sierra Nevada range and surrounding landscapes.
Southern California highlights the area around Los Angeles, San Diego and east towards Joshua Tree and Palm Springs. Central California compromises areas a little further north such as Santa Barbara, Big Sur and Monterey. Northern California includes San Francisco all the way up to the redwoods. Finally, the Sierras are such a dominant mountain range and full of some awesome natural scenery that I'm considering it as a fourth region and includes basically Death Valley all the way up to Lake Tahoe.
Southern California
Southern California is known for some amazing beaches and awesome cityscapes!
Sunset Cliffs San Diego
San Diego has some pretty awesome spots all up and down it's coastline, but one of my favorite spots to stop in at are the Sunset Cliffs. Aptly named because the you can watch the sunset over the ocean from the edge of the cliffs as the Pacific Ocean crashes against the rocks below. I love to visit in the spring when the flowers are in bloom. They make an awesome contrast with the rocky cliffs and deep blue colors of the waves below.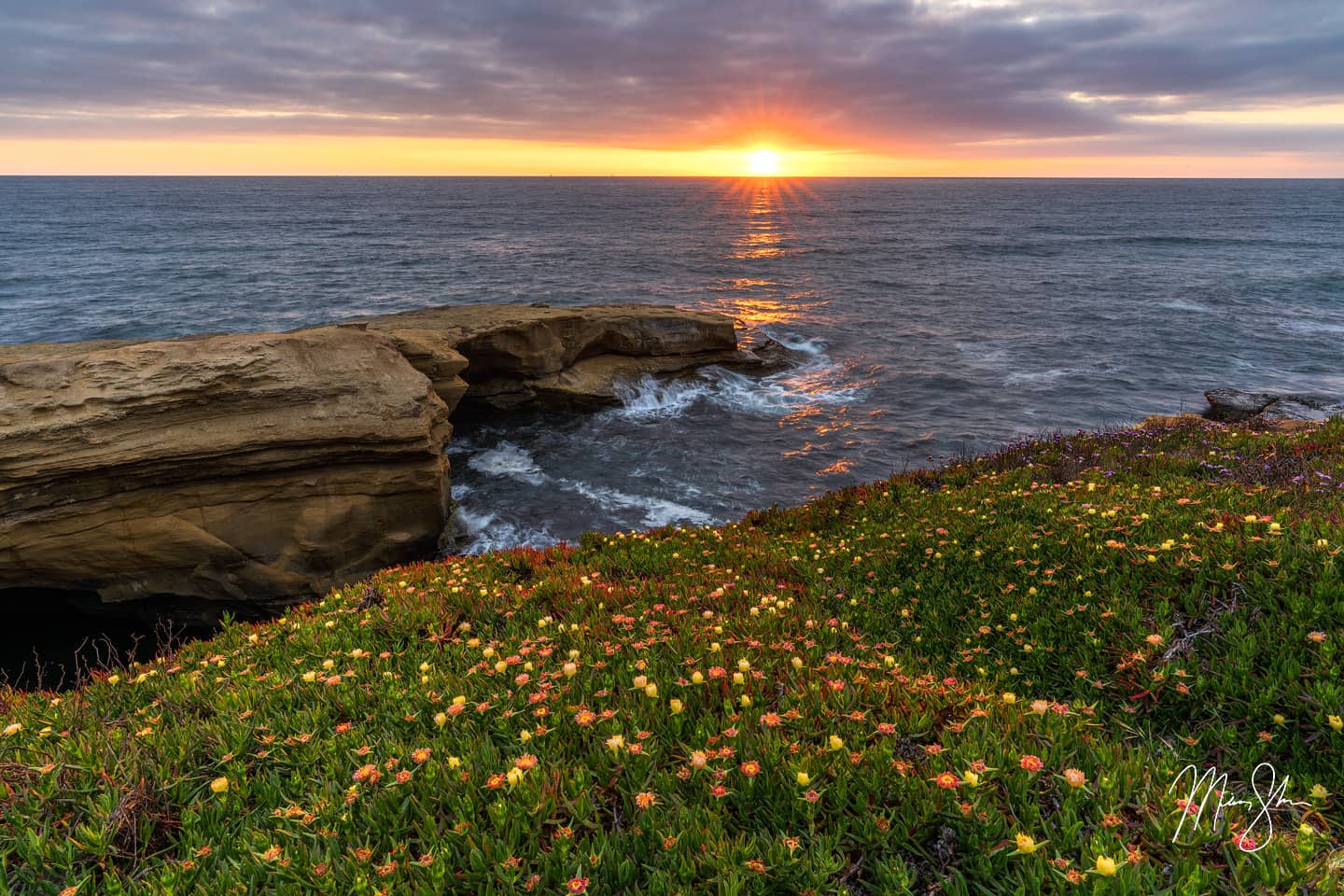 La Jolla
Another awesome spot to take landscape photography near San Diego is La Jolla. This community is full of great spots to photograph the ocean. That said, there are two very iconic locations. One is the Windandsea Surf Shack at the Windandsea beach. This old surf shack has been a mainstay here in La Jolla for decades. It's been taken out by storms on many occasions just to be resurrected time and time again.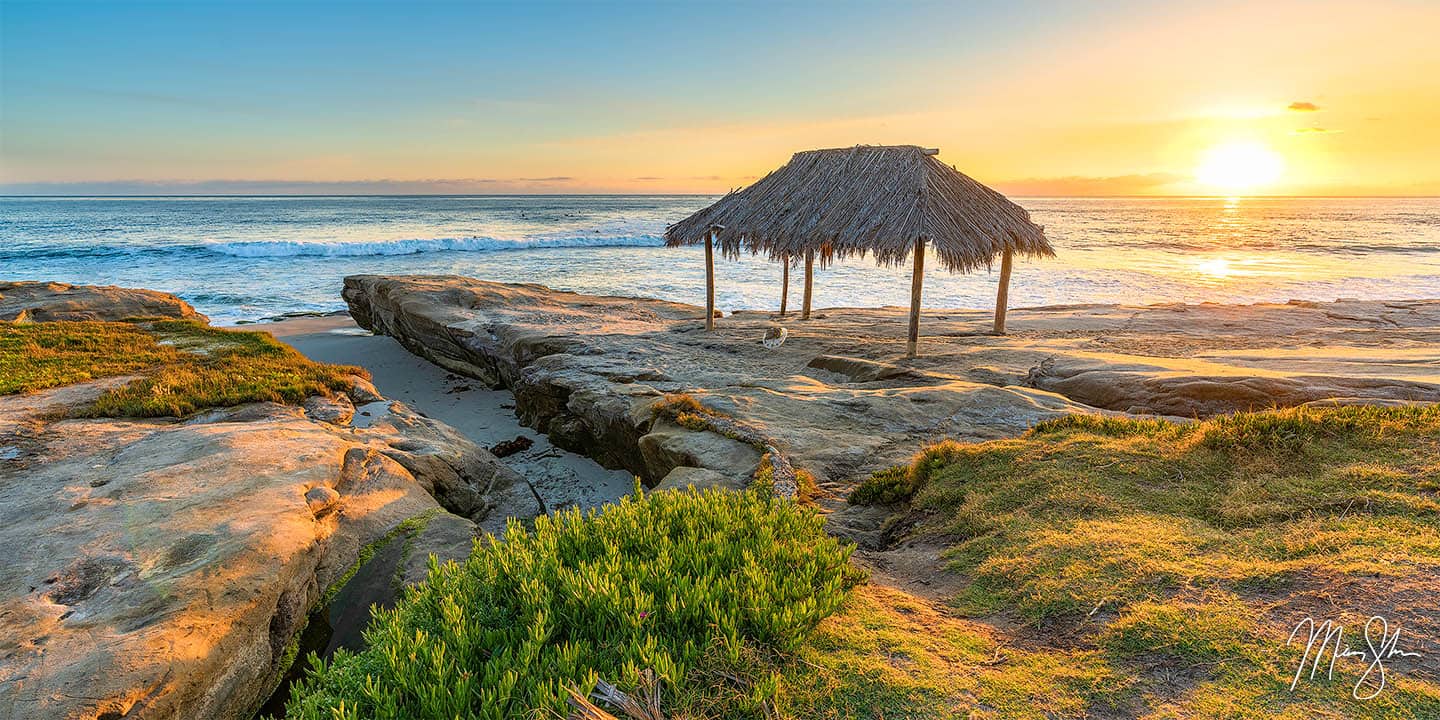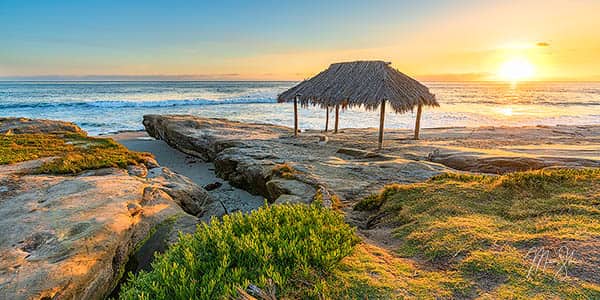 The other spot in La Jolla that is great for photography is the Ellen Browning Scripps Memorial Pier, or simply, Scripps Pier. This is definitely one of the most iconic piers in southern California! It's great for getting down below and shooting from underneath as the waves come crashing in, as seen in this shot after sunset.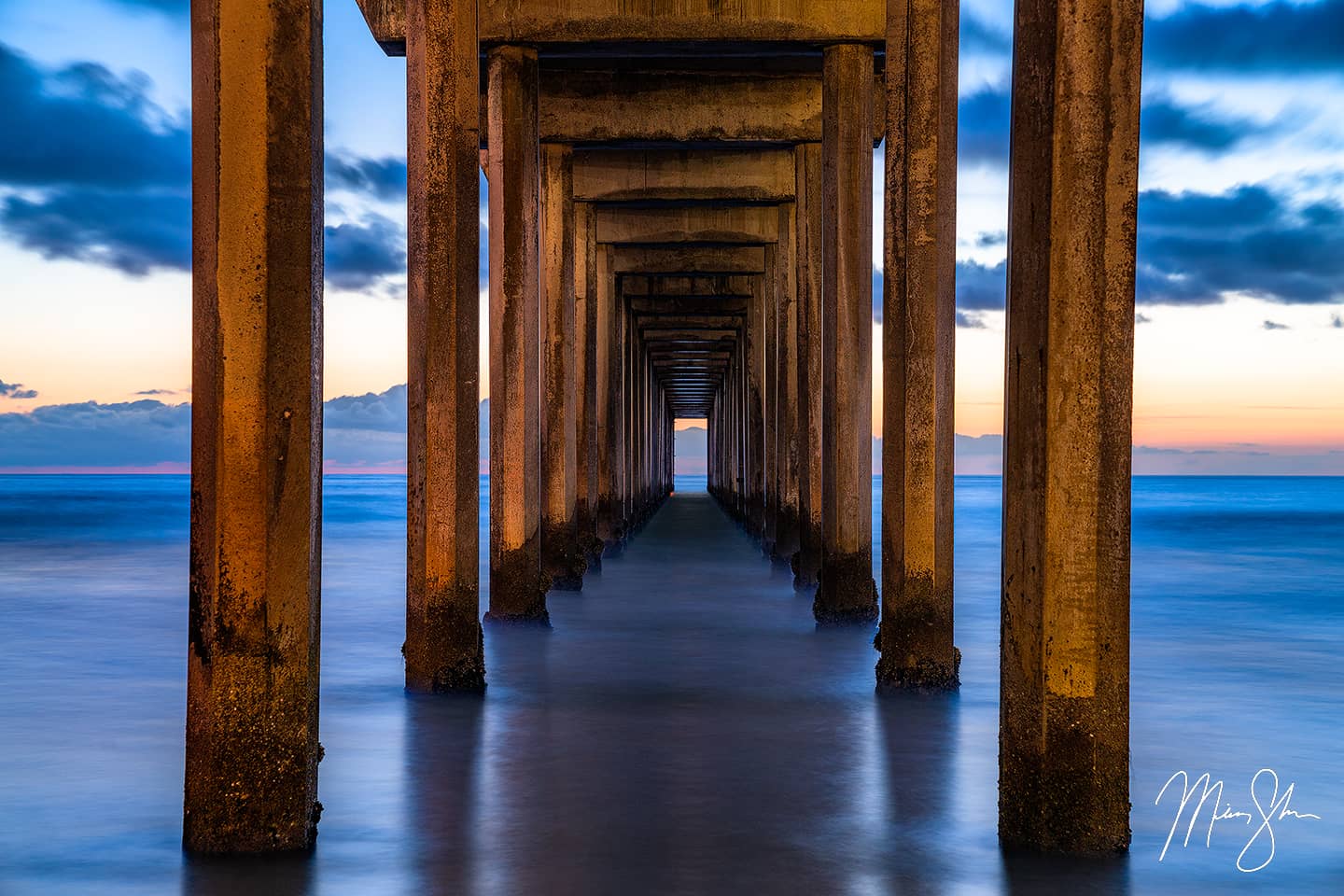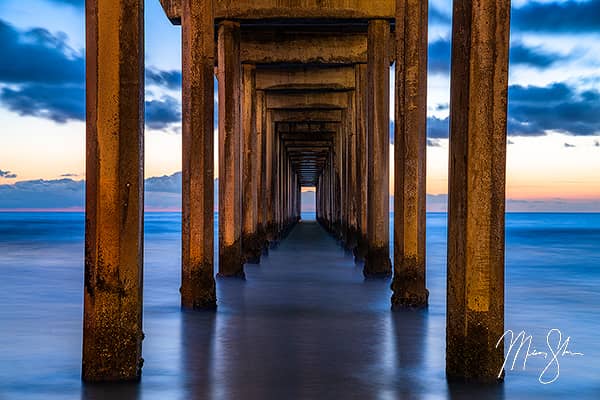 Other spots in the La Jolla area include Torrey Pines State Natural Reserve, La Jolla Tide Pools and La Jolla Cove.
Joshua Tree
East of Los Angeles lies Palm Springs – and further east from that is Joshua Tree National Park. Joshua Tree is one of the best spots in southern California to try your hand at night photography. It's known for awesome arches, rock formations, desert scenery and the famous Joshua trees that make up the park name. The park is also home to a garden of teddy bear cholla cactuses, which are pictured below.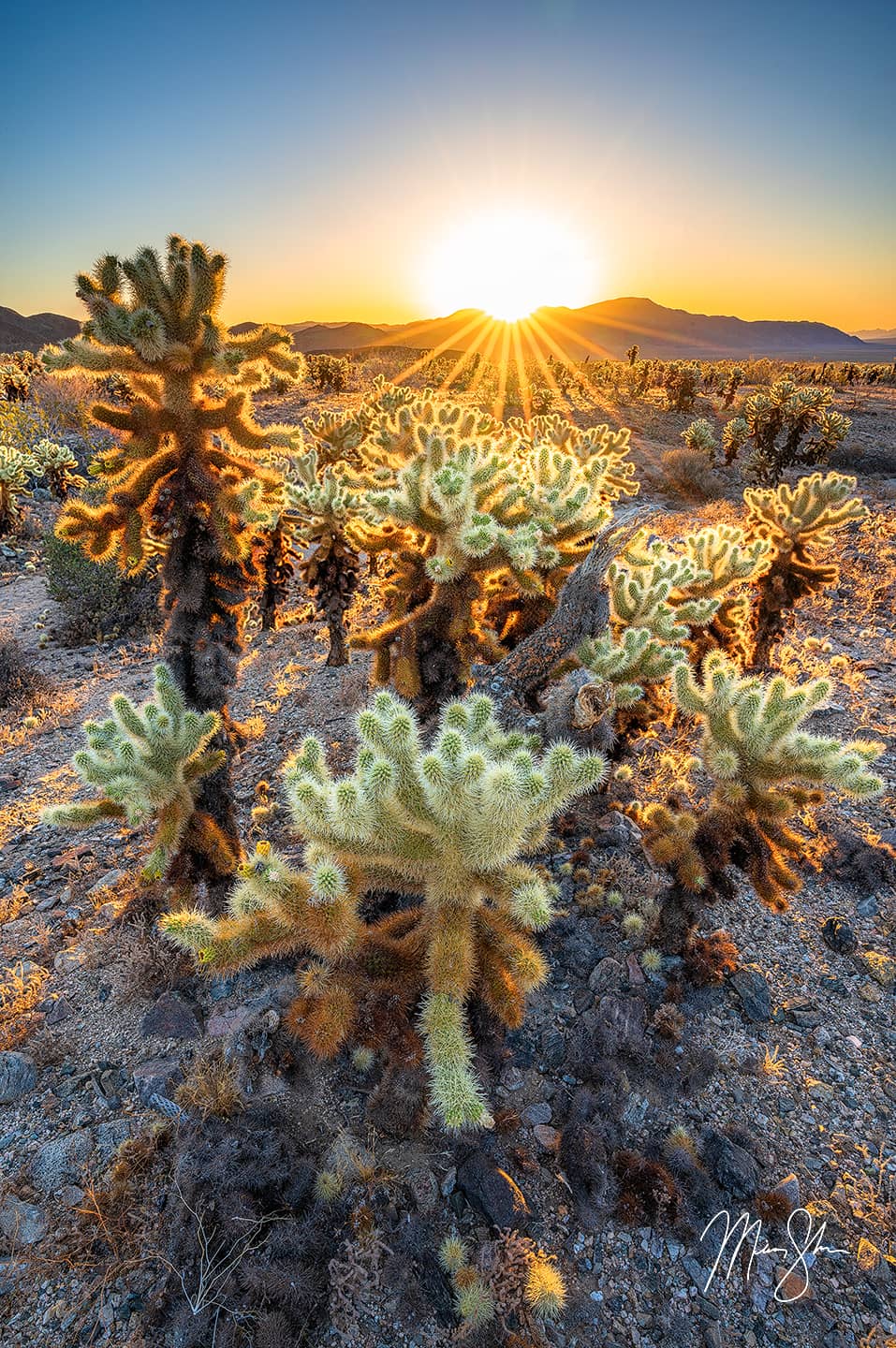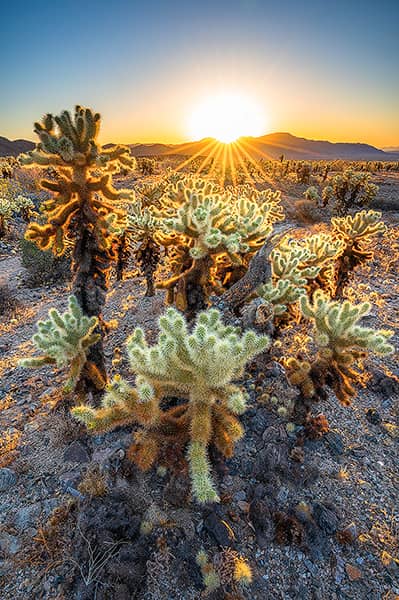 Malibu
Malibu is home to some awesome beaches and scenic views! Whether it's the arches at El Matador State Beach, the views above Point Dume or the sea cave at Leo Carrillo State Park, there is a lot to explore and photograph in the Malibu area. My shots below were both taken on the cliffs right above the crashing ocean near high tide at Leo Carrillo. Malibu is an excellent spot in southern California for awesome beach photography like this!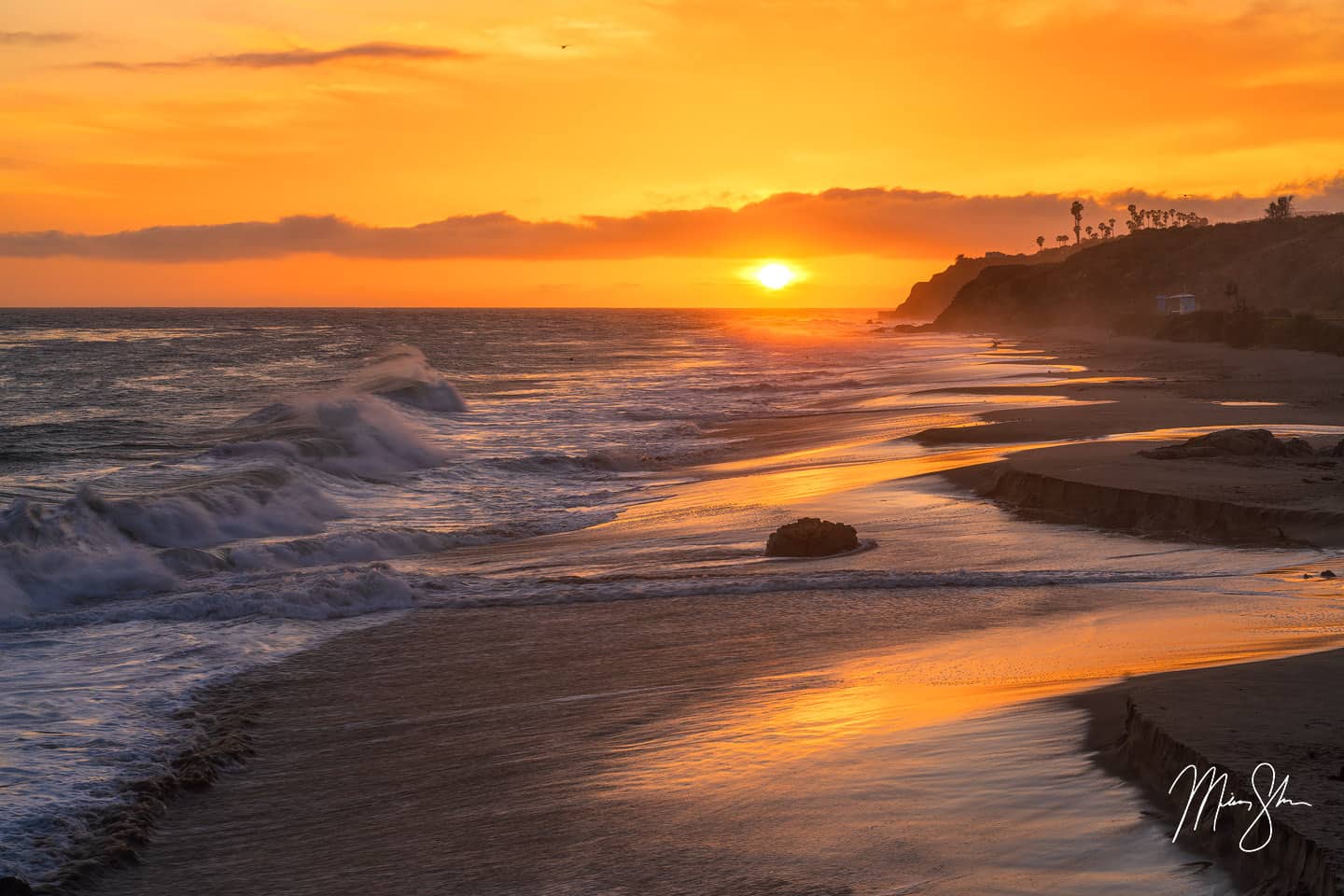 Other areas in southern California that shouldn't be missed include Palm Springs, the Anza Borrego Desert State Park, Laguna Beach, Oceanside and a whole host of other beaches, desert locations and piers. It's also a great place to try cityscapes, such as the Hollywood Sign, Santa Monica Pier, San Diego Harbor and the many other vistas in the Los Angeles and San Diego areas.
Central California
Big Sur
It's hard to argue that Big Sur isn't one of the most impressive coastlines in the entire world. The drive itself is over two hours from San Simeon to Monterey without stops. But it's impossible to drive this iconic road without many stops. From towering cliffs that plunge straight down into the crashing waves to phenominal beaches like Pfeiffer Beach and its natural beauty that has drawn nature photographers to photograph the sunlight through the keyhole archway. It has redwood forests, infinite wildflowers in the spring, summer and fall, amazing hiking trails, the Bixby bridge, wildlife viewing (whales, seals and more!) and the amazing McWay Falls – a waterfall that plunges right onto the beach and ocean in a picturesque cove. I've traveled to and photographed Big Sur four times now and haven't even scratched the surface!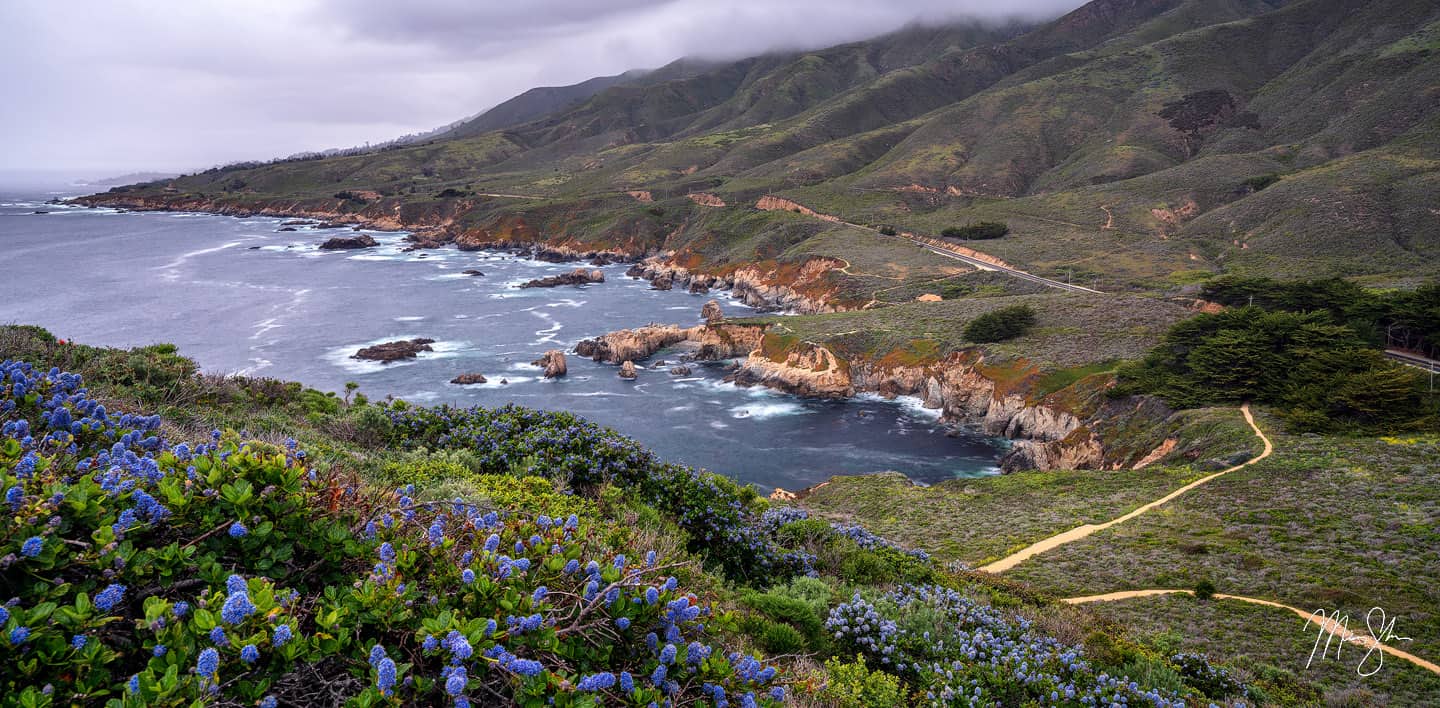 Monterey, Carmel and Pebble Beach
Just north of Big Sur is another famous coastline that's also full of beautiful scenery! The towns of Monterey, Carmel-by-the-Sea and Pacific Grove are also full of interesting nature photography spots. Monterey Bay itself is teeming with ocean life. Dolphins, whales, sharks, seals and many more animals call this place home. I've yet to look out over the ocean here and not see a seal or two playing in the water or sunning itself on the beach. Pebble Beach also calls the Monterey Peninsula home and includes the famed 17-mile drive. Amazing ocean views, wildlife viewing and scenic driving are around every turn. The crown jewel is the iconic lone cypress (pictured below) that stands as a testament of time atop a rock outcropping above the ocean. Further south, Carmel-by-the-Sea and Point Lobos offer even more awesome nature photography opportunities!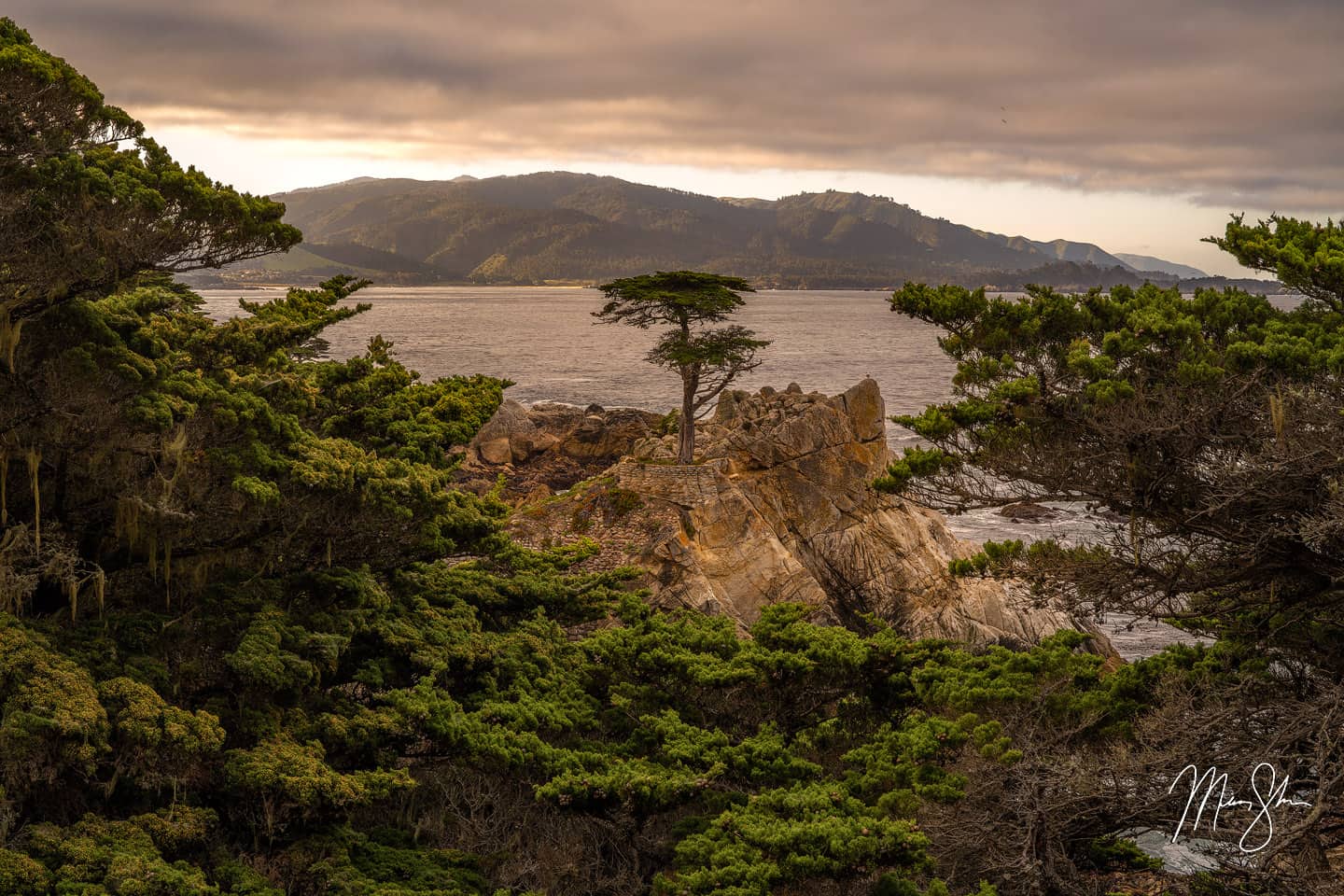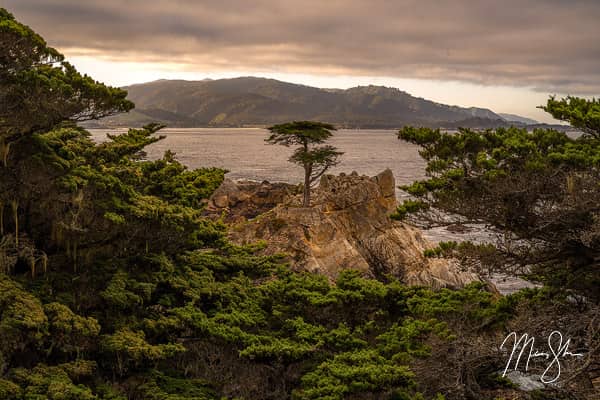 Other locations in Central California to visit for nature photography include Ventura, Santa Barbara, Pinnacles National Park, Santa Cruz and San Simeon.
Northern California
The Golden Gate Bridge
I've visited the Golden Gate Bridge on getting close to ten times now, but just haven't quite captured the right photograph yet. Which is weird to think, considering it's one of the most beautiful man-made structures in the world! Catching it from the Marin Headlands at sunrise while the fog is rolling it below, drifting in and out of the cables and beams that make up the iconic bridge is what I've always envisioned. That said, if you're looking to visit the Golden Gate Bridge, catching it at sunrise at the Battery Spencer viewpoint is a great time and place to see it!
Point Reyes National Seashore
About an hour up the coastline from San Francisco is Point Reyes National Seashore. It's a wonderful place to shoot some awesome seascapes from the cliffs way above the Pacific Ocean. It also happens to include this awesome tree tunnel below. When I visited, I got dumb lucky to have a doe and her baby walk through the tree tunnel. The mother moved too fast to catch both of them together, but the little fawn stopped to pause in the middle of the tree tunnel for a few seconds, almost posing for me!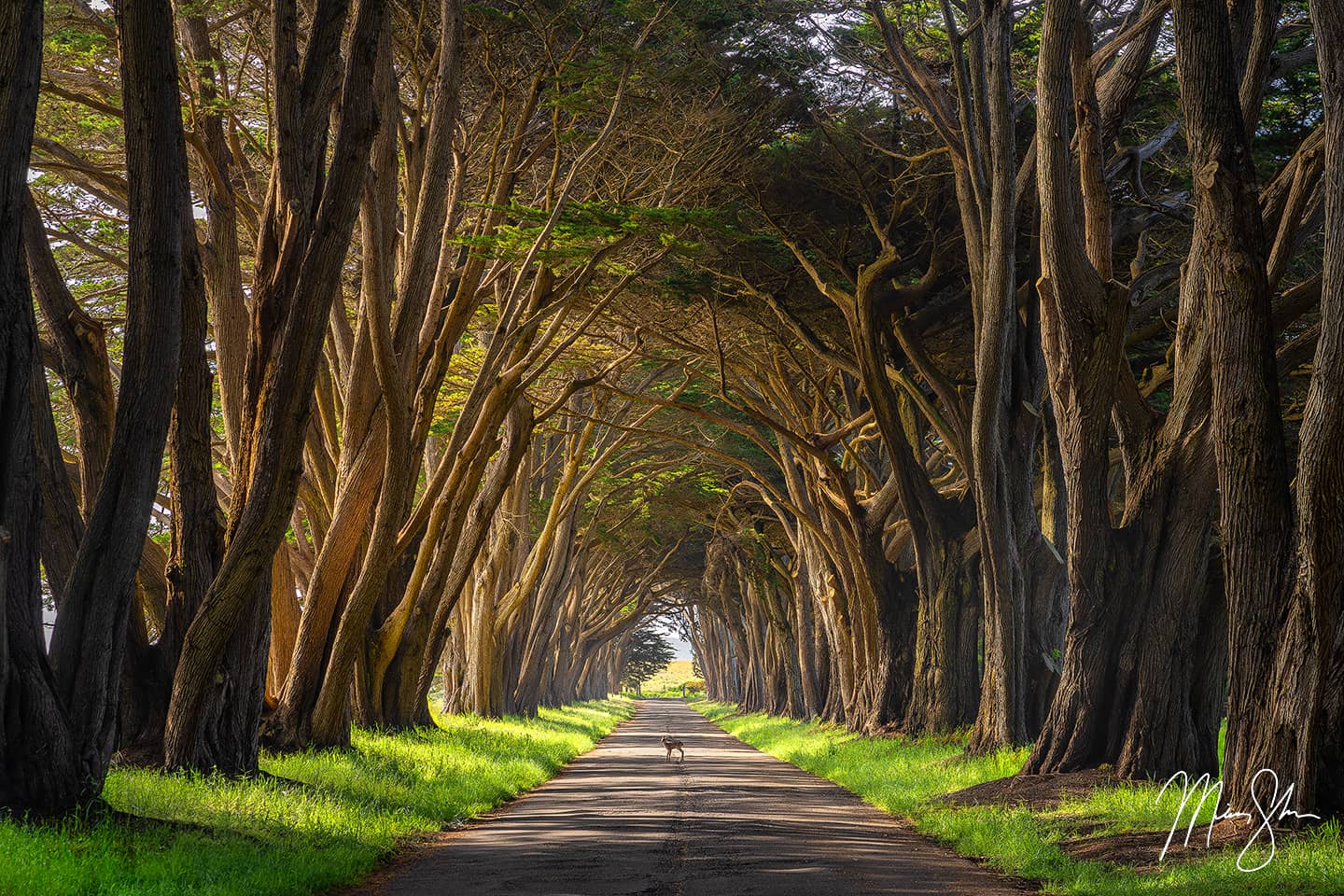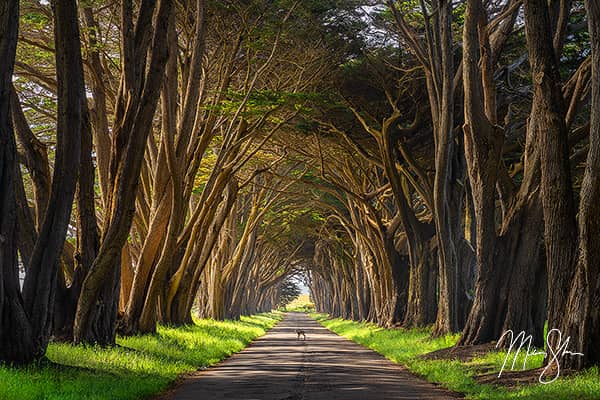 Redwood National and State Parks
A trip to Northern California for photography has to include the mystical redwood forests along the coast near the Oregon border! The redwood groves shrouded in sea fog is an experience like none other! My favorite time to visit is in the spring – late May and early June are typically when the beautiful pink rhododendrons are in bloom. These flowers make for awesome foregrounds with the towering redwoods behind them. If you're lucky, you might even get what us photographers call "God rays", where the sun penetrates the fog and creates beautiful beams of light in the forest. If you visit in late May, it's worth driving higher up to see if lupines are in bloom too. In a good year, entire hillsides can be covered in blue lupines.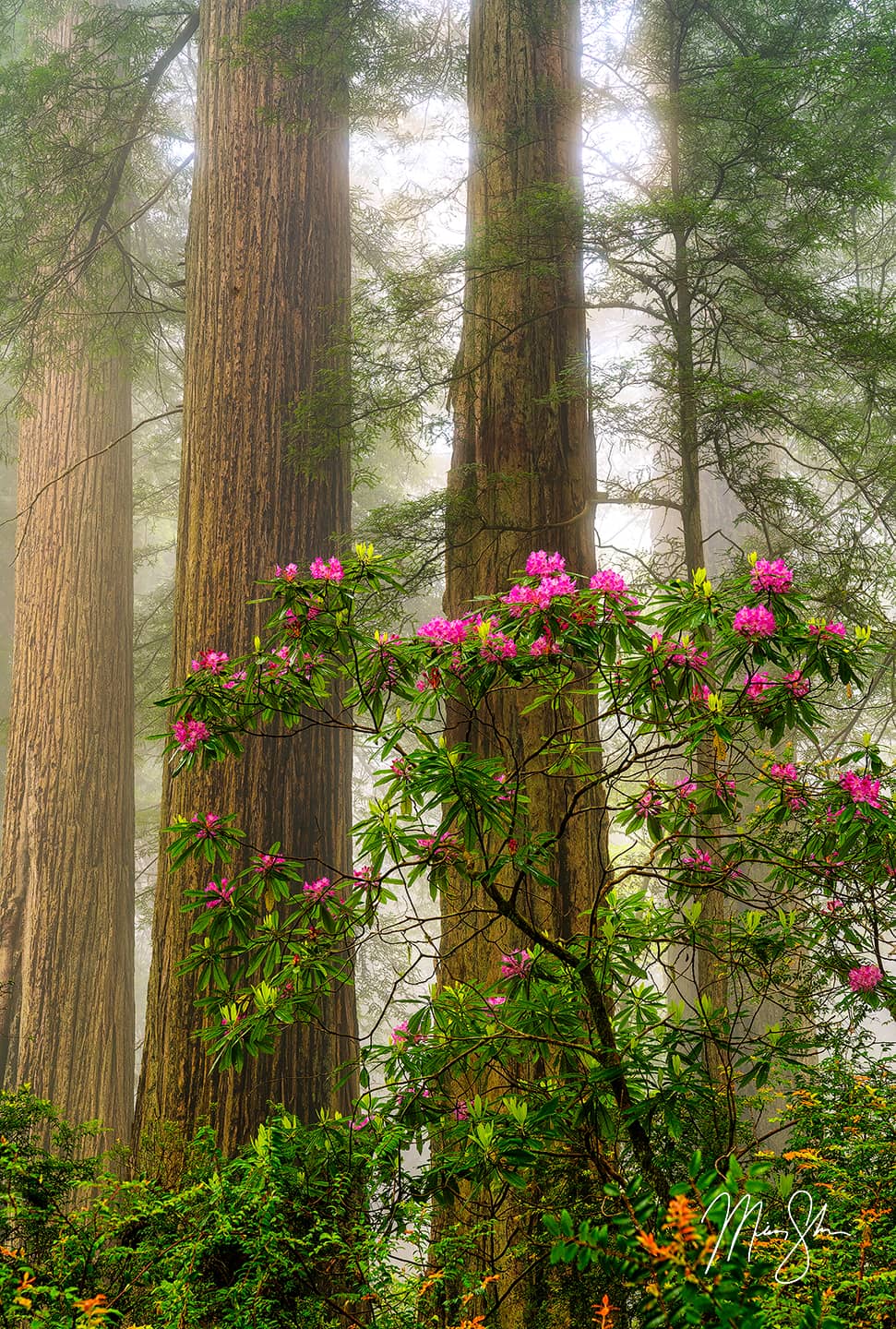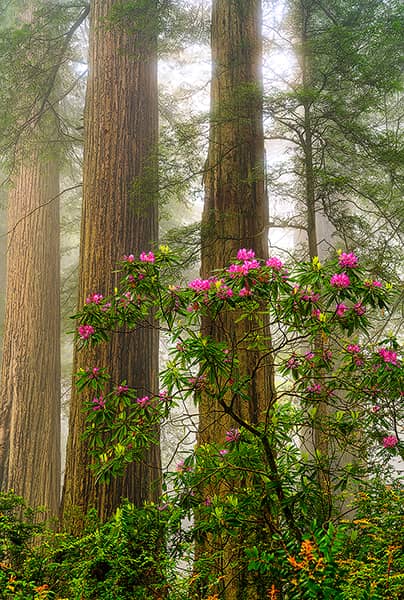 Burney Falls
Northern California is home to some awesome waterfalls. One of my favorite is Burney Falls, shown below. This is one of those waterfalls that looks great in the spring when water is roaring or in the fall when the trees, brush and undergrowth are all dressed up in warm autumn colors. If you're looking for more waterfall photography options, also check out Upper, Middle and Lower McCloud Falls which aren't too far away!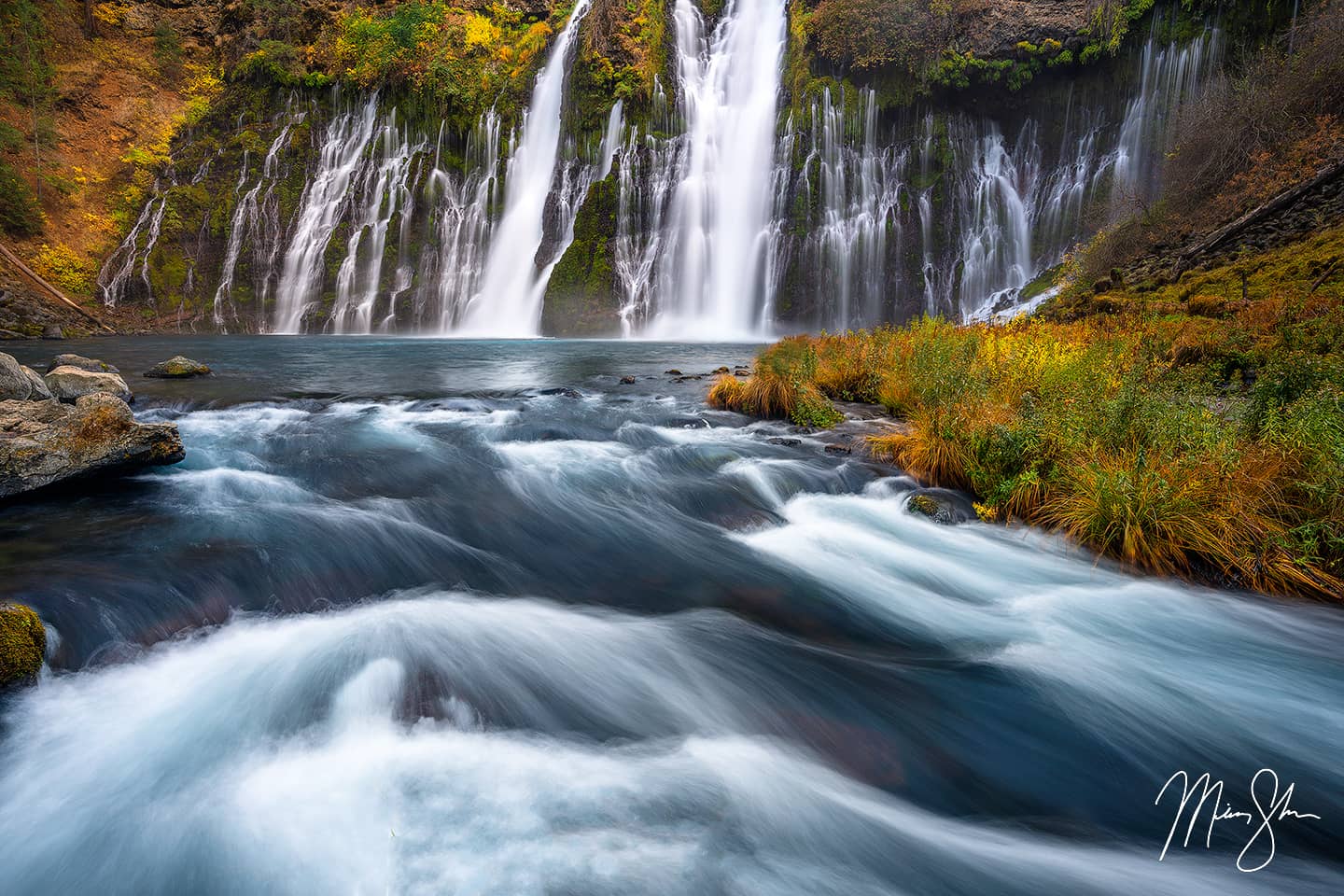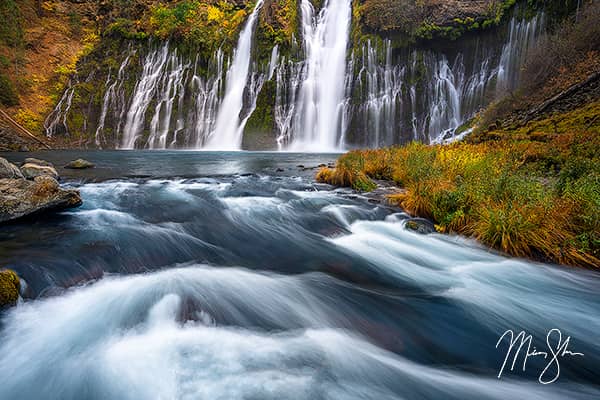 Other amazing locations worth photographing in Northern California are Napa Valley, the Lost Coast, Mendocino, Sonoma, Mount Tam, Mt Shasta and Lassen Volcano National Park. Highway 1 north of San Francisco is also a nature photographer's dream. It reminds me of Big Sur with far less crowds!
Eastern California and the Sierras
Lake Tahoe
Lake Tahoe is one of those places that's hard to believe until you see it in person! It's almost like someone took a beach from the Caribbean and dropped it in an alpine setting. The water color is such pristine turquoise-blue along it's boulder strewn shorelines. The entire lake has countless nature and landscape photography opportunities. Some of the areas around Sand Harbor are some of my favorites. Emerald Bay is an iconic spot. Shooting out over the many piers and docks can create an alluring scene as well. In my most recent visit, I decided to try something unique. I took my drone up onto one of the ares that are legal for flying and shot straight down onto the edge of the waters. I wanted to capture the full vivid color of the lake. It's also so crystal clear that you can see down into the lake bed quite a ways out. With miles of shoreline, great hiking around the lake, water activites and a ton of photography opportunities, Lake Tahoe is a California (and Nevada) gem for sore.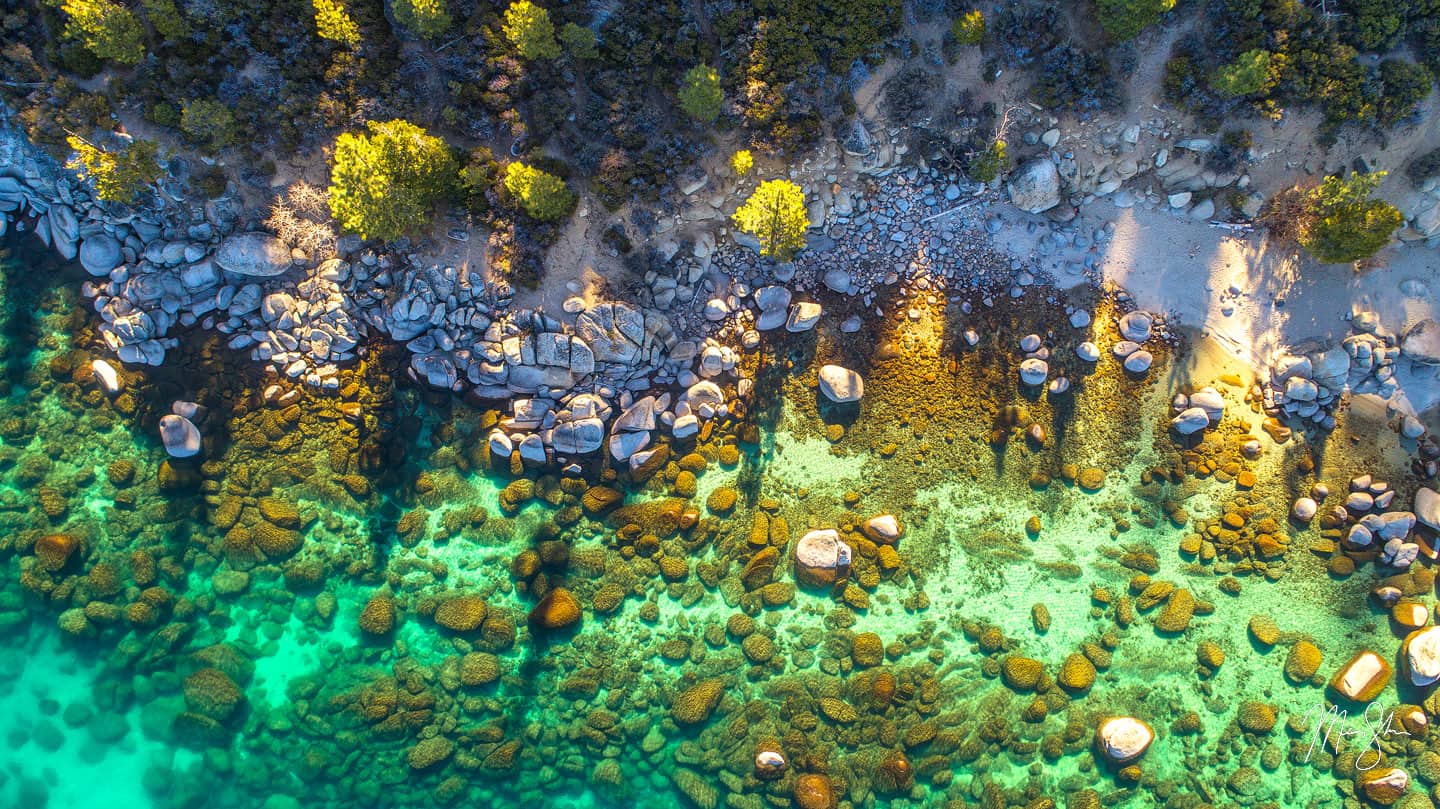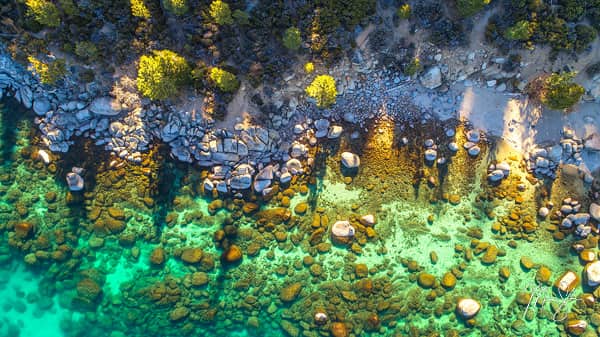 Yosemite National Park
I'm not sure how to accurately describe Yosemite. It's so beautiful. I've actually only visited Yosemite National Park one time, back in in late May 2019. Normally Memorial Day weekend is ultra busy in Yosemite. But a late spring snow storm that year over the weekend kept things a little more subdued. I decided to still head up and see if I could capture anything in the one night I was there. I arrived about an hour before sunset, as all but one road in was closed due to weather. I showed up at the famed Tunnel View maybe 30 minutes before the sunset and was treated to this stunning sunset of reds, pinks and blues, while the tops of the mountains and cliffs had a dusting of snow on them. The waterfalls, including Bridalviel Falls, were raging that year due to a good snowpack and spring melt. Everything came together for a perfect sunset! The next morning was equally beautiful, if different. The sunrise wasn't nearly as colorful, but the fog drifting in and out of the Yosemite Valley floor was excellent, creating another unique moment below El Capitan and the other landmarks that dot Yosemite Valley. I spent another couple of hours just driving around Yosemite Valley shooting everything I could find. It was one of the few major National Parks in the west I hadn't visited, and in the less than 24 hours I had to spend in the park, I came away with a plethora of great images. The weather was perfect for shooting! If you visit yourself, Tunnel View is a must. It's the most iconic view so you will not be alone, but it's iconic for a reason. But make sure to explore off the beaten path too. Glacier Point is worth seeing as well. And driving across Tioga Road in the summer will get you some lesser visited spots than the typical Yosemite Valley spots.

Death Valley National Park
Leaving the Sierras for the desert in the south brings you out to Death Valley National Park. This stark landscape provides nature photographers some amazing opportunities. Zabrinksie Point, Badwater Basin, Dante's View and Artist's Palette are all some must see spots. If you time your visit on a year with a superbloom, count yourself lucky, as the desert floor can come alive with the colors of wildflowers. Like most desert superblooms, this doesn't happen every year and is really hard to predict timing. While Death Valley is known for being scorching hot in the summer, it can actually be very pleasant during the winter months (and potentially cold sometimes too). Visiting from November-March is a great time to photograph the valley without the dangerous and intense heat that the summer brings.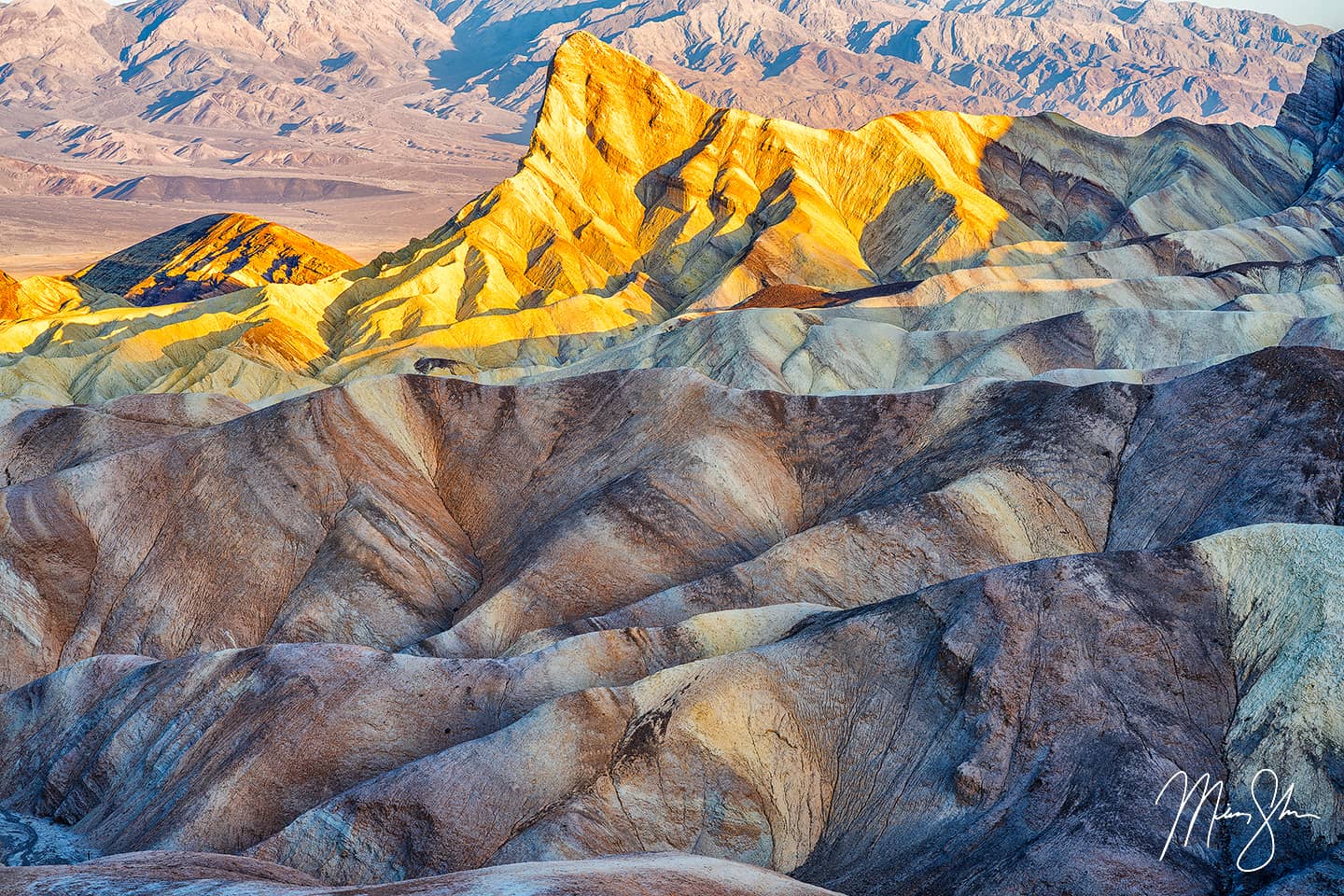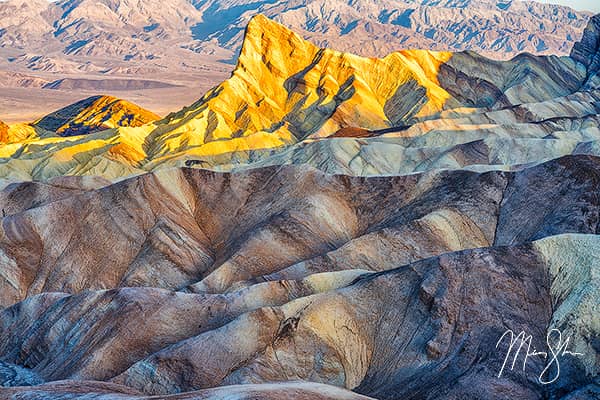 Other awesome locations to visit in the Sierras include Mono Lake, Mammoth Lakes, the ancient bristlecone pine forests near Bristol, California.
California Fine Art
Hopefully this article was helpful to see some great California fine art photography and learn about places you can visit yourself. If any of the photography on this page caught your eye, I sell limited edition fine art nature photography prints of not only my California photography, but other places around the United States and beyond. Using luxury print mediums such as Lumachrome TruLife acrylic, my fine art prints can liven up any room with that awesome California vibe! Visit my California photography gallery to view more California images.
---