Little Jerusalem Badlands State Park Guide
Mickey Shannon | Updated on September 16, 2019
There has been much publicity and excitement surrounding the newest addition to the state park system of Kansas at Little Jerusalem Badlands State Park. Located on the Smoky Valley Ranch, between Oakley and Scott City, Little Jerusalem is the largest Niobrara Chalk formation in the state. Think Monument Rocks times 100! Little Jerusalem was purchased in 2017 by the Nature Conservancy. They are working with the Kansas Department of Wildlife, Parks and Tourism to create a unique state park experience in Little Jerusalem Badlands State Park.
In July of 2019, I was able to access the hiking trails at Little Jerusalem Badlands State Park to take some photography at the Nature Conservancy's request. I wanted to write this article to give a little insight into some of the burning questions people have been asking and also to give a first-hand account on my experience hiking the trail system that will be in place when the park opens.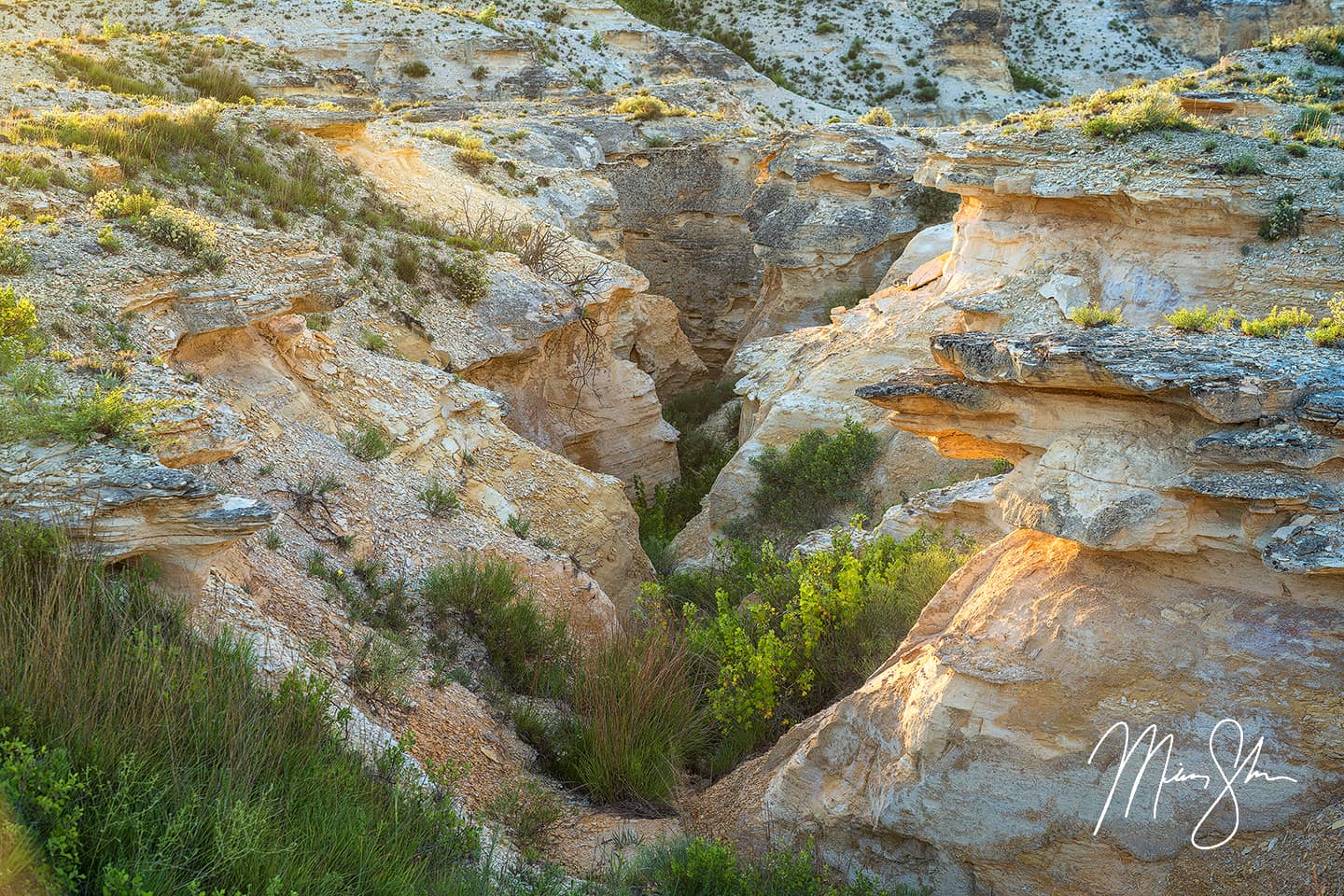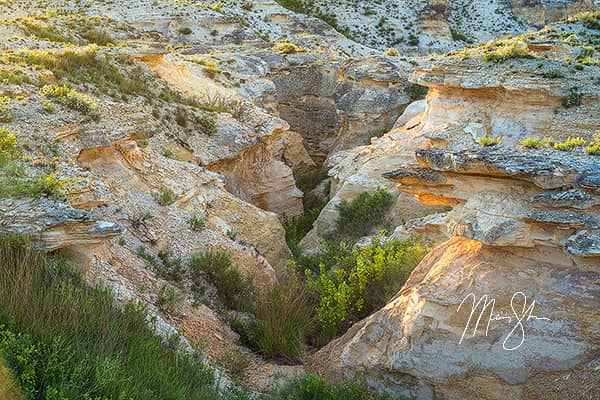 Hiking Little Jerusalem's Trails
When the state park opens there will be two trails available to the public. I hiked both of these to the end. The first is a short trail called the "Overlook Trail" that is designed for those that either don't have the time to walk the full trail or aren't physically able to make the journey of the longer trail. It is a quarter of a mile in length and leads downhill a bit to the viewpoint I shot in the photo below. This vista takes in a sweeping view towards the west and is amazing at sunset!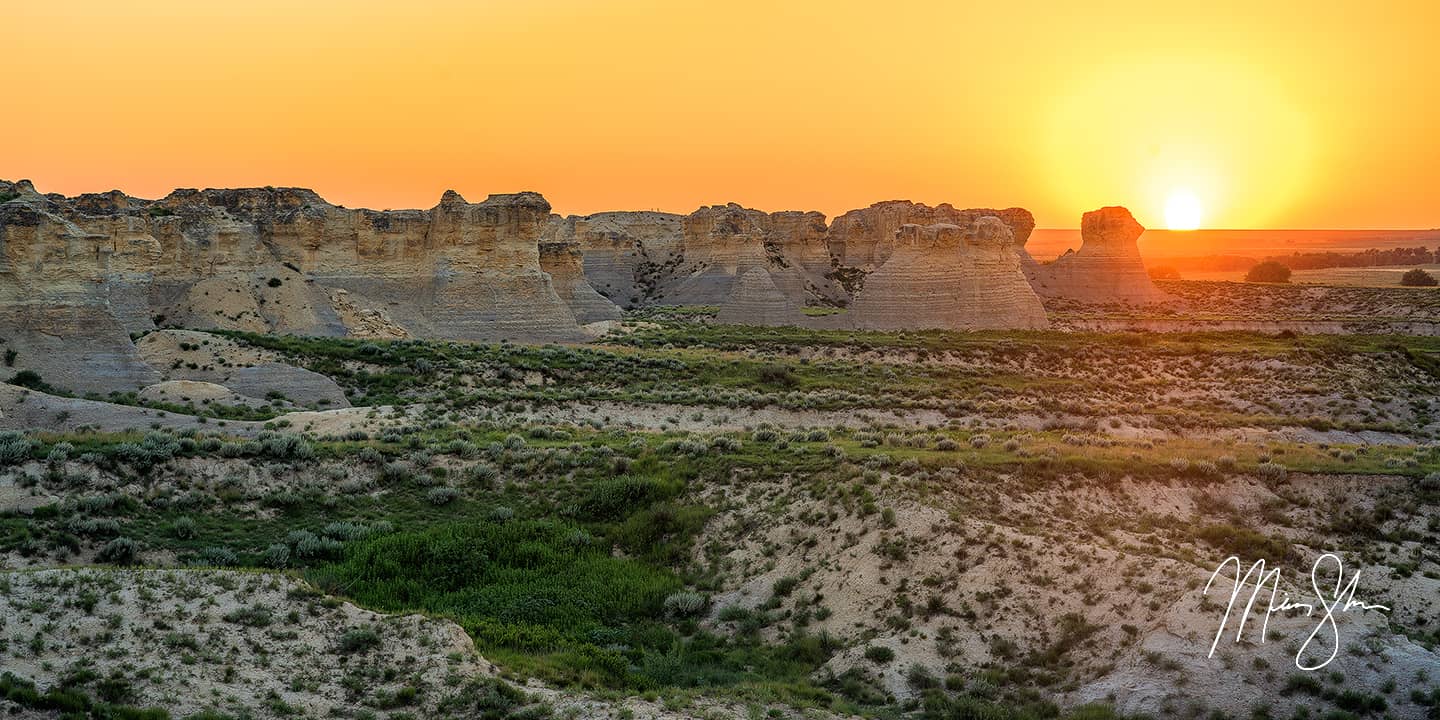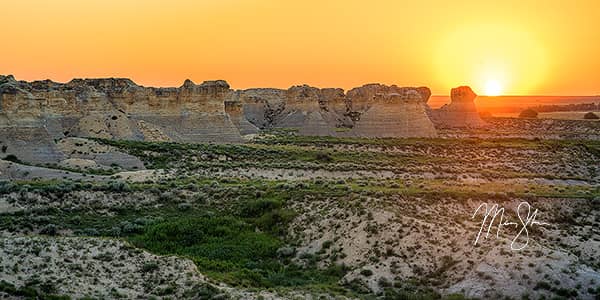 The second trail is much longer and covers around a mile and a half roundtrip. (out and back) That trail is officially called the Life on the Rocks Trail and is effectively a rim trail. It follows a large portion of the badlands at Little Jerusalem along the rim, giving views of the grand vistas of chalk pyramids. There will be a number of stops along the way that are worth visiting to gaze out on the terrain. Interpretive signs allow for visitors to learn fun and interesting facts about Little Jerusalem along the hike. The final viewpoint is definitely worth getting to! Not only can you see into the prairie for miles, but you get an up close look at a number of chalk formations and badlands that stretch through this area. The video below gives you a glimpse into what to expect from the scenery in the area, along with information about the Smoky Valley Ranch. It was produced a few years ago by Abt Films for the Nature Conservancy to announce Little Jerusalem's acquisition, but still provides some amazing footage to view!
Exploring Little Jerusalem
The afternoon I visited Little Jerusalem was HOT. It was one of those blistering 100+ degree days in July. It was also a cloudless day. These conditions don't usually make for great photography in a terrain like this, but I did what I could to capture the photos you see in this article. The one saving grace was wheat harvest. I encountered two combines on the dusty roads near the Smoky Valley Ranch as they were harvesting their wheat crop. Usually when harvest is underway, it means a vivid sunset. This worked in my favor as the evening drew to a close! And to be fair, regardless of weather and shooting conditions, I was just excited to see this place first-hand! I saw antelope hiding amongst some of the pyramids in the distance, listened to the various birds and even had a run-in with a local cow as it made it's way across the terrain. Little Jerusalem is a magical place to visit and hike at. It will seriously challenge notions of Kansas being flat and uninspiring. But those of us who have been exploring and photographing it for years already know this. This landscape would not be out of place near South Dakota's Badlands National Park or any of the beautiful rock formations and landscapes of the desert southwest in Utah, New Mexico or Arizona.


Little Jerusalem FAQs
Hopefully some of the following frequently asked questions will help answer the more important questions regarding Little Jerusalem.
Q. When will Little Jerusalem open to the public?
A:

Little Jerusalem Badlands State Park will open on October 12th, 2019 at 10 a.m. to the public for the first time! A Grand Opening Celebration is planned with guided tours throughout the day on October 12th, 2019.
Q. What will it cost to visit Little Jerusalem Badlands State Park?
A:

While there has been some confusion about the cost to visit Little Jerusalem, rest assured that, like any other Kansas state park, visitors are only required to pay the normal state park fee of $5 per vehicle. Annual state park permits also include entry into Little Jerusalem when it opens.
Q. Where is Little Jerusalem located?
A:

Little Jerusalem is located on the Smoky Valley Ranch, south of Oakley and about five miles north of Lake Scott State Park in Logan County.
Q. Can you climb on the rocks?
A: Due to the fragile nature of the rocks at Little Jerusalem, the answer to this is a resounding no! Because of how fragile they are and the fact that they erode very easily, hiking trails were created to keep the ecosystem intact. So please stay on the paths and practice both Nature First and Leave No Trace principles when visiting Little Jerusalem (or any other natural place for that matter).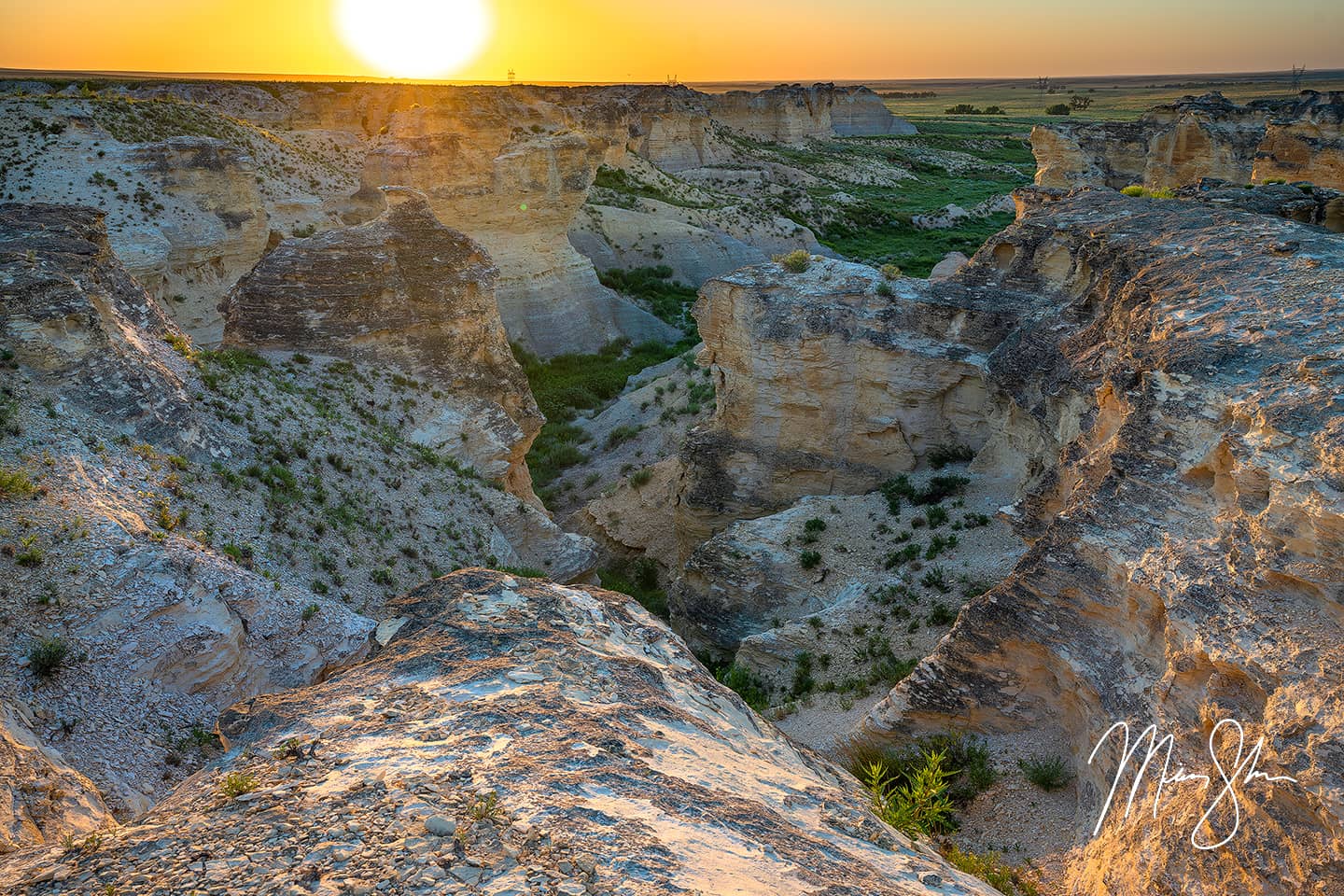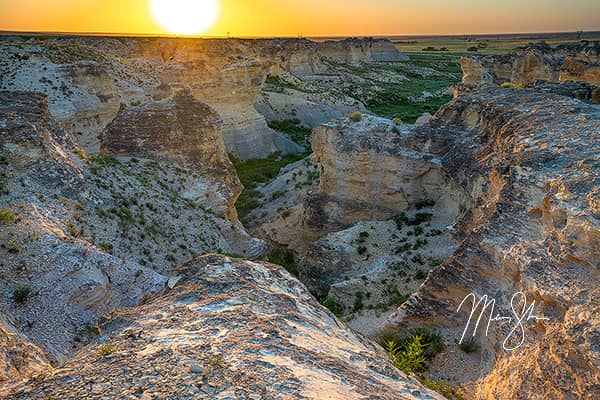 Other Western Kansas Attractions
If you're making the long trek out to Western Kansas to see Little Jerusalem, you should really plan some extra time to visit a few other awesome locations out there! Or even if you're looking for cool places to visit while you wait for Little Jerusalem to open, check out some of these amazing other locations in the area for a western Kansas adventure! I also offer prints of all my western Kansas photography that you can browse and purchase!
Monument Rocks
Monument Rocks are quintessential western Kansas. These chalk pyramids tower 70+ feet in the air and include a beautiful natural archway, as seen below. The roads out there can get pretty dicey if it rains or snow though, so always make sure to check local conditions.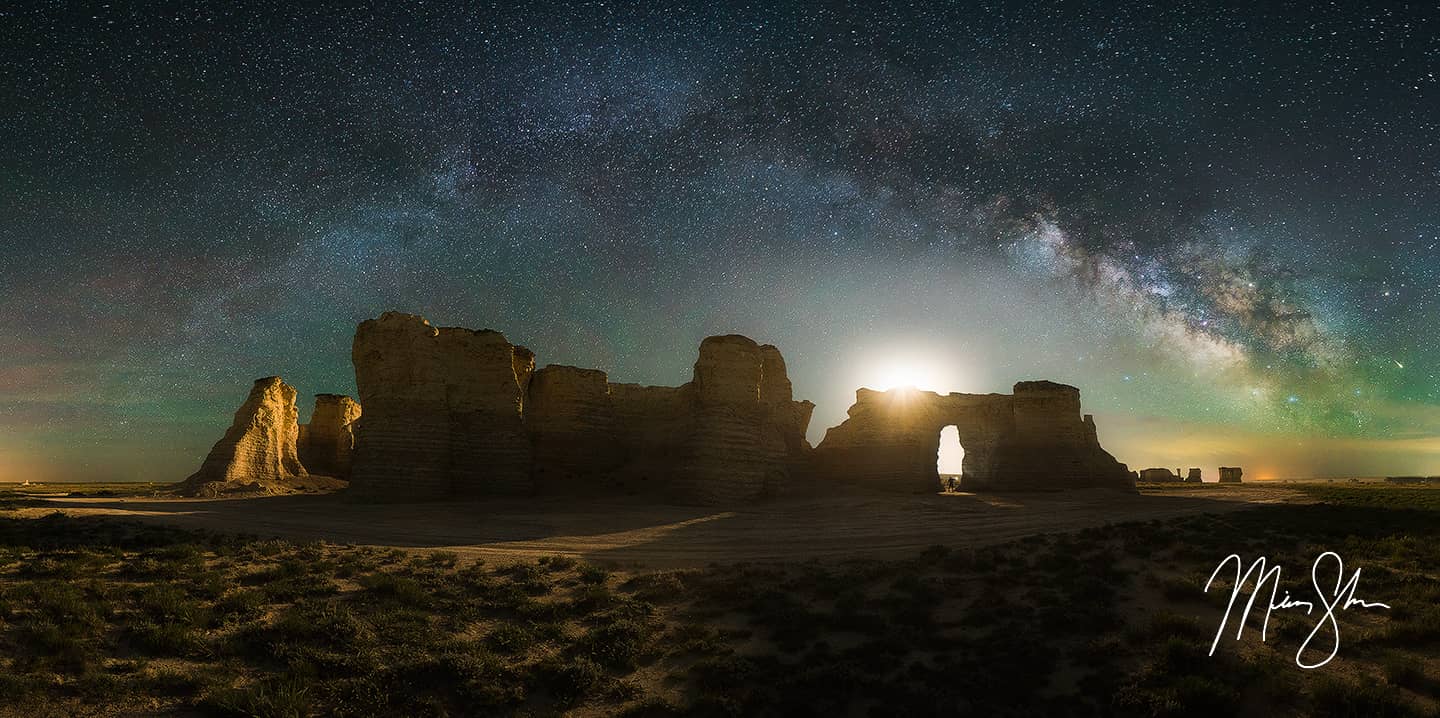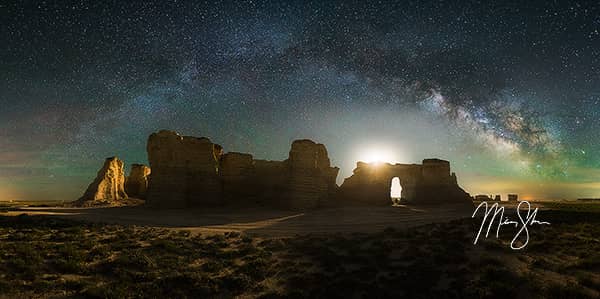 -Lake Scott State Park
Lake Scott, which is located just a few miles south of Little Jerusalem, is an oasis amongst the plains. Because of it's unique landscape and interesting historical stops, I would consider it my favorite state park in Kansas! The hiking and camping are great, as are the lake activities. Where Lake Scott really shines though, is in it's history. El Quartelejo is located on the western shore of Lake Scott and is the most northern pueblo's in the world. The El Quartelejo Ruins were likely built by Pueblo Native American's in the late 1600's where they lived after fleeing the desert southwest. These ruins were re-discovered in the late 1800's and are now able to be viewed by visitors of the state park. In addition to El Quartelejo, Lake Scott also houses the amazing Battle Canyon. Battle Canyon is the site of the last battle between US troops and Native American's.
More Locations
In addition to Lake Scott and Monument Rocks, other places worth visiting are Castle Rock, the Arikaree Breaks and the Smoky Valley Ranch which Little Jerusalem is a part of are all worth a visit! You can also get some more ideas for Kansas locations from my 4K Kansas is Beautiful promo video below!
---