The Best Kansas Sunflower Fields
Mickey Shannon | Updated on August 9, 2023
2023 Update: Due to working all summer on the promotion of my new coffee-table style book Kansas is Beautiful, I didn't get around to updating this list for exact times. That said, many of these sunflower fields are blooming at the same time as they did the past two years. This list is still helpful if you click the links to each farm's Facebook page or website to get more information on potential bloom times. I'll get back to updating it regularly in 2024! If you are interested in my Kansas book, visit mickeyshannon.com/kansas-book/ to pick up a copy!
Over the years, I've visited dozens of sunflower fields across the state of Kansas. After all, we're known as the Sunflower State for a reason right? However, surprisingly, depending on what part of Kansas you hail from, finding a sunflower can be somewhat difficult! That's why I've come up with this handy guide to finding the best fields around Kansas. After being asked year after year when and where sunflower fields are blooming, I thought this would be the best way to help other photographers find fields and also impart a little wisdom on how best to find the fields along with ways to respect the farmers who depend on their crop. I plan to update this guide every year as sunflower season approaches with any new information. I'm also sticking to sunflower fields that are operated by farmers that actually want folks coming out to take photographs and see the sunflowers. I won't be listing random fields that are just being grown for crops, as those sunflower farms may not want visitors potentially damaging their crops. In the cases of the Kansas sunflower farms in this list, all have actively promoted their fields on social media and many offer donation boxes for you to take a sunflower home with you.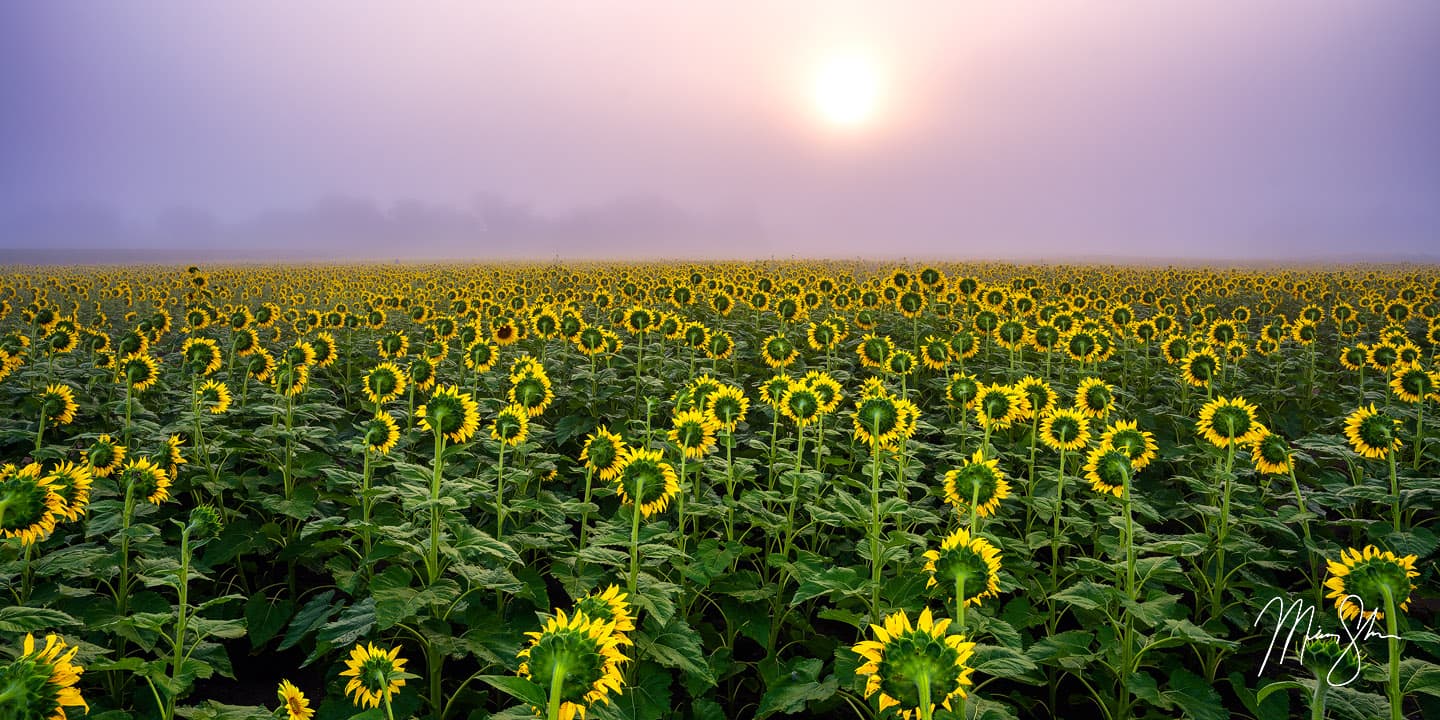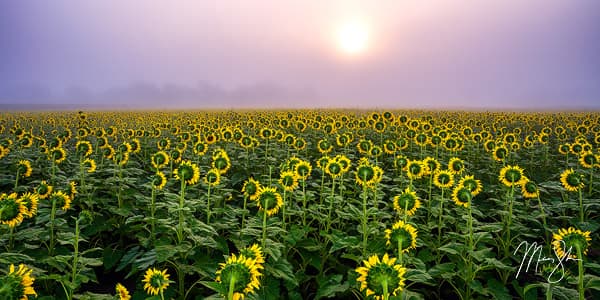 Sunflower Season
Here in Kansas sunflowers have a short window of growth. The best month is usually August, sometimes rolling into early September. However, some years, sunflower fields will pop up as early as mid-July or as late as the end of September. My general rule of thumb (and this is very general and sometimes doesn't always hold true) is that many of the early fields are south around Wichita. While later fields seem to pop up further north towards Kansas City, Lawrence and Manhattan or way out west near Goodland. But that's just a general rule of thumb. I've even run across a field near Lindsborg on my way out to Colorado for fall colors in late September before, so it really just depends on when the farmer plants his field of sunflowers.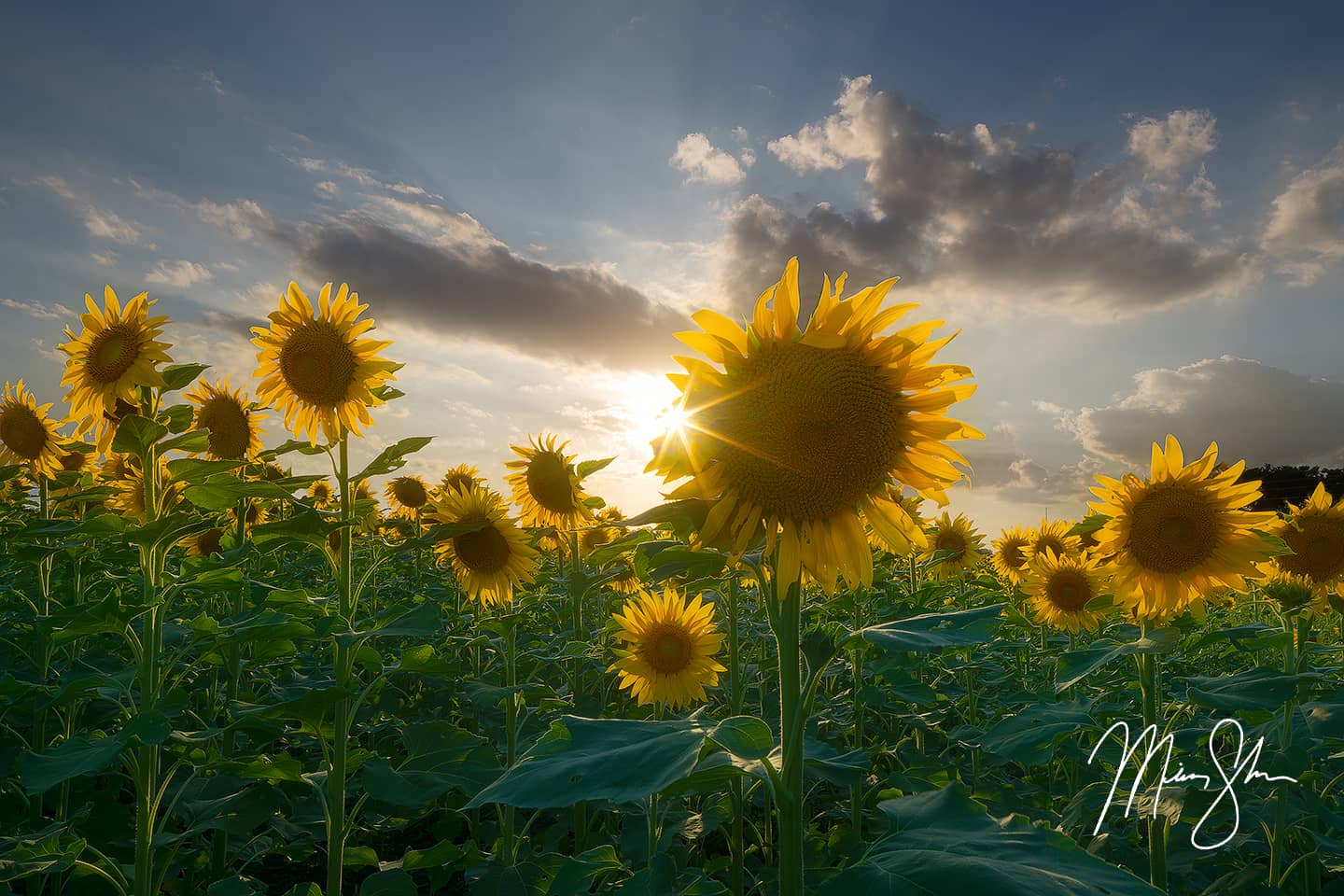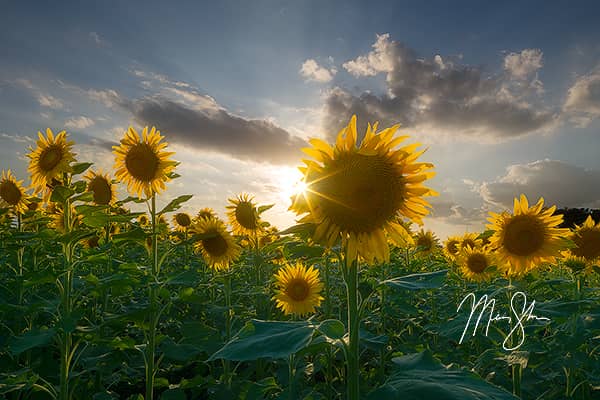 So with that out of the way, here is the scoop on sunflower fields in Kansas that I know of this year:
Diana Burress B Realty Realtor/Broker Augusta Field
Augusta, Kansas | Peak: ??
Back in 2019, this was one of the first fields to pop up in Kansas! Located southeast of Augusta, this Kansas sunflower field has turned into an annual field. I have not heard anything for estimated bloom time this year, but last year, it was in late August.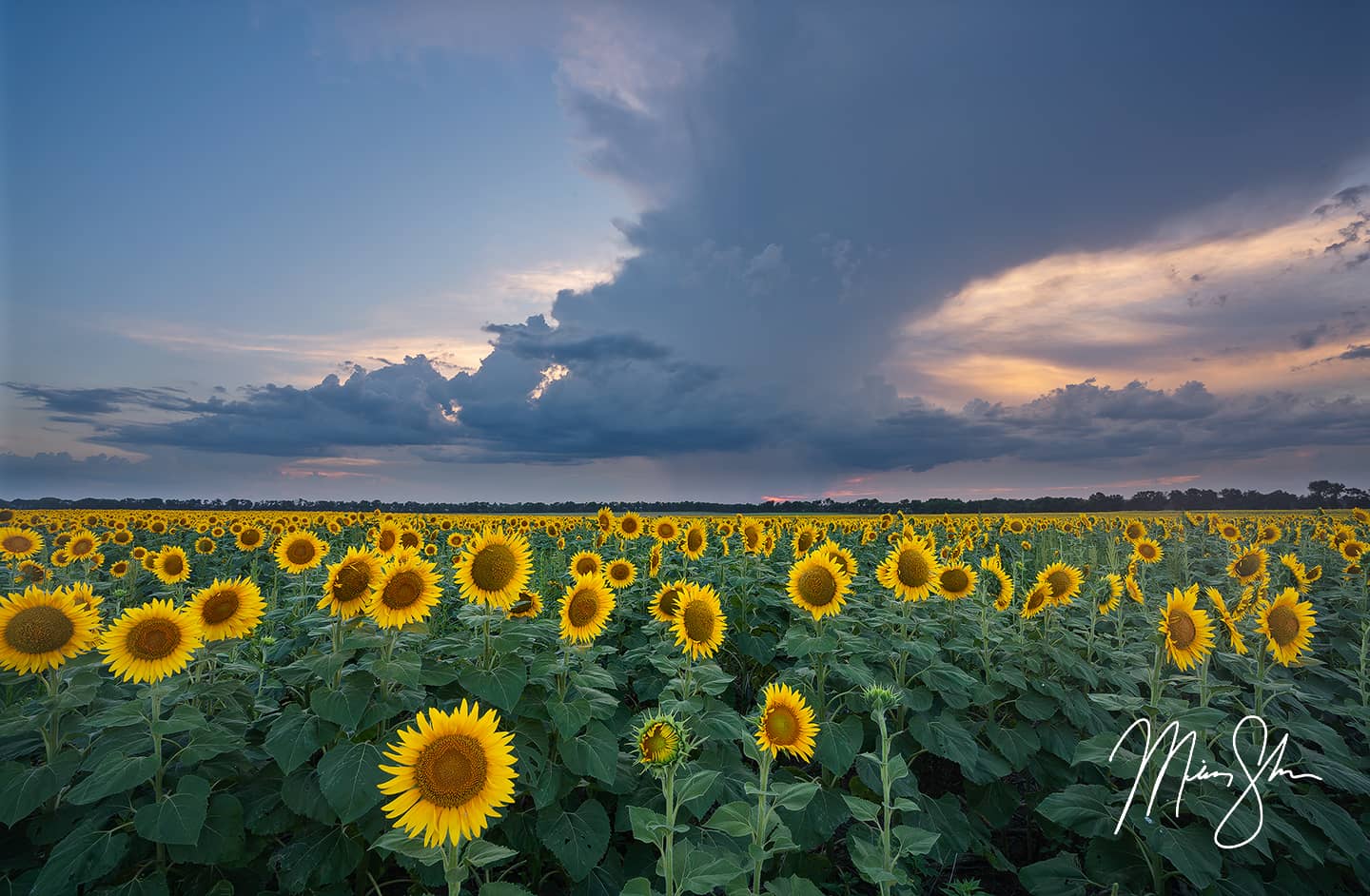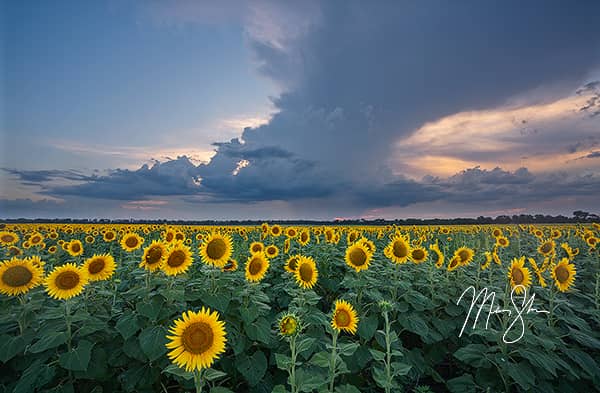 Klausmeyer Dairy Farm and Pumpkin Patch
Clearwater, Kansas | Peak: Mid July
Klausmeyer Farm and Pumpkin Patch is unique in that they usually have multiple fields each year. These are some of the best sunflower fields in Kansas! Like 2020, they will have two fields. The first field is nearly ready as of this writing (July 13)! The second field will likely be ready sometime in August, but exact dates are unsure so far. Make sure to keep up with their Facebook page to get up to the minute updates on the status of each field. There will be parking, and the cost to visit the fields will be $2. You can also visit the farm for an additional fee. They also plan to have hayrides to the fields!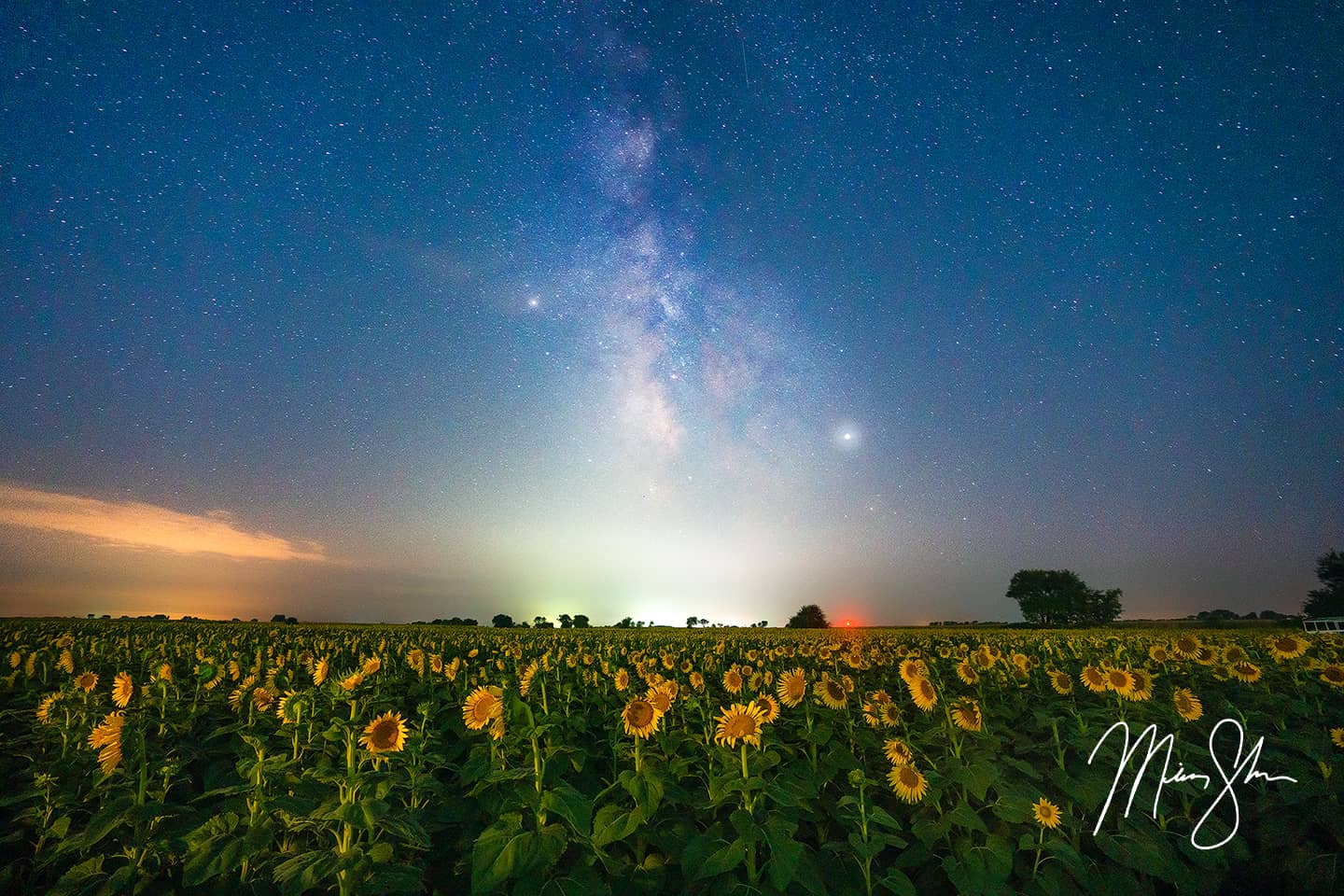 Walter's Pumpkin Patch
El Dorado, Kansas | Peak: Mid-Late August
Walter's Pumpkin Patch is again planning to hold the Kansas Sunflower Festival. This year, the planned dates are the weekends of August 14-15, 21-22 & 28-29. More updates can be found on their Facebook page.
Gieringer's Family Orchard & Berry Farm
Edgerton, Kansas | Peak: Mid-August?
I haven't seen any updates from Gieringer's on their annual sunflower festival yet, but if my memory serves me right, last year the sunflowers peaked in mid-August. Keep an eye on Gieringers Family Orchard & Berry Farm's Facebook page for more information!
Eleanor's Events
Lyndon, Kansas | Peak: Typically Late August to Early September
Last year, Eleanor's Events sunflower fields were blooming in late August/early September. They usually hold a sunflower festival around Labor Day weekend, so be on the lookout for that! They usually post it on their website. Eleanor's Events sunflower field is located between Scranton and Lyndon, Kansas. Keep an eye on their events page for more information on the sunflower festival!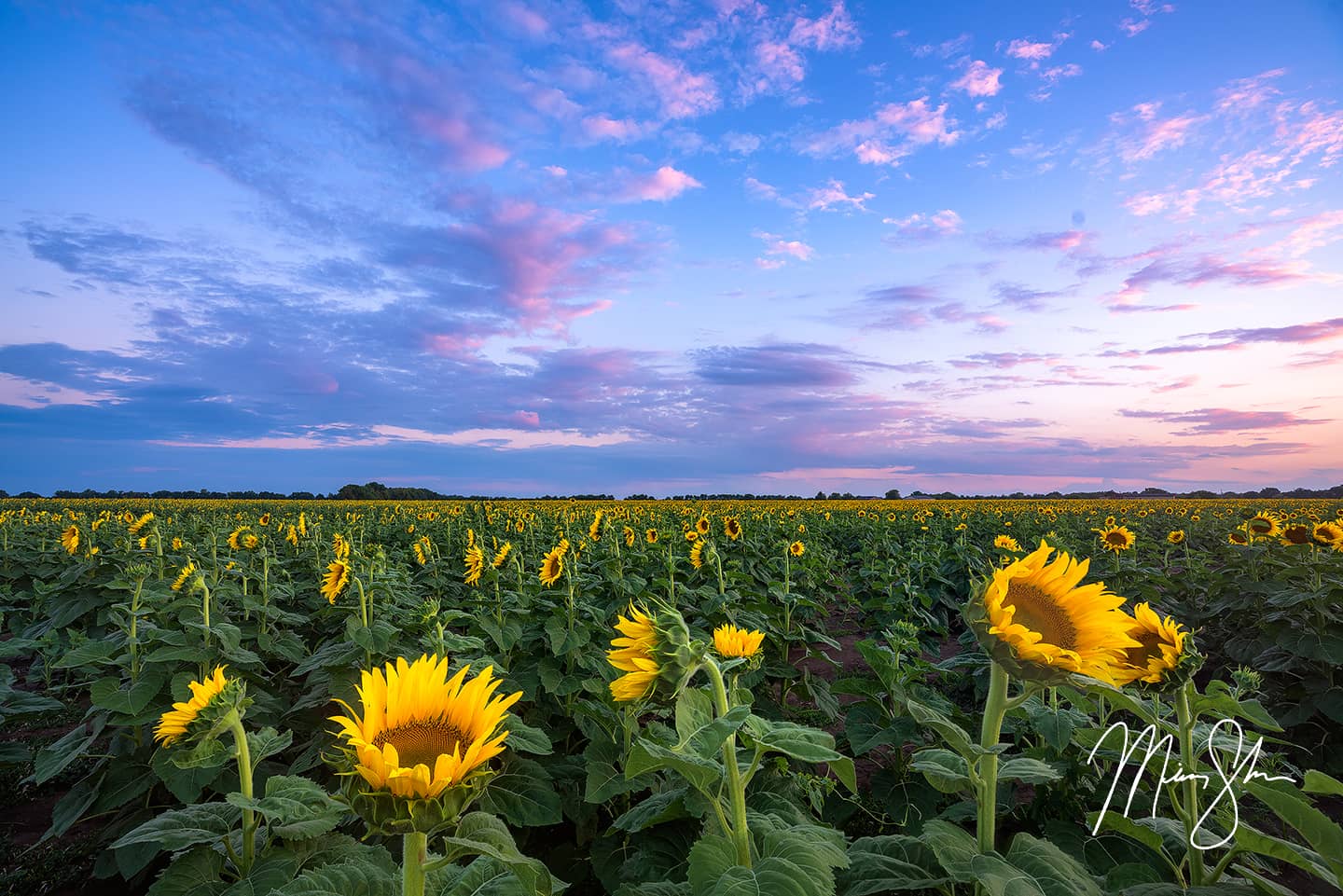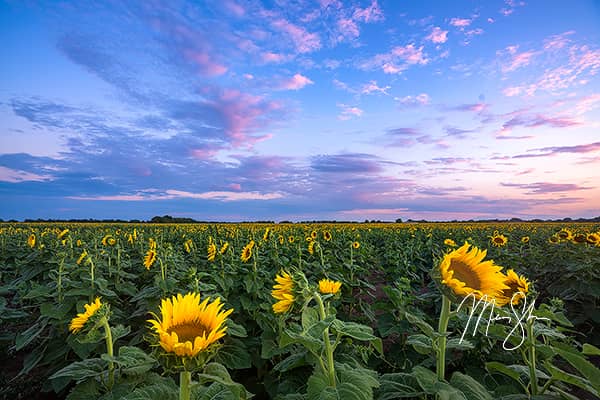 Britt's Garden Acres
Manhattan, Kansas | Peak: Late-August/Early September?
I have not seen anything on the status of their sunflower fields yet for 2021, but it's still early. Keep an eye on their Facebook page about the status of their sunflower field in 2021. Last year, blooming times were around late August & early September.
Peterson Farm Brothers
Lindsborg, Kansas | Peak: Late-August/Early September
For the past few years, Peterson Farm Brothers have grown sunflower fields. No official word has come from their website or Facebook page yet, but the Sunflower Trails page from 2020 says the sunflowers were blooming in late August or early September! Stop by their Facebook page or the The Heights – Wedding Reception Venue & Sunflower Agritourism Facebook page to keep up with the latest. While you wait for their sunflower field to bloom, you should absolutely go visit their awesome YouTube account! Here's a video they produced about growing Kansas sunflowers:
Schwinn Produce Farm
Leavenworth, Kansas | Peak: Unsure of Status
Schwinn Produce Farm in Leavenworth, Kansas has planted sunflower fields in past years. They did not plant sunflowers in 2020, so it's unknown if they have/will plant in 2021. Keep an eye on their Facebook page just in case!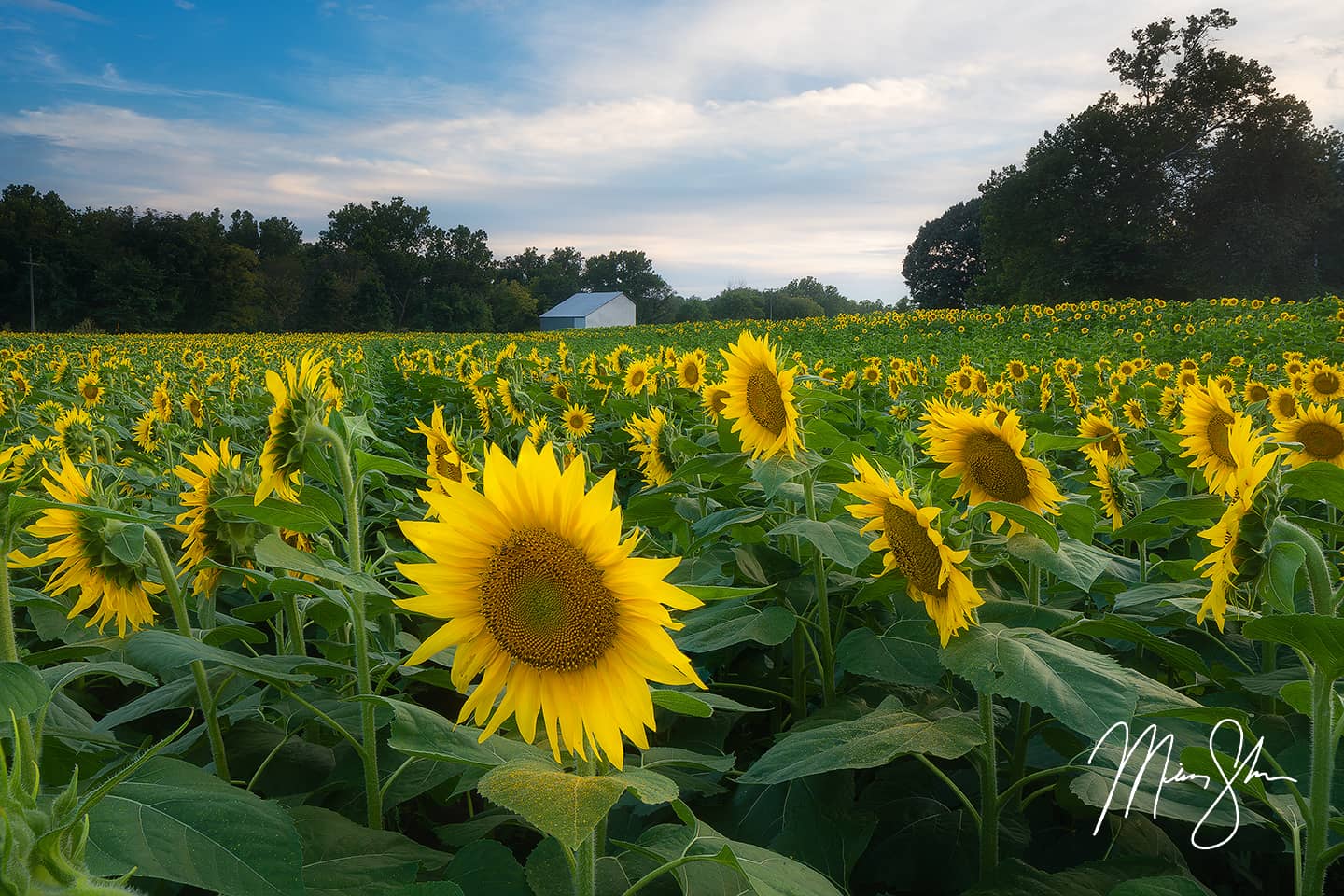 Grinter Farms
Lawrence, KS | Peak: Late August-Early September
Without a doubt, the mother of all Kansas sunflower fields in Grinter Farms! Typically it makes it into the top ten of most lists of sunflower fields in the entire United States, like this sunflower field article from Better Homes & Gardens. It draws insane crowds every year! There are reports in years past of traffic shutting down the entire road and causing accidents! Grinter Farms has become a yearly tourist attraction around the Labor Day weekend for folks from Kansas City, Topeka, Lawrence and even from out of state. Thousands of people flock to Grinter Farms when sunflower season blooms. The best way to get updates on the condition of the sunflowers at Grinter Farms is to visit their Facebook page. General rule of thumb is to consider Labor Day peak, but in some years the sunflowers bloom earlier or later. One of the best things about Grinter Farms is the rolling hills that dot the landscape. Many of the fields around Wichita are flat, whereas Grinter Farms has a bit of curve to it! If you want to see the field without throngs of tourists, try a weekday at sunrise to beat the crowds!
Berry Hill UPick
Berrytown, Kansas | Peak: Starting in early August
Berry Hill UPick's sunflower fields gives Topeka area residents (and those of us up for a little road trip) a chance for sunflowers! In 2019, they still had a field going strong right before I left for my annual Colorado fall colors trip in late September! In 2020, they had a field blooming in mid-July! For 2021, they have four(!) fields blooming! The most unique thing about their fields this year will be a multi-colored sunflower field! Check out their Facebook page to keep up to date as each field blooms!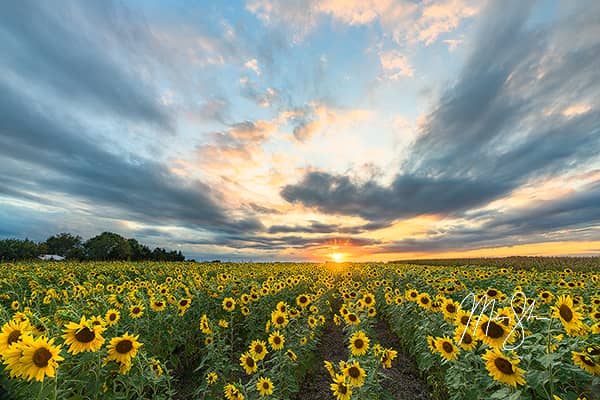 Other Kansas Locations
In years past, I have found sunflower fields near Oxford, near Cedar Bluff State Park, Goodland, Pilsen, McPherson, Hutchinson, Marion, Peck, Peabody and Halstead. I'm sure there are many more around the state that I'm unaware of. If you know of any and would like me to list it on this page, contact me with any information you have on it and I'll get it listed! Directions, nearest town, peak blooming times, etc. are all appreciated! I plan to make this blog post into an annual tradition and would love to make it a catch all place to find information on sunflower fields here in Kansas!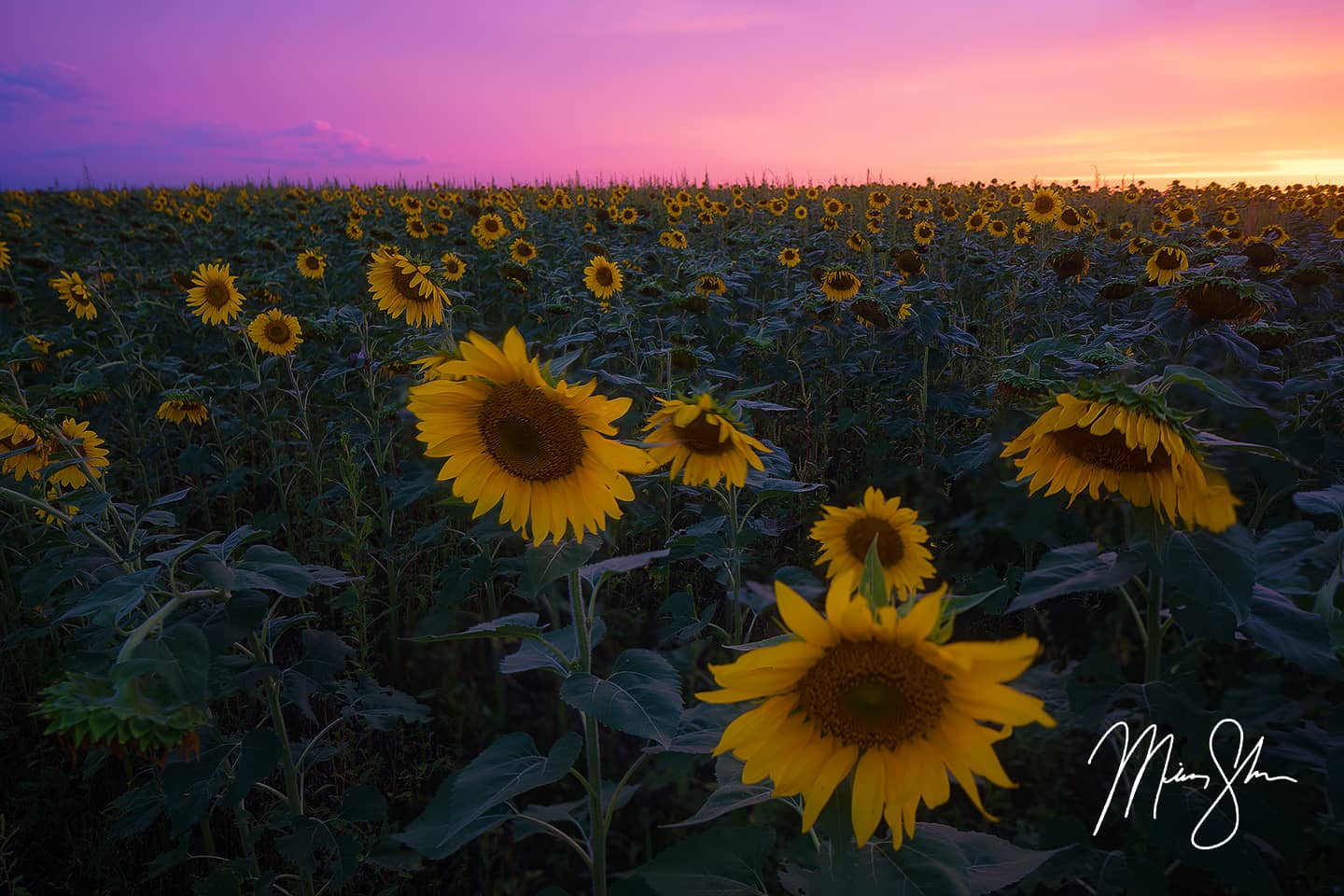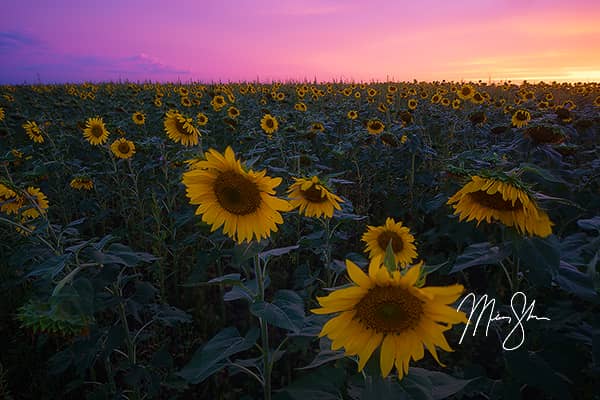 Farm Etiquette
It should go without saying that all of these farms are private fields. While many of them are kind enough to allow people to explore and even take a sunflower home, sometimes by donation, you should always respect the farmer's land. Grinter Farms in particular has posted all kinds of stories in the past about people leaving some pretty random trash in their fields. Some of which can be damaging to farm equipment. And while many of the farms listed on this page are okay with photographers and visitors entering their fields, there are some that are not just "open to the public". My own rule of thumb with a sunflower field (or really, any farmers field) is to not enter it without permission. I tend to take the side of the road approach. If I can safely park and shoot my photography from the edge of the road, I will do so. But if you want to enter a field to snap a photo it's always best to ask permission of the land owner first. For farmers, this is their livelihood, so please respect that!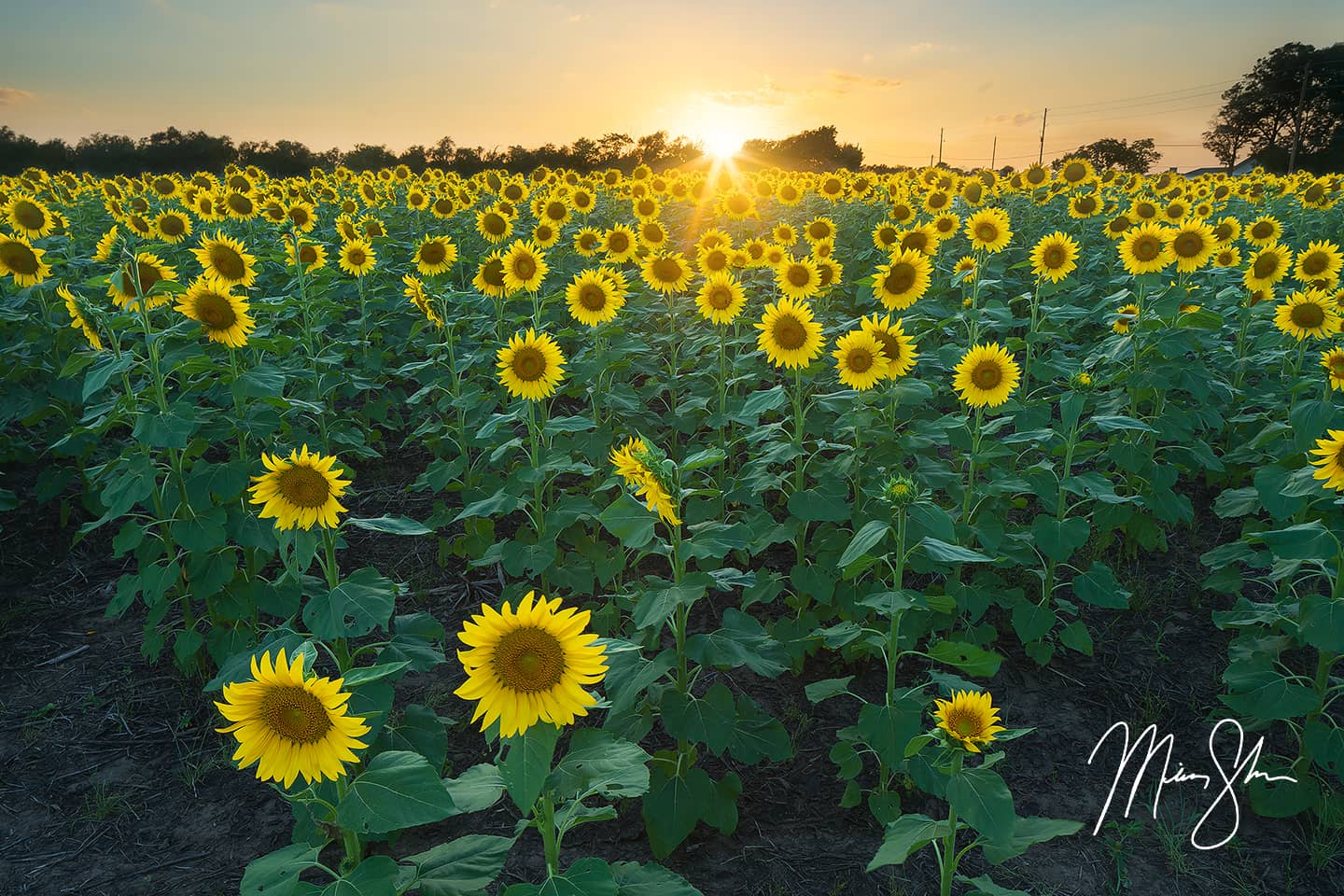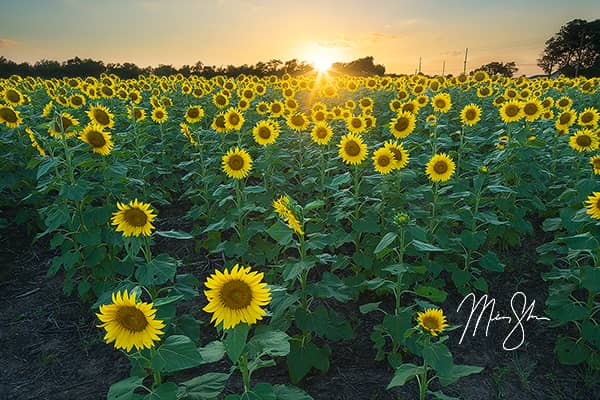 While on the topic of these wonderful Kansas farms, many of the ones above that are open to the public are much more than sunflower fields! A lot of them have other festivals, pumpkin patches, peach and berry picking and more! Visit each of their websites above to learn more about the kinds of amazing food many of the farms sell.
The Ultimate Kansas Sunflower Field Roadtrip
As you can see, there are some pretty awesome sunflower fields in Kansas! I put together this road trip that takes you to many of the farms that actively promote their sunflower fields. Not all of them are at peak at the same time, so timing this road trip to hit every single one of them while in bloom may not be fully possible, but you should at least get some fields in bloom on this route!
Kansas Sunflower Photography
As always, any of the photos on this page are available as fine art prints in my fine art nature photography galleries! Most of the sunflower photos are scattered in my South Central Kansas, North Central Kansas and Northeast Kansas photography galleries. You can also search the photo archive for all sunflower photos or browse all of my photography galleries for more sunflower photos!
Thanks for visiting my little guide to Kansas sunflower fields! I hope this has served you well!
---