Northeast Kansas Waterfall Road Trip
Mickey Shannon | Updated on December 5, 2018
You've seen the ultimate Kansas waterfall road trip. Now try a more zoned in waterfall road trip specialized for northeast Kansas in this Northeast Kansas waterfall road trip! This one is made for people in the area of Kansas City, Lawrence and Topeka. I'm going to take you on a road trip to seven (or more if you hit the optional side trips) beautiful waterfalls in northeast Kansas.
Turkey Falls
Merriam, Kansas
Starting in the heart of Kansas City, on the Kansas side, is a beautiful waterfall one would never expect to be in the middle of a city. Located in a place aptly called the Waterfall Park in Merriam, Kansas is Turkey Falls. This waterfall is typically flowing year round. Once you've had your fill of Turkey Creek Falls, it's time to head northwest to Lansing.
Angel Falls
Lansing, Kansas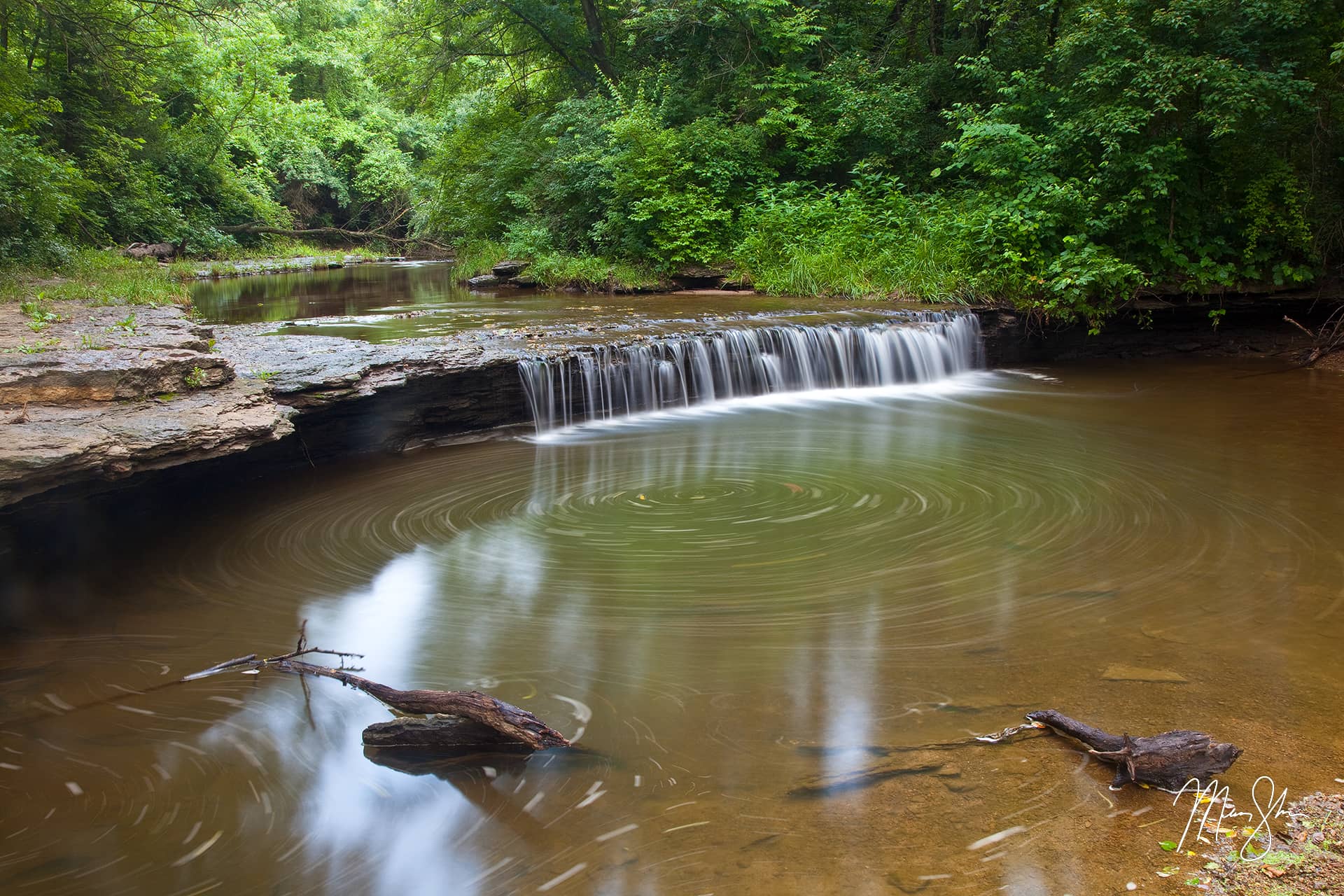 One of my favorite waterfalls in all of Kansas is Angel Falls in Lansing, Kansas. To find Angel Falls, you have to park at the St. Francis de Sales church, and walk the beautiful hiking path about a tenth of a mile south to the falls. After checking out Angel Falls, it's time to head north to Wathena for our next waterfall!
Walnut Creek Falls
South of Wathena, Kansas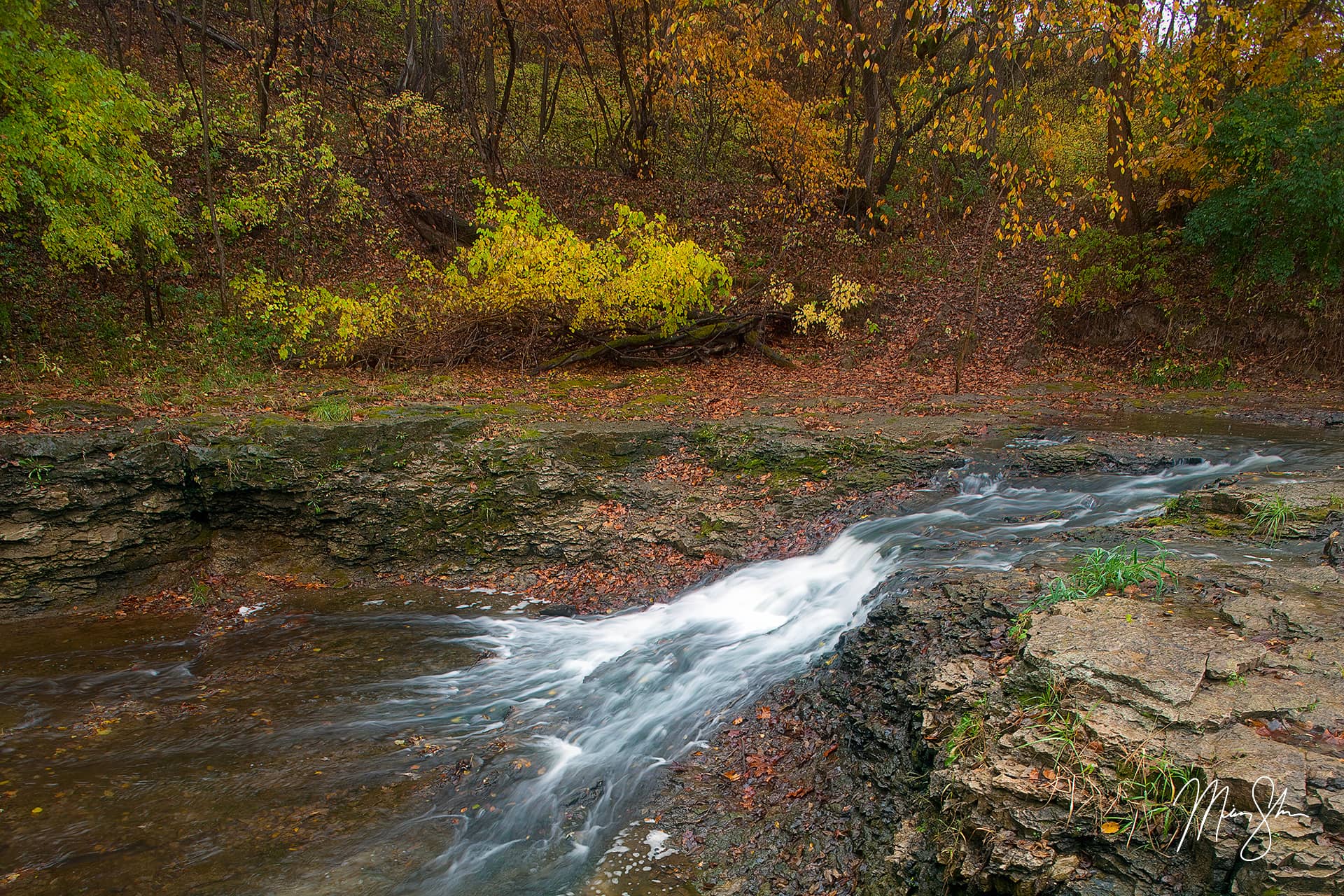 One Glacial Hills Scenic Byway, which is a beautiful drive in it's own right! However, we're on a waterfall hunt, so they can wait for another day. Just south of Wathena, nearby the Missouri River, is a beautiful little cascading waterfall that creates a sort of waterfall called Walnut Creek Falls. Once you've gotten your fill of Walnut Creek Falls, it's time to head for Lawrence and our next waterfall!
Optional Side Trip #1: Buck Creek Falls – Hidden in the country to the north of Lawrence is this beautiful rippling waterfall called Buck Creek Falls.
Optional Side Trip #2: Bowersock Dam Falls – You will likely see this one just driving to Wakarusa River Falls, as it stretches the Kansas river in Lawrence.
Wakarusa River Falls
Clinton Lake, Lawrence, Kansas
From Walnut Creek Falls near Wathena, you'll have to head southwest towards Lawrence to get to Wakarusa River Falls. This waterfall is just downstream from the spillway at Clinton State Park along the Wakarusa River. It's a great fishing spot as well as making for a wonderful place to just relax and enjoy the sound of rushing water.
Swissvale Falls
Southeast of Topeka, Kansas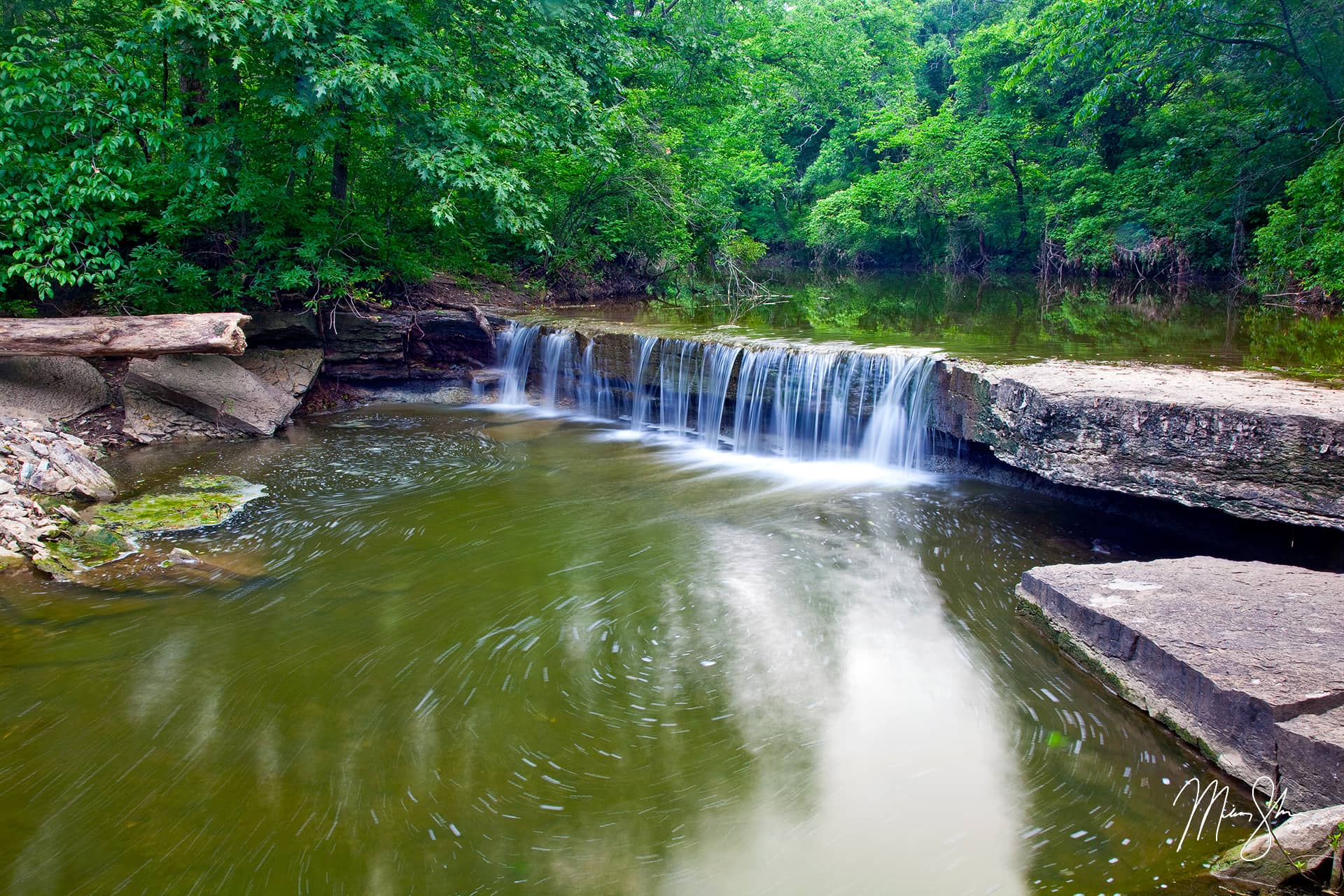 From Clinton Lake head west towards Overbrook. A few miles north from Overbrook is the historic Swissvale town, where you'll stop to hike along a rail to trail project called the Landon Nature Trail. It won't look much like a trail, but rather a line through a farmer's field that used to be a railroad track. If you hike north from the road for a third of a mile or so, you'll arrive at Swissvale Falls along Camp Creek. This is one of my favorite waterfalls in Kansas.
Optional Side Trip #3: Santa Fe Falls – In spring and times of high rainfall, this one is worth checking out. On your way back towards Kansas City from Swissvale Falls, stop in at Edgerton, where the dam spillway creates a pretty waterfall.
Cedar Lake Falls
Olathe, Kansas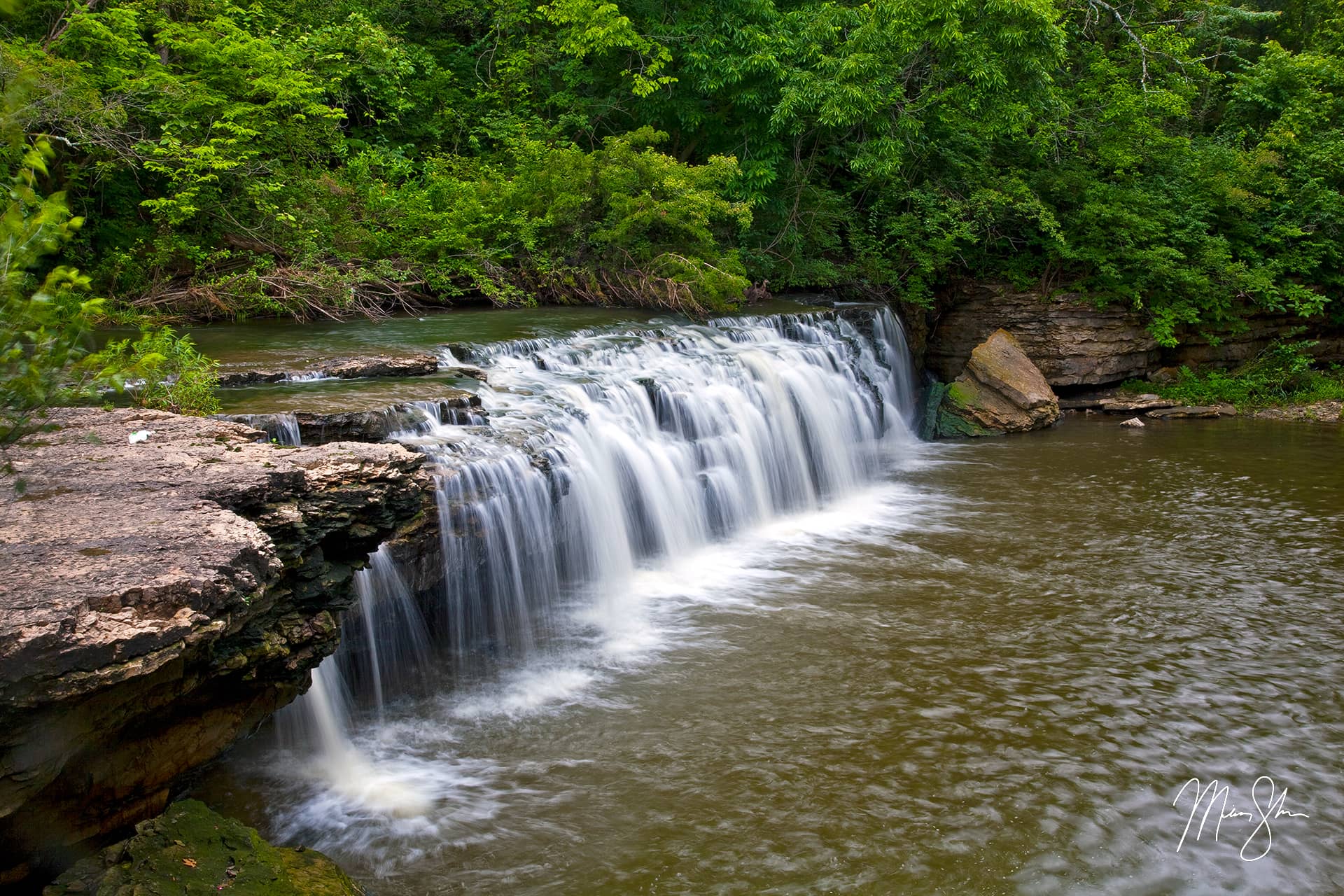 From Swissvale Falls, you'll head back towards Kansas City until you get to Olathe, where you'll make a stop at Cedar Lake's spillway. If rain has been flowing, you'll find a fairly impressive waterfall here called Cedar Lake Falls. After exploring for a while, we're off to our final waterfall of the trip! It's just a couple miles away.
Cedar Creek Falls
Olathe, Kansas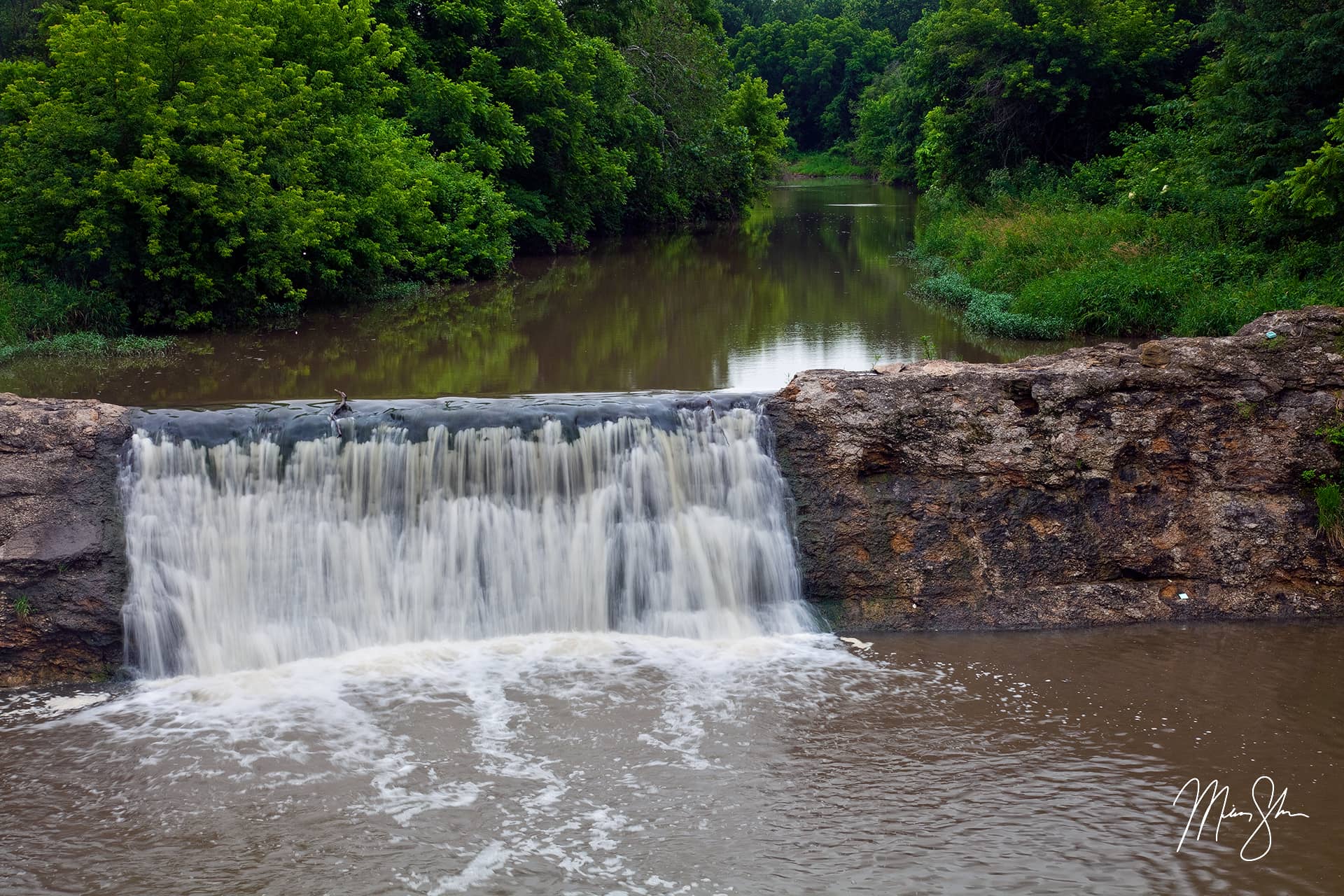 Just a couple miles north of Cedar Lake Falls is Cedar Creek Falls. This waterfall is located on the south side of Lake Olathe, where Cedar Creek flows into the lake. It's a wonderful fishing spot, and a great place to finish off this northeast Kansas waterfall road trip!
---