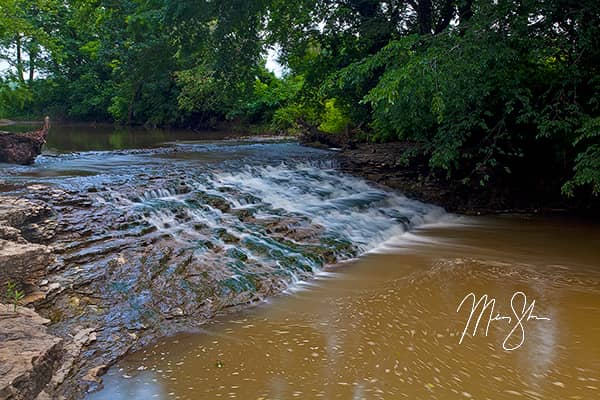 Location: Northeast of Perry, Kansas
Buck Creek Falls
Buck Creek Falls ripple down Buck Creek to the northeast of Perry. They're fairly unique in how they cascade and ripple down at a slanted angle rather than a straight drop of water. I visited in the spring, and to get a good shot of these, you have to walk along the top of the falls to a ledge on the west side of the creek. I visited in the spring when water was flowing, but these might be really beautiful in the fall if there's been enough rain.
To access these falls, you will have to park on the side of the road and walk through a muddy irrigation canal down to the falls at the river. While it's obviously someone's property, I didn't see any "no trespassing" signs in the area (whereas just about every other field in the area had signs), so be respectful and keep in mind that you're likely walking on someone's property to see these falls.
Buck Creek Falls are very unique for a Kansas waterfall, as they almost ripple down rather than dropping off.
Fine Art Photography Prints of Buck Creek Falls
Clicking on any of these photos will take you to a photo page where you can order fine art prints or license these photos for projects. View more photos in the Kansas photo galleries.