The Kansas Waterfall Road Trip
Mickey Shannon | Updated on December 5, 2018
Ever wanted to go on the ultimate Kansas waterfall road trip? Well, I've got just the ticket for you! Below is a map to 9 of the most beautiful waterfalls in Kansas, with a few suggestions for add-on waterfalls as needed. There are certainly more waterfalls that could be included in this, but I limited it to the maximum amount of entries Google Maps would allow in it's directions services. I also tried to make the loop go near many of the major cities in Kansas so that everyone could have a starting point. Head below the map for more detailed information about the trip.
Sante Fe Lake Falls to Prather Creek Falls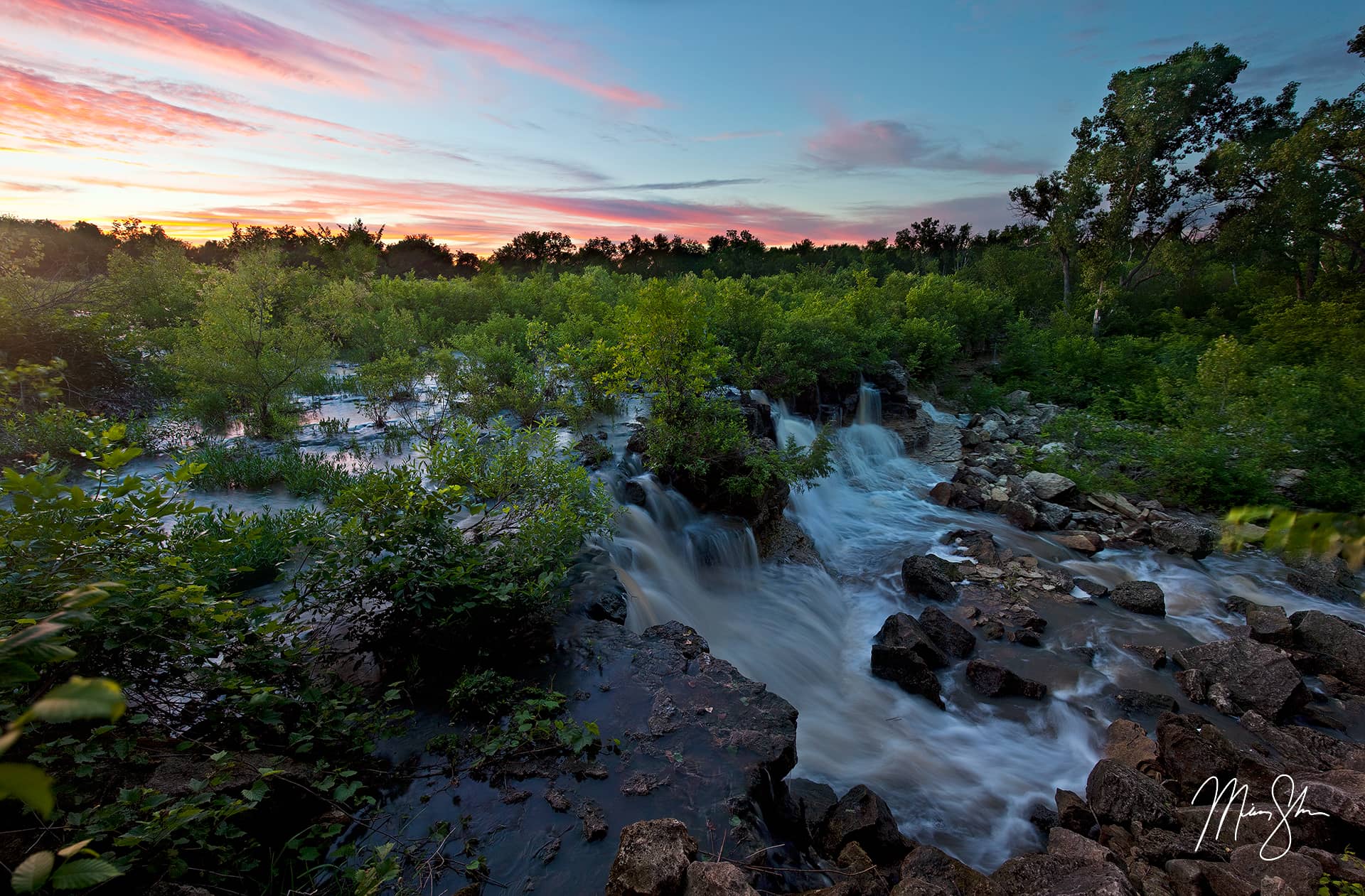 Leg one begins just east of Wichita at Santa Fe Lake Falls. It makes a wonderful place to watch a sunrise to start your waterfall road-trip! This beautiful waterfall is maybe 10 feet or so in height and spans a few dozen feet across (possibly further, as I haven't crossed the falls to see how far they actually go). Once you've had your fill, head up the turnpike and at Cassoday, head north to Chase State Fishing Lake.
Optional side trip: If there's been a lot of rain, head east out of El Dorado to Eureka and visit Bachelor Creek Falls before turning back northwest to Chase State Fishing Lake.
Prather Creek Falls to Geary Falls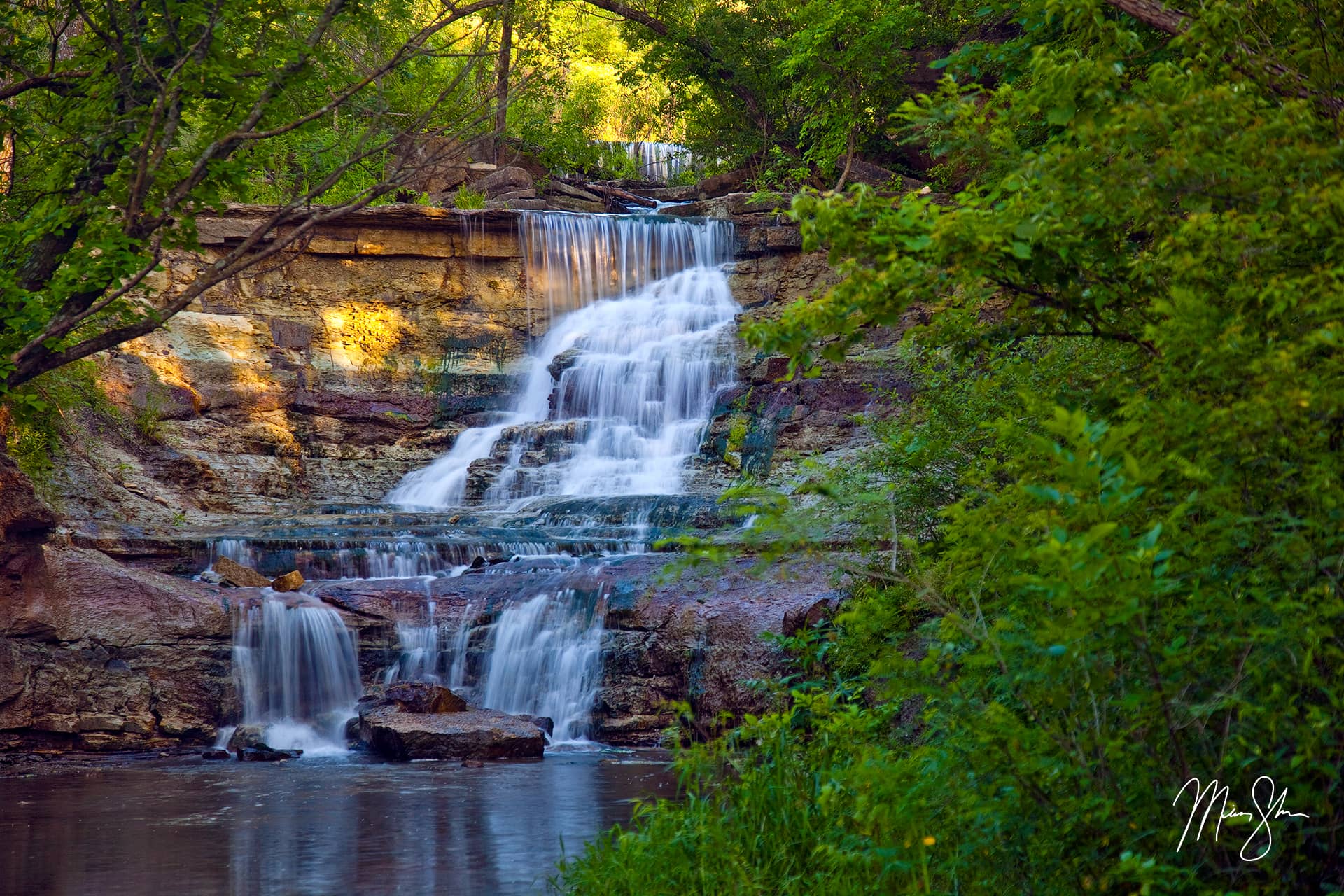 Prather Creek Falls is really a set of three-four waterfalls of varied heights. It's totally worth exploring them all! From Chase State Fishing Lake, where Prather Creek Falls is located, you'll head west on 150 and then north on 77. Eventually you'll come to Geary State Fishing Lake, a few miles south of Junction City and I-70.
Optional side trip: Take 50 southwest to Cedar Point and check out the waterfall at the Cedar Point Mill.
Geary Falls to Pillsbury Crossing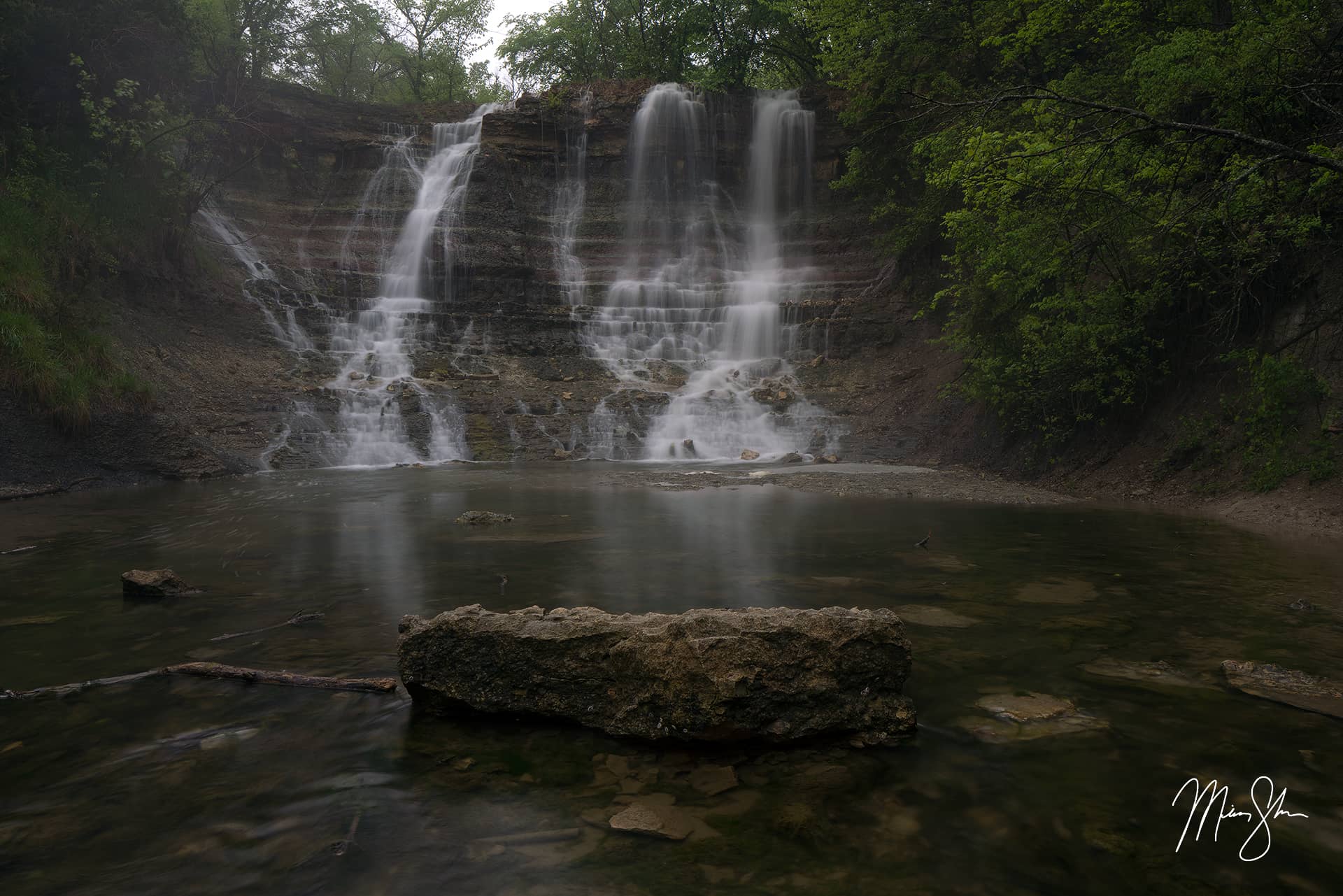 Geary Falls is one of the largest and most impressive waterfalls in all of Kansas. One warning though: like many of the spillway waterfalls in Kansas, this waterfall can dry up when there hasn't been much rain. So many sure to visit after some rain. To get there, park in the little parking lot on the north side of the lake and walk across the dam. You'll hear the falls before seeing them. Get back on the highway and head east on I-70 to go towards Pillsbury Crossing.
Optional side trip: There are so many of them around Manhattan! Tuttle Creek Lake would make a great side trip, and has Tuttle Creek Canyon Falls coming out of it's spillway.
Pillsbury Crossing to Angel Falls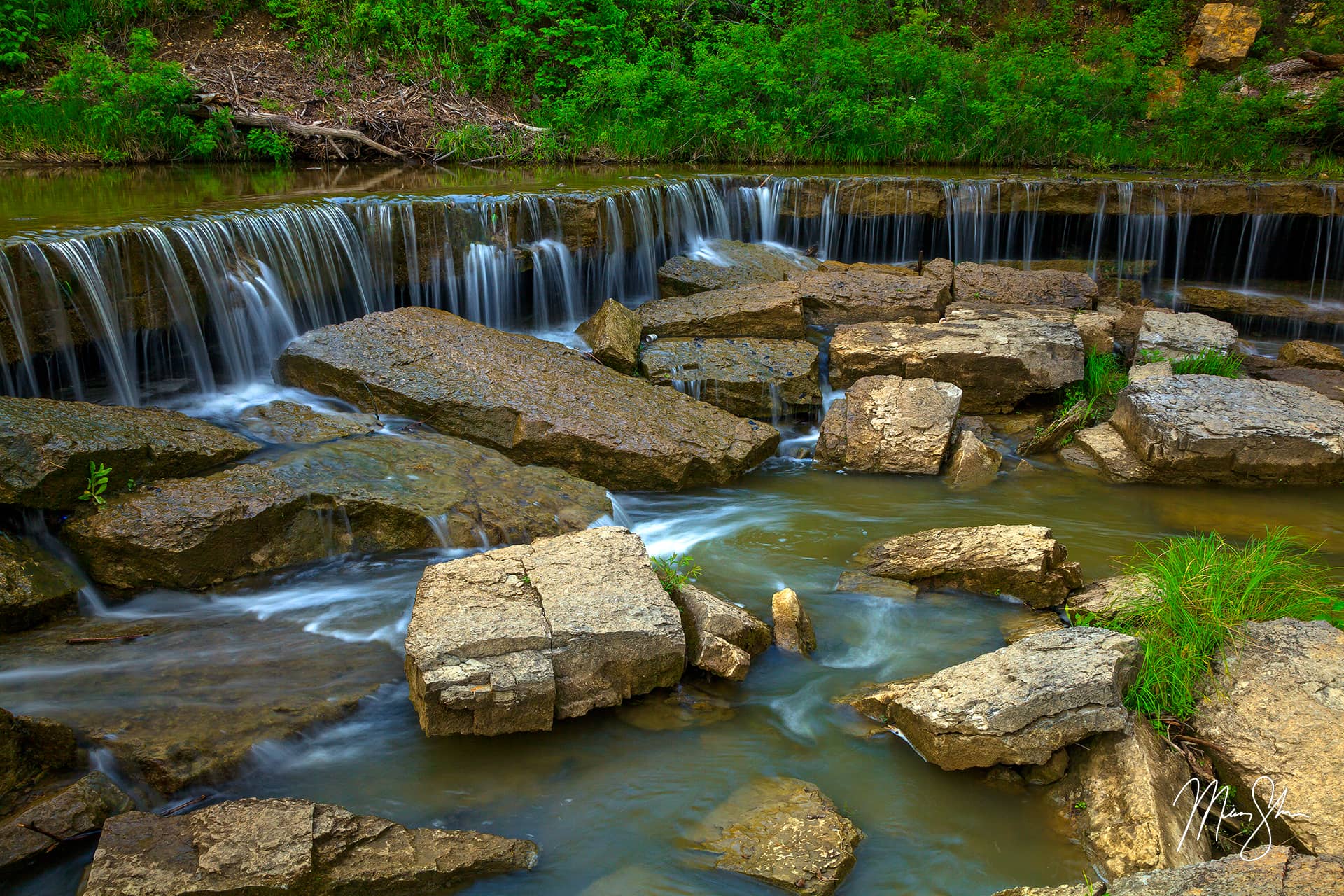 From Geary Falls, you'll jump on I-70, then eventually take the backroads to one of the most famous Kansas waterfalls: Pillsbury Crossing! On any given summer day this place can be overrun by folks enjoying the cool water. It's a popular spot for the residents of Manhattan to spend their free-time outdoors. To get to Angel Falls, jump back on I-70 and take it all the way to highway 73 on the edge of Kansas City. Go north from there to Lansing.
Optional side trip: Both Alma Falls and Swissvale Falls and not too far off to I-70 on your way east to Angel Falls.
Angel Falls to Bourbon Falls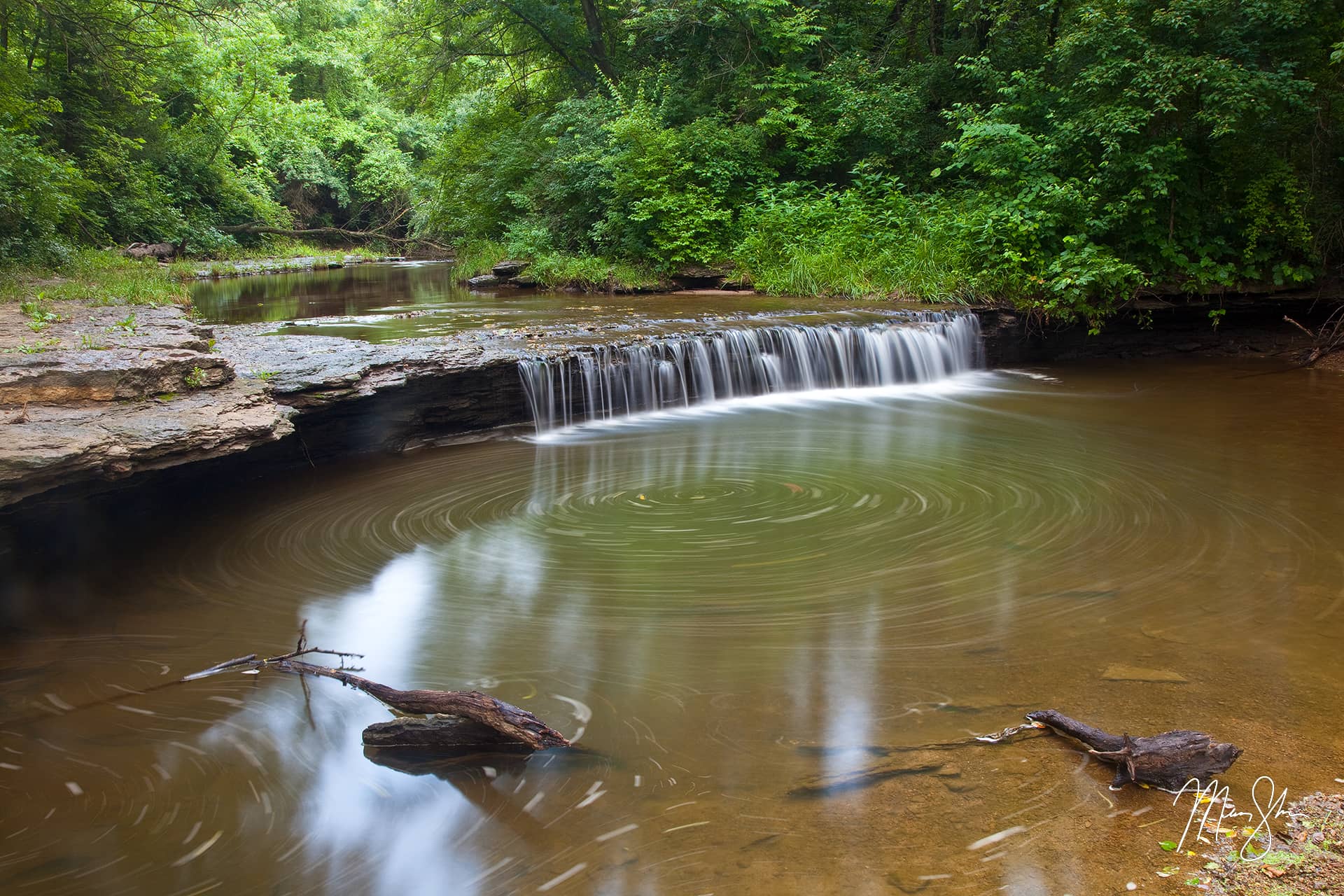 Angel Falls is located along the hiking and bike path in Lansing, Kansas. The easiest way to visit it is to park in the Saint Francis de Sales Catholic Church parking lot and walk a quarter or so of a mile south along the path. You'll see the waterfall from the path. While only 5 feet or so of a drop, Angel Falls is set in such a beautiful location that it's hard not to include it on any best of Kansas waterfalls list! Once you've explored Angel Falls for a bit, jump back in the car and head back south of highway 73. From here, you'll follow the Frontier Military Historic Byway south to Fort Scott, Kansas along highway 69. At Fort Scott, head west to Bourbon County State Lake.
Optional side trip: Rock Creek Falls is located in a small lake just southwest of Fort Scott. Three sets of drops define this waterfall before emptying into the Marmaton River a few hundred yards downstream.
Bourbon Falls to Elk Falls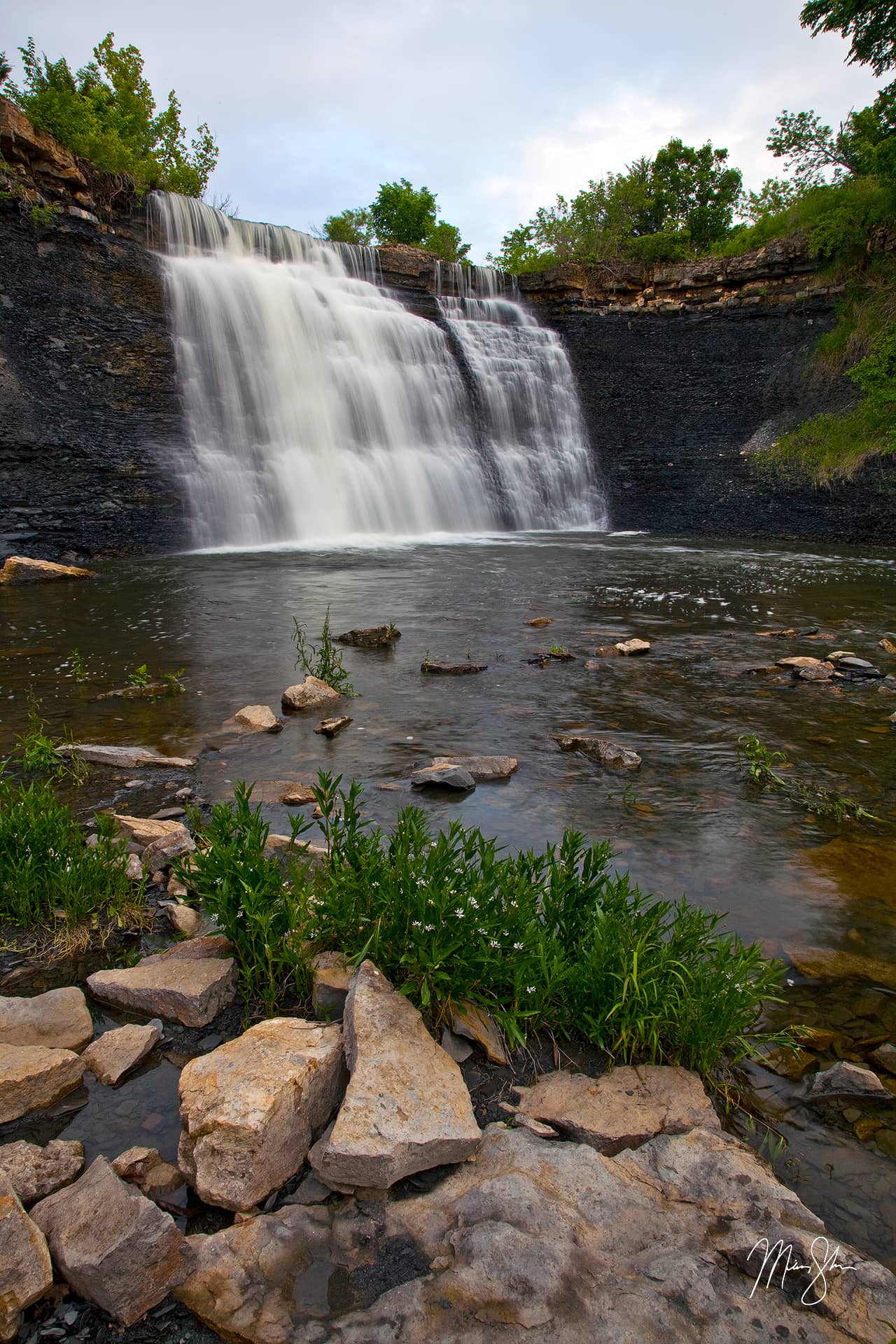 Bourbon Falls have a drop of 20-30 feet in the spillway of Bourbon County State Lake. A nice pool creates a beautiful setting here. Make sure to hike up to the top of the falls as well for a great view down over the falls. When you've finished exploring the area, jump onto highway 39 to Chanute and beyond before heading west on highway 400. Take highway 99 south at Severy until you reach 160. From 160, head 10 or so miles back east to find the city of Elk Falls.
Optional: If there has been enough rain, Woodruff Falls makes a great adventure. Fredonia's Otto's Mill Falls and Altoona's Altoona's Falls are two other optional stops along the way to see some historical sites and waterfalls.
Elk Falls to Butcher Falls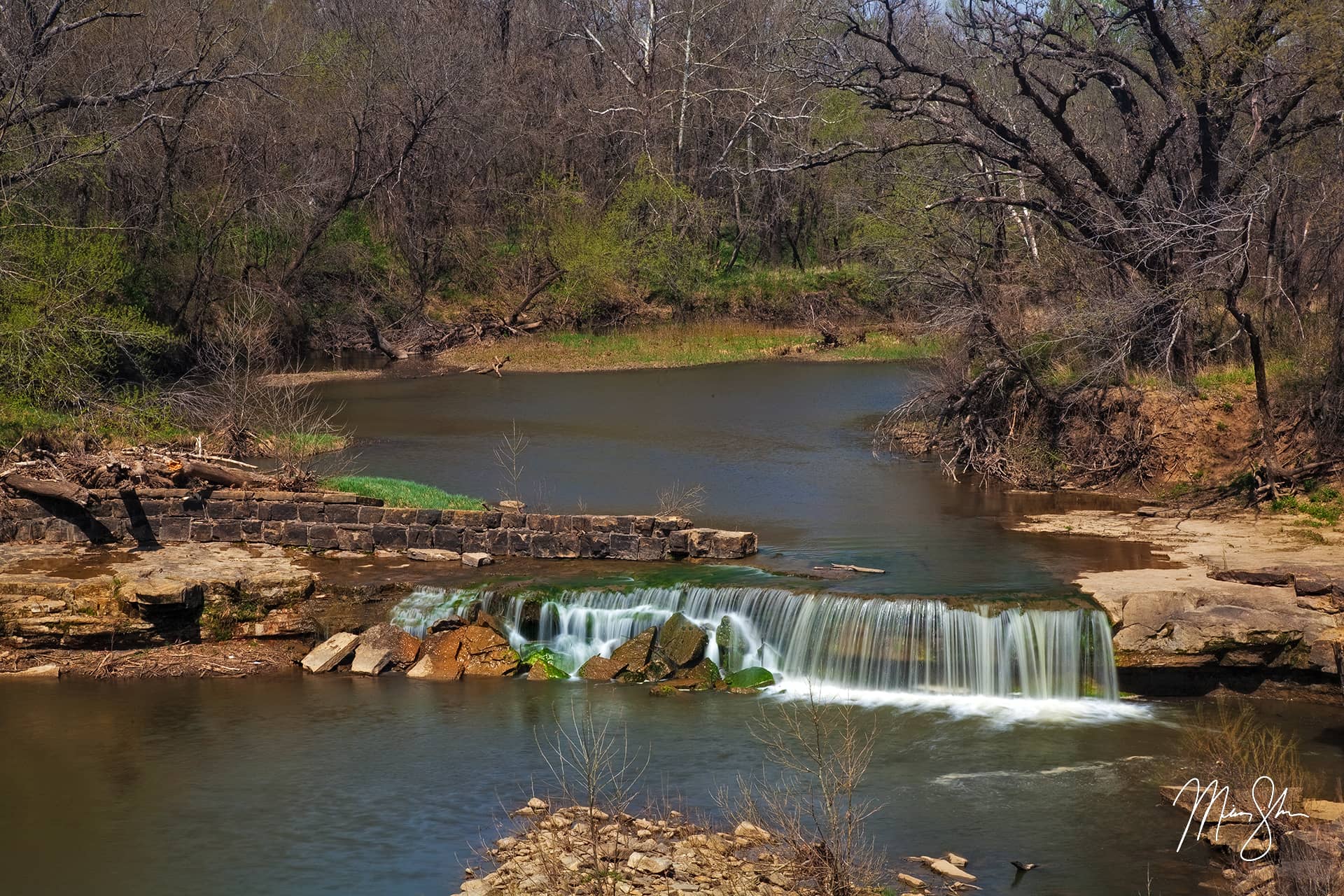 Elk Falls. Located on the east side of town, along the Elk River is a natural waterfall of about 5 feet. It's a popular spot for fishing. Once you've had your fill, jump back on the highway to the west and then south to Red Buffalo Ranch near Sedan.
Optional: A number of awesome optional side trips exist around here. Wildcat Creek Falls is located in Moline, just a mile or two off the road. The waterfall at the Hollow in Sedan is another great optional side trip. But the best is probably Chautauqua Falls, just off the highway between Moline and Sedan. If there's been a decent amount of rain, this one can really get flowing!
Butcher Falls to Cowley Falls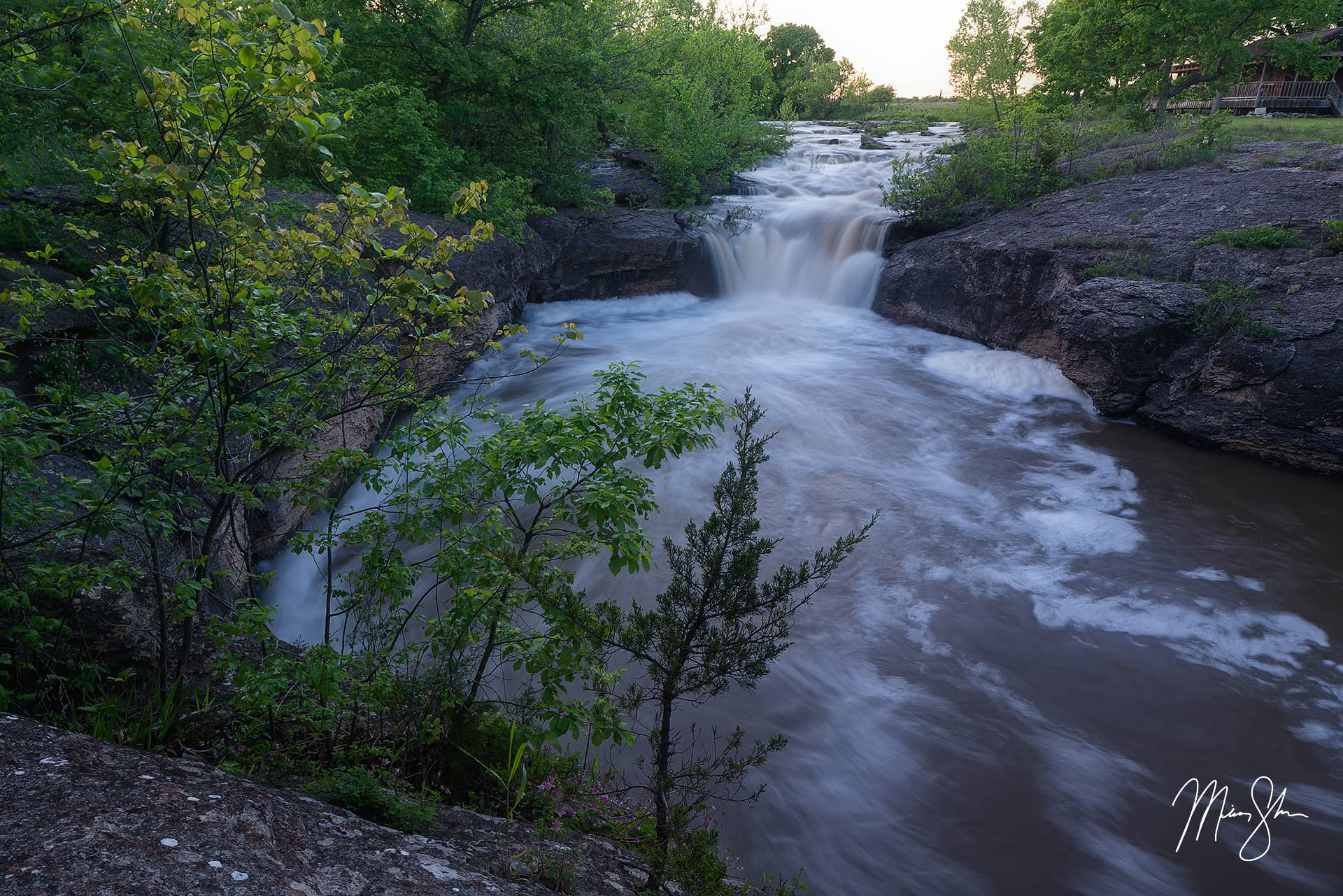 Just northwest of Sedan is the Red Buffalo Ranch. On it's property is the beautiful Butcher Falls. Cascades of water drop about 10-20 feet into a large pool below. It's a wonderful place to visit in all seasons, unless there's been major drought.
Once you've explored Butcher Falls, the last stop is Cowley Falls. Located east of Arkansas City, in the spillway of Cowley State Fishing Lake, Cowley Falls are some of the most popular falls in Kansas. A drop of 20-30 feet exist, and while the falls can dry up sometimes, if there's a decent rain, water can be flowing any time of the year. To get there, just head west on 166 from Butcher Falls until you reach Cowley State Fishing Lake.
Optional: Check out Osro Falls, along the Caney River.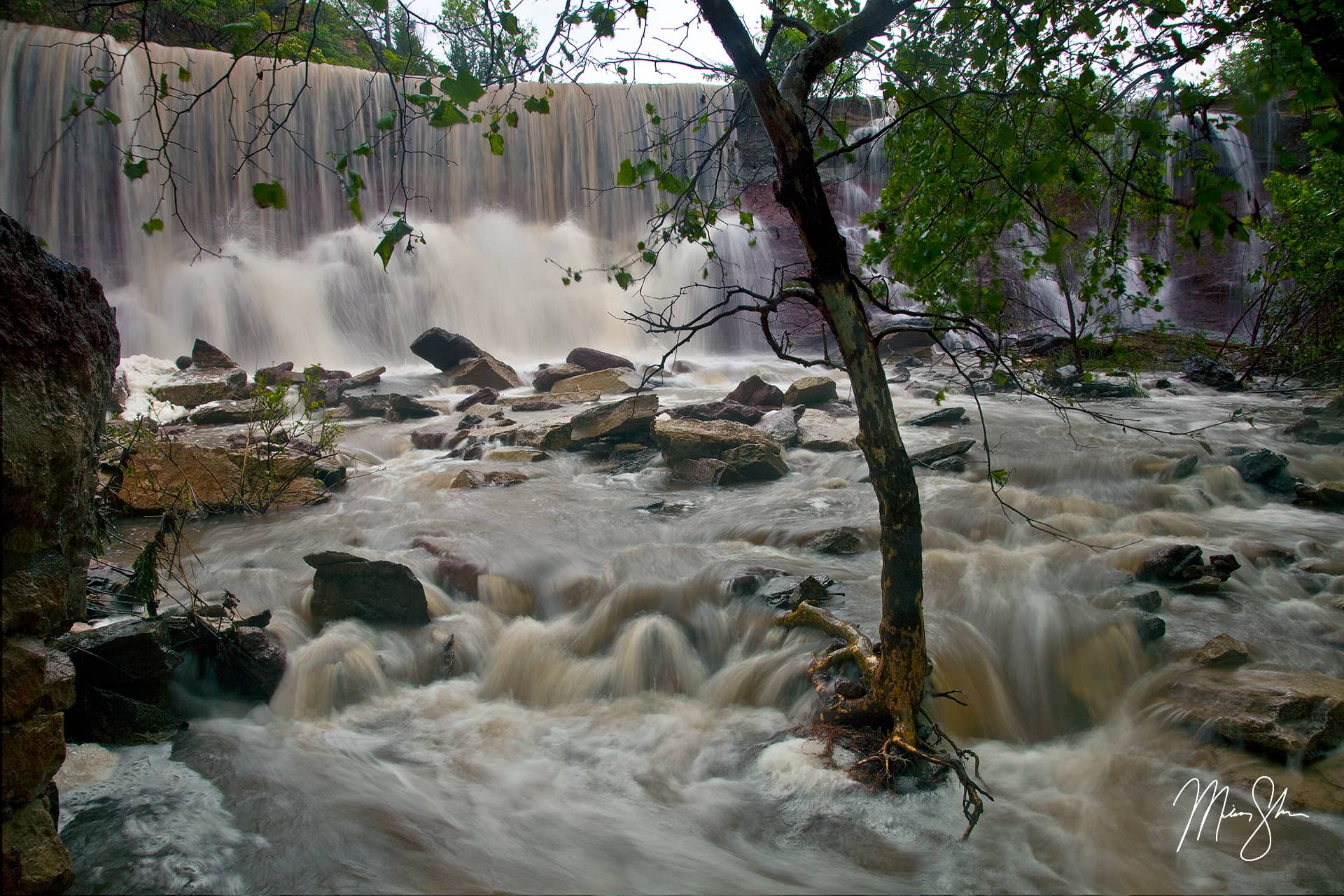 Let me know on the Kansas is Beautiful Facebook page if you take this road trip! I'd love to hear if you enjoyed these waterfalls as much as I do!
---